---

@stoneledge wrote:


PayPal called me yesterday. I was in a meeting and missed the call. Saw a number on CallerID.

I googled the number, found out it was PayPal. (There is no excuse for PayPal making calls to customers without the word "PayPal" in the Caller ID...I only received the number)

I have more than one PayPal account and checked each to see if any issues were flagged on the accounts. I also checked my emails for any incoming important messages from PayPal. Nothing.

I called back thinking it might be important.

The non-US agent goes through the hoops of validating it's me calling. I tell her I have more than one account. I'd like to know which account PayPal was calling about and what the issue was.

The non-US agent tells me that PayPal was calling to tell me that receipts from 2 of my $7 sales on eBay were on temporary hold for some reason related to PayPal/ebay wanting to be sure that I shipped items on time or something like that. I can see when this happens on PayPal.

I asked her several times if this was the reason for the call to me from PayPal...not something else.

I can SEE such things on PayPal. PayPal owns its web site and can SEE if I've logged in to see these events. PayPal can put a message in my PP message center and can see if I've read the message or not. PayPal also has my email address and can email me.


I told her that it wasn't acceptable to have PP calling my phone over $7. I made sure she understood that.

I don't fully trust that she knew the reason for the call. I think she may have been making it up as it was the only thing she could find on one of my accounts. I think she was uselss.

PayPal called me at least 2 more times yesterday after that. It might have been more times but my mobile phone wasn't on the whole time and it only logs missed calls if it's on. I wasn't available to answer. I still don't know why they called.

---
"The non-US agent tells me that PayPal was calling to tell me that receipts from 2 of my $7 sales on eBay were on temporary hold"
Were they on hold? Did your account reflect that?
Paypal should not be calling you over $7. Like you said, they can email you or post a message in your account. And you are correct, paypal identity should appear on the phone. There is no excuse for paypal not to identify their call. That is the height of corporate irresponsibly. Why are they hiding?
I checked reports of that number and some reported legitimacy but many people said that it was a spoofed number and that they were asked questions about their account info, credit card numbers and other classic phishing questions. If they are asking for ANY account numbers for verification, hang up, that goes for anyone calling from any business. Legitimate businesses do not do this.
There are reports of people receiving calls from that number and they gave account information and soon they were locked out of their account. Many other reports are from people who received a call from that number and didn't even have a paypal account. And others report fraudulent charges on their CC with that number listed from paypal.
I for one, NEVER answer or return calls from numbers that are not identified. They can leave a message if it's important.
ON VACATION
GONE FISHING
BACK AT 6
Sours: https://community.ebay.com/t5/Selling/PayPal-called-me-4-times/td-p/27514916
Have you received a phone call from +1 402-935-7733, without expecting it? Well, then you're probably in for a PayPal scam treat. While the number itself is actually an official PayPal phone number, there is absolutely no reason to get called from it out of the blue, unless someone is trying to hack into your account. Rest assured though, in this article I'll explain exactly how it works, and how to avoid falling prey to such scammers.
What seems to be a classic jebait, is actually a pretty elaborate PayPal scam, and if you're not paying attention or get really hyped at someone making an offer that's too good to be true, you might be losing all the money you have in your PayPal account, and more so, even in the bank account that's attached to your PayPal's creditcard.
The PayPal Scam Jebait
So the PayPal scam attempt starts like this. Assuming you're running an online business, or selling something, the scammer will make contact with you, pretend he's interested in it and might even haggle over the price a bit to seem legit, or just flat out make a very generous offer in the hopes of distracting you from paying attention.
Say you agree on a price and what not, the scammer will then proceed to make something up that he can't pay through the actual website where you're selling your thing or even your own website if you're running a Checkout form, and will ask for your PayPal mail to send it directly to you. He might also just flat out volunteer to give you something extra "for the hassle", and will naturally accept to pay it as a PayPal gift, since he has literally nothing to lose (but you don't know that yet).
Once he has your PayPal mail, he'll make something up that he's "transferring the money" into your account, but since the amount is too big, or since his PayPal is "the company's account" or any other random yet apparently legit reason, you'll receive a phone call from PayPal (number being +1 402-935-7733, Nebraska, US) to verify the transaction with a 4-digit code, which the scammer will provide to you. Seems legit, no? Well, no, and here's why.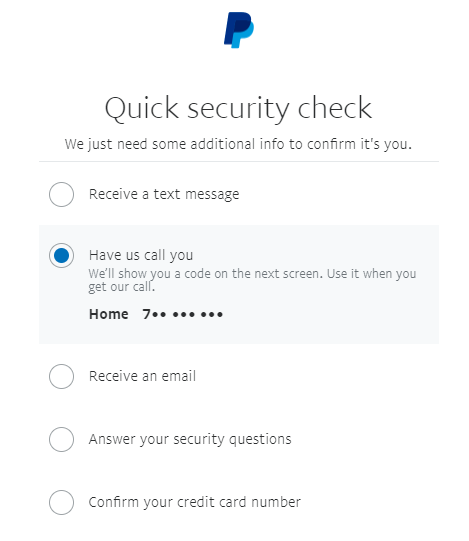 That 4-digit "transaction confirmation" code is actually the PayPal reset form code that you get when you forget your PayPal password and reset it via their website. One of the Forgotten Password options is "Have us call you", which will show you (or anyone else with your PayPal mail) a 4-digit code on the screen, folloed by an automated phone call from +1 402-935-7733, to which a robot will prompt you for the 4-digit code, the same code that the scammer will provide you as the "confirmation code" to receiving the money.
This is of course not what PayPal had in mind when they implemented this, as naturally, if you are trying to reset your own password, you'd see the code on the screen, then your phone would ring, and you'd just input that code and that's it, your password is reset.
However, if you go through with it in our account theft PayPal scam scenario, once you input the 4-digit code the scammer provided you, he'll have the new password of your account, and will log into it and transfer all of your money to his account, or any other ghost account. That if he won't go as far as even max out your bank creditcard that's attached to your PayPal account, so this is extremely serious. While PayPal or your bank might eventually be able to help you recover your money, it definitely isn't something worth your time, stress and effort.
How to Avoid Getting Scammed via PayPal Phone Verification
By now, you've most likely made an idea of how this works and how to avoid it, but I'll mention it anyway, just in case.
REGARDLESS of what offer they make you, DO NOT accept the trade nor input the 4-digit code when you're called from +1 402-935-7733 (or any other number that asks you for that code, in case PayPal changes it or has multiple services).
There is absolutely no chance that this is a legitimate transaction, and quite frankly, there is no transaction. This is all an attempt to steal your account's password by verifying your identity through abusing PayPal's forgotten password system.
What to do in the Event of Getting Your PayPal Account Stolen
I know this is the first thing everyone says, but don't panic. You have every reason to, but try not to, as you need to move fast, especially in case the scammer didn't have yet time to steal your money.
The very first thing that you need to do is go to the PayPal Forgotten Password website (a bit ironic), input your PayPal account mail, choose any viable option for you in that moment (such as "Have us call you"), then input the code that's displayed on the PayPal page into your phone, once you get called. This is literally what the scammer did to in order to steal your account.
You can also choose "Receive a text message", where you'll receive a SMS code on your phone that you need to input on the PayPal field to reset your password. Once you do this, the scammer no longer has access to your account, and no further harm can be done, but do check your Balance and Activity, as well as your Bank statement and such, after changing your PayPal password.
In case the scammer was quick enough to steal some money, make sure to contact PayPal (or your bank) right away about reversing those transactions.
Conclusion
While there is no shortage of PayPal scams, or just scams in general, I must say, this is a pretty clever attempt. With a bit of extra talk and some behavior mirroring, the 4-digit "transaction verification" code might actually seem a pretty legitimate way of making sure you're actually agreeing to receiving a large amount of money, when actually, you're giving away your very own PayPal account to a thief.
This is pretty much it, and I truly hope this will prevent you from getting scammed, as I've seen a lot of questions about the above mentioned phone call and the 4-digit number on various forums, even the PayPal one, but nobody really answered any of them correctly. Make sure to tell your friends and family about this PayPal scam attempt, as you never know when one of them will get an offer that's too good to be true.
Now, for the fun part, I'll leave you with some screenshots of the actual PayPal scam attempt.
Note – in this particular attempt, the scammer's Skype ID is abdullah_gokalp, and I'm only mentioning it in case he tries to do it to someone else and they decide to Google it.
Also, last but not least, if any of you guys have had any similar PayPal scam attempts (or any other payment processor) happen to you, please feel free to post them in the comments, and maybe it'll even help someone out one day!
Sours: https://unbanster.com/verification-code-phone-call-paypal-scam/
Claims to be PayPal
015008300 / +35315008300
Should I leave a rating?
If this phone number keeps calling you, the answer should be
yes
!
Leaving a rating about this number creates a caller 'profile' in our database, allowing other users to inform themselves on the nature of the call before they pick up the phone. This is a step along the path to making unwanted calls a thing of the past. If there are numerous entries for a specific number, we will try to trace the caller and check their legitimacy. Please note our Terms of Use!
Protect your comment against removal! As a registered user, we will contact you before anyone can remove your comment.
If you are the owner of the number or if you have additional information on the company, please use special company listingfor more details.
Help - your name
Your name will be published next to your rating. You can use your real name, your first name or a pseudonym.
Help - Caller name / company
Provide us with the name of the company the caller introduced him/herself with. If you don't know the name of the company, you can simply give the full name of the caller.
If both are unknown, you may leave this field empty.
Help - caller
Choose the category that most describes the type of call. The tellows score will then be calculated with reference to the category, representing the potential risk of a phone number.

Further information about all caller types on tellows.
Help - your rating
Rate a call. The higher the rating, the more annoying was the call: other users should be aware of this number.
Help - Are you human?
We have to assure that this form cannot be filled in by 'spambots' This field is not case sensitive.
If you cannot read the characters please click 'submit comment' and a new one will be generated. Any other entries will be kept.
Sours: https://ie.tellows.net/num/%2B35315008300
HUGE BNGO stock buying in the Dark Pools This is what institutions are doing
A common tactic that fraudsters use to steal money from people is a technique called phishing. This is when they create fake messages that appear to be genuine to gain your confidence and trick you into giving away some personal information. And with an increase of reports of PayPal phishing scams, we wanted to share some information you can use to keep your account details safe online.
PayPal text scams - the warning signs
It all begins with you receiving a text that appears to be from PayPal. You might not even be a PayPal customer, in which case you'll already know it's fake! But if you've used PayPal before, it might seem more genuine.
The text might appear to come from an official PayPal number or show the sender as being PayPal themselves. But don't let this fool you, fraudsters can easily spoof these details. So they're not a reliable indicator of who the message is from.
And the message itself might be quite alarming. Common messages include:
A warning that your account has been hacked

A query about a recent payment they need you to check

Confirmation of a recent order that you don't remember making

An offer of a gift card you're not expecting
All of these messages will seem urgent, and they'll want you to take some kind of action. The fraudster is betting on you panicking about your account and acting without thinking. But you should always be suspicious of these kind of messages, no matter how genuine they look.
How the scams work
The text message will usually contain a phone number that you can use to contact PayPal. Of course, this isn't really PayPal, but a direct line to the fraudsters. If you call the number, you'll end up talking to someone who'll ask for your account details. Any information you give them will help them to gain access to your account, which will let them freely move money from your account.
You might think you'd be able to tell the difference between a PayPal employee and a scammer, but that's not necessarily true. The cliché of the foreign-sounding speaker tricking people in broken English is no longer accurate. Fraudsters can be exceptionally smooth talkers, well-rehearsed in coaching you into parting with your details.
The text message might also direct you to a website instead of a phone number. Again, this might look like a genuine website, but it won't be. Logging into the website gives the fraudster your account details and they'll be free to do what they want with them.
What to do if you receive a PayPal text scam
The best way to stay safe is to stay vigilant and treat any new messages from PayPal with suspicion. Remember that you don't have to reply to the message, and if it's important, PayPal will contact you through another method.
If you'd like to check, contact PayPal directly through any of their official support channels to ask if the message you received was genuine.
You can also forward the text to 7726 to report it as spam. And you can separately report the phishing attempt to Action Fraud, who can investigate it.
Share the article on TwitterShare the article on FacebookShare the article via emailShare the article on LinkedIn
Sours: https://monzo.com/blog/2020/11/11/paypal-text-scams/
Me paypal called
08003687151
Phone number
Comment
Option
8003687151
PayPal call for stupid reasons
8003687151
NOT a scam. as others have stated (even when not having answered the call in the first place). calls are generally only made when a missed payment has occurred and it's not to 'chase-up'. it's to advise that it could incur late payment charges. Very helpful people.
8003687151
This number rang me, but I missed the call, when I rang back they said it was Paypal but couldn't prove it, so I ran off. I then called Paypay using the number from their website and they told me that they hadn't tried to call me today.
8003687151
read previous comments
8003687151
Now just recieved a second letter from Pay Pal Credit. I had previously reported this scam to Pay Pal a month ago and they said they were aware of this issue but it seems they have not yet reacted. Very poor of them.
8003687151
Irish woman asked for email address and said they were the Paypal credit company and I owed £5 and if I wanted to pay now over the phone. Declined to pay. Knew I did not have an...
8003687151
This is NOT PayPal and IS fraudulent. Rang me tonight, requesting a call back, when they then asked for my e mail address first. Refused to give them any info. She got a bit shirty and suggested I might like to check my Pay Pal account then. I did : £0.00
8003687151
scam call. said they were from paypal customer service.
8003687151
Obvious scam
8003687151
They are ringing constantly all day long, I must of had about 15 calls already today. They never leave a message.
8003687151
it called me asking for my email and then when I gave then the wrong one she pressed a button and I got sent to a automated voicemail saying to call them back.
8003687151
This is a legit PayPal number, it is the credit departments number!!
8003687151
It was from Paypal. I also called them from the customer services number on their website to verify if they had contacted me and it was due to a missed payment on my credit account.
8003687151
spam left silent vmail
8003687151
nuisance nuisance
8003687151
this is not paypal it is a scam to get your card detials
8003687151
scam calls
8003687151
SCAM received call from Irish lady saying she was PayPal asking me to confirm email etc gave me the number 08003687151 to call her back when I refused. I have spoken to PayPal and they have said it's a scam and to block the number.
8003687151
its debt collection
8003687151
Received an authentic looking letter from Pay pal Credit saying I owed money/ this is not the case. Reported it to Pay Pal. This is a scam
8003687151
I received a letter with this number as contact stating I owed money on my paypal credit account. I always pay for items in full but panicked in case I had missed something. Called PayPal's REAL number 0800 358 7911, had account checked and confirmed no ba
8003687151
I've had my second letter saying I owe money on my pay pal account, but I haven't got a pay pal account
8003687151
Supposedly from Paypal, but I contacted Paypal directly and they confirmed that this number does not belong to them. It's a scam.
8003687151
Rang me left a voicemail claiming to be paypal to ring them back on this number. I called PayPal with the number on PayPal after logging in, they had no record of contacting me .... be careful and don't give out any information.... I guess it was a Scam call...
8003687151
paypal credit services - I googled the number and it seems legit. it was regarding a late payment
8003687151
message on answer machine, Asked for our son by name, said it is very important he call this number and it was free.Second call this week, third this month. def a scam/
8003687151
Received a call from this number claiming they are from paypal. They needed my email address to verify myself, however I asked them what this was about since THEY are calling me. They would not say anything apart from repeating that they needed my email address.
8003687151
Got paypal letter saying missed payment on pp credit.. dont have pp credit! Expensive scam as posted letter and an info letter on dealing with debts.. . They got my name wrong and their figures wrong. Tel numb didnt answer for me.. i think they will do a f
8003687151
Silent call
8003687151
supposedly Paypal wanting to talk, left a message. Don't have my phone number linked to my paypal so obviously a scam.
Sours: https://whocalledmeuk.co.uk/phone-number/08003687151
What is PayPal and How Does it Work?
How to spot and avoid PayPal scams
PayPal scams are seemingly not disappearing anytime soon, and there are always fresh warnings about them as a new wave of scam emails are popping into people's inboxes left, right and centre.
From emails saying there's strange activity on your account to needing to verify your password, we tell you how to spot a PayPal scam and what to do if you've been scammed.
What does a PayPal scam email look like?
With the majority of scam emails the tell-tale signs are the odd characters or random numbers in the sender's email address, the 'Dear Customer' opening and the sense of urgency it creates.
Want to feel more in control of your finances? Our free and flexible Couch to Financial Fitness plan will help you build confidence to manage your money. Step by step we can help you cut your spending, develop core saving muscles, and create better habits for the future. Sign up for the MoneyHelper Couch to Financial Fitness plan.
If you can see random letters and numbers in the sender's address then this should start to ring alarm bells. Equally, emails saying: 'there's been suspicious activity on your account' or 'you sent a payment to XXX, if you didn't make this payment click here' are there to cause panic.
Fraudsters prey on customers acting in panic. The fear that someone has hacked your account based on what the email is saying will cause people to click that fake link without thinking.
You can also see where the link will take you if you hover over it, just don't click it by accident!
Beginner's Guide to scams
How do I know if the PayPal email is genuine?
PayPal themselves say that if there's a problem with your account then they would let you know via the website/app in the message centre. A genuine email from PayPal would also address you by name and not start with 'Dear Customer'.
Logging into your account direct and not clicking on any link in the email is the safest way to check what is going on (if anything). Don't reply or open any attachments, and if in doubt contact PayPal to be 100% sure.
Common PayPal scams
PayPal have a long list of the types of scams that they are aware of and advice on how to avoid them.
Here are a few you might have received yourself:
Prize winner – you receive an email stating that in order to claim a prize you need to send a small handling fee. Firstly, if you don't remember entering this competition then it's more than likely a scam. Advice from PayPal says that a legitimate prize wouldn't require you to pay to receive it and to not send over any money to someone you don't know.
You've been paid – if you're selling an item then a scam email can come through telling you that you've received the payment. Where as in fact the scammer just wants what you're selling for free. Always log in to your PayPal account and check to see if you've received payment before shipping anything.
How to report a fake PayPal email
PayPal have a dedicated email where you can forward on any fake emails and they'll investigate it – [email protected]
If you have provided any personal info after receiving a scam email then log into PayPal and change your password and security questions immediately.
You can also report it to Action Fraud on 0300 123 2040 or use their online reporting tool.
Your email provider can help too. Most email providers have a report function where you can mark the email as junk then once in your junk folders you can mark it as a phishing scam, which will then report the sender.
For more details see our guide on how to report a scam or fraud.
How can I protect myself against scams?
It's increasingly difficult to tell the difference between a genuine and fake email/website but knowing what precautions you can take will ensure your PayPal account and your personal information remains safe.
If you receive an email saying there is a problem with your online account then go to PayPal directly and log in to check.
If the email is creating urgency by saying if you don't update your password now, then your account will close, then again log into PayPal directly.
Don't click on any attachments from any unknown sources or reply to the email.
Make sure you have any spam filters turned on through your email provider, most will automatically put emails from unknown sources into junk/spam folders.
Add the email addresses of any suspicious emails to your block sender lists, you won't then get an email from that address again.
Make sure you keep a track of your PayPal account, even if you don't use it often it's best to log in once in a while to check everything is ok. Check the history of your payments and make sure to create a strong password to help secure your account.
Shopping and paying safely online
Sours: https://www.moneyadviceservice.org.uk/blog/how-to-spot-and-avoid-paypal-scams
Now discussing:
Paypal is calling me on the phone today. paypal has called me about 5 times today
every time paypal calls, it is an automated voice that says "press 1 if you are elliot <removed>."
I press 1, but it does not register for some reason. I guess the paypal automated system is broken.
so I press 1, it does not register, so it keeps repeating "press 1 if you are elliot <removed>."
after repeating "press 1 if you are elliot <removed>" for about 4 times, then it hangs up on me
and then about an hour later, paypal calls me again with the same thing happening.
I call paypal customer service and asked why paypal is calling me, but customer service can not tell me why paypal is calling me
please can you find someone in charge of the paypal phone system that is calling me, and can you please ask that person to kill themselves?
the paypal phone number that is calling me today i[Removed. Phone #s not permitted] please tell me why paypal is calling me. what the hell is wrong with paypal?
is there some phone number I can use to call someone at paypal to find out about this problem?
Sours: https://www.paypal-community.com/t5/PayPal-Basics/paypal-keeps-calling-me-and-I-don-t-know-why/td-p/2027766
670
671
672
673
674