Water Wells (SEO) for Wyoming at 1:500,000
This layer contains 157,542 point locations of Wyoming well permit locations on file with the Wyoming State Engineer's Office. Priority dates range from December 31, 1867 to September 13, 2010. It is meant to be used as one resource for well locations within the Wyoming State Engineer's database. New technology provided by "e-permit" would provide more accurate information. Users are HIGHLY encouraged to do their own queries and mapping from the tools provided by this internet application (https://seoweb.wyo.gov). Most points are located only to the nearest 40 acre parcel although there are increasing numbers of gps locations. All locational information and attributes were imported from the Wyoming State Engineer's Office Well Permits [...]
This layer contains 157,542 point locations of Wyoming well permit locations on file with the Wyoming State Engineer's Office. Priority dates range from December 31, 1867 to September 13, 2010. It is meant to be used as one resource for well locations within the Wyoming State Engineer's database. New technology provided by "e-permit" would provide more accurate information. Users are HIGHLY encouraged to do their own queries and mapping from the tools provided by this internet application (https://seoweb.wyo.gov). Most points are located only to the nearest 40 acre parcel although there are increasing numbers of gps locations. All locational information and attributes were imported from the Wyoming State Engineer's Office Well Permits database stored in SQL Server. Due to the transition of databases some data may be missing.
Click on title to download individual files attached to this item.

metadata.xml
Potential Metadata Source

View
137.41 KB
application/fgdc+xml
Sours: https://www.sciencebase.gov/catalog/item/4f4e4aa8e4b07f02db667482
WWRC 97-05i
GIS-Based Surface Water Rights Mapping In The Tounge River Basin
Introduction
The incorporation of surface water right data into a Geographic Information System (GIS) allows for a comprehensive and efficient way to store both the spatial and tabular data associated with water rights. The process by which these water right data are converted to a GIS format has to be flexible, because, over time, the data have been stored in several different formats. This paper explains the basics of the Wyoming water right system, GIS, and their integration.
Streams, lakes, and springs were declared property of the State by the Wyoming Constitution and can not be used without permission from the State. Those who wish to use water from these sources must apply for a surface water right permit. Surface water right permits are issued by the Wyoming State Engineer after examination and approval of the application. This permit must be secured before any work can begin on the water diversion structure. After completion of the construction and the application of water to beneficial use as described in the permit, the State Board of Control will issue a certificate of appropriation, which means the water right is adjudicated. There are 4 types of surface water right facilities:
Ditch
Enlargement of Ditch
Reservoir
Stock Reservoir
A lot of water rights are established for irrigation purposes. A diversion of 1 cubic foot per second per 70 acres of land is provided for these permits.
These permit records are currently kept in the State Engineer's Office (SEO) surface water division database. This relational database (Advanced Revelation or AREV) keeps a record for each permit. Under each record are fields for owner, location, purpose, amount of water used, priority date, and other relevant information (Table 1). For each record in this digital database, a copy of the permit map is kept on file. In addition to some of the same information as the database record, this document contains a rough map with surveyors notes describing and depicting the actual location of the diversion and the area of use. Water rights dating back to the 1800's are stored this way with some of the early water rights recorded on linen and paper, while most newer water rights are recorded on mylar. The link between these documents and the records in the database is the permit number. In order to retrieve both spatial and tabular data, both sources must be consulted. The current system causes problems; over time, some lands have been issued more than one permit while others have been mapped in the wrong location. Confirmation of beneficial use is only possible through an expensive and time consuming field check, and finally, paper maps degrade over time and need to be replaced and updated periodically.
By using a Geographic Information System (GIS) to store both spatial and attribute data for these water rights in a comprehensive database, problems as described earlier can be addressed more effectively.
---
Water Resources Publications List
Water Resources Data System Library | Water Resources Data System Homepage
---
Sours: http://library.wrds.uwyo.edu/wrp/97-05/abs-97-05i.html
Technical Memorandum
Subject: Framework Water PlanGIS Themes: Irrigated Lands and Water RightsDate: April 30, 2007Prepared by: Greenwood Mapping, Inc.
---
Click here to download the Water Rights Permit Databaseand the Linking Table
---
INTRODUCTION
The Irrigated Lands and Water Rights GIS dataset is the most important, and complex, of the GIS themes produced in conjunction with the seven river basin plans. The dataset consists of:
Irrigated lands digitized from aerial photography: polygon
Water rights permit data: attribute
Points of Diversion (POD): point
A relationship between irrigated lands and water right permits was established. This is a many-tomany relationship. A single irrigated polygon may be supplied by more than one water right. And a single water right may irrigate more than one polygon.
Another relationship was established between the PODs and the water right permits. This is also a many-to-many relationship. One physical POD (e.g. headgate) may have more than one permit associated with it. It is also possible, although less common, for a single water right permit to have multiple PODs (e.g. sprinkler systems).
By employing both of these relationships, it is possible to relate PODs and irrigated polygons.
Although all seven basin plans used similar techniques to capture the data, there is considerable variation between plans in how the data is modeled, related, and presented. This is discussed in more detail in the following section.
SOURCE DATA OVERVIEW
There are significant differences in the modeling of this data between the seven basin plans, particularly in the schema of the database relationships. Four different types of relational models were used in the basin plans. These relational models are shown in the Entity Relationship (ER) diagrams throughout this memo.
Four of the basin plans organized this GIS data into a normalized relational model using four tables:
Irrigated lands digitized from aerial photography: polygon
Water rights permit data: attribute
Points of Diversion (POD): point
A linking table: attribute
A "linking" table is always required in many-to-many relationships. A simple example below illustrates the role of the linking table:
Many-to-Many relationships
All records in the POD table are unique; there is only one record/point per POD. All records in the Water Rights Permits table are unique; there is only one record per permit. There is a one-to-many relationship between the POD table and the linking table, and there is a one-to may relationship between the Water Right Permits table and the linking table. Thus a many-to-many relationship is established between the PODs and the Permits.
The four table model is slightly more complex than the simple linking table example above. The linking table is used to establish the many-to-many relationship between three tables (irrigated polygons, PODs, and permits) and thus has three columns. The four table model is illustrated in the Northeast River Basins ER diagram below.
Northeast Rivers (Powder, Platte and Wind/Bighorn are similar)
This four table model is the most rigorous of the various data models used in the basin plans, and it was used in four of the seven basin plans, therefore it was selected as the model for the statewide coverage. Data from the three basin plans that did not use this model (Bear, Green, Snake/Salt) was reformatted and normalized to conform to the four table model. This was a significant effort and is detailed below for each river basin.
Bear River Basin Data Normalization
The irrigated land polygons were supplied in both shapefile and E00 format. The shapefile data were digitized at a much finer level of detail. The E00 data was not used.
The ER diagram below shows the source tables, attribute fields, and relationships. Water rights permit attribute data is stored in a single table and related to the polygons by a spatial join (point in polygon) and related to the PODs by a shared key column.
Bear River Basin
Water right permits were represented in a spatial table as point objects. The points were simply placed within an irrigated polygon and had no other spatial significance. (per Heather Justice, Leonard Rice Consulting 8/28/2006)
Irrigated polygons were split on 7½ minute quad boundaries. In some instances this created sliver polygons that did not have any attribute data (they had no permit table point within them). In other instances, duplicate water right permit points were placed in each .half. of a split polygon. Therefore, the 7½ minute quad boundaries were dissolved for the state-wide coverage.
A polygon ID field was added to the water right permits table and was updated with the polygon ID of the irrigated polygon containing each permit point. Spatial objects were then dropped from the water right permits table. Identical permits within the same polygon were deleted. Some duplicate permits do still exist where the permit serves more than one polygon.
The POD table is related to the Permits table by the SOURCE_F field, which is a concatenation of the SOURCE and FACILITY_NAME fields.
Green River Basin Data Normalization
The Green River Basin data consists of three tables shown in the ER diagram below. Like the Bear River, Permits were represented as point objects within irrigated polygons. Also like the Bear River, irrigated polygons were split on 7½ minute quad boundaries. Unlike the Bear River relational model, the POD water right permit data was not stored in the same table as the irrigated polygon permits. Thus permits were duplicated in the POD table and the polygon attribute table.
Green River Basin


Polygon processing: The 7½ minute quad boundaries in the irrigated polygons were dissolved. A POLY_ID field was created in the irrigation permits table and populated with a unique irrigated polygon ID based on the point-in-polygon relationship (same technique as Bear, above). Spatial objects were dropped from the irrigation permits table.
POD processing: Each POD permit had a point object, thus a single physical POD (e.g. headgate) was usually represented by multiple points (one for each permit). The PID field identified unique physical PODs. The POD permits table was split into a spatial table and an attribute table, which are related by PID. Duplicate points objects were deleted so that the PID was unique in the spatial table.
Permit processing: At this point we had two water right permit attribute tables; the irrigation permits (related to the irrigated polygons) and the POD permits (related to POD points) and the two tables contain duplicate permits. The two tables were merged into a single table of unique permits. Unique permits were identified by PERMIT_NO for non-territorial water rights, and by a combination of DATE, SOURCE, FACILITY, and PAMOUNT fields for territorial permits. Relationships to the irrigated polygon table and POD point table were preserved in the linking table.
Snake/Salt River Basin Data Normalization
The Snake/Salt River Basin data model was very similar to the four-table model selected for the state-wide coverage; spatial objects in the irrigated lands and POD tables are linked to a shared attribute table of water right permits. The main work required to normalize the data was to separate the key fields into a separate linking table.
The source data model is shown in the ER diagram below.
Snake and Salt River Basins


Wind/Bighorn River Basin Notes
The irrigated land polygons within the Wind River Indian Reservation were developed by the Wyoming State Engineer's Office and States West Water Resources Corporation in conjunction with the 1982 Bighorn River General Adjudication. Water rights were granted as a result of this action. These water right polygons were classified as .Water Awards. in the Wind/Bighorn (WB) river basin GIS data, however no distinction was made between irrigated and un-irrigated land. The un-irrigated land within the Water Awards is referred to as "Tribal Futures" in the Basin Final Report, but could not be identified in the GIS data.
Nancy McCann, Wyoming State Engineer's Office, provided a "futures" shape file which does identify un-irrigated land within the Water Awards. All polygons in the original WB GIS layer falling within futures shape file polygons were reclassified as "un-irrigated tribal futures water awards".

The only modification of the original data was the change of the CLASSCTN attribute value from "Water Awards" to "un-irrigated tribal futures water awards". These polygons still link to the water right permits table as they have valid water rights. However these polygons can be excluded from analysis by filtering on the CLASSCTN column.
Sours: https://waterplan.state.wy.us/plan/statewide/techmemos/IrrigationTechMemo.html
Wyoming Water Rights
Wells and Springs - Before you drill a well, or develop a spring that flows less than 25 gallons per minute (gpm) and that will be used for domestic and/or stock use, you must submit an  "Application for Permit to Appropriate Ground Water", or U.W. 5 Form, to the Ground Water Division and receive an approved permit prior to commencement of any drilling or completion activities. The U.W. 5 form must be complete and accurate to be accepted and reviewed, and must be accompanied by the appropriate filing fee.

- Springs flowing more than 25 gpm, or will be used for other than Domestic and/or stock uses must be permitted through the Surface Water Division. -
Springs: $50.00 (25 gpm or less for Domestic and/or Stock use)

Monitor/Observation/Test: No Charge

An Application for Permit to Appropriate Ground Water (U.W. 5 Form) will generally be granted as a matter of course by the State Engineer. Applications for wells or springs located in a groundwater control area are subject to public notice and comment.  An application can be denied if the application is not in the public's water interest.

Statement of Completion and Description of Well or Spring (U.W. 6 Form) is required by law to be submitted within thirty (30) days of the date that the well is completed (including pump installation) and ready for use.  


The Proof of Appropriation and Beneficial Use of Ground Water (Form U.W. 8) is required to be submitted upon completion of beneficial use, and prior to the date specified by the permit.


If you cannot complete construction of the well, or put the water to use in the time prescribed, you may submit a written request for an extension of time to the State Engineer.  If good cause is provided, the State Engineer may grant the request.  

A plat, showing the location of the well(s) and/or springs, and the point(s) of use and distribution system, is required at the time of filing the final proof of appropriation and beneficial use for all uses other than Domestic or Stock.  This plat must becertified by an engineer or land surveyor licensed to practice in Wyoming.

After you have filed final proof of appropriation, an inspection of the project is made by the Ground Water Division staff and the proof is advertised.  If no protests are filed and the proof is in order, the Board of Control will issue a certificate of appropriation which is recorded in both the county clerk's office in the county in which the water right is located, and the State Engineer's Office.  The certificate of appropriation reflects an adjudicated water right. 



Forms to be filed with the State Engineer are available in e-Permit, the State Engineer's Office in Cheyenne, the Water Division Superintendent's office, the county clerk's office or on the State Engineer's website: http://seo.state.wy.us/ 

Permission of the State Engineer or Board of Control is required before a permitted water well or spring can be relocated, deepened, or the point(s) and areas(s) where the water is beneficially used can be changed. 

The most common changes to groundwater rights are listed below.  For a complete list of potential changes to water rights (including Exchange Water and Submerged Lands - Petition for Change of Water Rights), please contact the Board of Control.

Change of location of well without loss of priority (Deepening and/or Relocating a Well) - A groundwater appropriator can change the location of his well to a point within the same aquifer in the vicinity of the original location, without loss of priority, by securing approval of the Board of Control if the groundwater right has been adjudicated or if the groundwater right has not been adjudicated but the water has been applied to beneficial use.  

In cases involving domestic or stock water wells which are not adjudicated but the water has been applied to beneficial use, the State Engineer may approve a change of location.  

If the water right is not adjudicated and the water has not been applied to beneficial use, approval for the change in location may be granted by the State Engineer.  

No petition shall be granted if the rights of other appropriators shall be injuriously affected thereby.  No petition granted shall increase the total amount of the appropriation of water set forth int he original permit (W.S. 41-3-917).

Change in Use or Place of Use - When an owner of a water right wishes to change a water right from its present use to another use, or from the place of use under the existing right to a new place of use, he shall file a petition requesting permission to make such a change.  The petition shall set forth all pertinent facts about the existing use and the proposed change in use, or where a change in place of use is requested, all pertinent information about the existing place of use and the proposed place of use.  The Board of Control may require that an advertised public hearing or hearings be held at the petitioner's expense.  The petitioner shall provide a transcript of the public hearing to the board.  The change in use, or change in place of use, may be allowed, provided that the quantity of water transferred by the granting of the petition shall not exceed the amount of water historically diverted under the existing use, nor exceed the historic rate of diversion under the existing use, nor increase the historic amount consumptively used under the existing use, nor decrease the historic amount of return flow, not in any manner injure other existing lawful appropriators.  The Board of Control shall consider all facts it believes pertinent to the transfer which may include the following:  

     (i)  The economic loss to the community and the state if the use from which the right is transferred is discontinued.

     (ii)  The extent to which such economic loss will be offset by the new use.

     (iii) Whether other sources of water are available for the new use (W.S. 41-3-104).

Change of Point of Diversion or Means of Conveyance - Any person entitled to the beneficial use of water, whether under a a permit issued by the State Engineer, or a certificate of appropriation issued by the Board of Control pursuant to W.S. 41-4-511, who desires to change the point of diversion or means of conveyance, or both, shall file a petition with:

      (i)   The Board of Control if the use of the water has been adjudicated under a certificate of appropriation;

     (ii) The State Engineer in all other cases.  The State Engineer may consider a petition even if water has not been applied to beneficial use, however, any change in point of diversion granted by the State Engineer shall be in the vicinity of the original diversion, and provided:

          (A)  The change shall not alter the original project concept; and 

          (B)  The water shall be diverted from the same source of supply described in the original permit (W.S. 41-3-114).

Temporary Change in Use - Any person shall have the right to acquire by purchase, gift or lease, the right to the use of water which may be embraced in any adjudicated or valid unadjudicated water right, or any portion thereof, for a period of not to exceed two years, for highway construction or repair, railroad construction or repair, drilling and producing operations, or other temporary purposes, on its own behalf or on behalf of its agents, employees or contractors...  Only that portion of a water right so acquired which has been consumptively used under the historical use made of the water right, may be diverted by a temporary user (W.S. 41-3-110).  

An application for a temporary change in use can be obtained from the Surface Water Division,
Sours: https://sites.google.com/a/wyo.gov/seo/ground-water/permitting-adjudication-changes
Water database search rights wyoming
If you anticipate an upcoming water project, whether it's a new groundwater well or new stock-watering pond, that project will most likely require a permit from the State Engineer's Office. The State Engineer's Office is committed to processing applications in a timely manner, even given the evolving situation surrounding the coronavirus disease 2019 (COVID-19) outbreak.
Consistent with recommendations of social distancing, and to prepare for potential staffing and workload challenges, the State Engineer recommends using our online e-Permit system (available at http://seoweb.wyo.gov/e-Permit/Common/Login.aspx) for all new applications.
For e-Permit questions, please contact:
Lisa Lindemann for Ground Water applications ([email protected])
Nathan Graves for Surface Water applications ([email protected])
Cheryl Timm for Board of Control activities ([email protected])
The mission of the Wyoming State Engineer's Office and Board of Control is to provide for the general supervision and protection of both inter- and intra-state waters of Wyoming. This includes the appropriation, distribution and application to beneficial use of water as provided under the prior appropriation doctrine, and to maintain the flexibility within that framework to meet the changing needs of the citizens of Wyoming. The State Engineer's Office collects, analyzes, maintains and provides water related information for ensuring the appropriate management and regulation of Wyoming's water resources.
Sours: https://seo.wyo.gov/
Explore - Yellowstone National Park, Wyoming, USA (Waterfalls, Geysers, Grand Prismatic Spring)
About the Ground Water Division
Contact Ground Water Division: 307-777-6163
The 1947 legislature enacted the State's first groundwater laws. Although the legislation was not extensive, it did for the first time, require the owners of any groundwater wells drilled in the state prior to April 1, 1947 to register their wells by a "Statement of Claim" with the office of the State Engineer. It also required that any new well proposed to be drilled after that date (except those for stock or domestic uses) must also be registered, and thus began the application of the prior appropriation system to groundwater use in Wyoming. Well filings made under a statement of claim could receive their priority based on the claimed date of completion of the well, going back as far in time as could be justified, while registrations of wells after April 1, 1947 would receive a priority as of the date their new filing was made with the State Engineer. A process for adjudication of wells was also included in the
As far back as 1952, the State Engineer had reported that there was interest in strengthening the 1947 groundwater laws, but It wasn't until 1957 that the legislature responded by enacting a much more comprehensive code for handling underground water. Those laws provided that wells for domestic and stock uses would have preferred rights over other groundwater uses even though they were still exempt from filing requirements, and that all other wells would need to be permitted by the State Engineer before construction could commence. The appointment of a Division Advisory Committee on groundwater matters was required for each of the four historic water divisions, and the State Engineer was directed to establish aquifer districts and sub districts within those water divisions. In districts of sub-districts where concerns for the condition of an aquifer existed, the laws provided the designation of "critical areas" and the election of an advisory board to manage the concerns of that area.
The statute further clarified that an underground water right does not include the right to have the water level in any well maintained at any elevation above that required for maximum beneficial use, and established a penalty for drilling without an approved permit. Additionally, the new law specified that groundwater rights were subject to the abandonment statutes the same as surface water rights, and that a change in location of a well could similarly be accomplished by petition to the Board of Control. The State Engineer was given the authority to promulgate rules regarding minimum well construction standard upon advice and consent of the Board of Control, and to order the cessation of the flow of water from any well when necessary.
In continuing to refine the 1957 groundwater laws and address problems that had arisen, the 1969 legislature expanded the groundwater code substantially. Included was a provision that as of May 24, 1969, all groundwater wells, even previously exempted stock and domestic wells, required a permit from the State Engineer before drilling could be commenced. Domestic and stock water wells still had a preferred right over wells for other purposes, with the term "domestic" being well-described and conditioned. Subsequent to that legislation, any unregistered well was not considered to have a valid water right and could not expect to receive protection under the law (Cooper, 2004).
In addition to processing and maintaining groundwater permits, the Ground Water Division maintains a statewide observation well network, conducts interference investigations and water right adjudication inspections, prepares proof of adjudication for the Board of Control's consideration, reviews reports of water supply adequacy for subdivisions, and provides conflict resolution between groundwater and surface water appropriators.
Sours: https://seo.wyo.gov/ground-water
Now discussing:
WATER RESOURCE MANAGEMENT SERVICES
WYOMING WATER RIGHTS CONSULTING, INC. is dedicated to helping Wyoming's water users fully identify, develop, utilize, perfect and protect their water resources. We have designed our water resource services to detect and correct any discrepancies between the client's water rights of record and their actual use of water – before those situations become serious problems. It has been our experience that water users are only using 60-80% of their water rights. Further, the water rights too often do not reflect the water facilities that exist on the property. Whether you are purchasing a property and need due diligence assistance; or the ranch has been in the family for generations, we can serve your needs!

PROFESSIONAL SERVICES
ADVISORY SERVICES – we'll answer your questions in plain Wyoming English – questions you may be hesitant to ask government officials.  Use our expertise and experience to assist you with making the right decisions about your water rights and water use. Give us a call!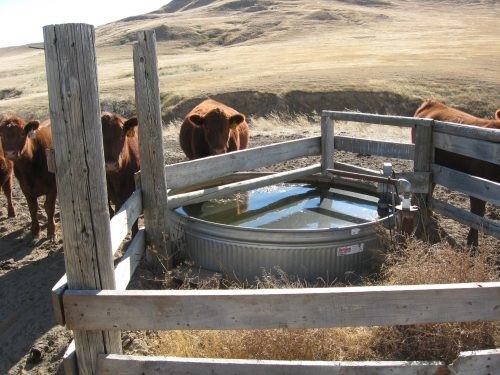 WATER RIGHT SEARCHES – identify the water rights of record attached to the property. We prepare a Water Rights Abstract containing the water rights documentation and our determination of the specific water rights, or portions of water rights, that are appurtenant to the lands described on the deed. We can inventory all or specific types of water rights (depending upon your needs) affecting any identified parcel of land.  Searches are performed in the Offices of the State Engineer and State Board of Control by employees of Wyoming Water Rights Consulting, Inc.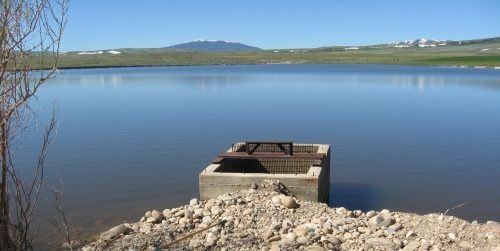 WATER RIGHTS ASSESSMENTS – compare the water rights of record with the actual historic use of water on the property – our experience and techniques allow us to fully identify the water rights of record, or portions thereof, which have been maintained by beneficial use. We provide specific recommendations for using and protecting your water rights.
Life is too short to live it without a fish pond! Give us a call!
WATER RIGHTS MANAGEMENT PLANS – we provide you with a comprehensive and practical strategy for perfecting your water rights while incorporating your water needs and land use objectives. We identify and schedule actions necessary to fully develop and perfect the water rights asset for the continued benefit to the property owner. Differences between the water rights of record and the actual water systems and uses of water on the property are identified. Recommendations are provided for resolving these situations in the best interests of the client. Further, we are available to assist you with any needed improvements on the ground and with all appropriate water rights changes / additions to serve your water needs well into the future.
COMPOSITE MAPS – show the water rights of record, irrigated lands, ownership, etc., providing a practical tool for managing the water rights asset of the ranch. We utilize the latest computer-aided drafting, GIS, and graphics software coupled with state of the art technology to create accurate, colored maps showing the water rights, irrigated lands and/or other pertinent resource data.  Our maps incorporate a USGS topographic or aerial photographic background as a user-friendly management tool.

Map Showing Water Rights of Record (click for full size)

Composite Map Showing Water Rights of Record vs. Irrigable Acres (click for full size)
NEW WATER RIGHTS APPLICATIONS/PETITIONS – are prepared and filed for any beneficial use of water. WWRCI works with the State Engineer's Office and State Board of Control staff to facilitate efficient and favorable outcomes through these water right processes. We have prepared hundreds of water rights applications and petitions! Our procedures help ensure the client ends up with the water rights they really need and where they need them!
The following examples are maps that are of public record filed in the Wyoming State Engineer's Office.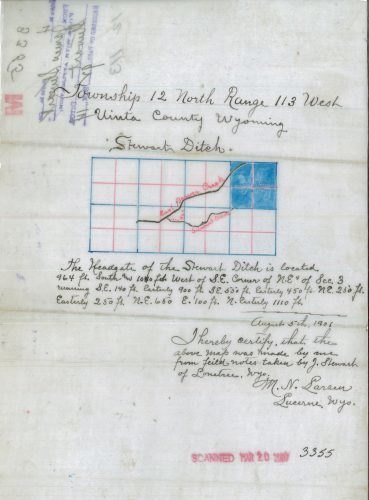 Irrigation application map dated August 15th, 1901. Click image for larger view.
Irrigation application map dated April 15th, 1902. Click image for larger view.
Many of the water righted lands in Wyoming are recorded in the State Engineer's Office on maps such as the two examples above. Many territorial (pre-statehood) water rights were recorded without a map, survey, or field inspection. They often include a "blanket" land description, which can be vague.
The "of record" sheet of the petition map shows the lands as they were described on the original water right documents. Click image for larger view.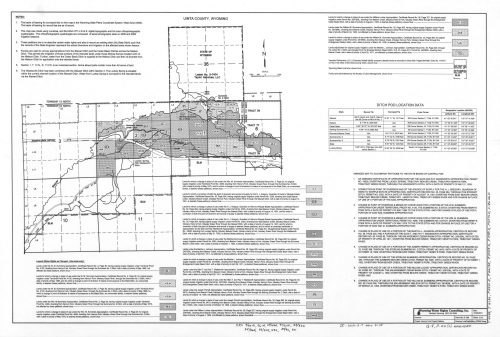 The "as changed" sheet of the petition map shows how the water rights have been re-described to fit the present day use and needs of the client. Click image for larger view.
WWRCI prepares detailed, accurate maps showing both the "of record" and "as changed" water rights for the client's property. Our petition efforts and these maps perfect the client's water rights!
WATER SYSTEM ASSESSMENTS – We can determine whether you're getting all of the water that you are entitled to through your irrigation system. Many ditches suffer from problems associated with less than optimal diversion/headgate structures; improperly working flow measurement devices; down-ditch bottlenecks (undersized or damaged culverts, debris buildup and other obstructions); and lack of regular maintenance. If you cannot divert and deliver all of your available water to your field, you are not producing what you should! We can help you divert and convey all of the water to which you are entitled whenever it is available. We can also help you accurately measure your water. See our Water Measurement page for more information.
INVESTIGATIONS – WWRCI can research and make determinations of proportionate interests / ownership of ditches, reservoirs, wells and other water facilities and water rights. We can also investigate the capacity / functionality of water systems concerning water system assessments and management; as well as water delivery and use issues.
LITIGATION SUPPORT – Mr. Rhodes is available to attorneys as an expert witness on water, water rights, irrigation, water management and measurement, ditch and ditch rights, reservoir interests/ownership, Section 404 of Clean Water Act, and related issues.  Todd and his staff work with counsel, complete investigations and produce exhibits to demonstrate the facts and their investigative findings.  Mr. Rhodes' comprehensive approach, analytical skills and problem-solving abilities have been key to the outcomes of important water cases.  Todd and his team have extensive expertise and experience in the water, engineering and land surveying fields.
Useful Water Links:     Beneficial UseWater FactsWyoming State Engineer
All of our professional services are easily tailored to suit your individual needs.  Please feel welcome to call us to discuss you needs.
CONFIDENTIALITY STATEMENT
WYOMING WATER RIGHTS CONSULTING, INC. is not affiliated with any form of local, State or Federal government. WWRCI recognizes the sensitivity of client information. All water right reports and evaluations are strictly confidential and are maintained solely for the client's interest.
Sours: https://www.wywaterrights.com/waterrights/
615
616
617
618
619