Shags and mullets: navigating this season's most desired hairstyles
'Here's the thing about mullets,' James Pecis – legendary hair stylist and Session Stylist for Oribe – told us over a recent Zoom call. 'You say mullet and everyone laughs… but really it's just a super heavy fringe with some length in the back. It doesn't always have to be an extreme Canadian hockey player or Australian surfer mullet.'
It's true that the mullet has been undergoing something of a makeover lately, going from one of the most derided hairstyles of the 20th century to one of the most cultivated cuts of the 21st. Whether you're thinking of trying a full-blown 'Canadian hockey player' look or going for the more subtle 'shag' look that Pecis' describes, it's best to consider all your options before taking to the scissors.
To help, we've asked hair stylist and fellow Orbie representative Nicci Welsh to talk us through it all.
Mullet or shag?
Dress, by Chanel. 'Koam' sideboard, by Jean-Marie Massaud, for Zanat, from Viaduct. 'Repp Stripe' rug by Thom Browne for The Rug Company
'If you are thinking of trying a shag or a mullet, two of the trending cuts of the season, there are a few pointers you need to know,' says Welsh.
'A mullet is cut short in the front and on the sides, but left untouched or longer in the back. Although hair will be longer in the back, you will only see a short hairstyle straight on.
'A shag haircut stays longer all the way around the edges, with lots of internal layers. These shorter layers create volume around the crown, which you often loose with a longer layered haircut. This look gives the perception of having longer hair,' Welsh continues.
'You can take these looks one step further by attempting the shaggy mullet. The shaggy mullet is a choppy layered combination of the two styles.'
Finding the cut that best suits your hair texture
Jacket and mini skirt, by Dolce & Gabbana. Shoes and earrings both by Aeyde. 'Koam' sideboard, by Jean-Marie Massaud, for Zanat, from Viaduct. 'Bai Lu' chair, by Neri & Hu, for Lema. 'Loom' fabric in Plaster, by Mark Alexander
'Hair types play a big role with the outcome of these styles,' says Welsh. 'Going along with this, hair and scalp health are the main foundation of any amazing hairstyle.'
Unsurprisingly, Welsh recommends looking to Oribe's wide range of products to ensure hair is as healthy as possible, and we have to agree that the luxury haircare brand offers the best selection for all hair-health concerns.
'A shag haircut creates fullness from the layers, which is great for fine hair,' says Welsh. 'Using Oribe Grandiose Hair Plumping Mousse will help pump up the volume, giving your hair an even fuller look.
'If you have thick, straight hair, both the shag and mullet will suit you. Use Oribe Dry Texturizing Spray to bring out the texture in your hair, while adding lift and volume.
'Curly hair is best for a mullet, as it creates the perception of a narrow shape to your head. If you want to enhance your curls, use Oribe Curl Control Silkening Crème, which includes a beautiful blend of oils that helps define your curls, while controlling frizz.'
Finding the haircut that best suits your face shape
Dress, by Loewe. Earrings by Aeyde
'If you have a wide jawline, the face-framing layers of a shag can soften the face frame. Finish the shag look off with Oribe Airstyle Flexible Finish Cream. The product's natural flower wax blend creates touchable, reworkable texture, giving it that on-trend finish,' advises Welsh.
'Avoid either look for small or narrow foreheads, as it will create the illusion of a smaller face. Instead, opt for a longer, sweeping curtain fringe that pulls away from your face.
'A mullet cut can also even out a long face with a sharp or more prominent jawline. Use Oribe Rough Luxury Molding Wax to bring out a feathery texture to the back while adding some structure to the top.' §
Sours: https://www.wallpaper.com/beauty-grooming/shag-mullet-hairstyles
As far as makeovers go, there's nothing quite as satisfying as a hair transformation—especially when before and after photos are involved. So, in the name of Renovation Month, we're resurfacing this incredibly satisfying story that was originally published in August 2018.
As someone with long, curly hair — the kind that frequently feels like a more powerful accessory than a favorite necklace or pair of shoes — I spend a decent amount of time thinking about the connection between the stuff that grows out of my head and the stuff that goes on inside of it. In other words, I'm deeply intrigued by the close interplay between hair and identity. Considering that hair can be easily altered, that it's programmed to grow back no matter what you do to it, isn't it fascinating that we imbue it with so much power?
The truth is, a dramatic haircut really can feel like a seismic shift, not only in terms of how you look but also in terms of how you dress and how you act. That's why committing to getting one takes guts. It takes extra guts when the dramatic haircut in question is one you never thought you'd get, which is exactly the kind of chop four Man Repeller community members received last week at the hands of Hairstory stylist Wes Sharpton. Read about their experiences below (spoiler alert: It's a real treat).
A roundish, neck-length shag.
From an emotional standpoint, I was afraid I wouldn't like how the haircut turned out and then I would have to walk around with it on my head for months. I was also worried my potential disappointment would justify not taking more risks in the future. From a practical standpoint, having long hair is pretty handy. Mine is textured enough that when it's long, I can twist it into a bun without a hair tie and it stays put. I knew if I cut it off, I would miss that.
At the same time, I recognized that my hair would always grow back. I started to understand that my underlying fear was more about how I would explain why I cut it. Was I rejecting femininity? Was I embracing femininity? My long hair has always been one of the first things people associated with me. It was tied to my identity, even though that's not what I intended when I let it grow out. It wasn't a statement, but it was a safety blanket — a part of myself that I didn't have to question. I fretted that a major change in my appearance would reveal the existence of my inner identity turmoil, which in high school is a particularly terrifying prospect. As someone who likes to maintain an assured persona, I wondered what it would feel like to expose that I have absolutely no idea who I am.
Ultimately, I decided to ignore my existential angst. I decided I don't need to justify myself to other people and, most importantly, that I can be excited by the idea of not having everything figured out yet and just cut my hair already.
Chopping my hair was liberating. I didn't notice how much it weighed me down both physically and metaphorically. Wes did such a great job, and I'm really happy with the way it turned out. It definitely has me living in my '70s dreamscape.
Judging by how well the haircut turned out, I'll be taking more risks in the future. I think this shag will be my gateway to loosening up in general. Looking back, I realize that I shouldn't have been so nervous, and I wish I had chopped it off sooner. Sigh. I guess I need to buy some hair ties now.
---
Brittany
What's the one haircut you never thought you'd get?
A mullet.
Why were you initially opposed? What made you change your mind?
It's definitely a fraught hairstyle. For a long time, when I thought "mullet," an image of Billy Ray Cyrus in the '90s would pop into my head, which isn't generally what I'm trying to emulate. For years, the prospect of any haircut, let alone a risky one, was unthinkable to me, and even as I've slowly come to embrace new lengths and colors, I've still stayed within a certain comfort zone. However, after moving to Bushwick (which I assume has the most mullets per capita of any New York neighborhood), I started seeing ones that were both fashionable and feminine, and this new versatility really intrigued me. At a certain point I realized it was time for me to evolve past my blunt cut (maintained via dull scissors in dorm rooms), so I cautiously committed to getting the haircut I'd become so preoccupied with: the mullet!
How did it feel to finally take the plunge? Do you like it?
It felt exciting and nerve-wracking. I was so disoriented on my way to the salon that I nearly entered through the building's freight entrance. Nevertheless, I eventually arrived at the proper address and I couldn't be happier with the final product! My sister compared it to Joan Jett's hair on the I Love Rock 'n' Roll album and I didn't even have to bait her to say it, so it's been really ideal.
How do you think this haircut will affect the way you act?
I'm hoping that as I inhabit a hairstyle that's more unruly, I'll allow myself to loosen up more with my appearance. I tend to dress with a certain exactness. It's exhilarating for me to steam my clothes each morning and it's really important for me to feel like the colors in my outfits coordinate and that my overall appearance is fairly polished. Especially coupled with the bold makeup and jewelry I'm inclined to wear, I feel like this jagged mullet is going to add some really cool dissonance to my more "put together" ensembles, and I'm so stoked to play with that!
---
Ariel
What's the one haircut you never thought you'd get?
A buzz cut.
Why were you initially opposed? What made you change your mind?
I don't know if I was exactly opposed, but I'd long orbited the style and was looking for a sign (I ended up receiving multiple). Part of my motivation was simply pragmatism. I had so much thick hair, which was expensive and took a lot of time to maintain, but I'd never gone shorter than a bob or had so much new growth in my hair's natural state.
Some of my motivation stemmed from growing up and being told that having "good" or "long" hair is important. I could write many books on what learning that as a Black girl has meant for my Black adult self (or how the generational wisdom regarding the aesthetics Black women passed on to Black girls to ensure a smoother existence in a non-Black public plays out in 2018). But, long story short, my baby rebellion of opting for only slightly shorter hair just wasn't cutting it (haha) anymore.
And some of it, I'll admit, was stress and sadness: I just moved back to New York, and I'm working a ton but am still beyond broke. The idea of getting a buzzcut was my means of navigating the recent loss of my grandmother/personal style icon PLUS the gooey, complicated space of hurt/-ful family. Hair maintenance was starting to feel like a symbolical rehashing of all these dilemmas every day, and I was never satisfied with any one style.
With all that in mind, going home for my Nana's service earlier this month involved taking in a lot of photos and realizing that her stylistic "peak" involved — and had kind of always involved — little-to-no hair. A huge chop suddenly felt like a good way to feel a little less stuck, a little more in touch with her memory, and to realize my agency at this stage of my life.
How did it feel to finally take the plunge? Do you like it?
It felt fine — until the day before, which felt more, "Oh…wait shit, really?" The subway ride to the deed itself was spent in a full-on dissociative, wide-eyed dream state. But in the chair, watching my hair fall was somehow easy. It also helped that Wes and Louisiana were amazing at building the hype and reassuring me that this was indeed a Good Decision. For now, I'm easing into feeling the wind on my scalp and always seeing my absurdly small ears. I've already forgotten how I look with a head full of hair — and that's very cool.
How do you think this haircut will affect the way you act?
I'm excited about observing a potential shift in my behavior, because hair is at once so personal and interpersonal! Right now I feel pretty mousy/hyper-aware because the shave is so fresh, but with time I'll be out in the world and dealing with strangers, more settled into the new look. There are public social advantages large and small that I'm sure I've exchanged just by getting rid of my hair — that snap association with more normative "pretty" femininity being the main one — and seeing that change in the way people interact with me might in turn have its own impact on my general attitude.
I see myself with the buzz, though, as…kinda no-bullshit? For sure a teensy bit "smirking sunglasses emoji." The cut itself notwithstanding, I've gone through a lot of hard adjustments in the past 12+ months. Buzzing off my hair feels like I've launched a change on my own terms for something that matters to me, which makes it possible to look back with more pride on what I have accomplished over the past year (new hair, new context?). Time will tell if my longstanding aesthetic of "eccentric celestial aunt/grandma who spent ten formative years on the Upper West Side" will survive the cut, though; if it doesn't, I imagine more of a "Sailor Scout estate sale clothes shopping for themed club parties" vibe is my next logical style step.
---
Denise
What's the one haircut you never thought you'd get?
Baby bangs! I have fine, thin hair that is on the wavy/curly line and I have a very hard time finding the right person to cut it. My last two haircuts were way too short and not what I wanted (basically cutting all my hair off), so I've been trying to grow it out since January.
And yet! I have a dream haircut — a blunt bob around my chin with baby bangs. I am totally into the bob but am scared to death of the bangs. I've tried bangs before, but long ones. In grad school, I flat-ironed them and left the rest curly (oh, the mistakes of youth) and the rest of the time I've just pushed them to the side and grown them out.
I'd decided to get the long bob but without the bangs, even though I wanted them, because I felt like they wouldn't work for me. But dammit, shouldn't I just go for it for once? I'm 39 years old. If not now, when???
Why were you initially opposed? What made you change your mind?
Bangs don't usually work on my curly hair. I've never worn curly bangs as they are hard to control and they make me feel self-conscious. For some reason, wearing them straight across my forehead and curly seemed somehow aggressive and "too much," and I was worried about the amount of time and effort styling would take. But I had a hair inspiration folder that was 95 percent curly short bangs — it's clearly what I wanted, so why not just go for it?
How did it feel to finally take the plunge? Do you like it?
I was really on the fence in the days preceding my cut. I (hopefully) have a job interview coming up and didn't want to change my hair right before, and I was also worried about not liking the cut and being stuck with a high-maintenance style. But the whole point was that this was supposed to be a haircut that terrified me, right?
I love the cut. Wes really cared about working with my hair and teaching me how to style it. He kept the length in the front and just trimmed the back and bangs. It wasn't long enough for the bob length but it looks good as is and will grow into what I want. And the bangs — they are a miracle. I just air dry everything and the bangs come out perfectly. Not too long, not too short, and they sit well with their natural texture. I'm actually wearing them across my forehead, big and bushy! It's outside of my comfort zone, but I like it!
How do you think this haircut will affect the way you act?
I've been on a journey of expressing myself through my clothes and style without being so concerned about standing out or what other people think. I recently lost over 100 pounds and am slowly discovering the ways in which I was suppressing my style for fear of standing out (I thought if I wasn't making an effort, no one could judge me). I've completely rebuilt my wardrobe since then, purchasing the majority of my new stuff from vintage or secondhand stores. I've found myself buying really unique pieces that I love but then not wearing them, so I started a new policy called "wear your clothes!" I now wear everything I love as a result, even if I think it makes me stand out or is a bit weird. It's been completely liberating.
I've finally stepped outside my comfort zone in favor of a hairstyle that's a little zany — curly, a bit boxy, with short bangs. And instead of feeling self-conscious about it, I feel confident and at peace. This is me being who I am for me, not for anyone else. So what if I've got some wild bangs? I feel like it's all part of the process of me coming out of my shell and living life for me.
Photos by Louisiana Mei Gelpi.
Sours: https://repeller.com/bangs-mullet-haircuts-id-never-try/
What is the 'wolf cut'? The season's hottest hairstyle is Gen Z's version of the mullet
Not only did pop star Billie Eilish break Instagram records back in March, when a photo of her newly blonde hair achieved a million likes in six minutes, the Ocean Eyes singer also launched the hottest haircut of the season.
Dubbed the "wolf cut", Google searches about the hybrid mash-up of the shag and the mullet have risen by 100 per cent since 2020, with Pinterest recording an 88 per cent rise in searches. Over on TikTok, videos showcasing the hot new Gen Z haircut have been viewed more than 100 million times.
"I love it," says Adam Grier, senior stylist at Pastels Salon Ritz Carlton in Dubai, "It's edgy, cool and current. It's been around for a while in fashion capitals such as London and is becoming more visible elsewhere as it translates into the mainstream.
"I think it's a great choice for those who live in Dubai and will be here during the summer months when you want an easy, unfussy, on-point style that requires minimal effort."
A style which works on most hair lengths, Insatiable actress Debby Ryan was also inspired to go for the choppy look, and there are already plenty of variants with added layers and sharper tapering towards the ends.
"This haircut works for anyone who is ready to change their look and comes with a lot of character and movement," says Hicham Eid, creative director at Eideal and Davines Arabia. "It would work on any hair texture, but if someone has a style that tends towards the more classic, I would avoid this unless they really want to embrace an edgier look."
"This will work on pretty much every hair type and it gives a lot of movement and texture," adds Grier. "If you have thick hair, this style will work because it comprises lots of layers, which can texturise thick hair. For those with fine hair, the addition of layers add volume.
"The style can even be adapted to work with curly hair and, in terms of length, it can be adapted to suit any length from the collarbone and beyond."
TikTok and YouTube are filled with videos showing teens performing at-home DIY cuts, putting hair up into high, unicorn ponytails, before letting loose with the scissors.
The style is also the latest unisex look, with Jin of BTS K-pop band sporting a sleeker version.
"A salt spray is a must-have to give your hair that on-trend beachy effect, without the rough touch," advises Grier about styling the look.
"One of the key things about this look is that it is very natural and undone so you don't always need to blow dry," says Eid. "This is a low-maintenance haircut since it has a lot of movement and so it should look effortless. It doesn't need much effort and could be a wash and go."
_________________
Read more:
How to go from dark to blonde: Everything you need to know about the 'high-maintenance' hair transformation
Amazon to open augmented-reality hair salon in London with hi-tech mirrors
Curly hair makes a comeback: How the pandemic has led women to embrace their natural texture
_________________
Sours: https://www.thenationalnews.com/lifestyle/fashion/what-is-the-wolf-cut-the-season-s-hottest-hairstyle-is-gen-z-s-version-of-the-mullet-1.1230042
Tiktokers Doing The One Minute Mullet Trend
A well-known favorite from the 80s is trending again: the mullet. The cut has evolved over time (thank goodness) and its toned-down version is sure to win over even the greatest mullet-skeptics.

So, what is a mullet? Let's get a quick overview of this classic 80s haircut, known for its "business in the front, party in the back" style: The long bangs in the front transition to short hair at the sides, while the hair at the back is left long. David Bowie, famous for both his music and his hair, was certainly a fan. Today, a few decades later, we're seeing a mullet comeback – and the hairstyle is crowning the heads of numerous trendsetters.
Who can pull off a mullet?
Punk look: Make sure you choose the right mullet for your hair type 

To be fair: whoever gets a mullet haircut needs some courage to pull it off. This is especially true when it comes to the more extreme mullet cut: long messy bangs, sides shaved very short, and hair at the back of at least shoulder-length. At the moment, the softer, toned-down version of this 80s hairstyle is particularly trendy. And how does that look? The bangs reach to the eyebrows, and the hair near the temples is layered so that the transition to the longer section in the back doesn't seem as extreme. This creates a softer look that can also take on a more romantic feel.
Tip: Because the mullet can be cut in different ways, it's recommended to select a mullet hairstyle that suits your hair type. Go in for a consultation with a professional hair stylist to make sure you're getting the cut that's best for you.
You could always dye your locks to stand out even more!

The contemporary mullet hairstyle looks the most modern on those with thicker hair, since it plays up the volume, than on those with thin, straight hair. However, if you have your heart set on getting a modern mullet but have finer hair, styling it correctly can help! For fine hair, work a texturizing balm into your hair and follow up with volumizing powder to add fullness.
The mullet also suits women with natural curls. The soft layered transition from the bangs to the length in the back provides a contemporary look that compliments those curls. To make sure your curly mullet doesn't end up looking like a ball of frizz, just make sure you add some product while styling. After washing, work a hazelnut-sized amount of mousse into your hair and then dry using a diffuser. Treat your ends to some hair oil and you're ready to go!

Sours: https://www.schwarzkopf.com/en/home/article-overview/hairstyling/mullet-comeback.html
Mullet thick hair
Cool Mullet Haircuts
Even at the height of its popularity, the mullet haircut was not for the timid. Known as the "business at the front, party at the back" cut, the mullet has some attitude.
Some of the most famous mullets are from hockey players like Jaromír Jágr and Patrick Kane and country music's Billy Ray Cyrus and Blake Shelton. Baseball has seen its share of mullets and there is definitely more flow emerging from the back of baseball caps these days.
With the return of 80s and 90s styles and less barber visits over the year, the mullet is making a comeback. Keep that pandemic length and add some shape. Modern incarnations of the mullet add mohawks, fades, pompadours, flat tops, and hair designs to the look.
They can be short, medium, or long but mullets always have flow. What stays is the same is shorter hair at the front and hair long enough to cover the neck at the back. Check out these cool retro, modern, and futuristic mullets.
Cool mullet styles can be retro or modern.
1. Hipster Mullet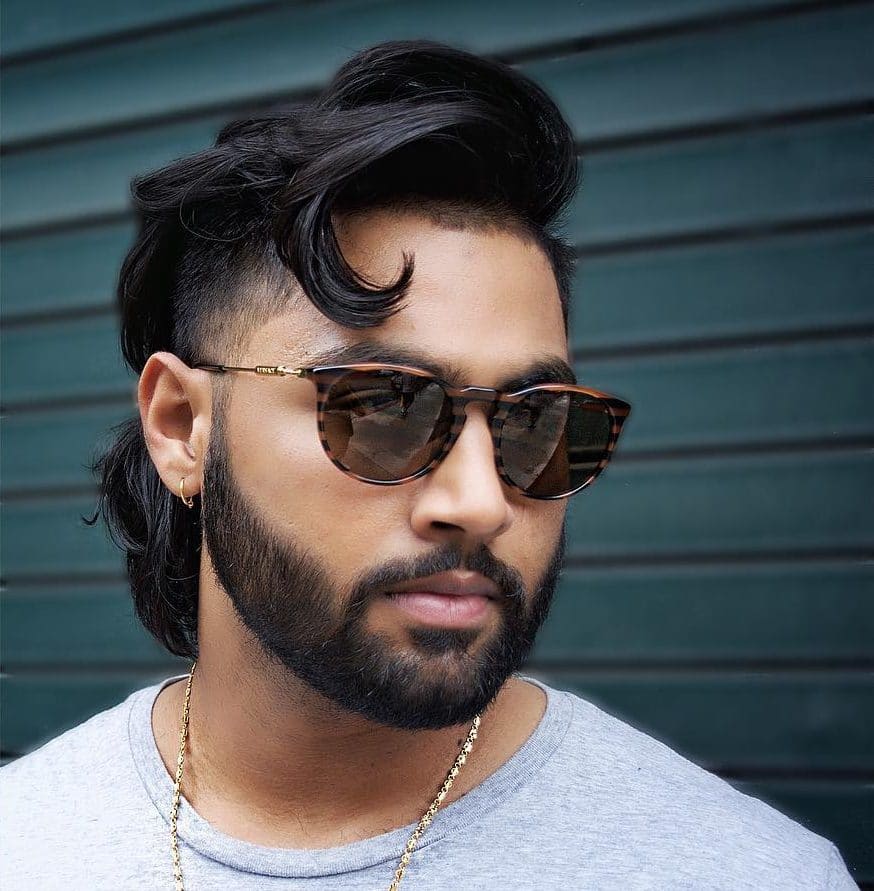 Mullets can be cool, very cool. This fresh style combines medium hair on top styled with plenty of movement, faded temples, and some thick flow at the back. Somehow it all works and looks great, although not everybody can pull the look off.
2. Spiky Top + Wavy Back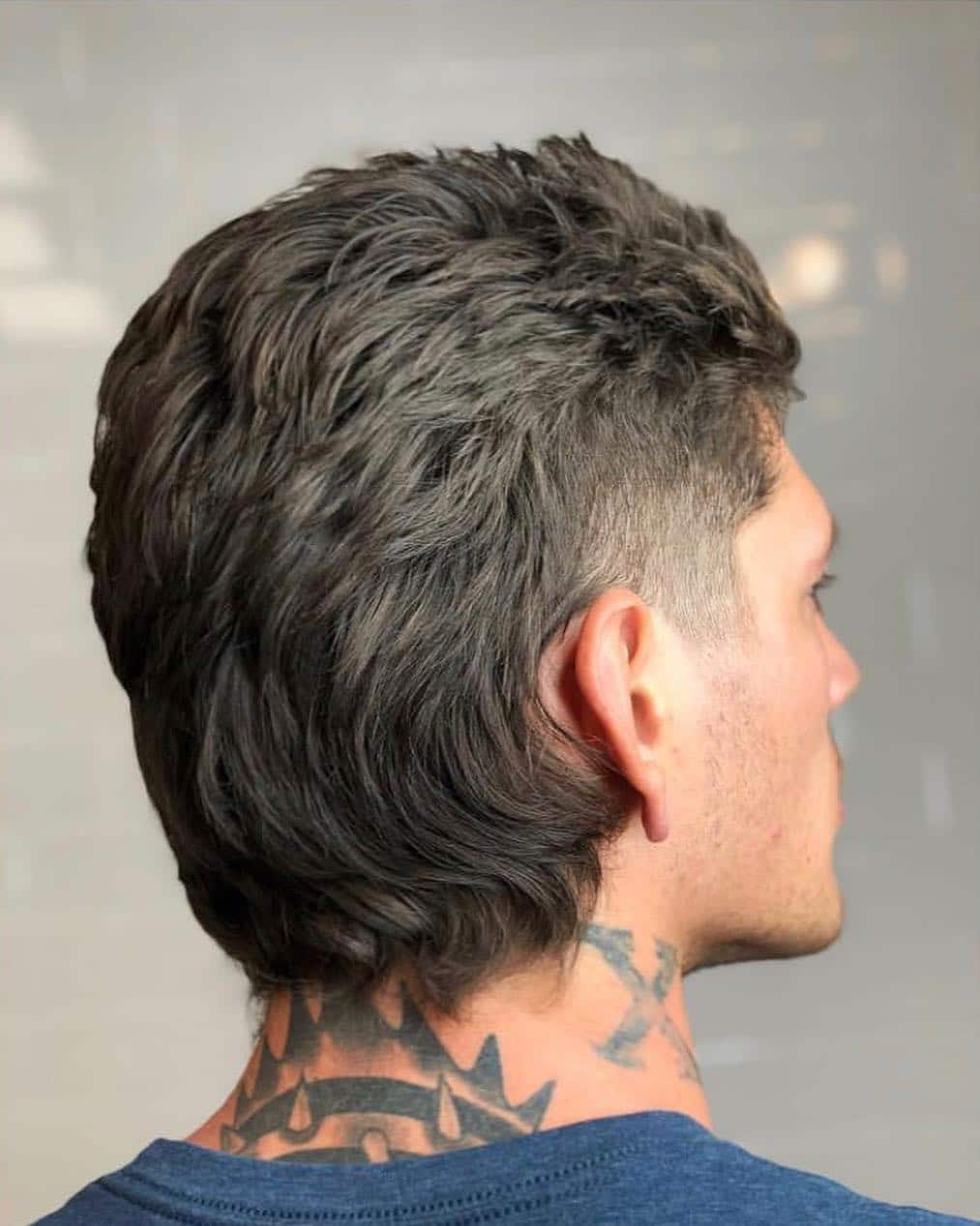 This classic mullet haircut gets texture from wavy hair and spiky styling. Temple faded sides create a sleek silhouette.
3. The Kentucky Waterfall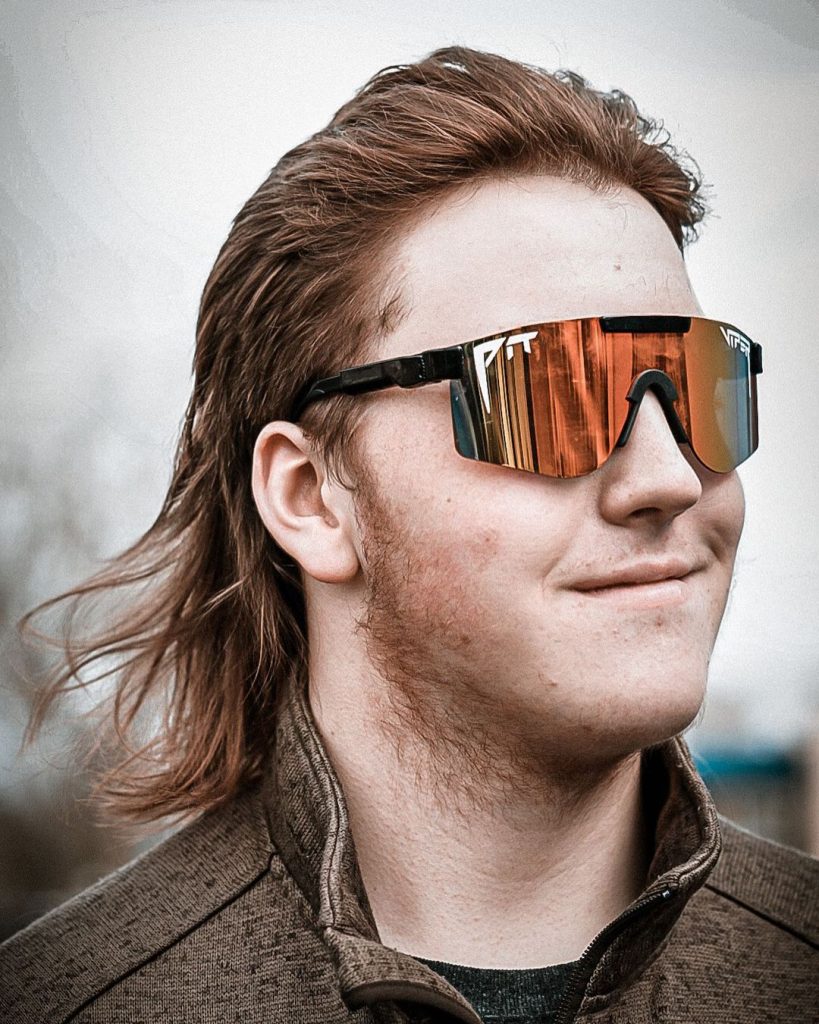 Look up Kentucky waterfall in a dictionary and you'll find this picture.
4. 90s Mullet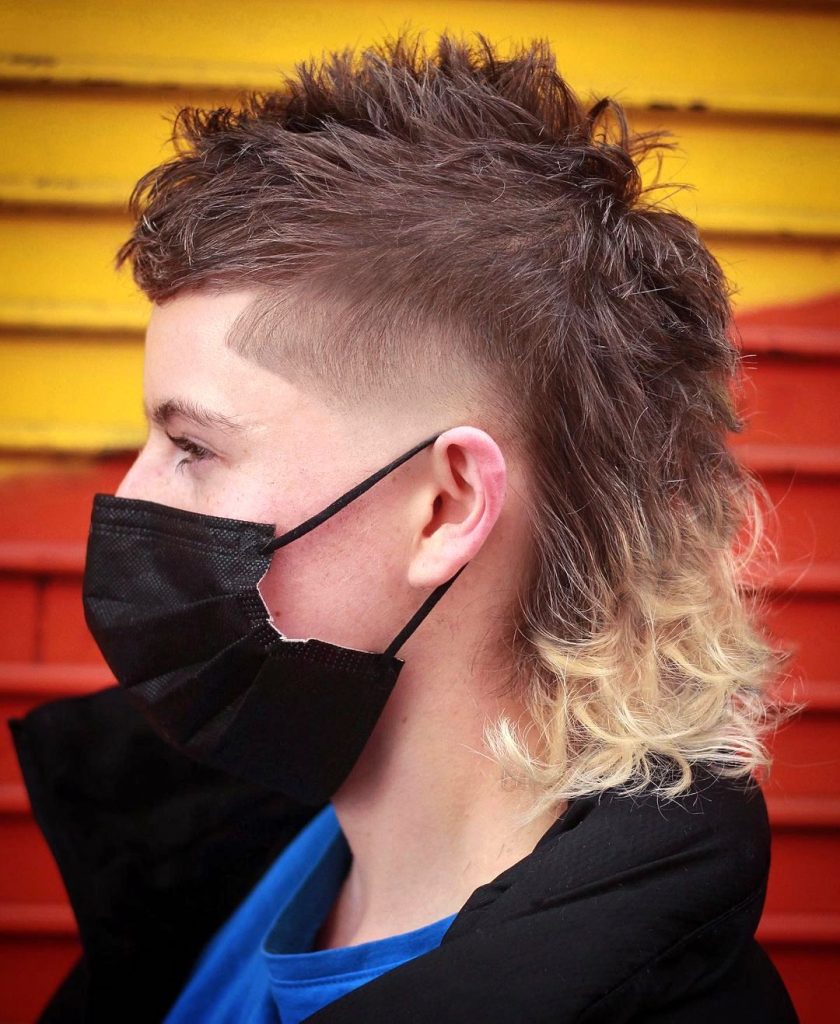 With some crispy spikes and blonde tips, this cool look couldn't be hotter.
5. Baseball Mullet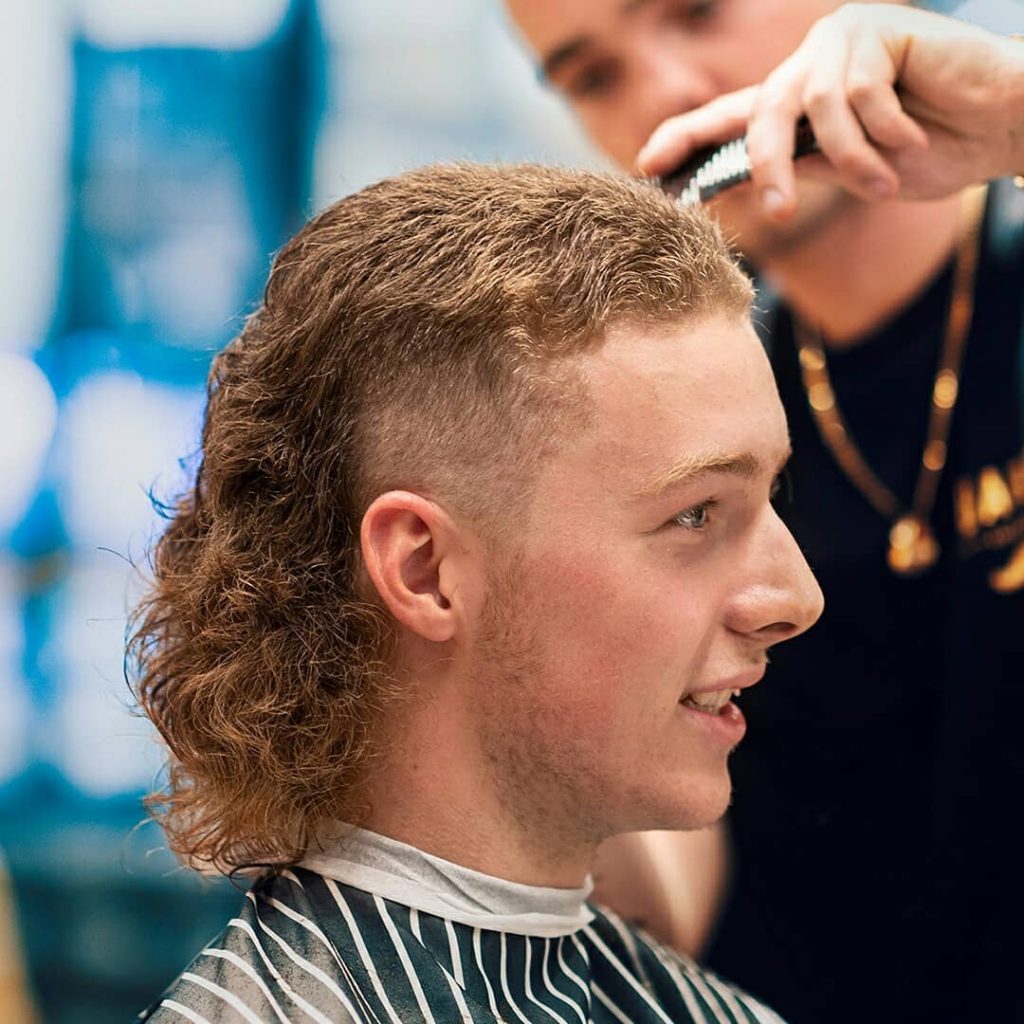 This curly mullet is designed for maximum effect with a baseball hat.
6. Ziggy Stardust Mullet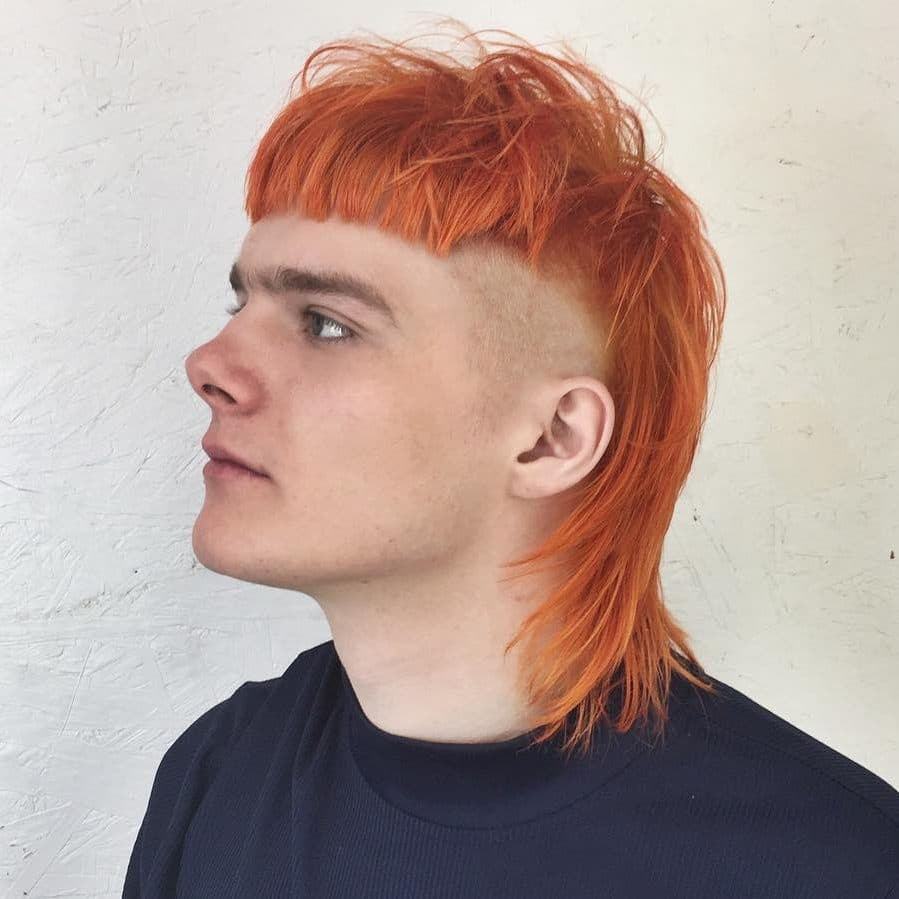 Perhaps taking inspiration from Ziggy Stardust, this orange mullet features blunt bangs, a temple fade, and layering at the neckline.
7. Side Part Mullet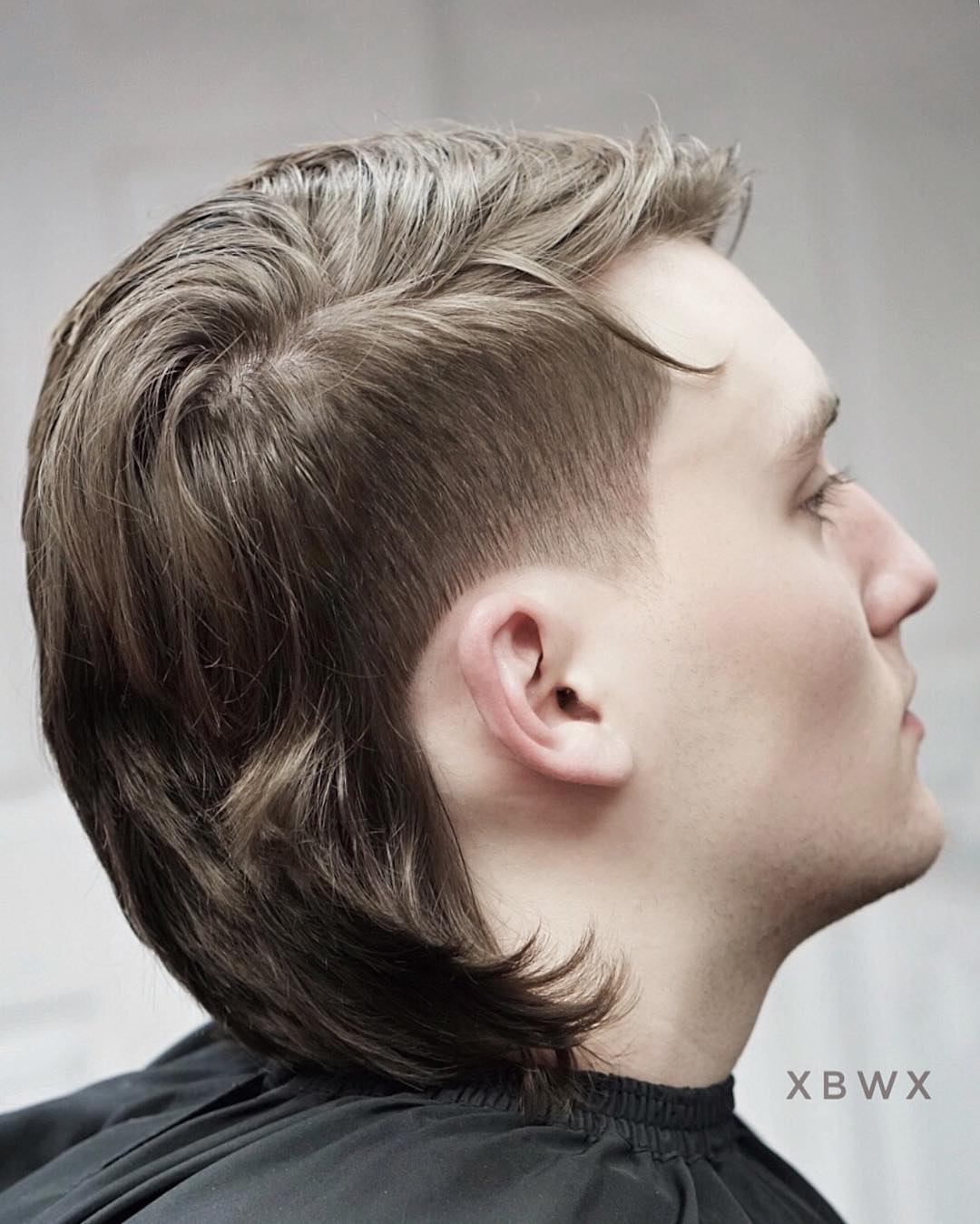 A cool take on the mullet, medium hair is parted on the side and combed over.
8. Mullet + Fade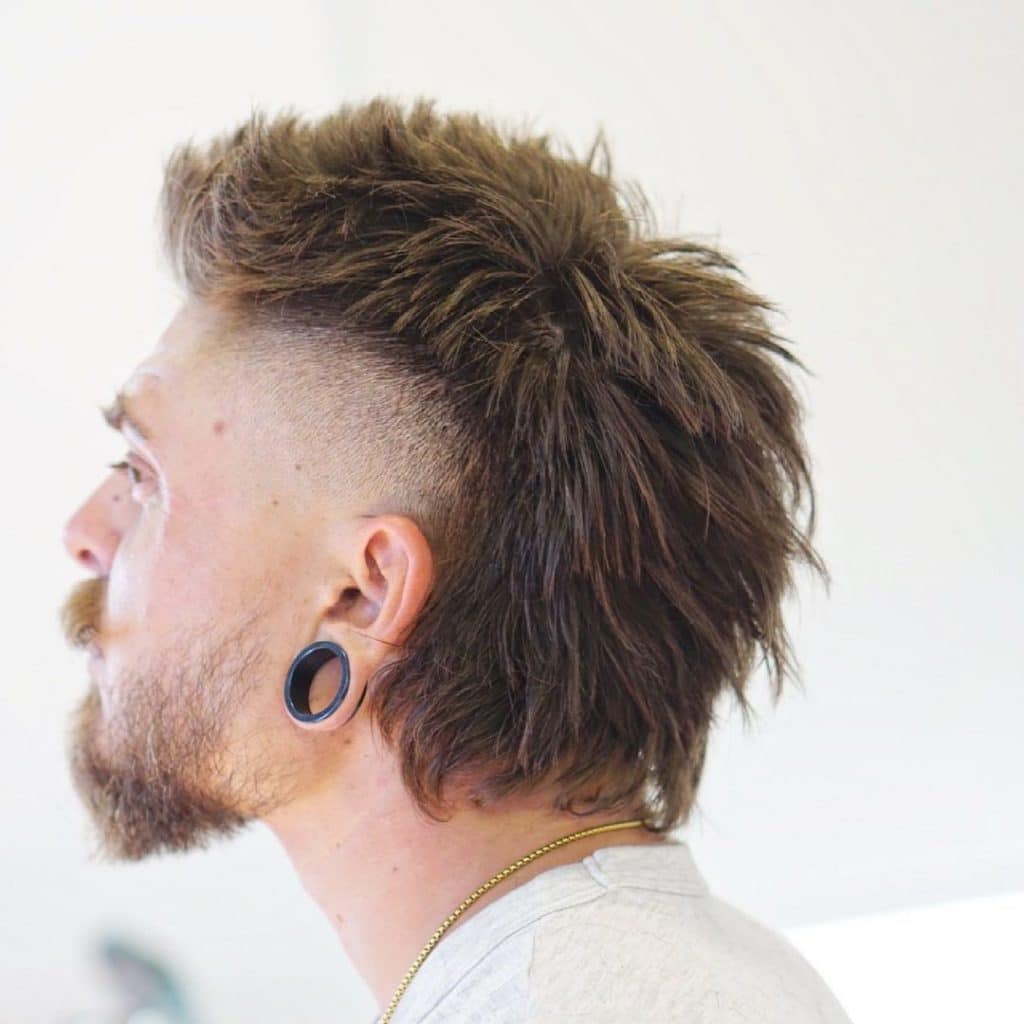 A wider version of the popular mullet hawk, this is one way to wear the temp fade mullet.
9. Temp Fade Mullet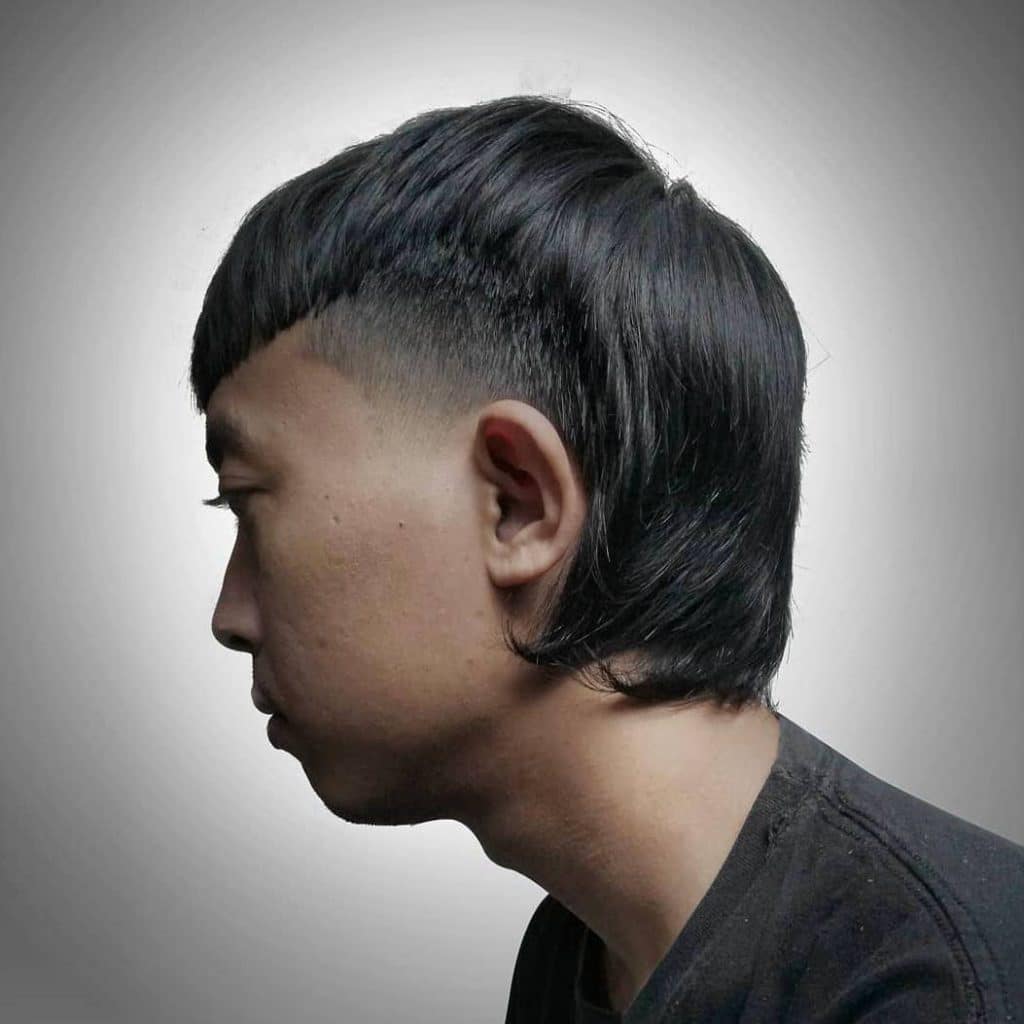 A temple fade keeps the sides tight in this modern look for straight hair.
The mohawk – mullet is one of the most popular ways to rock this look. Spike hair up, or not.
10. Mohawk Mullet Haircut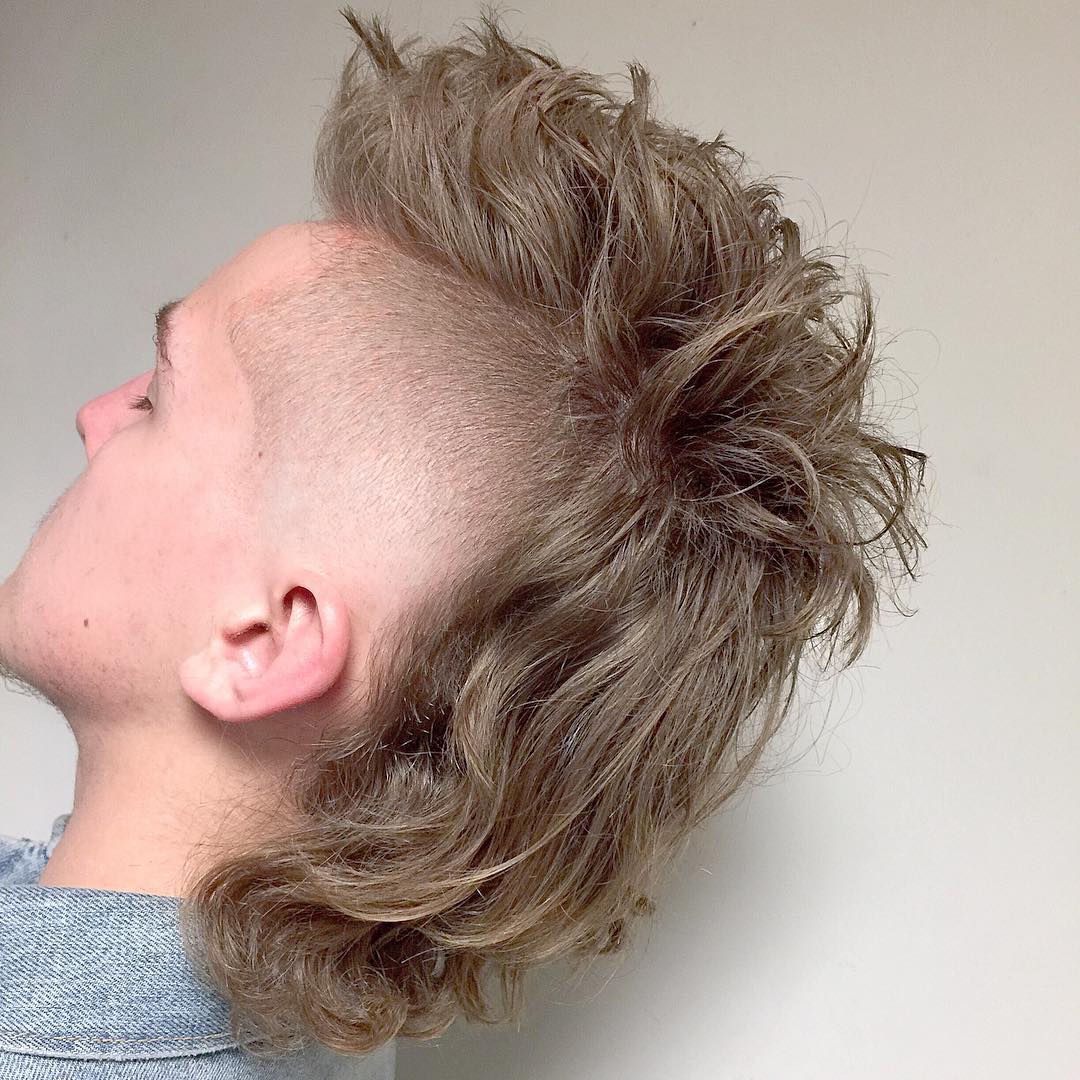 This cool look combines two of the most iconic types of men's haircuts, the mohawk and the mullet. Each one is a bold look on their own and it's an even bolder style worn together.
11. Wide Mohawk + Temple Fade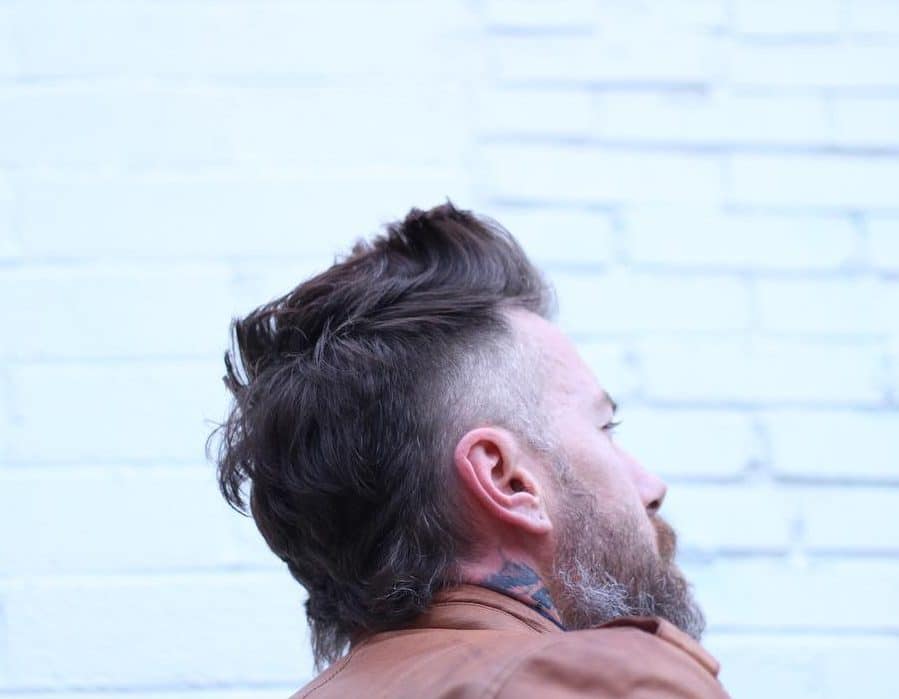 A small burst fade behind the ear creates a wide mohawk that adds a punk rock edge to this mullet haircut.
12. Burst Fade Mohawk Mullet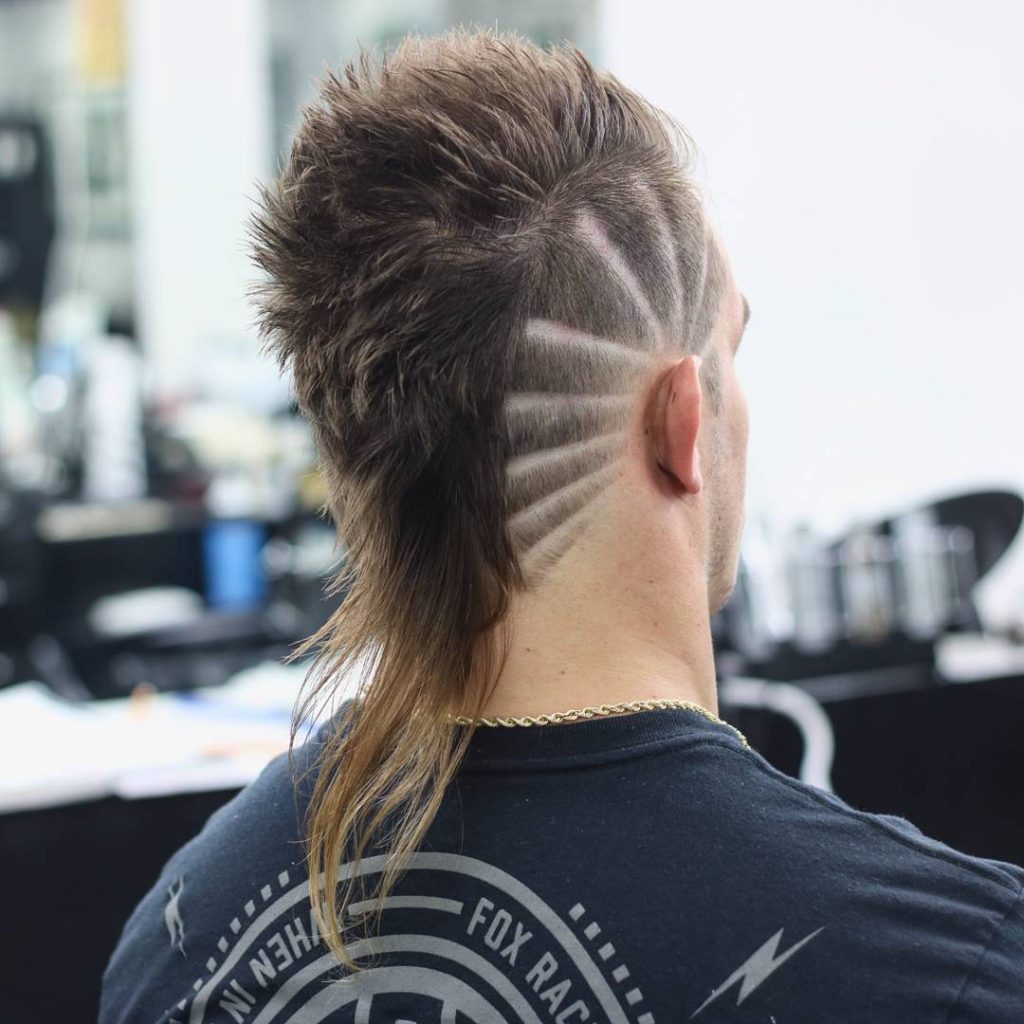 Rays emphasize this burst fade mohawk. Short hair is spiked up along the top and back before the flowing mullet. It's a lot of look but works for this gentleman.
13. Faux Hawk + Mullet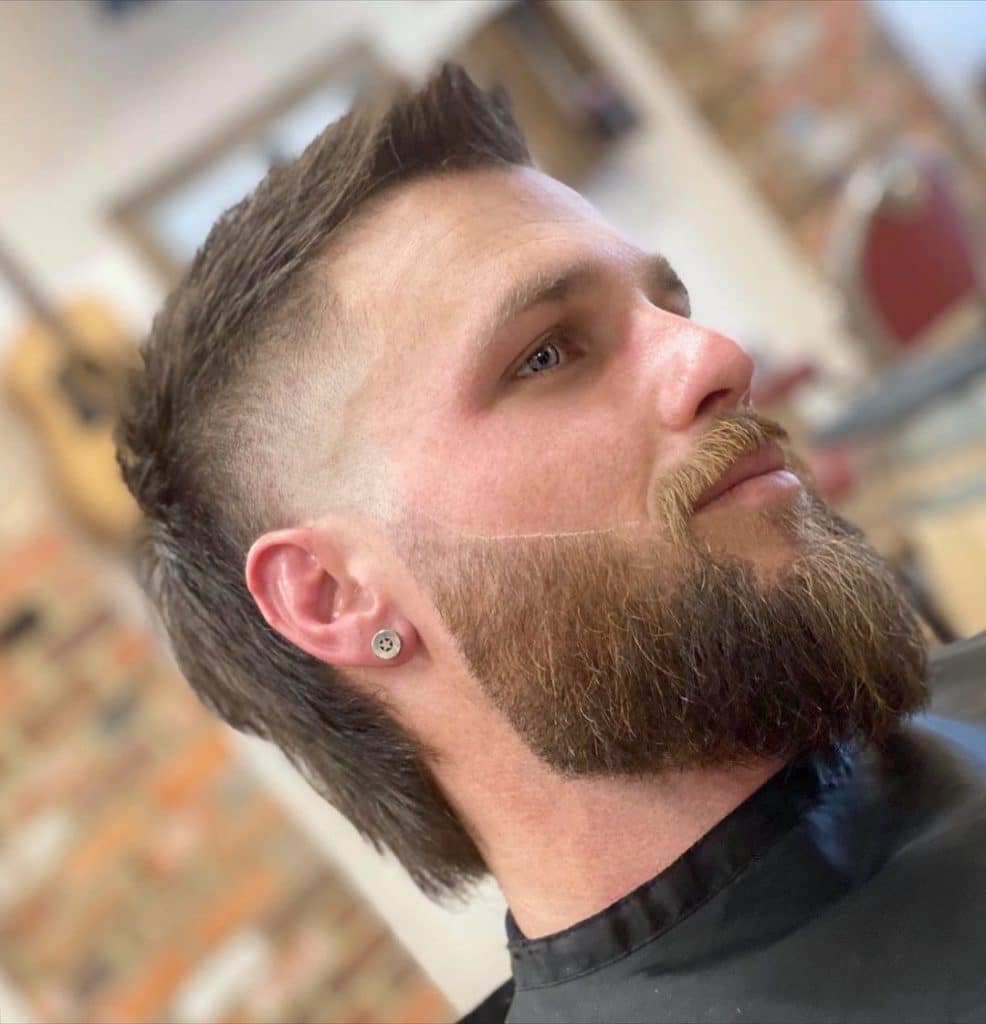 If you can't do the mo, do the faux (hawk).
Instead of short hair or fringe, these mullets feature a pompadour at the front.
14. Retro Pomp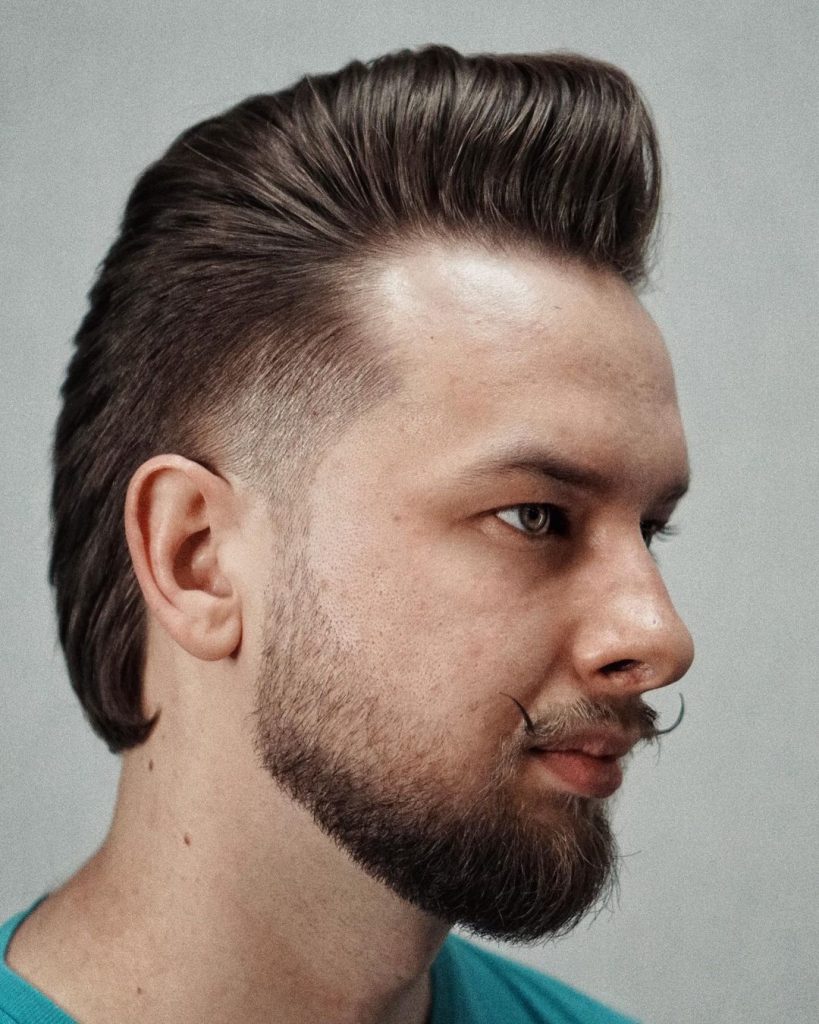 This cool look contrasts a retro waxed handlebar mustache and shiny pomp with a modern beard fade and longer neckline.
15. Medium Length Mullet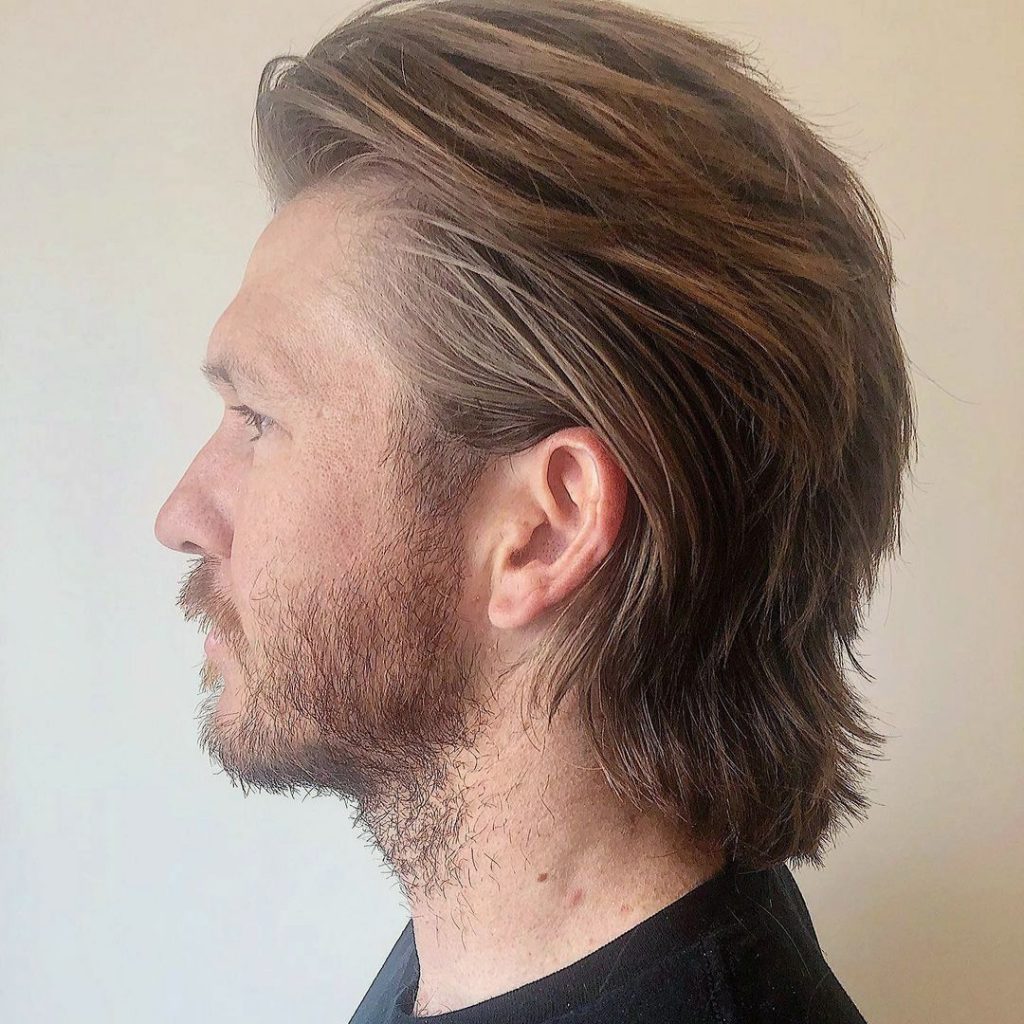 Business haircuts can be medium length and so so this longer look still follows the mullet formula.
16. Rockabilly Mullet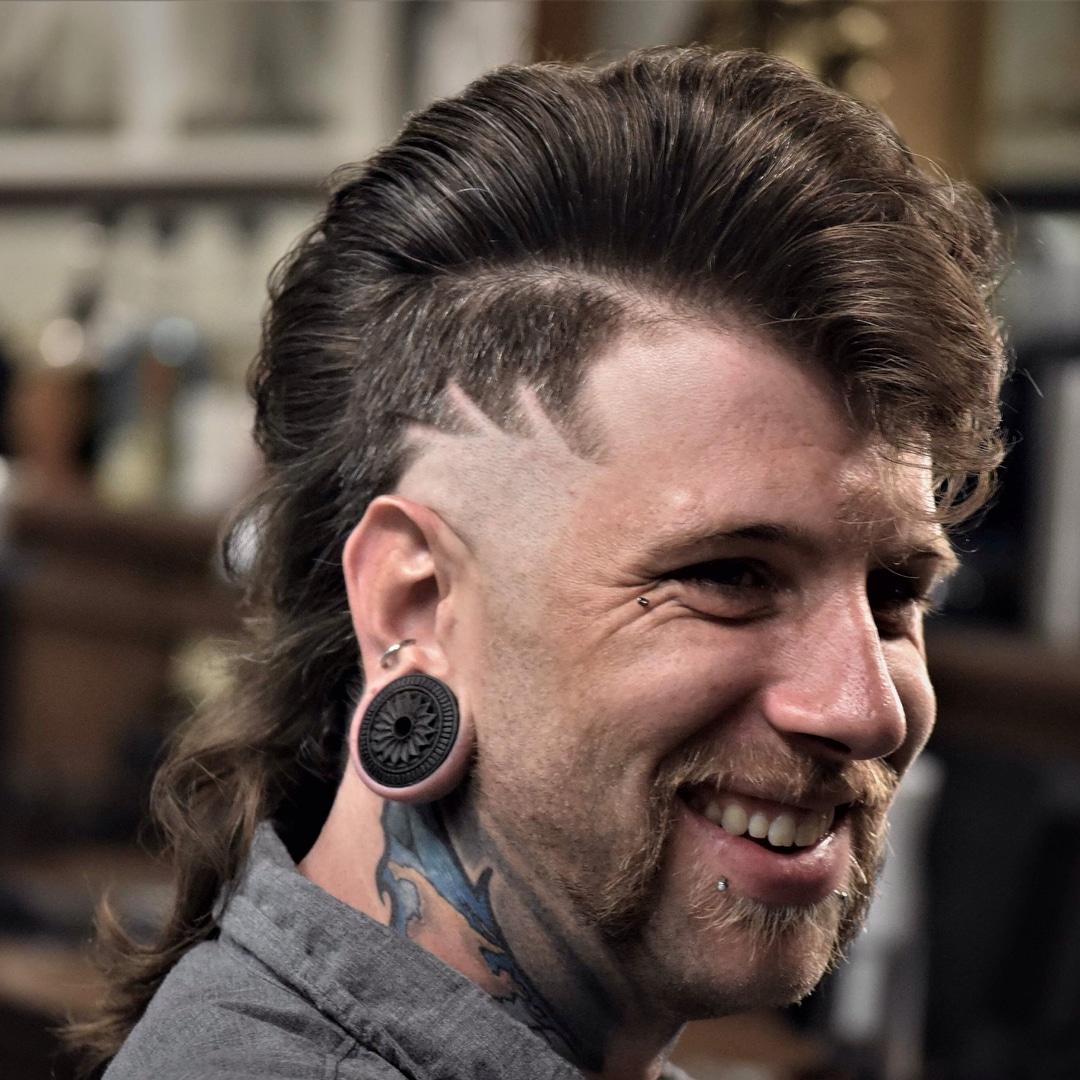 A side swept pomp crowns this flowing wavy mullet with a shaved hair design over the temple.
17. Messy Pomp Fade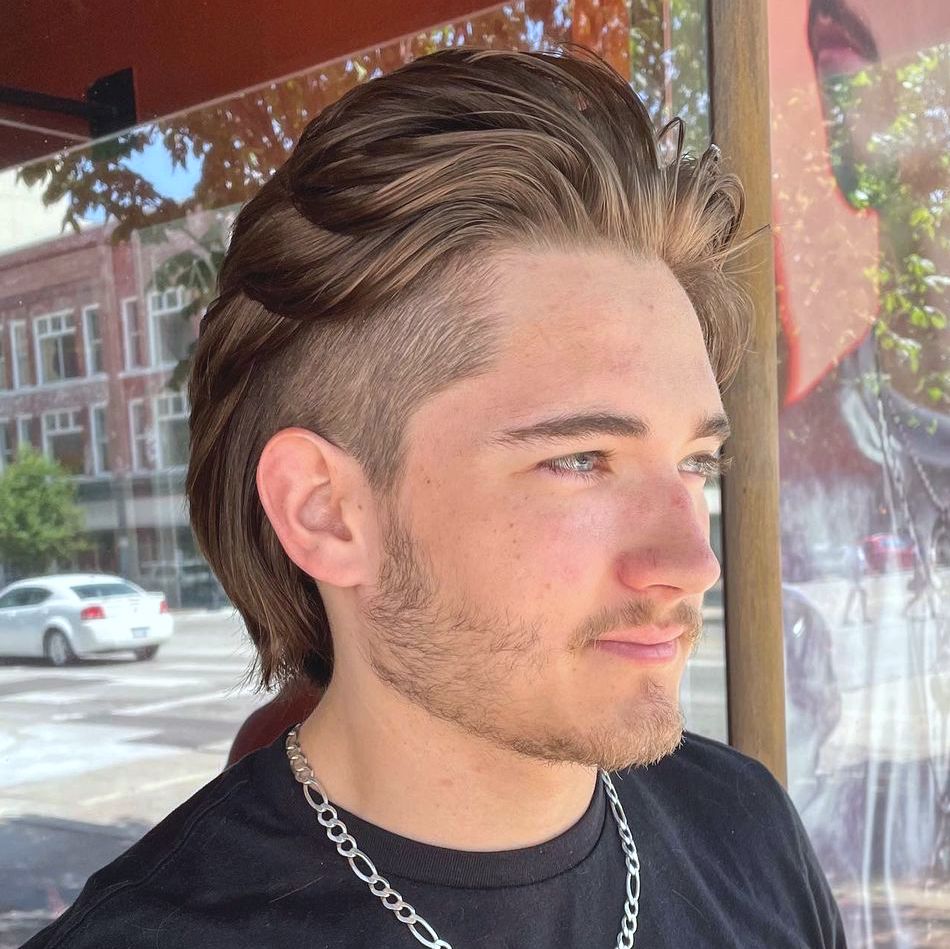 Most pomp fades are low, mid, or high but to keep the neckline long, try a temple fade.
18. Pomp Hawk Mullet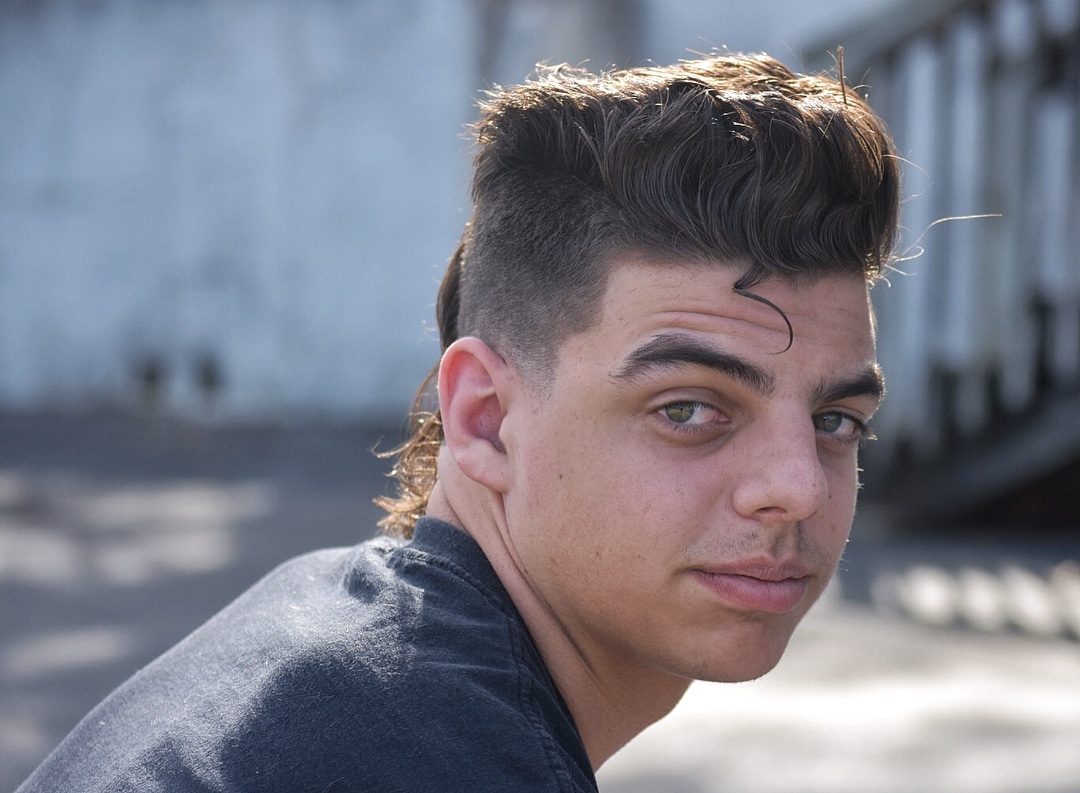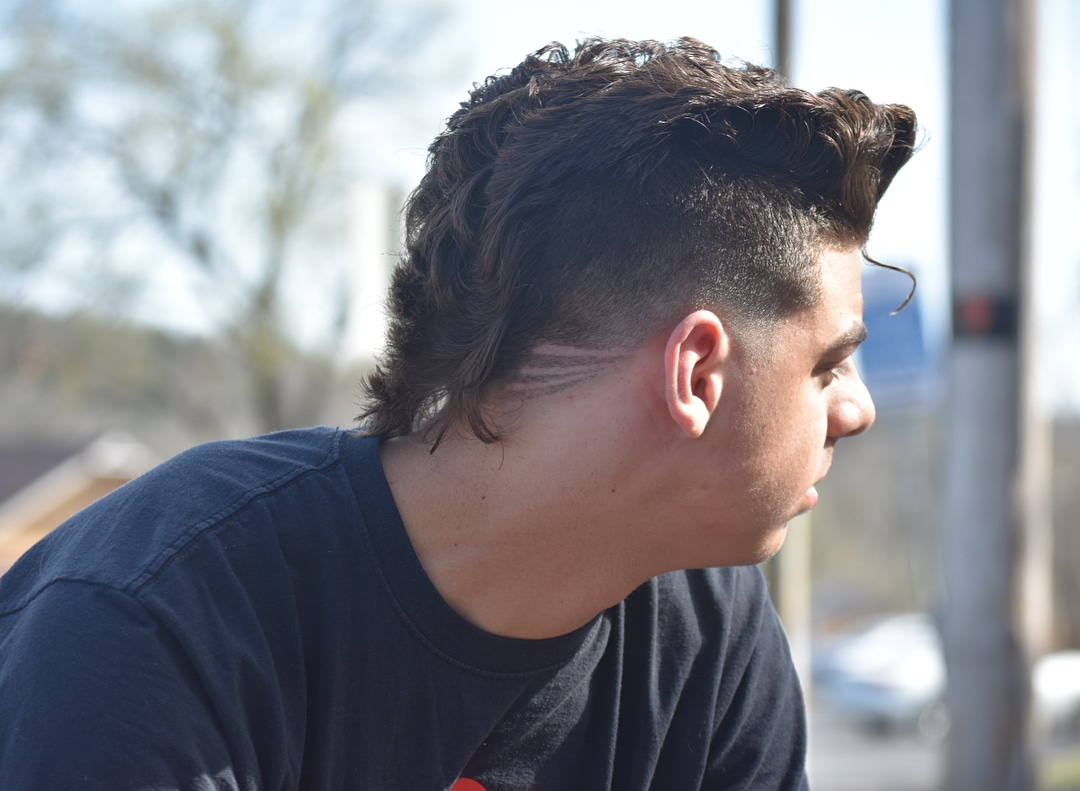 The first image shows why the mullet is so cool. Length at the back frames the face. This cool version is worn with a wide pompadour at the hairline. A burst fade at the sides creates a mohawk shape with wavy hair creating plenty of texture and volume.
19. Burst Fade + Mullet Haircut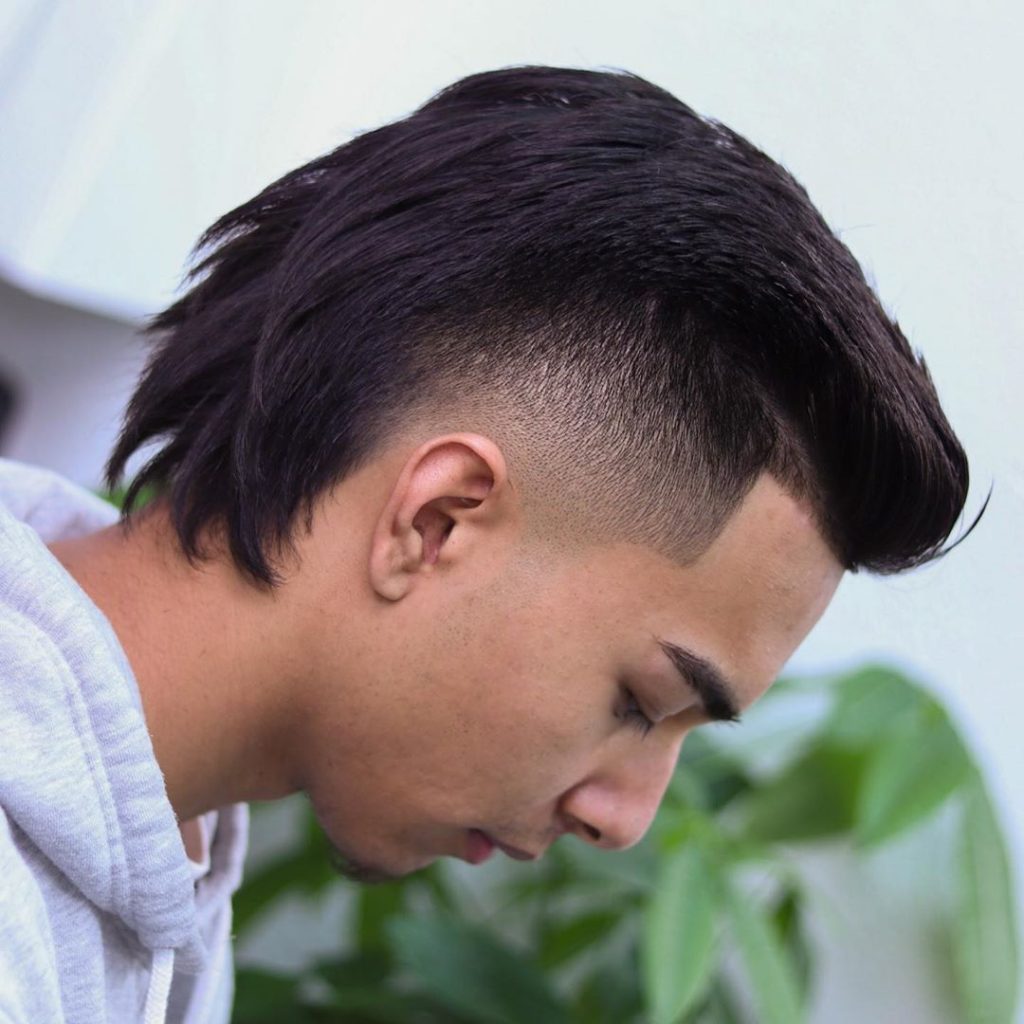 This fresh style has a pompadour at the front and party at the back plus a burst fade at the sides. Mix and match various men's haircuts to create your own unique look.
It doesn't take a lot of hair to create a mullet. Here's how to the the look with short hair.
20. Baby Bangs Mullet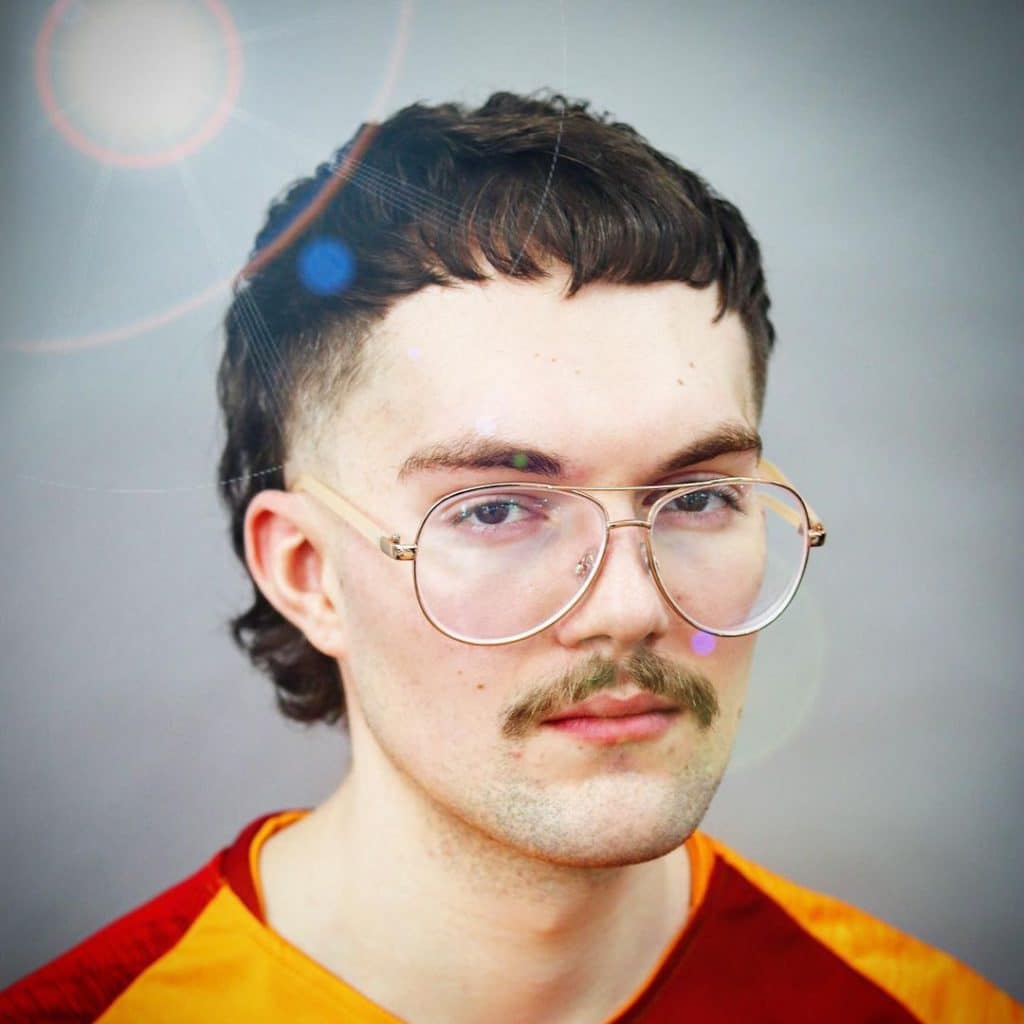 Ultra short bangs take a cue from the trendy crop while the rest of this look is vintage.
21. Short Mullet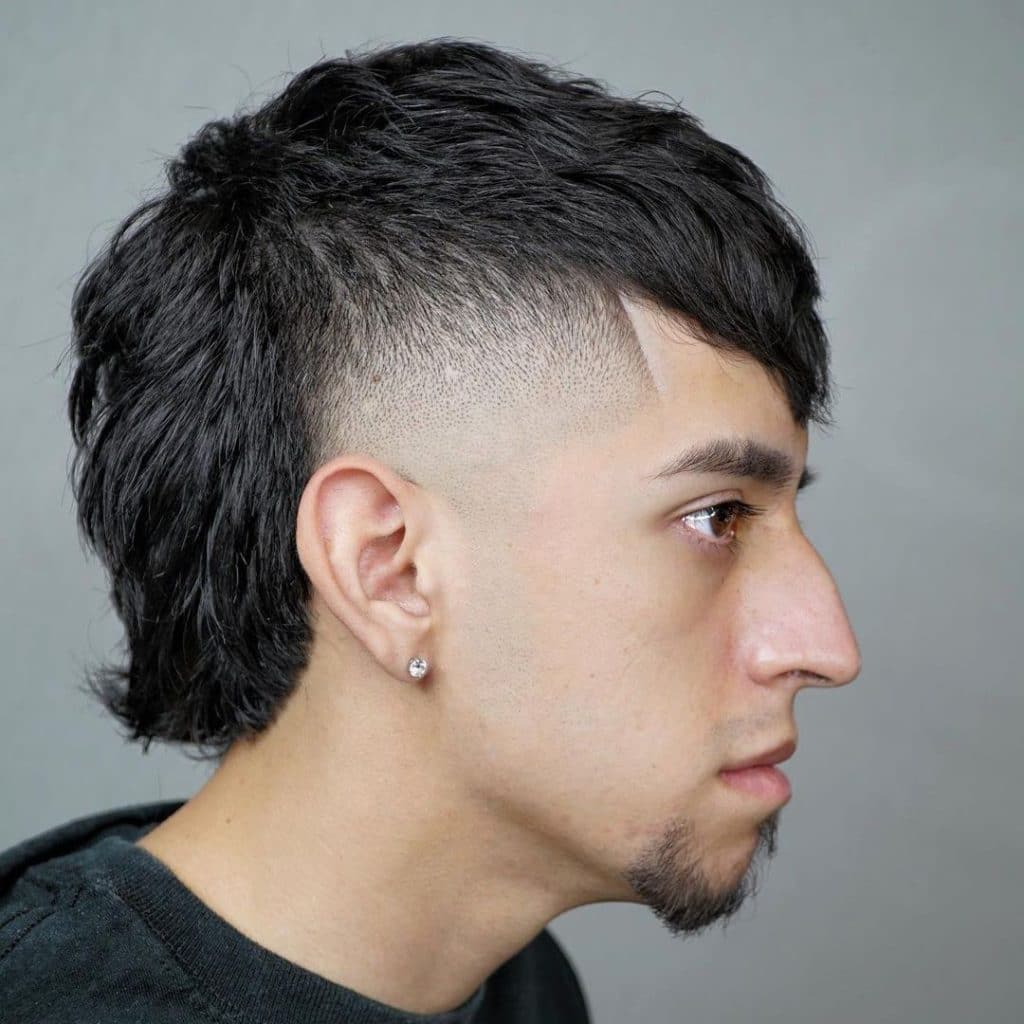 A mullet doesn't have to be long, especially with this thick hair.
22. Short Kentucky Waterfall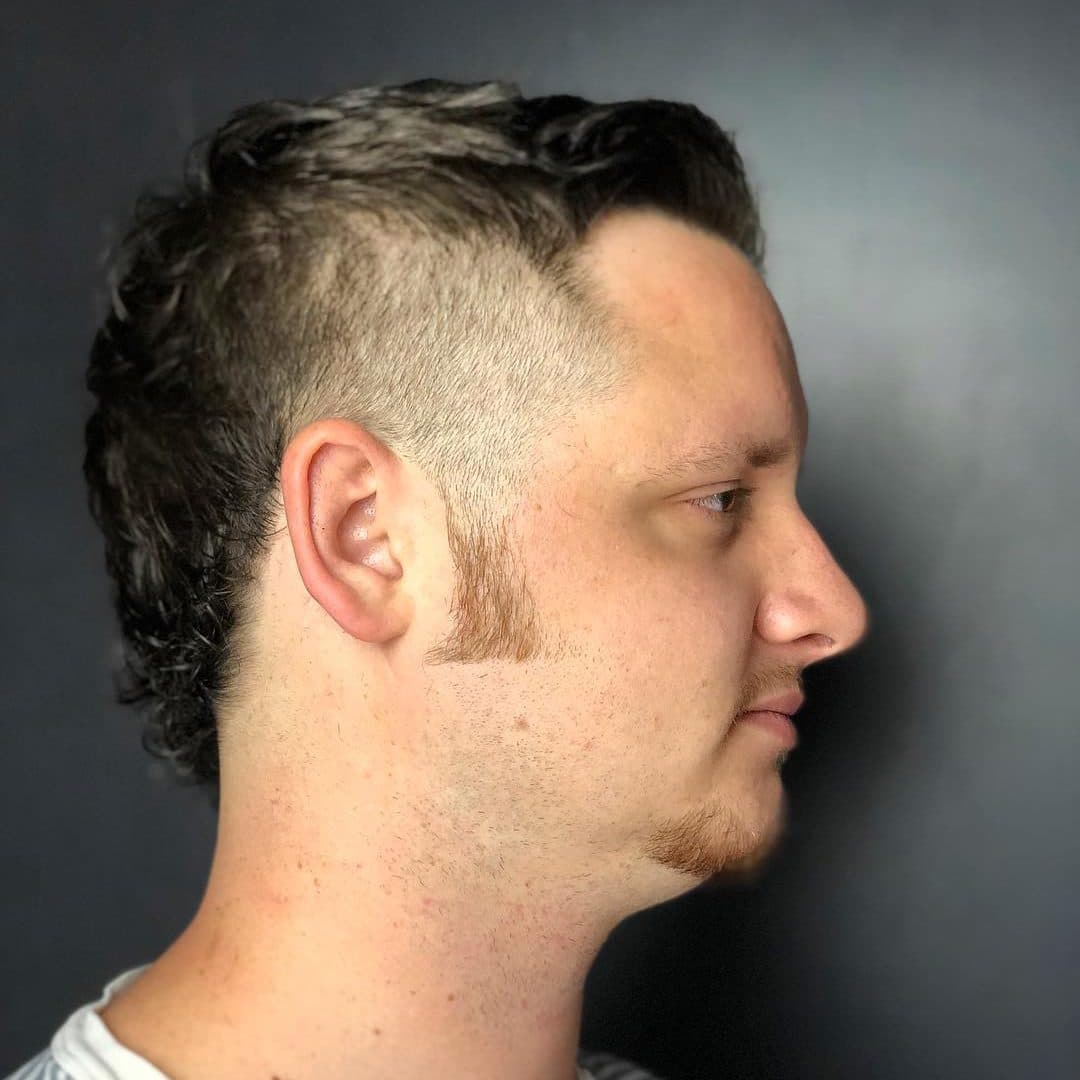 This mullet, aka Kentucky waterfall, contrasts sideburns with shaved temples and short straight hair at the front with longer curly flow at the back.
23. Crop + Flow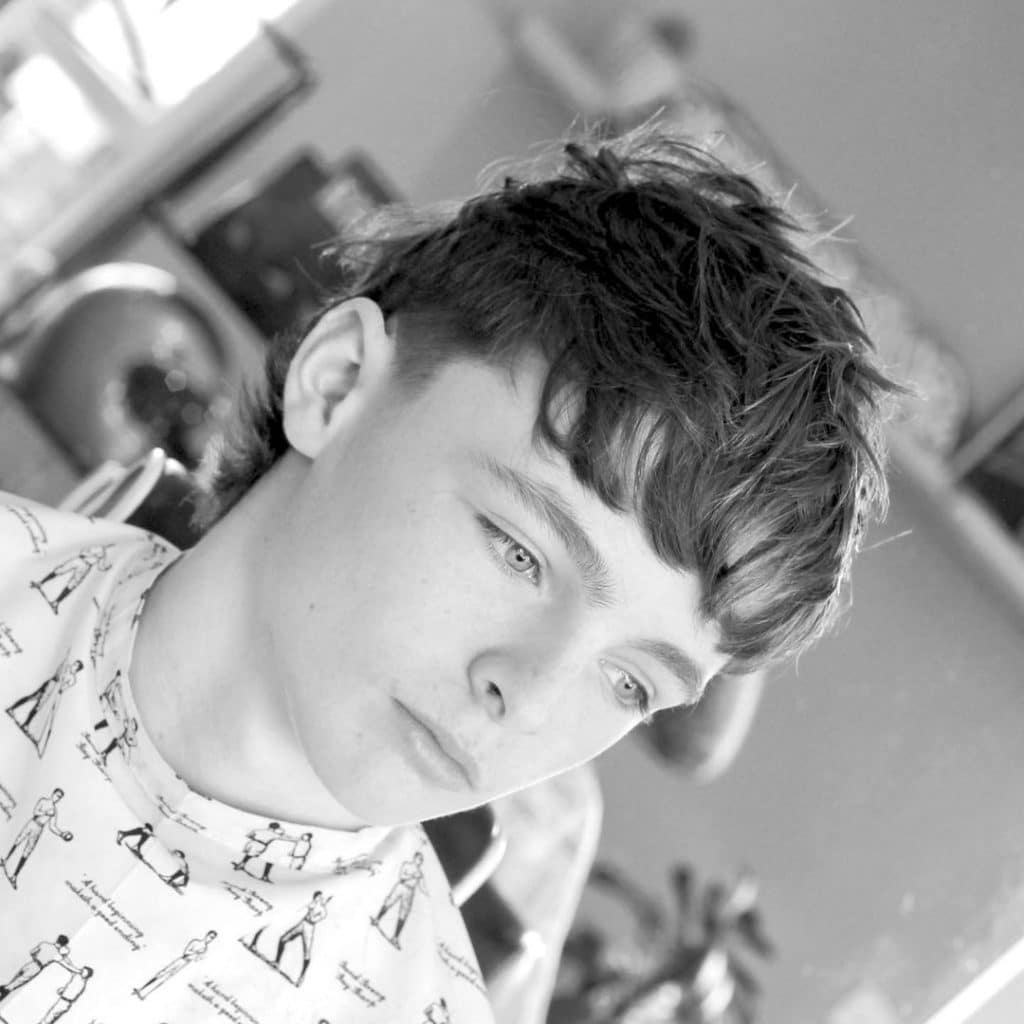 Somehow combining a trendy crop and popular flow haircut gives you a mullet.
24. Cool Mullet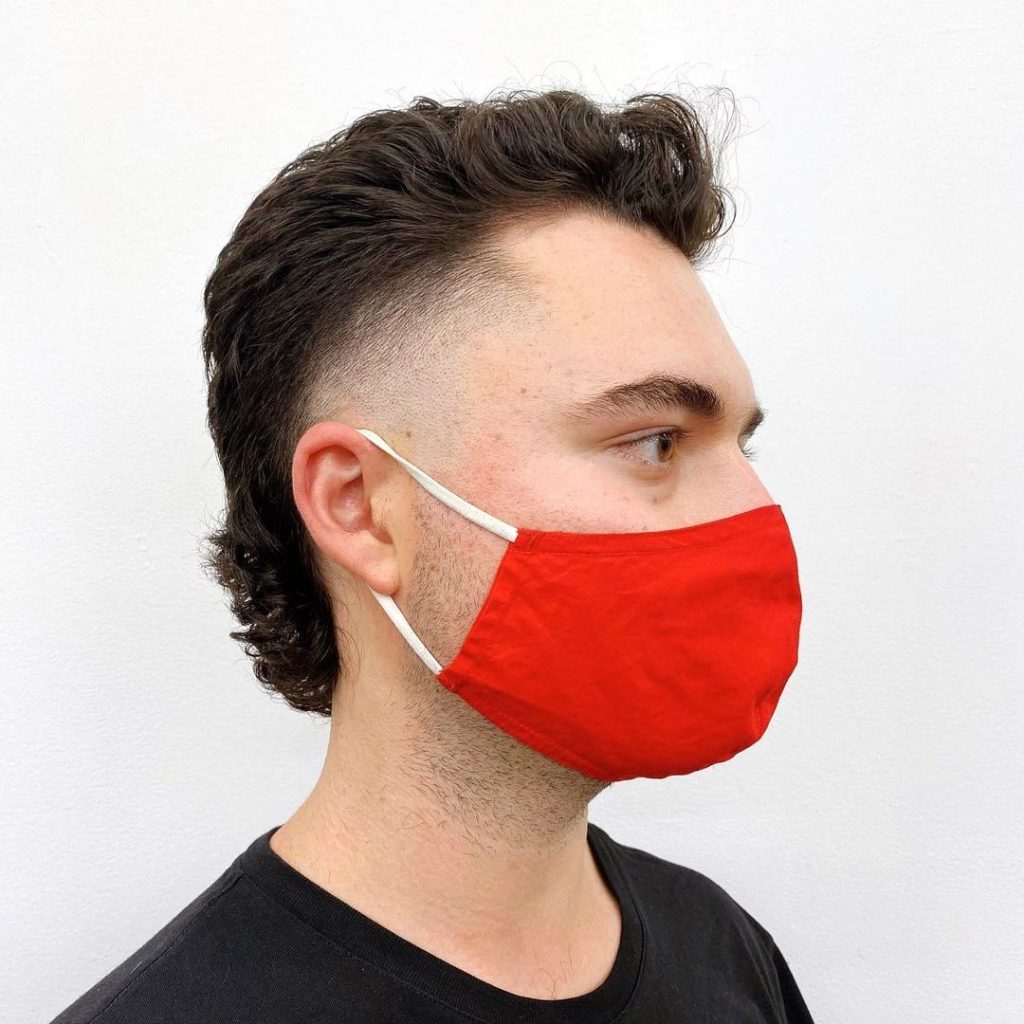 The mullet can have a bad reputation but this clean look is all good.
25. Spiky Hair Mullet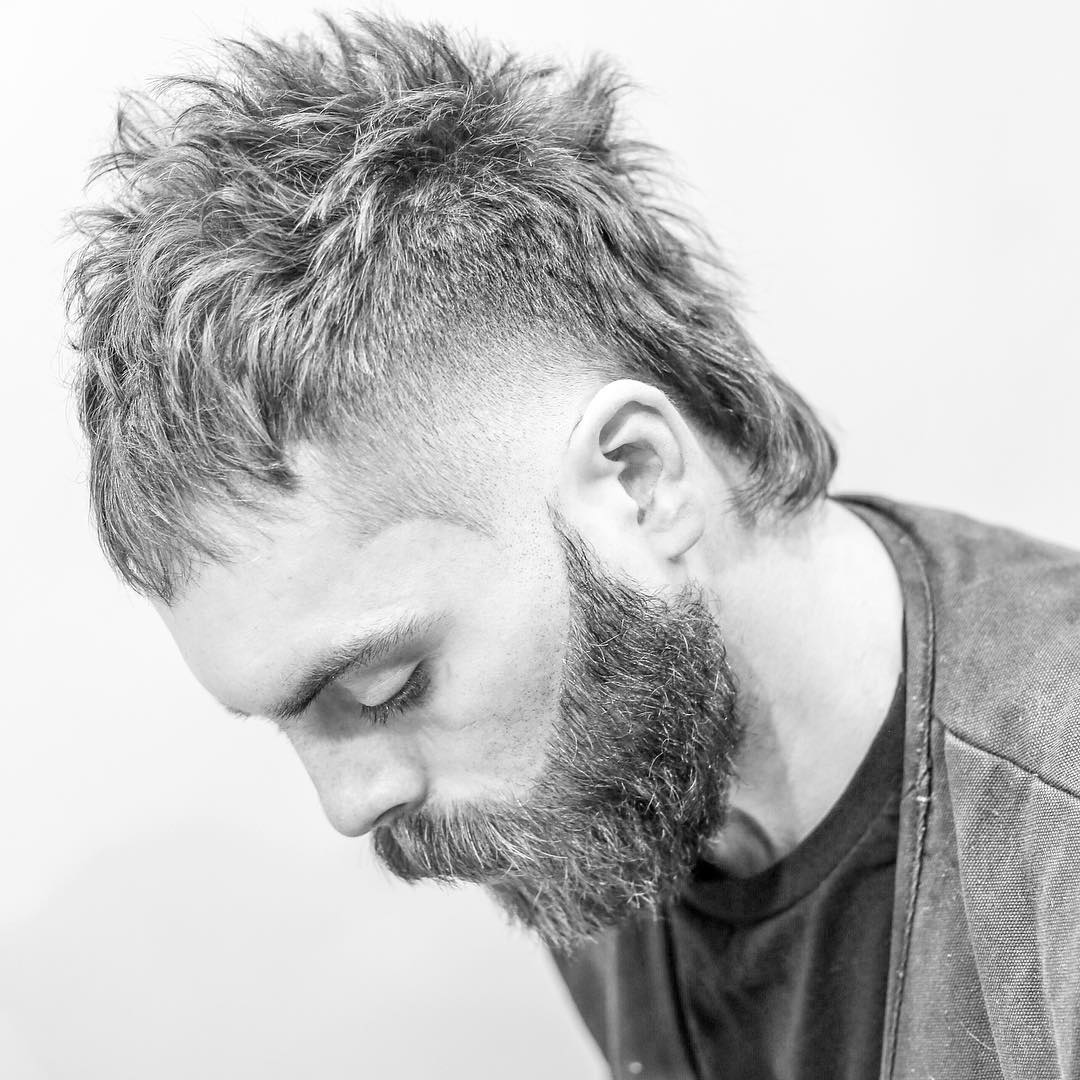 A mullet haircut has plenty of impact at any length. This beard with messy spikes are on trend. Extra length at the back is just cool.
All mullets are flow hairstyles but not all flow hair is a mullet. Flow isn't all about length, it's about attitude.
26. Hockey Hair + Mullet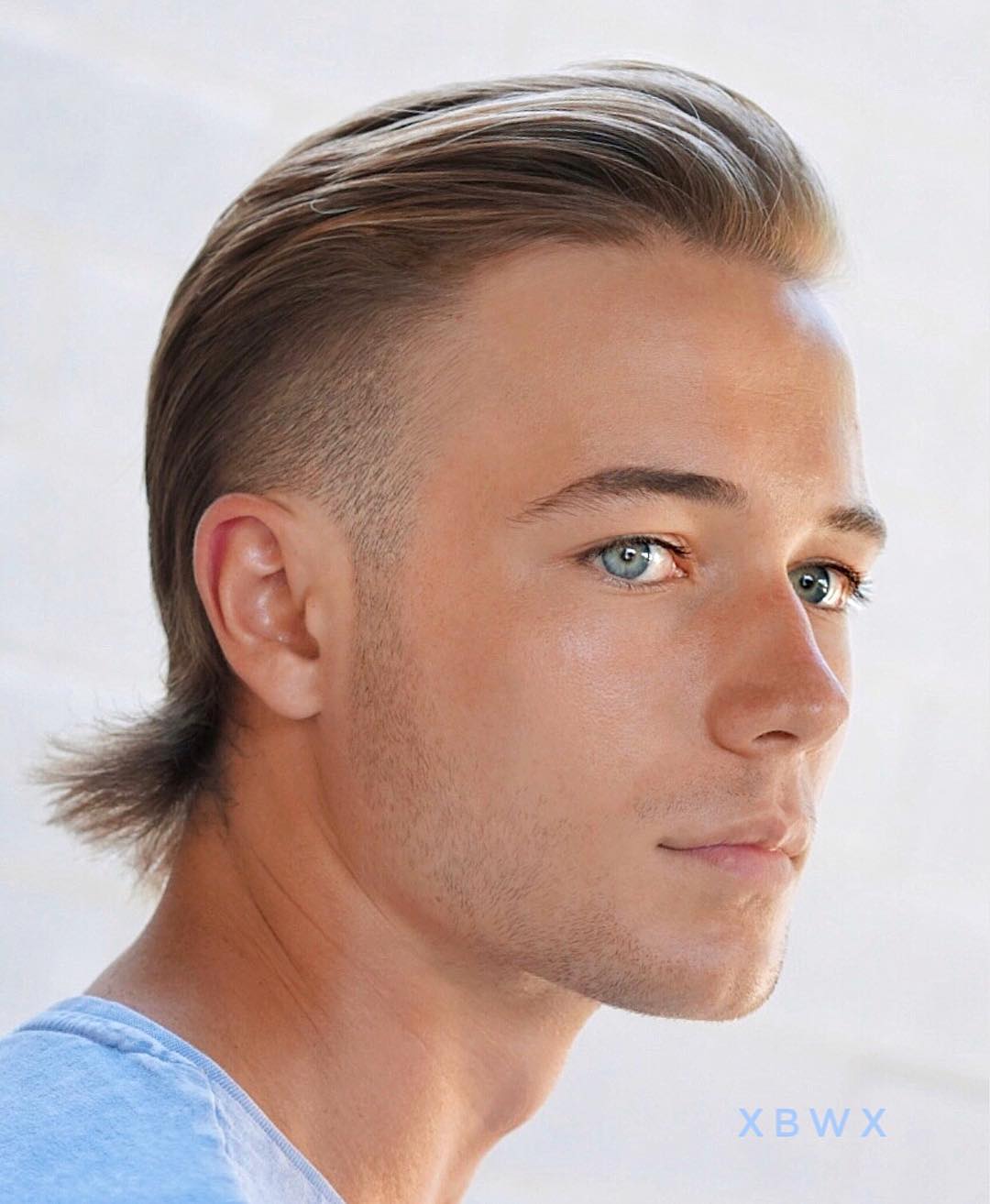 If it wasn't for the faded sideburns, this slicked back hockey hair with some flow could be from the 90s. It looks as good now as it did back then.
27. Mullet + Full Beard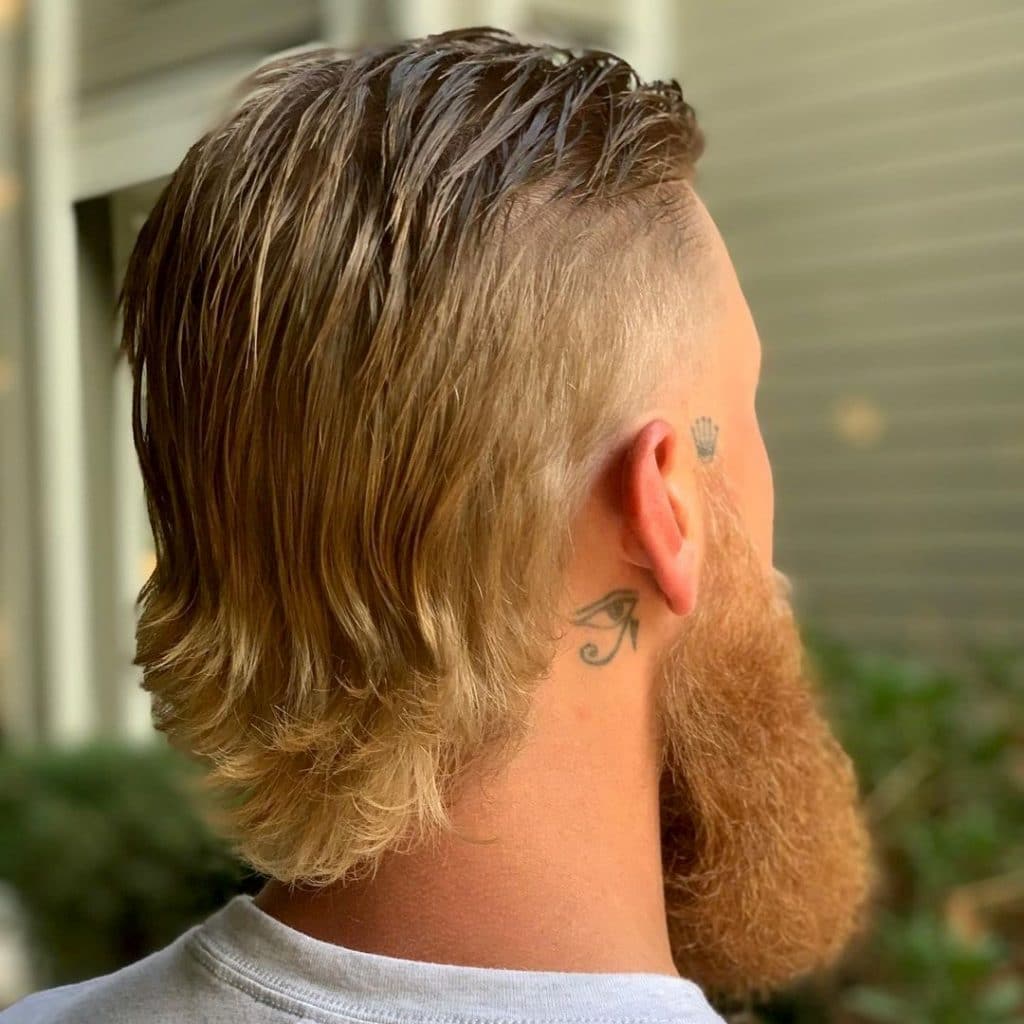 If you can grow long hair like this, do it.
28. Mullet Fade + Hair Design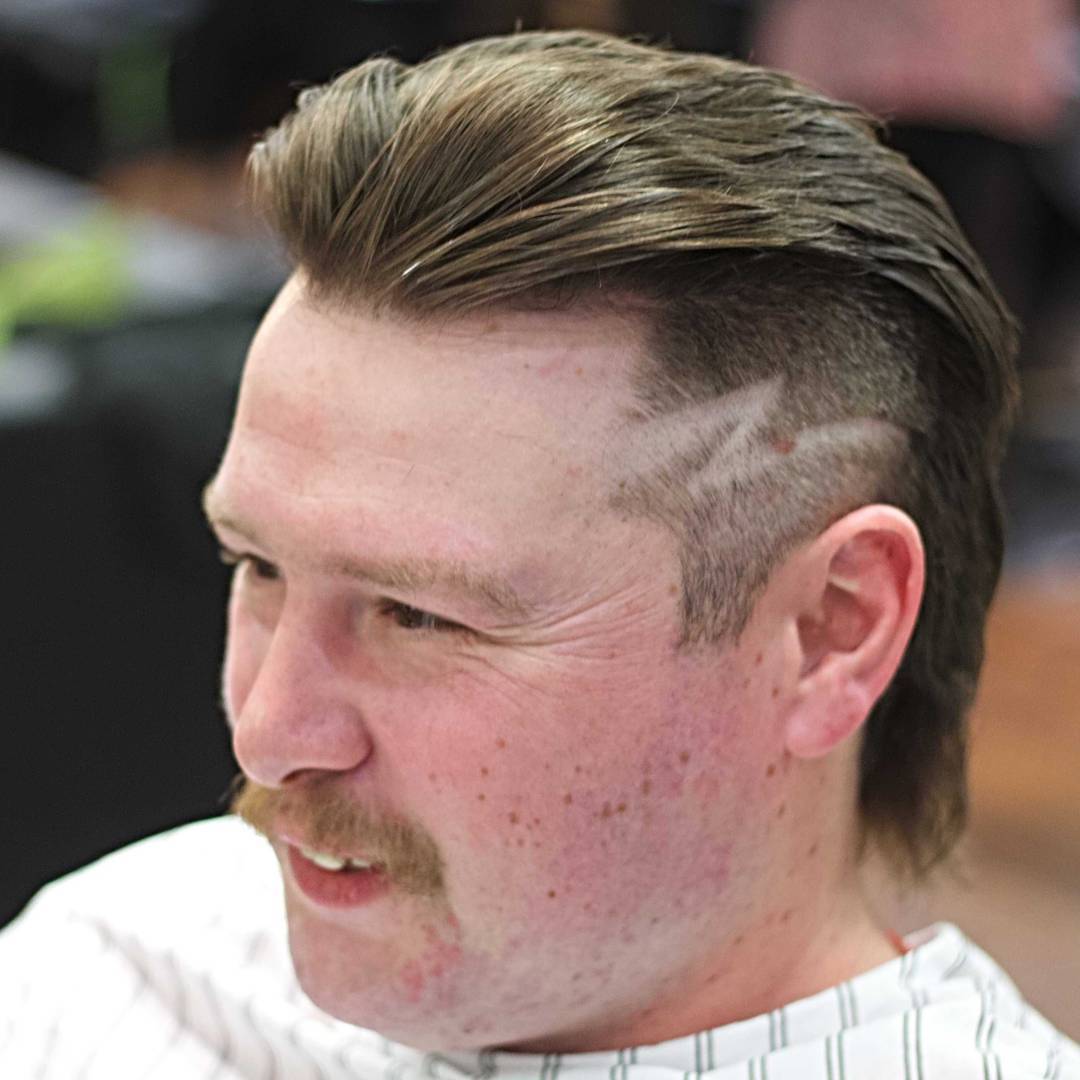 Slicked back style and faded sides make this haircut all about the flow.
29. Slicked Back Hair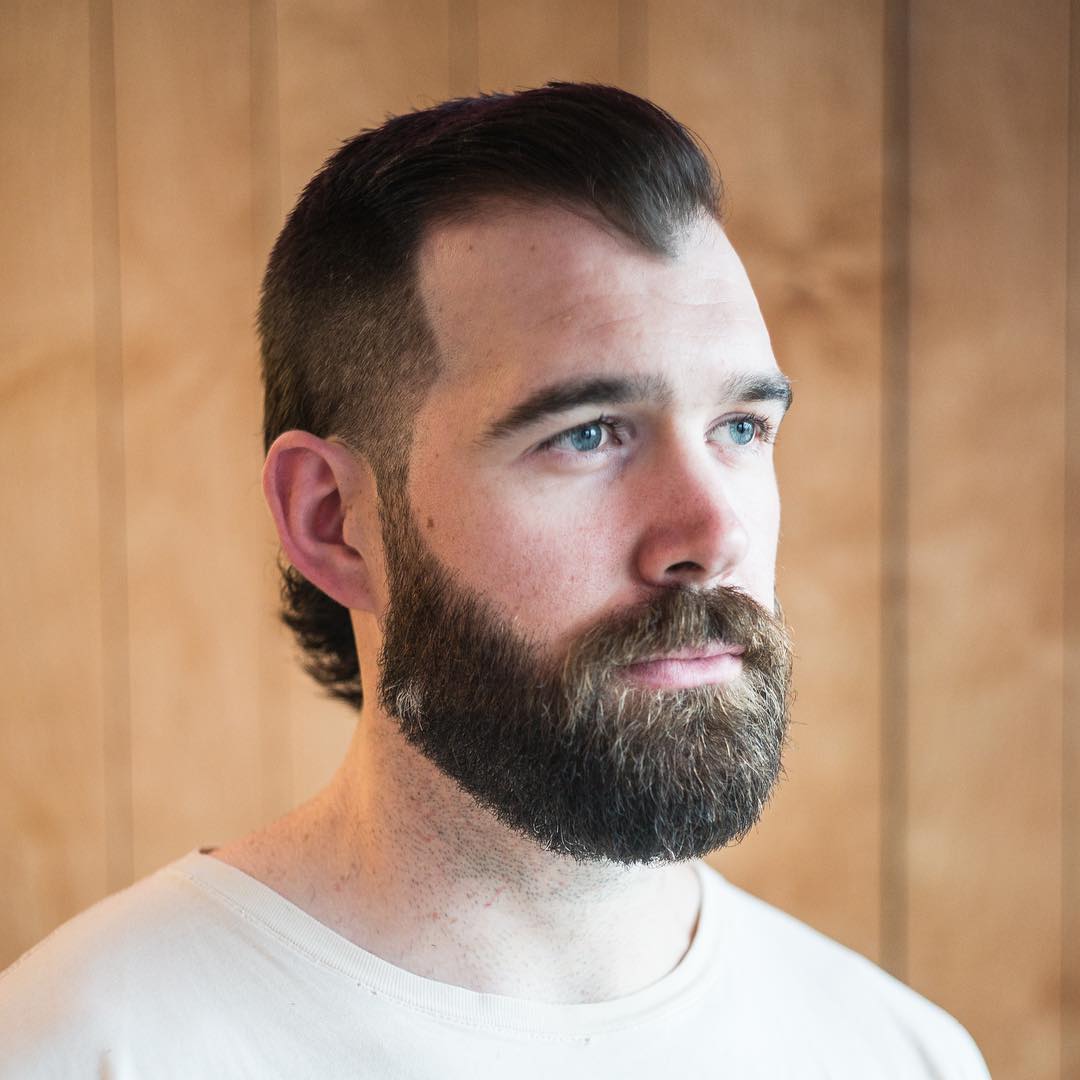 Another hipster mullet, this is a clean cut look all over with some length at the neckline.
Mullets looks so good with wavy and curly hair that some guys even get a perm.
30. Curly Mullet Haircut For Toddler Boys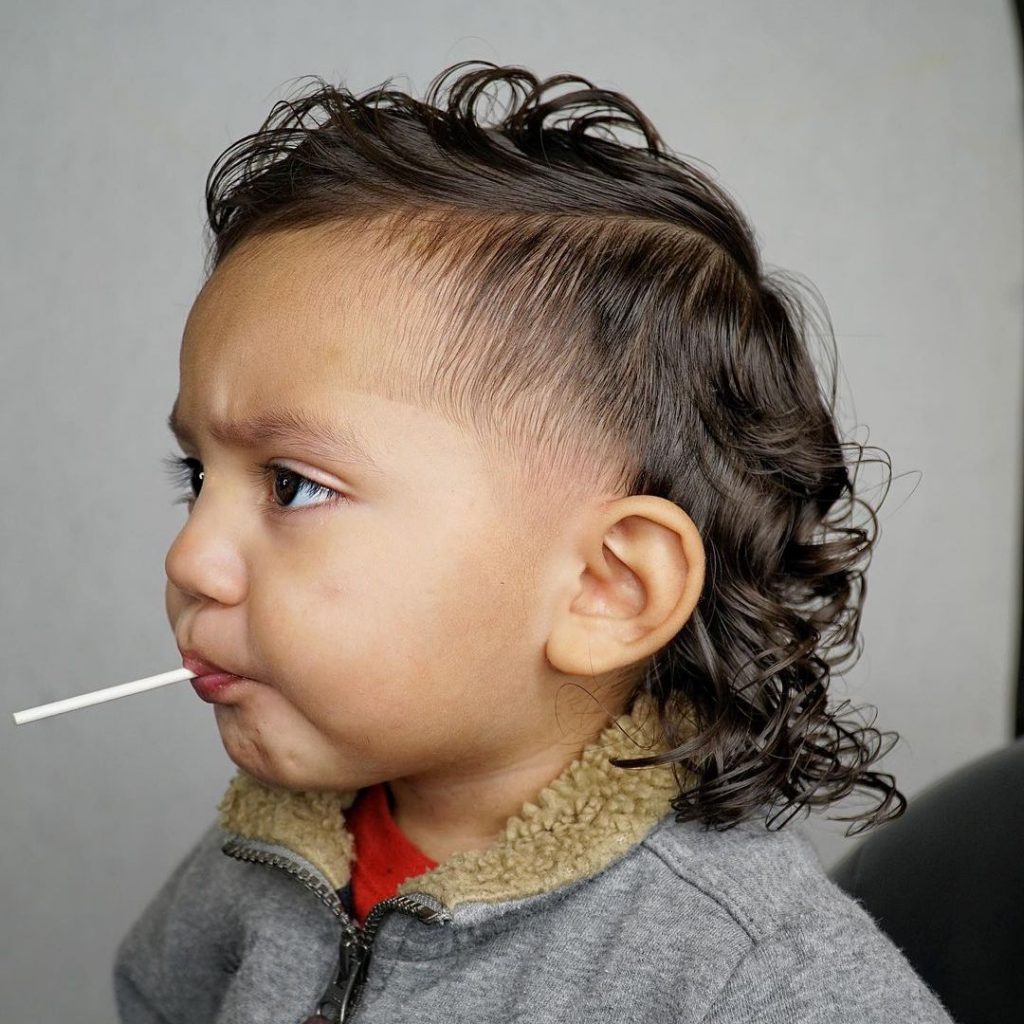 If this kid looks this cool, imagine how good you could look with this cut.
31. Mullet For Boys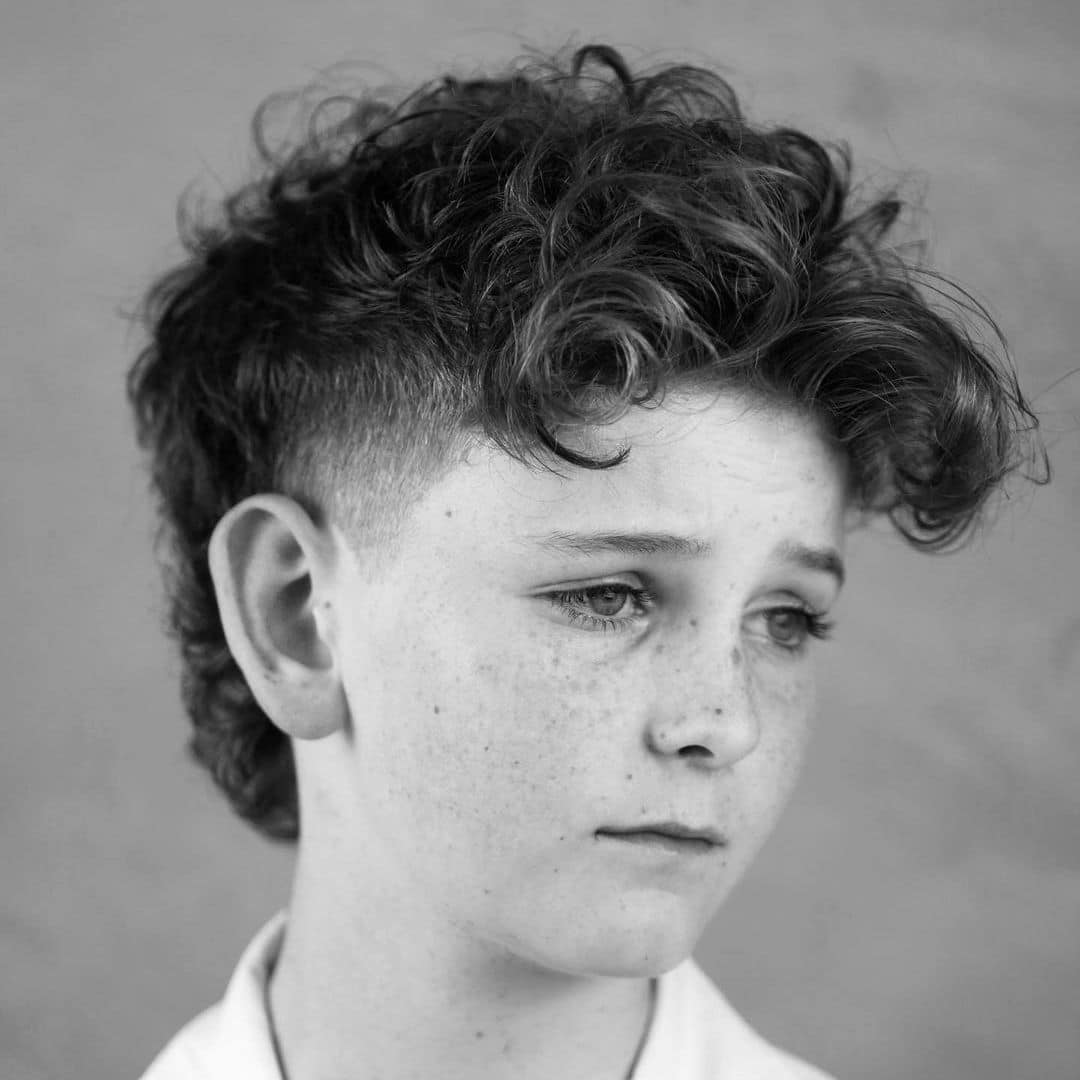 This cool look is heavier at the front than the back.
32. Permed Mullet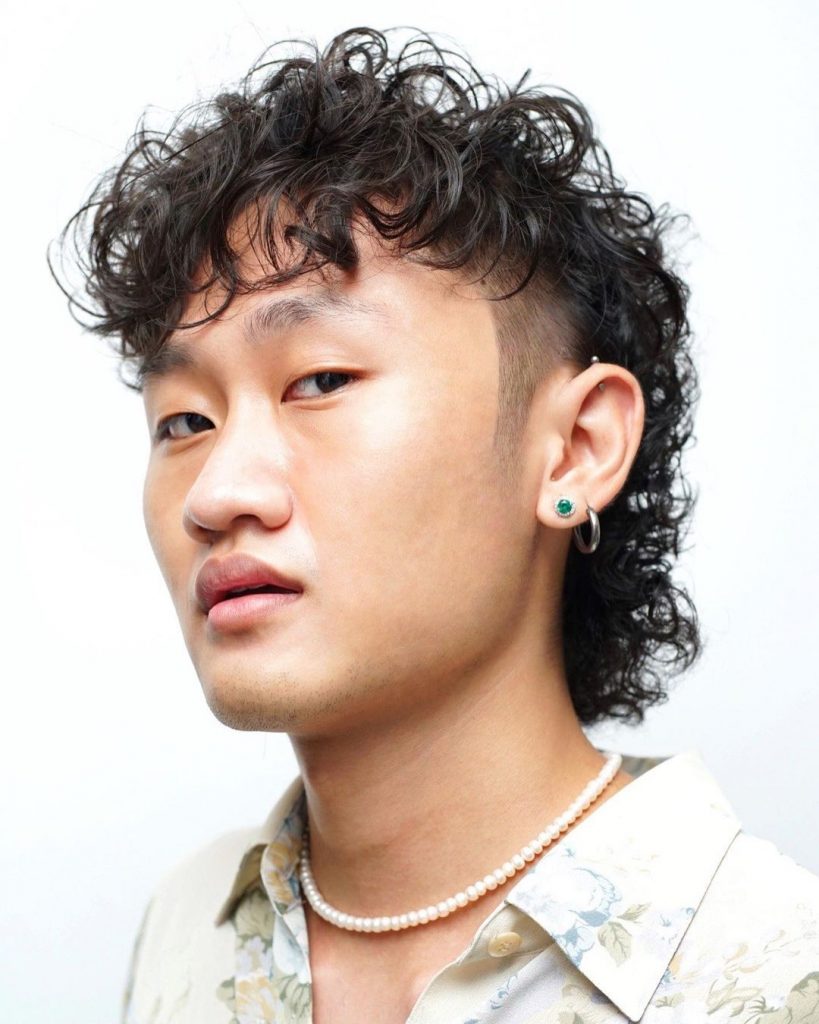 If you could look this good, you'd get a perm too.
33. Wavy Mullet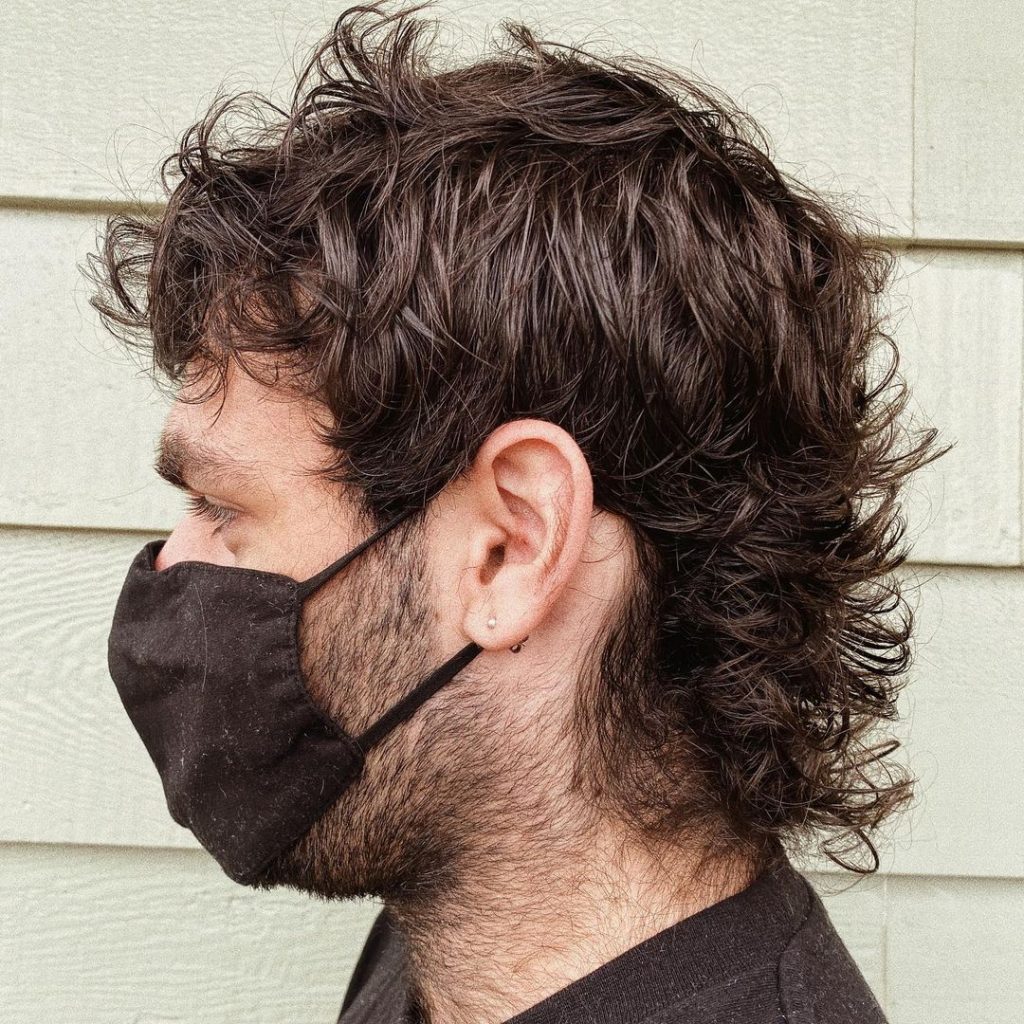 Natural texture gives this cool cut plenty of volume.
34. Long Curly Mullet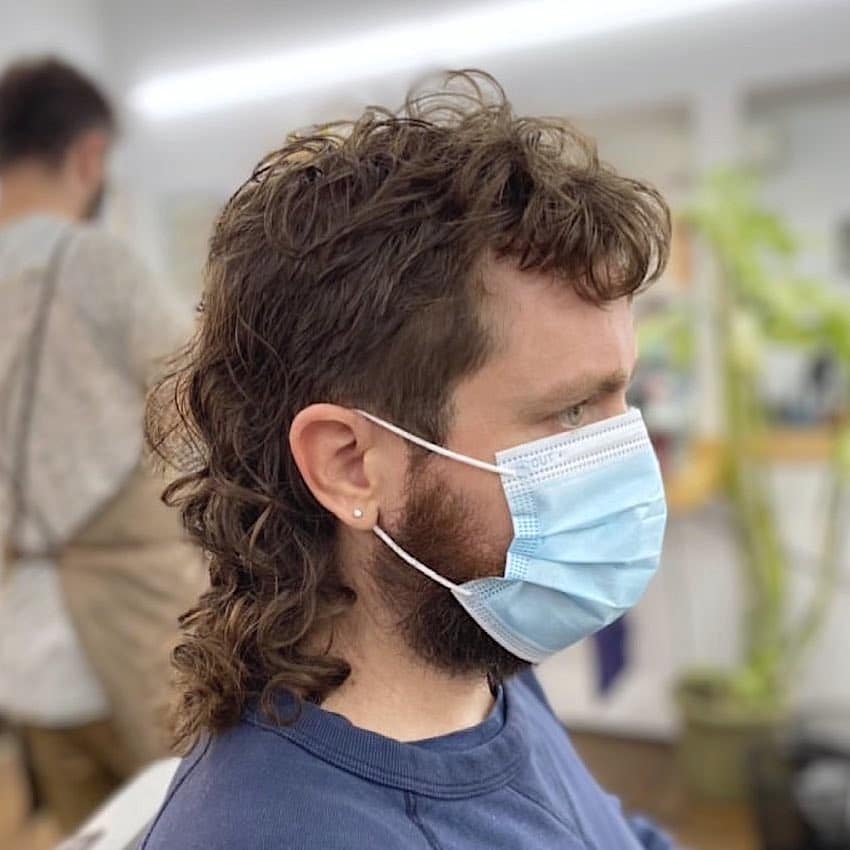 Keeping bangs long enough to have texture makes this look more modern than the retro straight fringe look.
35. Curly At The Back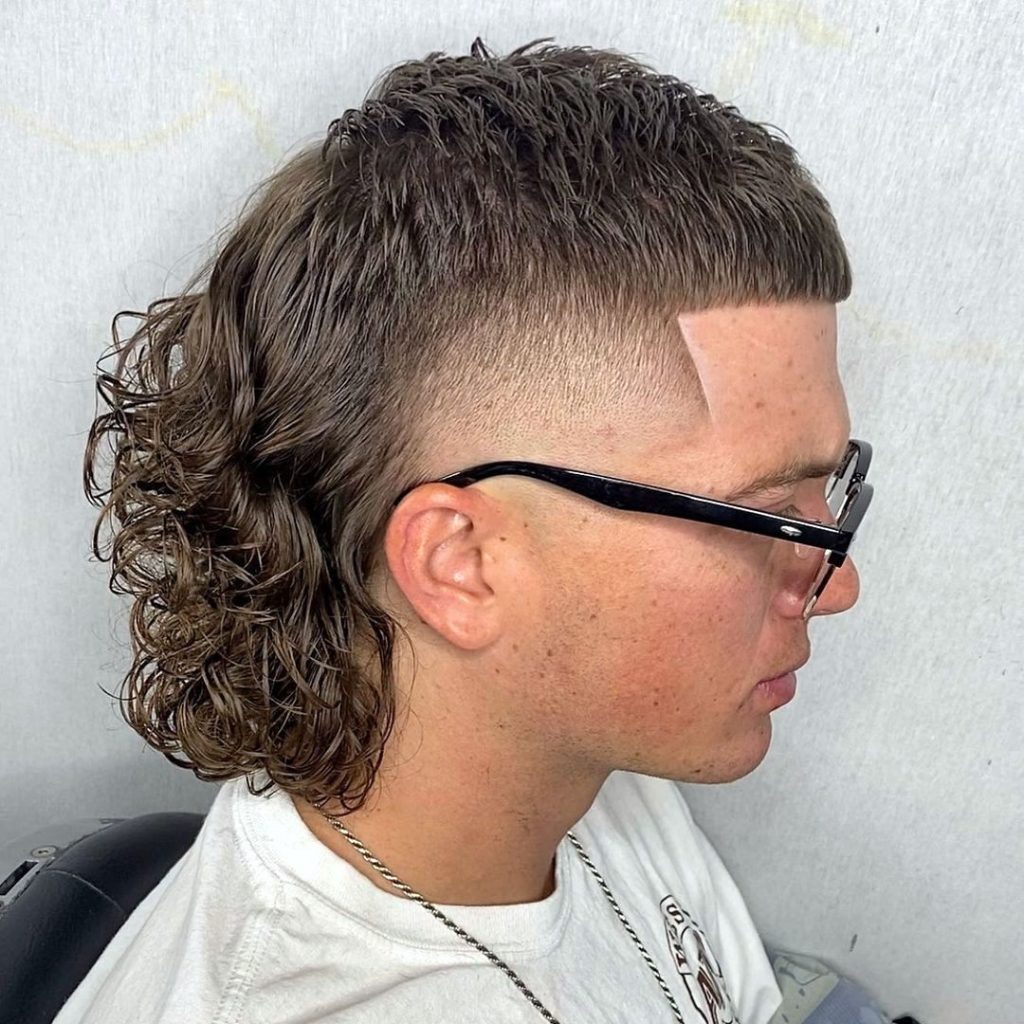 This business is all business and this party is all party.
36. Short Curly Mullet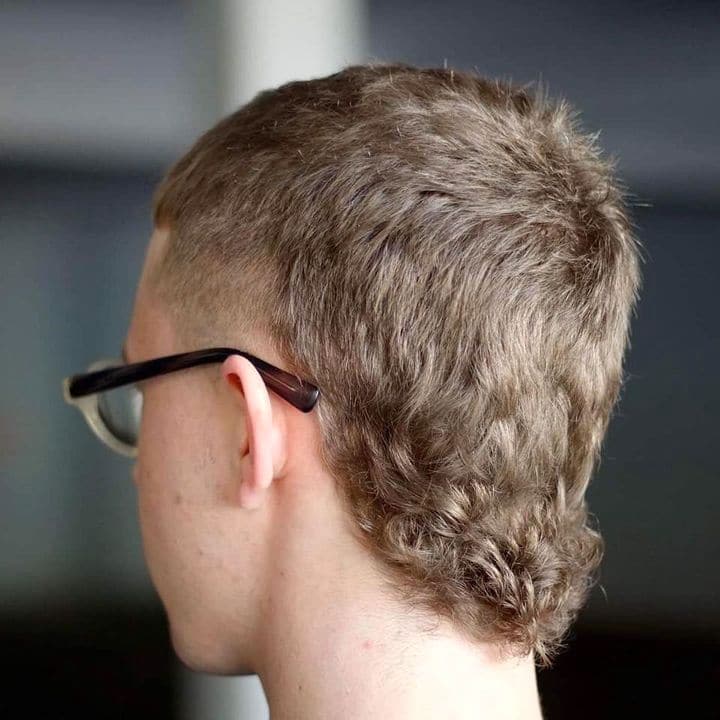 Keep cool with this shorter mullet style with just enough flow.
37. Wavy Mullet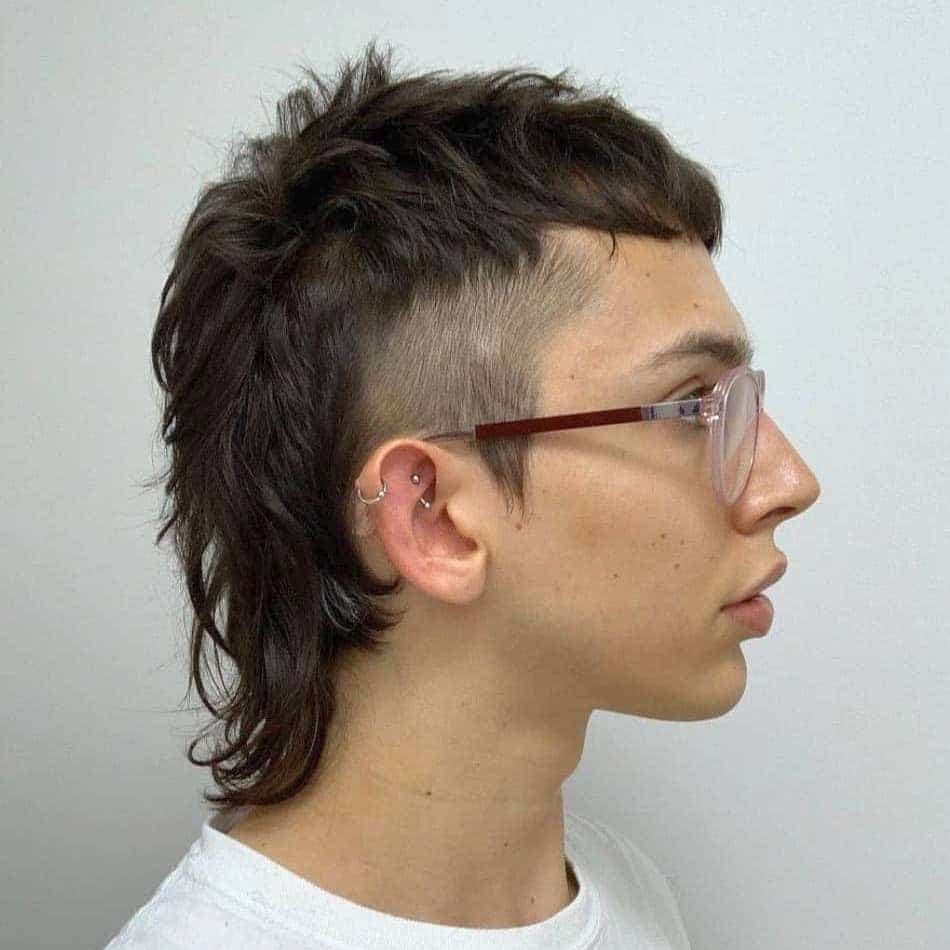 This cool look is cut to enhance waves and texture.
38. Choppy Mullet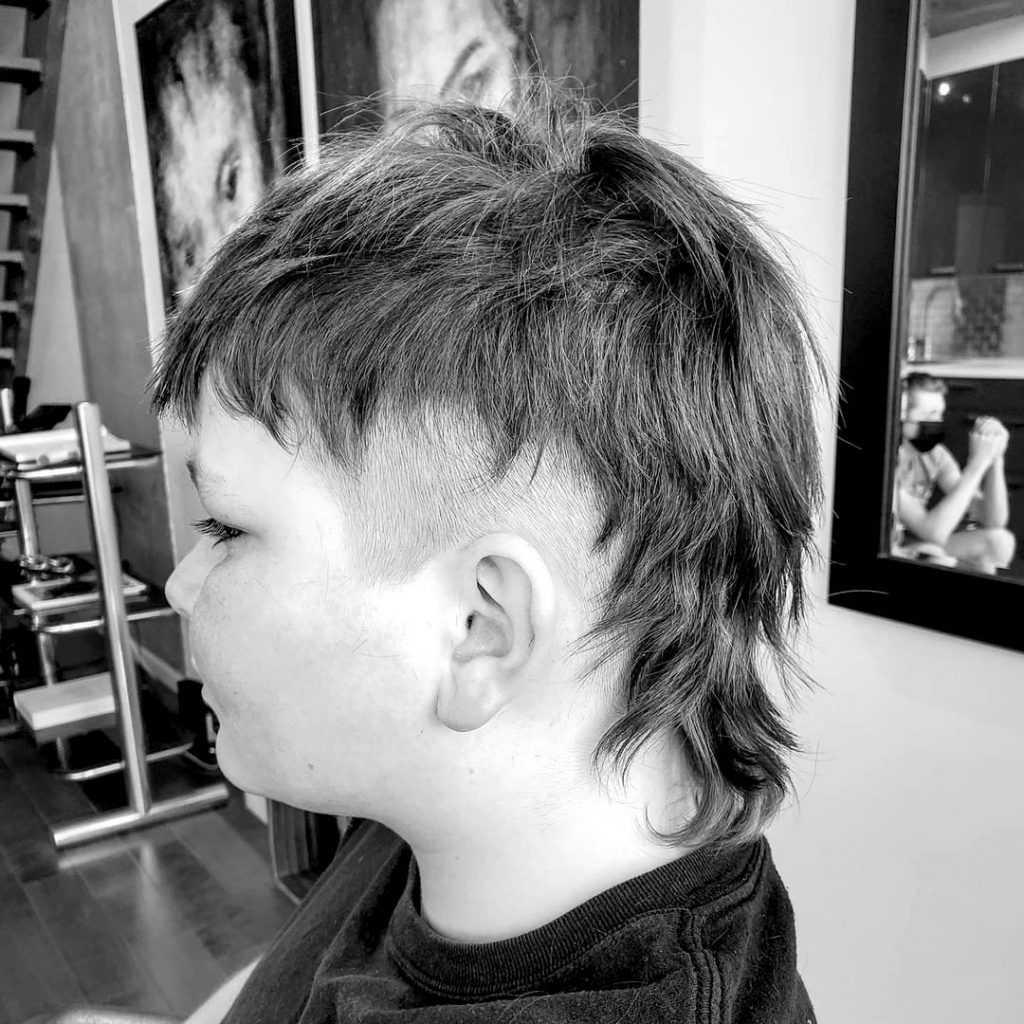 Take that texture to the next level with this jagged look.
39. Mullet Haircut For Thick Hair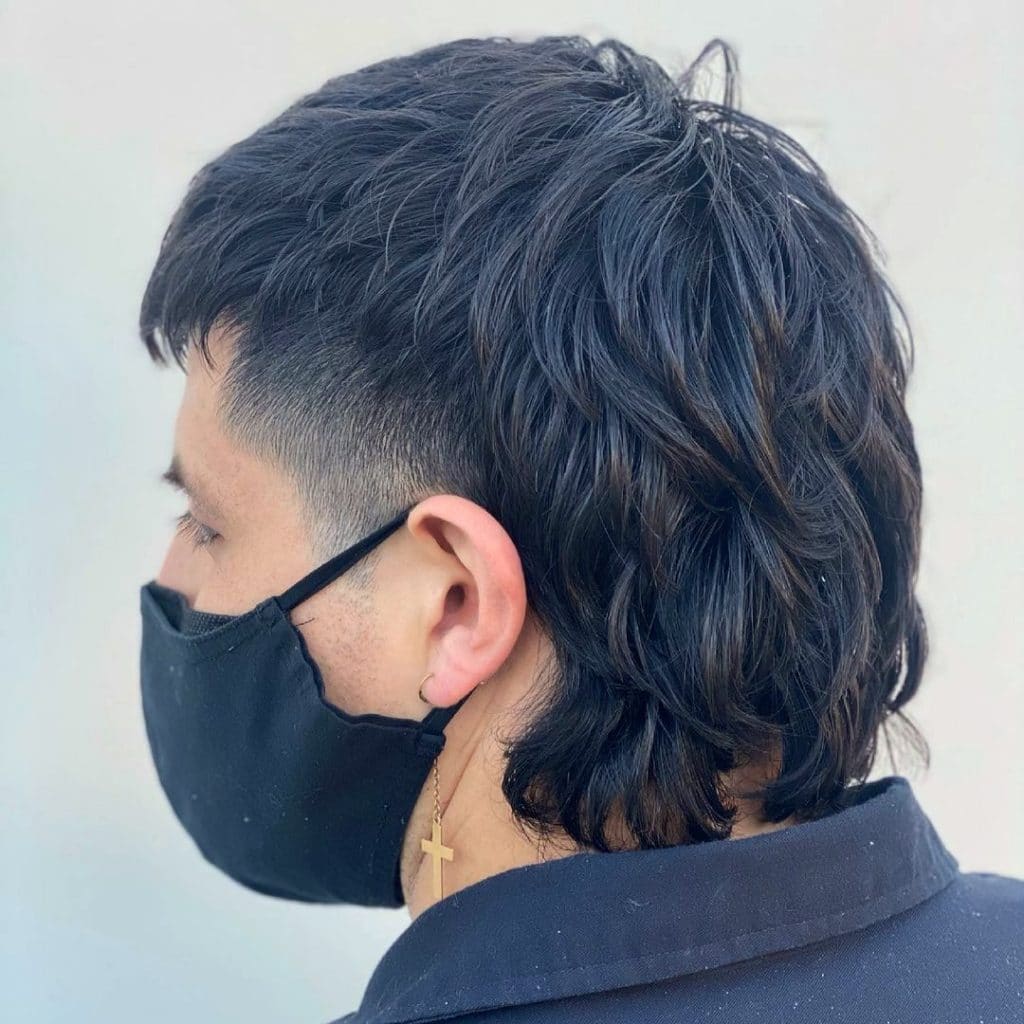 Layers lighten up this thick hair and bring out texture.
You really can combine the mullet with any hairstyle.
40. Flat Top + Flow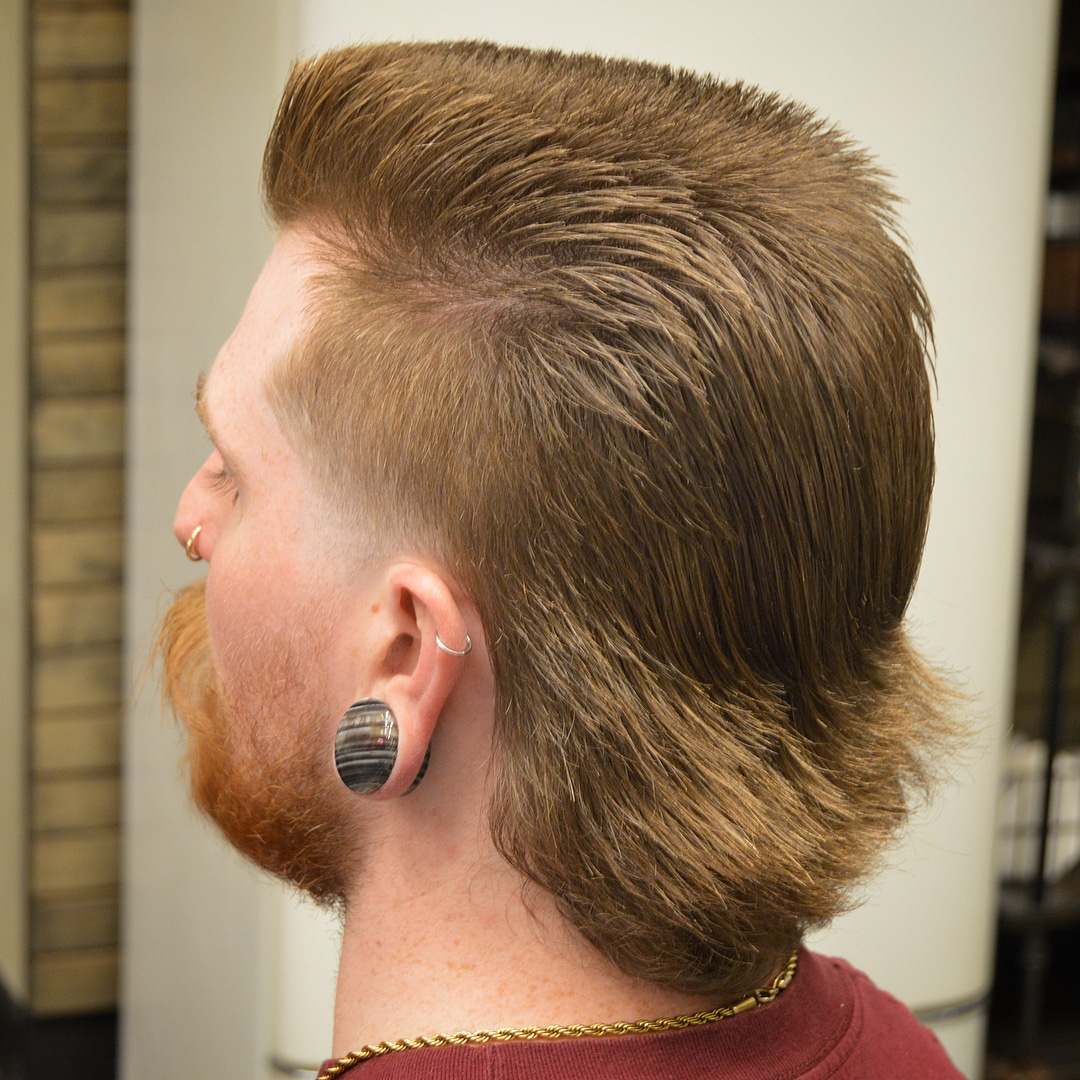 The flat top is a retro men's haircut that has plenty of modern appeal. Combine it with a mullet for an unexpected combination.
41. Flat Top + Fade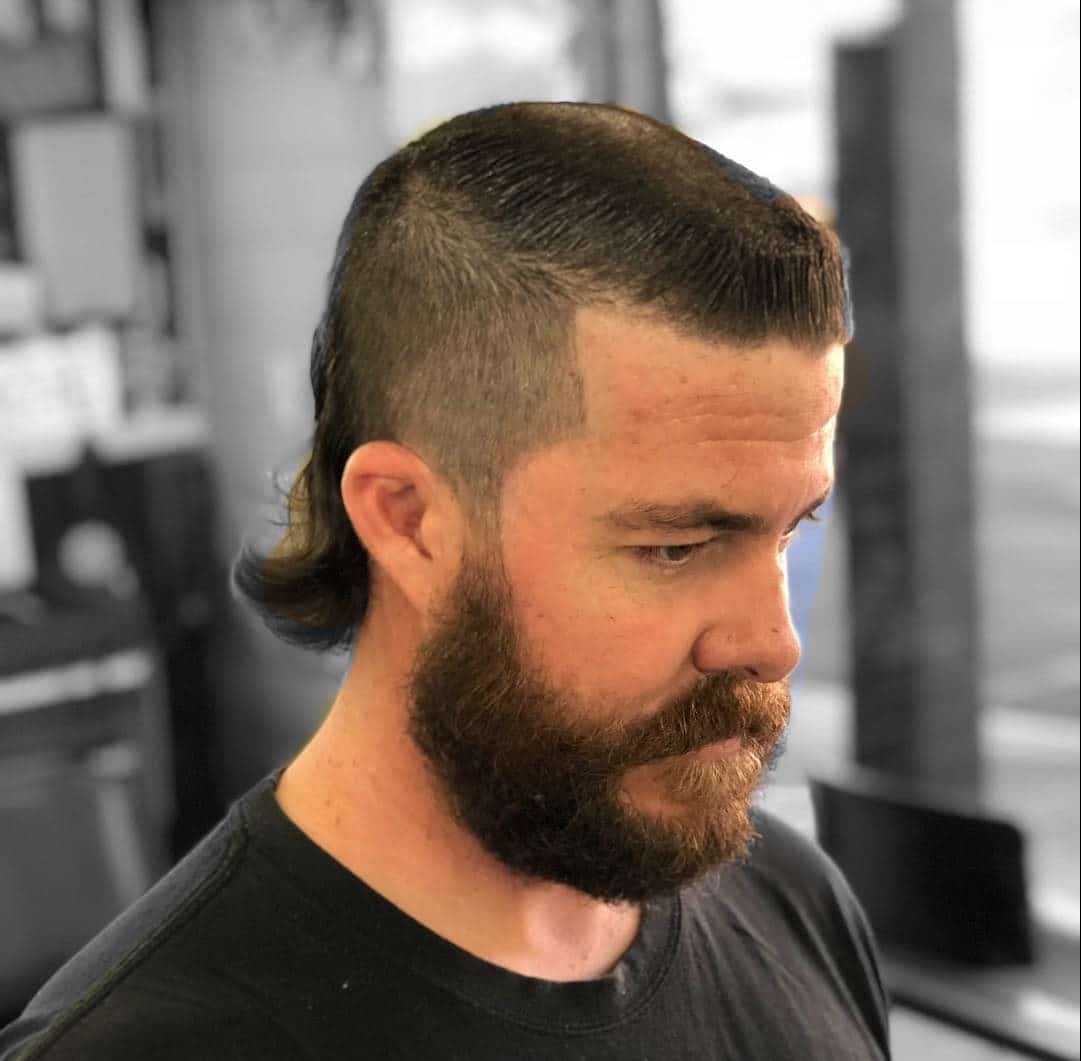 With a short flat top, the business at the front of this mullet haircut is all business. In contrast, the party at the back lets loose with a curl.
42. Flat Top Fade + Mullet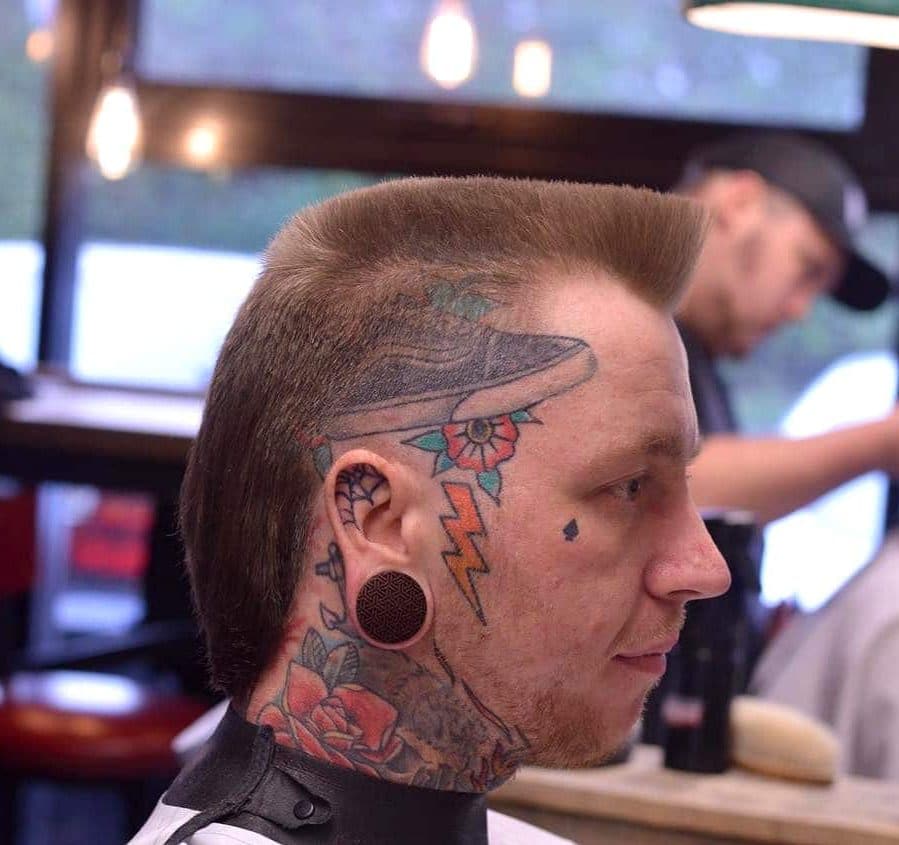 With just enough length  at the back to be called a mullet, this short haircut has more hair at the back than the top.
With long hair, you can really commit to the mullet.
43. Mullet + Bangs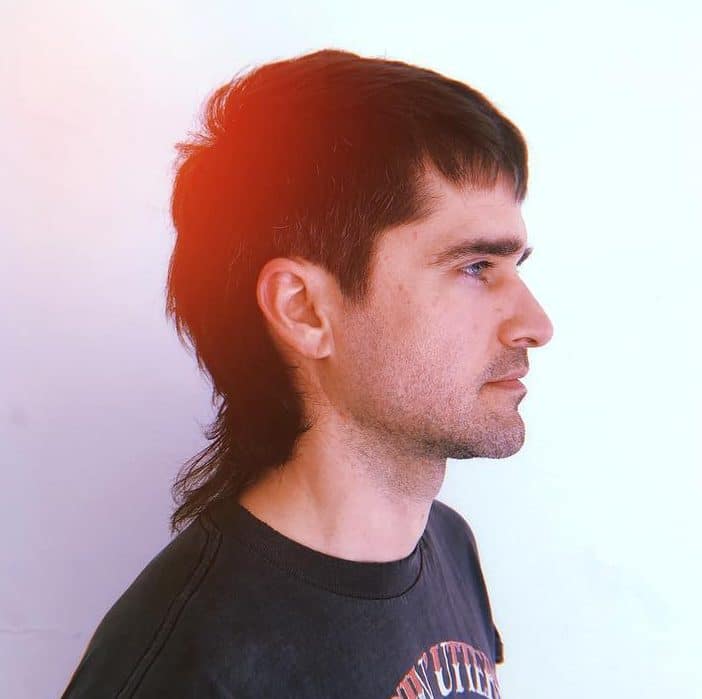 This is a classic men's haircut with bangs that just keeps going at the neck.
44. Jagged Mullet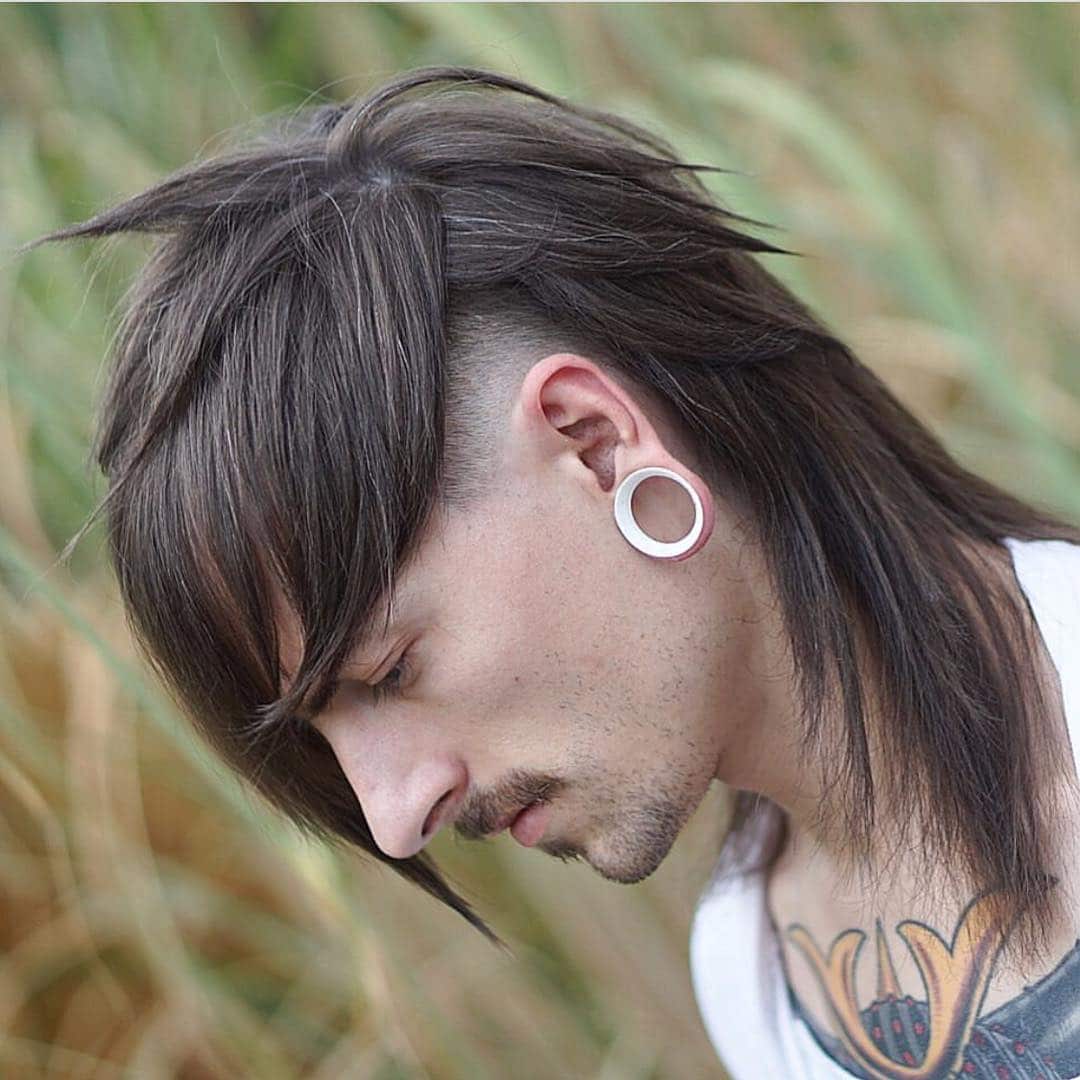 Mullets can be styled any way you like. With pointed edges and a few spikes, this long at the back men's haircut is more rocker than hockey.
45. 1970s Mullet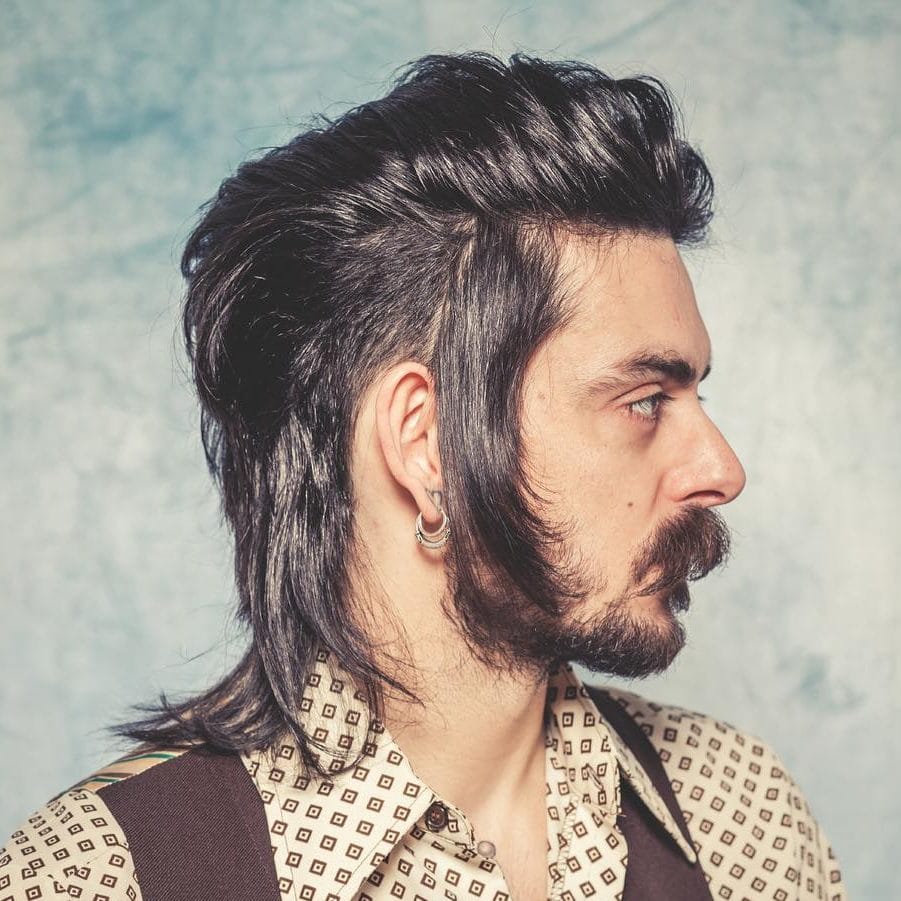 A mustache and long sideburns give this long mullet hairstyles a 1970s look and feel.
46. Classic Mullet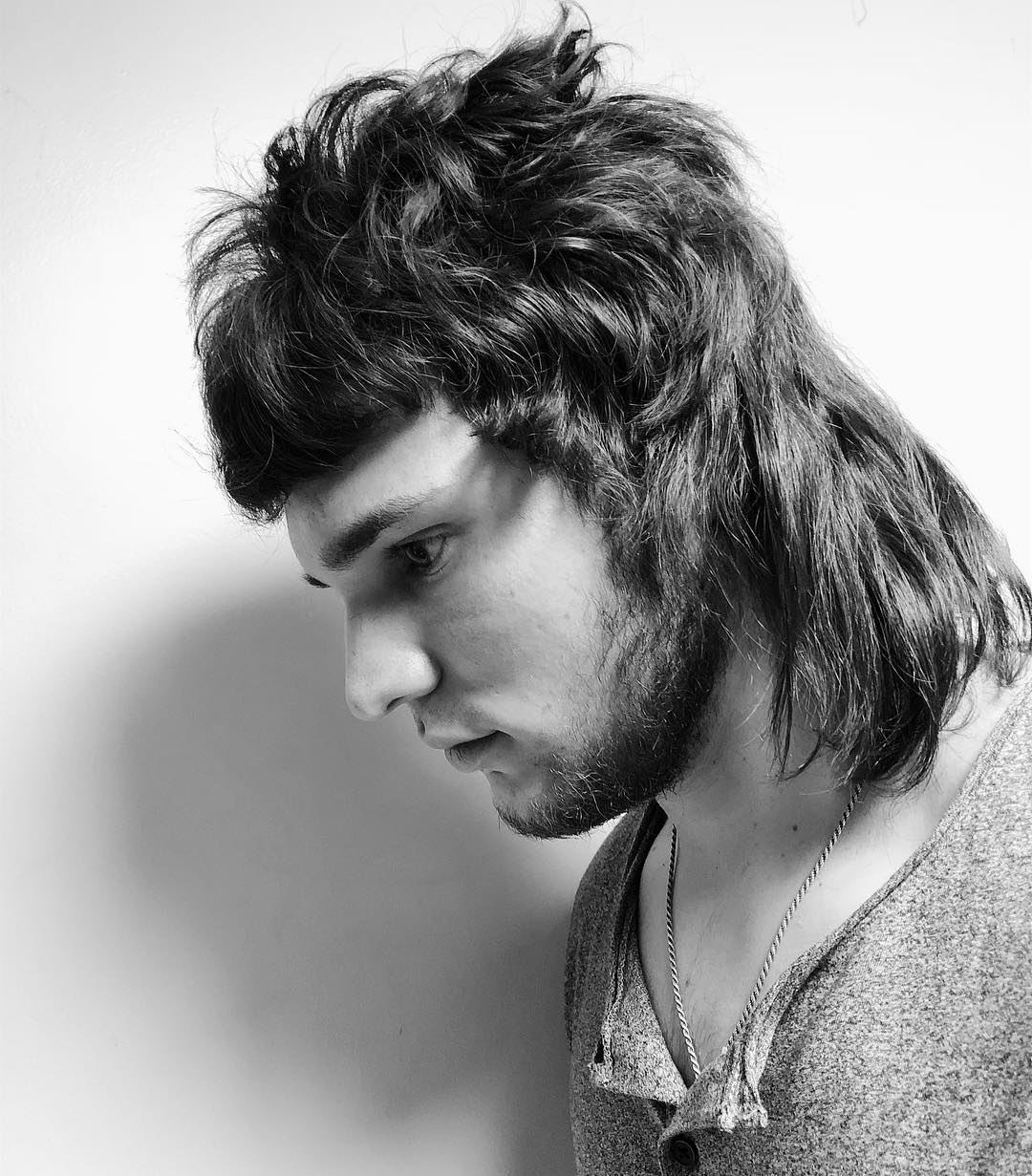 With short fringe, a long neck, and layering all over this is as classic as the mullet gets.
47. Long Men's Hair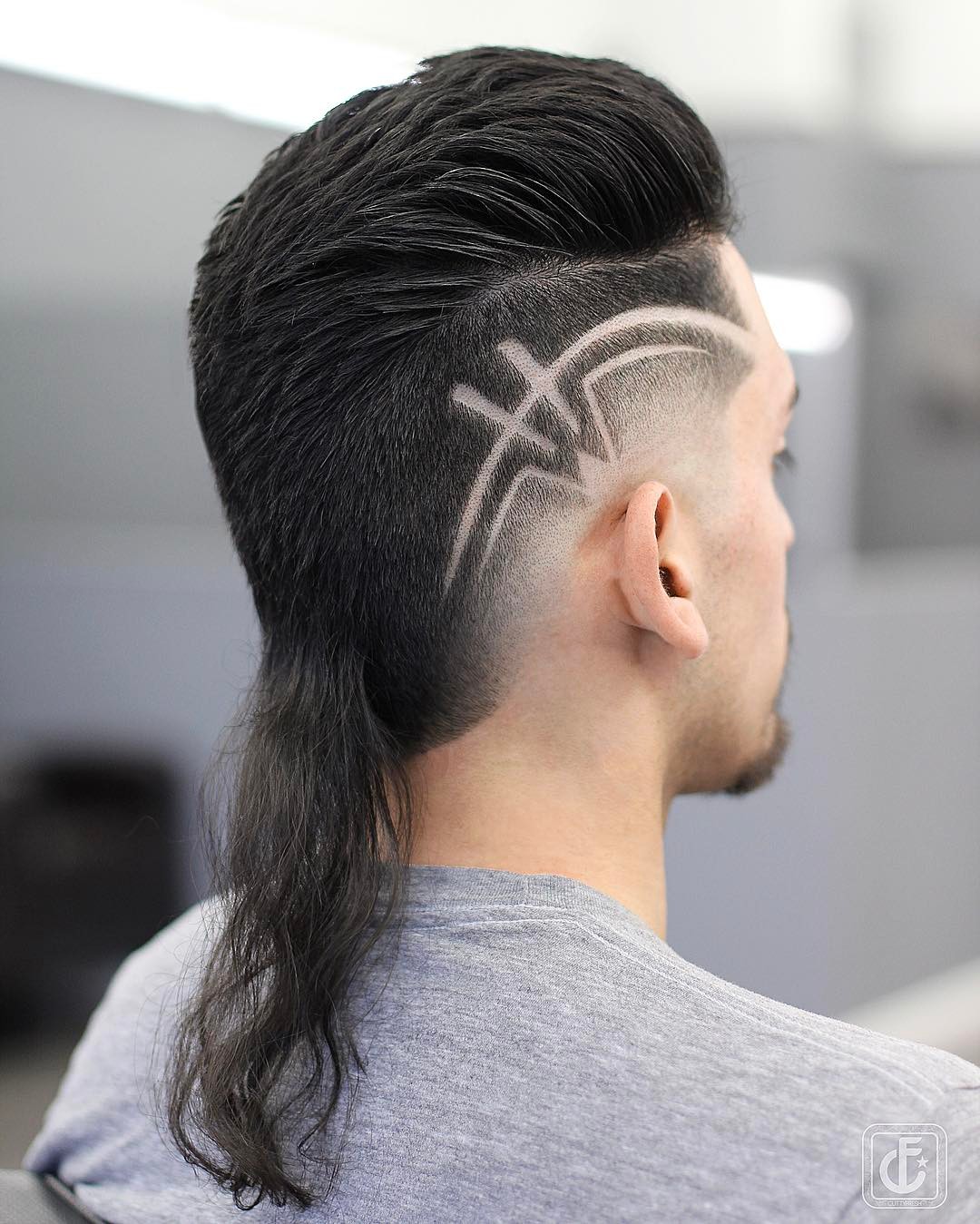 Even without long hair at the back, this is a bold look. It might be a rat tail, but that's still a type of mullet.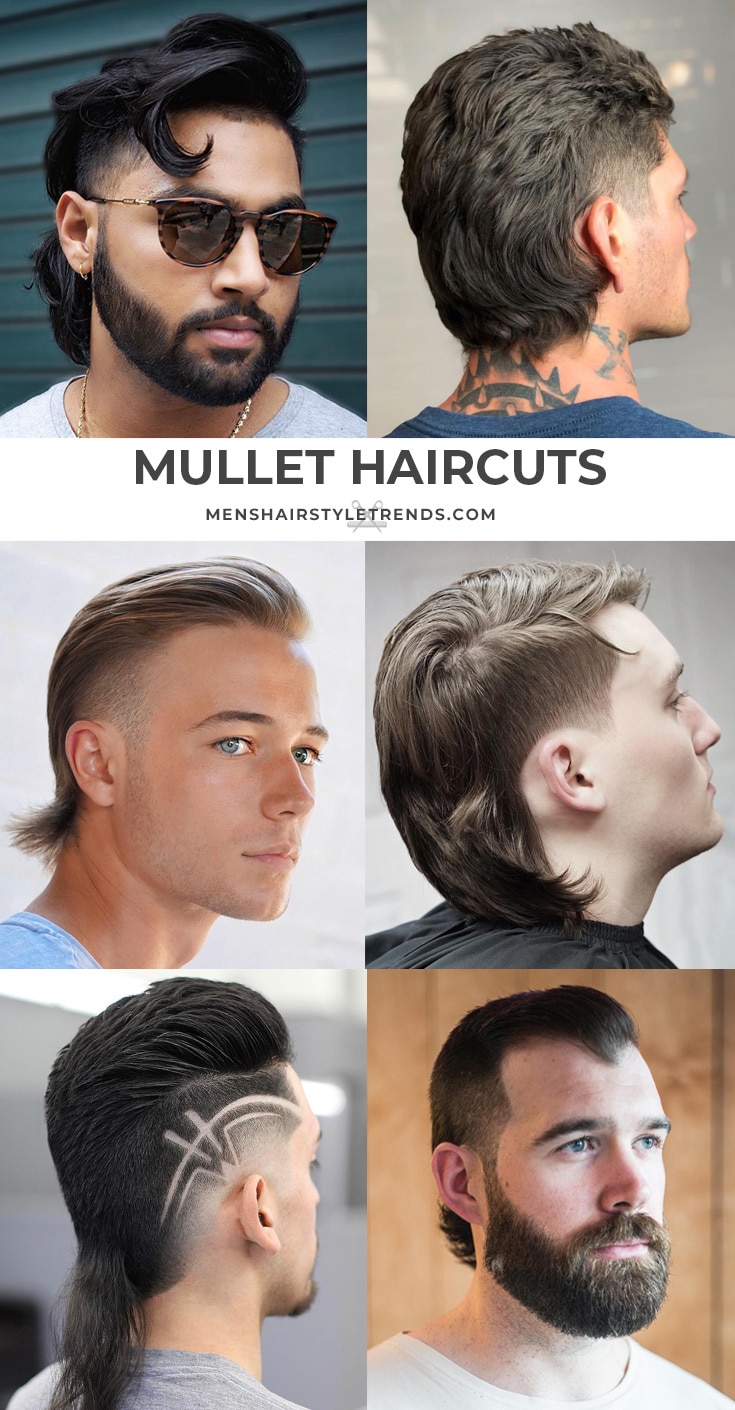 This post may contain affiliate links. Please read our disclosure for more info.
Sours: https://www.menshairstyletrends.com/the-mullet-haircut/
FASHION MULLET Haircut Tutorial
Just when we thought last year couldn't hold any more surprises, we have a new hair trend on our hands and it's the last one we'd ever expect: the mullet. Yes, you read that right—the iconic "business in front, party in back" hairstyle has surged back into the mainstream. Were we ready for it? No. Did we expect it? Not at all. Are we mad at it? Funnily enough, not really.

Truthfully, the mullet hairstyle started inching is way back into trendiness a few years ago, according to Magda Ryczko, hairstylist and owner of Hairrari in New York City, who has been cutting mullets for her trendy Brooklyn-based clientele for years now. She credits the fact that it's a "gender-neutral" haircut that looks good on all genders —men, women, and non-binary people—and a resurgence of '80s and '90s style. But the COVID-19 pandemic and ensuing quarantines created a mullet-friendly environment that no one could see coming. "It's the perfect haircut for a Zoom meeting," Ryczko says. "It's business in the front and party in the back. Or these days, it's business in the front and a small gathering of six or less in the back."
Celebrities played a role in the current mullet renaissance as well. Both during and post-quarantine, celebs of all genders adopted versions of the mullet, from Blake Shelton and Miley Cyrus,to Troye Sivan and Rhianna, and most recently, Zac Efron. But they're just recent additions to the long list of celebrities who have rocked a mullet at some point. "If you look back at the 80's and early 90's, anyone who was anyone had a mullet—all the top celebrities, musicians, athletes, they all had one," says Pennsylvania-based hairstylist Mikey Henger. And even since then, the list is long: David Beckham, Kanye West, the entire cast of Stranger Things just to name a few. "It's a hairstyle that has never really left," says Henger, who himself rocks a glorious mullet.
What Is A Mullet?
When you hear the word "mullet" a specific cut may come to mind: Joe Dirt, Billy Ray Cyrus, or Lionel Richie, for instance. But in reality a mullet is an entire category of hair style, all of which have one thing in common: shorter hair in the front, longer hair in the back. Within that umbrella, there are almost infinite variations. "There are so many different kinds," says Henger. His mullet, for instance, is "an old school rocker mullet" that was inspired by vintage professional wrestling and The Lost Boys, and is slightly longer and layered on the sides. There are also short mullets, mullet fades, and messy shag mullets.
But Are Mullets Really Cool Again?
"75% of the haircuts I do are mullets," says Henger, who has also seen a drastic uptick since lockdowns began. "People would never let their hair get to the point where you could actually have a cool mullet," he says, but thanks to barbershop closures for part of the year, growing hair was easier than ever before. And with that extra length, experimentation can really begin.
Henger says the classic mullet—super close sides, messy top, long back—is the most shocking because it's the most obvious. It also happens to be the version that's easiest to cut yourself in the mirror. But the "modern mullet" is a little more subtle. The sides are kept a little longer and the graduation from short to long hair is a little smoother. "I wouldn't call it a conservative mullet, but it's like 'does he have a mullet or doesn't he'? It's a very safe mullet," he says. This style relies a bit more on styling to really make it look like a mullet—slick back the sides and it's obvious, but mess it up and it looks a bit more just like long hair.
How To Get A Mullet
So if you've ever been mullet-curious or are just aching to do something new, there is no better time to experiment with a mullet than now. After all, isn't that what lockdown hair is all about? As Ryczko points out: "Life is short. Everybody should experience a mullet in their life." Here's what to know if you want to rock a mullet yourself.
1. You Need Long(ish) Hair To Start
In order to optimize your mullet capabilities, "you have to at least grow it to a decent length," says Henger. Getting a true mullet isn't as simple as just shaving your sides and not touching the back. You have to start with longer hair the whole way around in order to shape it, he advises.
2. Decide What Kind of Mullet Style You Want
If you're going for shock value, a traditional mullet that's closely-cropped or shaved on the sides and long and flowing in the back is probably what you want. But that's the least versatile mullet out there. Have an idea of how long you want the back to be and how drastic you want the sides to look in comparison.
3. Make An Appointment With A Professional
If you're going for a drastic mullet, you can likely DIY that in the mirror if you're brave (just shave down the sides and top till you reach your desired length). But if you want any other mullet style, like a rocker mullet or a shorter subtle mullet, that's best left to the professionals. "A rocker mullet is all scissors and a lot of texture," says Henger, which is nearly impossible to do on yourself unless you are actually a hairstylist (and even then, requires extreme dexterity). When in doubt, book an appointment (bonus points if it's with someone who specializes in mullets, like Henger and Ryczko.)
4. Style Your Mullet Properly
Unlike a lot of other hairstyles for men, a mullet is mostly about the cut, meaning you don't need to rely on styling products to shape it. To make your mullet really shine, however, Henger advises using a salt spray or texturizing spray to create waves. "The best mullet is a wavy mullet," he says and to create texture, spray some salt spray on damp hair and as it's air drying mess it up a little with your fingers. Henger also advises against washing your hair too often. "The dirtier the better," he says, so only wash your hair every few days (depending on how oily it gets,) and use dry shampoo between washes to soak up excess oil.
Products You Need to Style a Mullet:
BYRD Texturizing Surf Spray
SHOP NOW
Got2b Beach Trippin' Texturizing Spray
amazon.com
SHOP NOW
Batiste Dry Shampoo
amazon.com
SHOP NOW
Garrett MunceGarrett Munce writes about men's style and grooming.
This content is created and maintained by a third party, and imported onto this page to help users provide their email addresses. You may be able to find more information about this and similar content at piano.io
Sours: https://www.menshealth.com/grooming/a35202910/mullet-haircuts-2020-style-trend/
Similar news:
What is the Modern Mullet?
The modern mullet is characterized by two things, a long mullet (i.e. a lengthy body of back-hair and short side-hair) and medium length front and top hair. The word 'modern' in this haircut simply refers to the shorter hair at the front, so you are left free to style it however you please.
Because the term 'modern mullet' is so broad, you might see it describing quite a few different cuts. Just remember that it's a mullet with a short-ish top, however it may be styled.
How Do You Style This Cut?
The modern mullet takes quite a bit of length off of the standard mullet, but there's still more than enough to style with. You can do this however you like, but here are some good suggestions to start with:
Brush or comb it to one side
Gel it up and towards one side
If long enough, comb and/or gel it back
Sours: https://haircutinspiration.com/the-modern-mullet-for-men/
548
549
550
551
552