Guide to Moroccan Furniture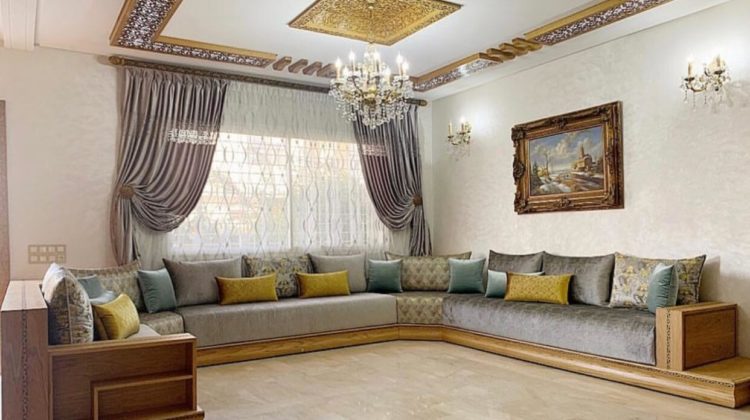 Whether you're looking to add some Moroccan touches to your own home or whether you're curious about traditional Moroccan styles and furnishings, this interesting guide to Moroccan furniture will tell you everything that you want to know.
Moroccan interiors typically use various decorative details, such as exquisite tilework, glorious arches, and plasterwork, and feature lavish tapestries. Furnishings often complement existing details within rooms.
While many people associate the insides of an opulent riad with Moroccan life, everyday Moroccan homes can be fairly different from accommodations geared at tourists. Additionally, there are often differences between Moroccan Arab homes and Moroccan Berber homes.

Here's the lowdown on Moroccan furniture:
Background of Furniture in Morocco
The Moors and Berbers have both played key roles in the development of Moroccan styles, designs, and home furnishings. European influences may also be noticeable, largely stemming from the days of colonisation and trade. Mediterranean, Spanish, French, and Portuguese elements are the most common.
Typical Moroccan furniture is usually informal. Pieces may be fairly simple in their design, with a reliance on room décor, accessories, and textiles to provide aesthetic pleasure. Items may also be ornate in their own right, with striking patterns and bold colours, often achieved by carving and inlays. Patterns often reflect Islamic designs.
With nomadic roots, it was common for Berber homes to place more emphasis on items that were easy to transport, such as rugs, drapes, and cushions, over bulkier and heavier items. This can still be seen in many Berber homes today. Economically, such items are also often much cheaper too.
Cultural Significance of Moroccan Furniture
Furnishings can be part of visual representations of culture and help people feel more connected to their roots. Moroccans who live overseas may furnish their homes in a typical Moroccan style to reflect their heritage and retain links with their homeland as well as to feel comfortable and at ease with familiar surroundings.
Furniture may also be a show of wealth and social status. Some people deliberately use high-quality furnishings for areas of the house where they will receive visitors.
Common Items of Furniture in Moroccan Homes
Moroccan Sofas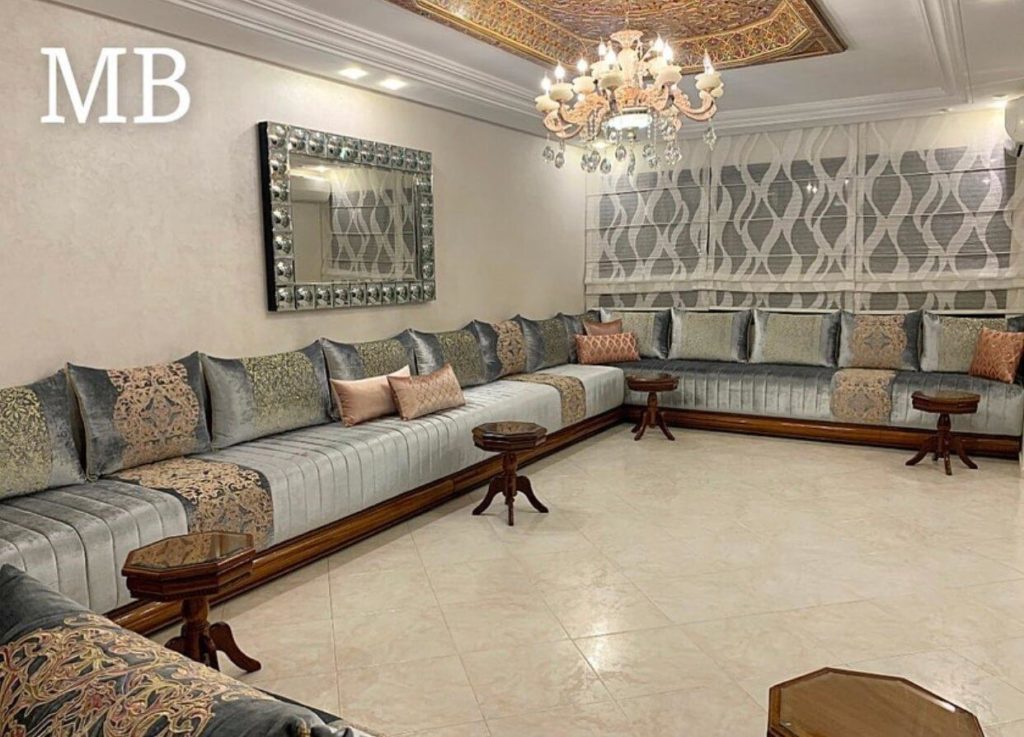 Moroccan seating is often low and casual. The typical Moroccan sofas are more like low wooden benches with soft cushioning on top. The cushioning is usually colorful and patterned and plump cushions, along with rich throws, are often scattered on the seats for added comfort and beauty.
Such seats may also functions as day beds and some families may use them as sleeping areas too. This type of traditional Moroccan seating is also known as a sedari.
The seating commonly found in Morocco isn't unique to the Kingdom; it's also common in countries across the Arabian Gulf and the Maghreb. It developed as an alternative to people sitting on the floor on rugs, mats, or cushions.
In Berber homes, floor-style seating may still be the norm, with beautiful woven rugs and embellished cushions serving as the primary seating area.
Low Tables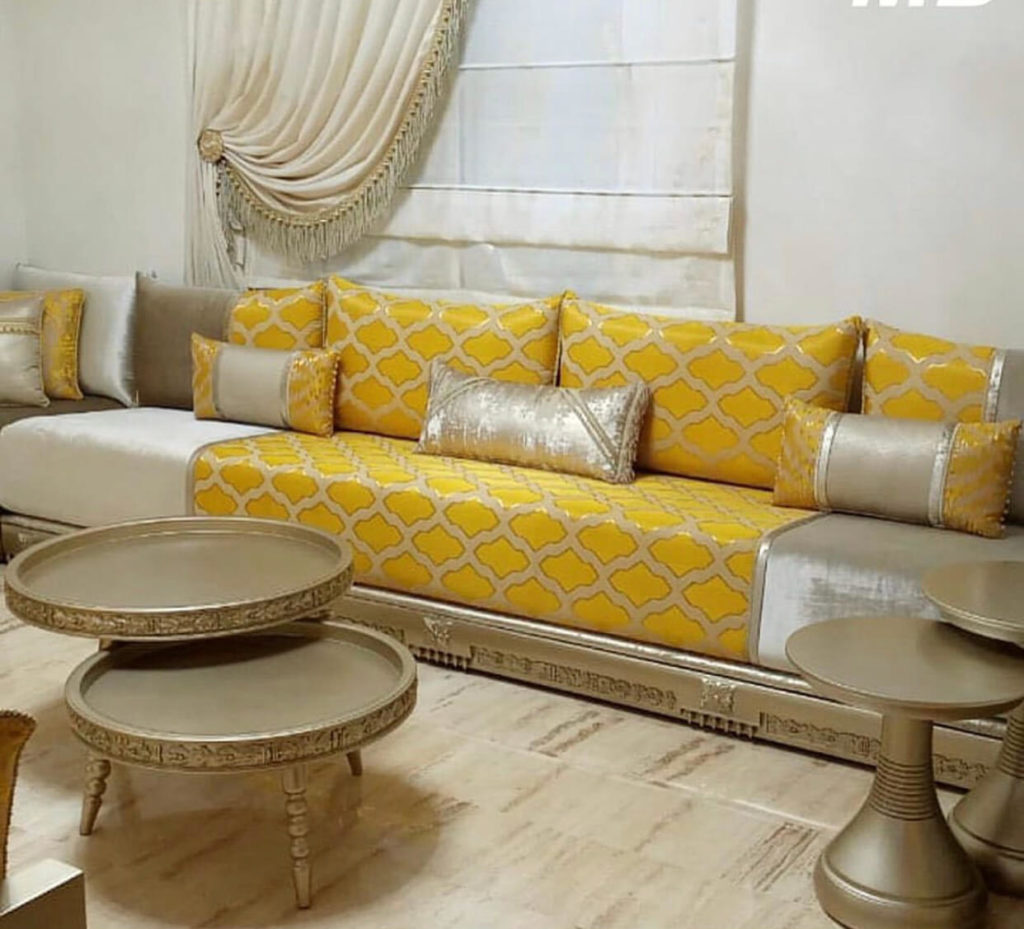 Many Moroccan salons are designed with relaxation and hospitality at the fore. People entertain guests in comfortable and attractive living areas, and offering mint tea to visitors is a huge part of Moroccan hospitality.
It is, therefore, essential that living spaces have tables where the tea set can be arranged and people can set their glasses down. Dinner is often served at the central table too, with no need for a separate dining table and chairs.
A large, low table (also known as a mida) is often at the centre of a salon, with long sofas arranged around three sides. There are commonly smaller side tables at the ends of the sofas too. Tables are typically made from wood and may be simple or highly elaborate.
Decorative tables generally feature beautiful carvings, particularly on the legs, and the top may feature exquisite tile inlays in dazzling colours. There may also be bone inlay.
Room Dividers
Room dividers are often found in Moroccan homes, providing a clear visual separation between different areas of a room and adding privacy to more intimate areas, like relaxing lounge spaces or next to the bed.
They may also be used as window screens. Typically, room dividers are made from wood and usually feature highly detailed and decorative carvings. Patterns are often geometric or symmetrical, reflecting traditional Islamic designs.
Ottomans
Sometimes known as a hassock, an ottoman is usually a functional piece of furnishing that can be used as a footrest, side table, or small seat. Sometimes they open up to provide interior storage space too. The upholstered cushion-like part of the ottoman typically has bold colors and patterns.
Poufs
Similar to ottomans, poufs may be used as a footrest or a low seat, almost like a beanbag. Poufs are often made from dyed leather from sheep, goats, or camels and they come in a wide range of colors.
The main difference between an ottoman and a pouf is that an ottoman has short legs, whereas a pouf rests directly on the floor.
Rugs and Carpets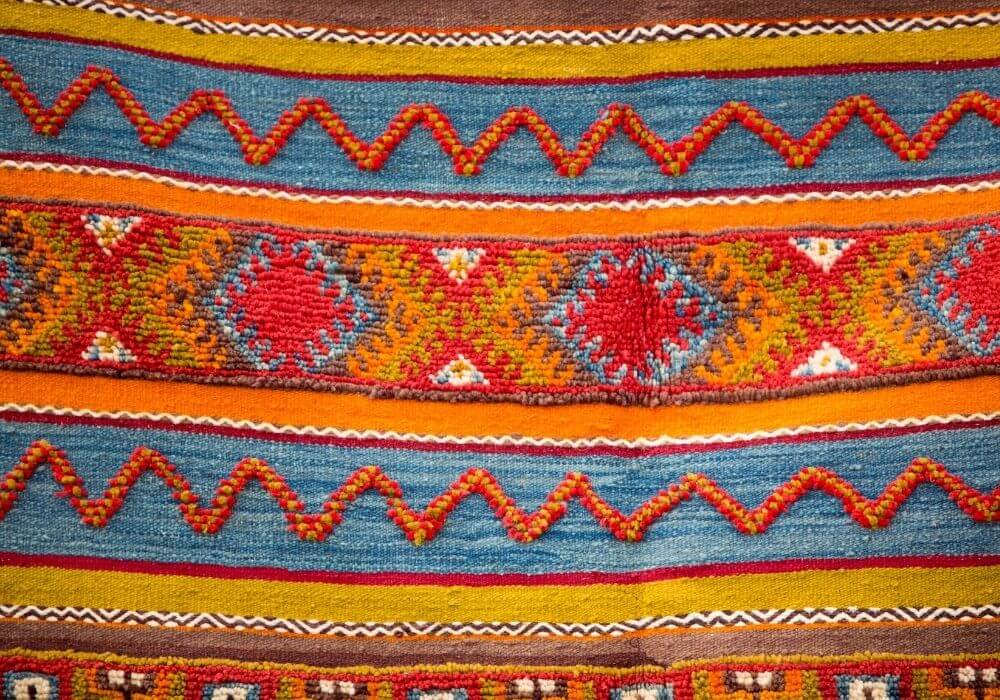 Floor coverings are often a huge feature in Moroccan homes, and it's polite to remove your shoes before stepping onto a beautiful rug or carpet. Rather than floor-to-floor carpeting, Moroccan homes generally have large rugs laid out in certain areas of the house.
A salon, or living area, almost always has a colorful and lavish rug, sometimes with tassels, beads, and other adornments and embellishments. Rugs are also common in bedrooms.
Lanterns
Often found in the souks around Morocco, traditional lanterns are commonly a major eye-catching feature in a Moroccan room. Whether a lantern hangs from the ceiling, stands on a table, or is free-standing on the floor, it usually makes a statement.
Metal lanterns are the norm, with decorative details worked into the metal by skilled artisans. Light shines through the cut-away parts and casts patterned shadows on walls. Some lanterns may also use brightly colored glass to project colors as well as shadow shapes.
Mirrors
Mirrors are a frequent item in Moroccan homes, and they may be found in various rooms. Mirrors are used for both decorative and practical purposes. The frames are invariably decorative, whether it's carved wood, detailed metalwork, colorful glass, mosaic-like tiles, or encrusted with pieces of glass, beads, and similar.
Accessories
While not key pieces of furniture, many Moroccan homes have ornate accessories to add beauty to rooms. Popular ornamental accessories may include mirrors, lamps, pottery, wall hangings, cooper pots, brass plates, and more.
Functional items, such as crockery, tea sets, and glassware, are typically patterned an ornate too.
A major concept with Moroccan furniture and home décor is the evocative collision of different colors and patterns that, while usually clashing, complement each other somewhat like a visual organized chaos. Bold and striking, Moroccan rooms are usually designed to be comfortable, feel welcoming, and create a statement.
Filed Under: Morocco
Sours: https://www.moroccopedia.com/guide-to-moroccan-furniture/
Sometimes in the mist of everyday life I like to do a personal hobby project to mix it up and get those creative juices flowing. Having a part time interest in woodworking and DIY furniture, I decided one weekend to find a fun flip piece I could do a quick makeover on.
I found the sweetest side table for sale online for $50. It was in great shape, and because it had straight lines, with not too many intricate grooves or nooks I knew it could easily be sanded down. (You can see in the before photos the table had a dark stain on it, with some water damage on the top showing the lighter wood tones underneath.)
Who doesn't love that light wood tone, moroccan stenciled furniture that you see all over Pinterest?! I'm constantly inspired by that style furniture, and am just obsessed with all the small details, and magical imperfections commonly seen in these pieces. I decided to give it a go.
Check out the simple steps on how to achieve this look below!

Step 1. Sand that baby down!
I love when wood is super duper smooth! So using a palm sander I started with 100 grit sand paper to get that dark layer off, and then worked my way up to 300 grit paper, making it really soft to the touch. Don't forget your dust mask!!
Using folded pieces of sand paper I sanded out the indented accents, not quite as smooth but just enough to remove the dark stain.
Brush away any dust with a brush or dry paper towel.
Step 2. Stencil
I chose to use this stencil, I found in Michaels, because it was similar to the moroccan style designs you typically see, but with a little more of a floral, boho flare. (You can find two similar ones, here
and here
)  I used spare paint we had around the house and a stencil brush
.  Starting with the accent squares, I taped off small sections of the stencil working one area at a time.
*A tip on stenciling – be sure not to put to much paint on the brush! Less is more – you don't want your paint to bleed out the edges.
Finish by repeating the full pattern in the center of the top.
Once the paint was dry I took my palm sander to it again and gently went over the painted areas with 300 grit paper to remove any rough paint edges from the stencil, and to give it a slightly distressed appearance. This way it doesn't look so fresh and new. The paint and wood are super smooth to the touch – You can't feel a difference between the two.

Step 3. Seal (Optional)
I'm saying this step is optional because even though I had every intention to put a sealer on this piece, I found that every kind I tried was darkening the wood, and I really wanted to keep it light.
This darkening effect will most likely vary depending on what type of wood your piece is, but ordinarily I'd use either a finishing wax or water based polyurethane.
Because this piece of furniture won't be used as much as say a coffee table, and because I was really hung up on the color, I decided to sand off what sealer I had applied and to leave it natural – no seal. Should any stains or imperfections arise in the future, I plan to just sand them out.

Step 4. Swap the Knob
I completed the piece with a new knob, and it really made a huge difference in the overall look.
I love, love, love this sweet side table. It is a awesome interpretation of an authentic moroccan piece of furniture, but for a fraction of the cost! A super easy weekend project that anyone can do at home. Hopefully it inspires you to do a quick, inexpensive makeover on a piece of furniture you have!
---
Sours: https://dallavita.com/2018/11/02/before-and-after-a-diy-moroccan-inspired-table/
Home » Guide » Arthropods (Arthropoda) » Accidental Adventives
Bugs Coming Out of Moroccan Wooden Furniture
New York, Manhattan County, New York, USA
January 16, 2010
Size: Almost 1/2 an inch

Hi, I have a wooden piece of furniture that I bought in Morocco 5 years ago. I never had any problems until about 6 months ago when I noticed a round hole appear in the furniture about 1/8 inch in diameter. I recently found another hole, this time more squarish shaped and 1/8 of an inch tall and wide. This time I found a dead bug near the furniture (I found another one a few months ago as well but didn't make the connection to the furniture) and I'm convinced it came out of the furniture. The bug appears to have wings with reddish/orange spots and stripes and the rest of it is black. I am trying to identify it to see how I can treat the furniture if this is indeed creating the holes in it (I have no idea if the bugs are from Morocco and were dormant all these years or are domestic). Thank you!
tag · login or register to post comments
Contributed by M Matthews on 17 January, 2010 - 1:38pm
Last updated 1 February, 2010 - 5:28pm
Sours: https://bugguide.net/
Wooden furniture makers, Morocco
.
Furniture moroccan wood
.
Moroccan wood craft
.
Similar news:
.
547
548
549
550
551