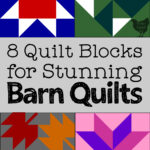 Barn Quilts are a great way to add some year-round color to your outdoor spaces and the hardest part of making one is picking a pattern. There are hundreds of possibilities but these are my top 8 Quilt Blocks for stunning barn quilts.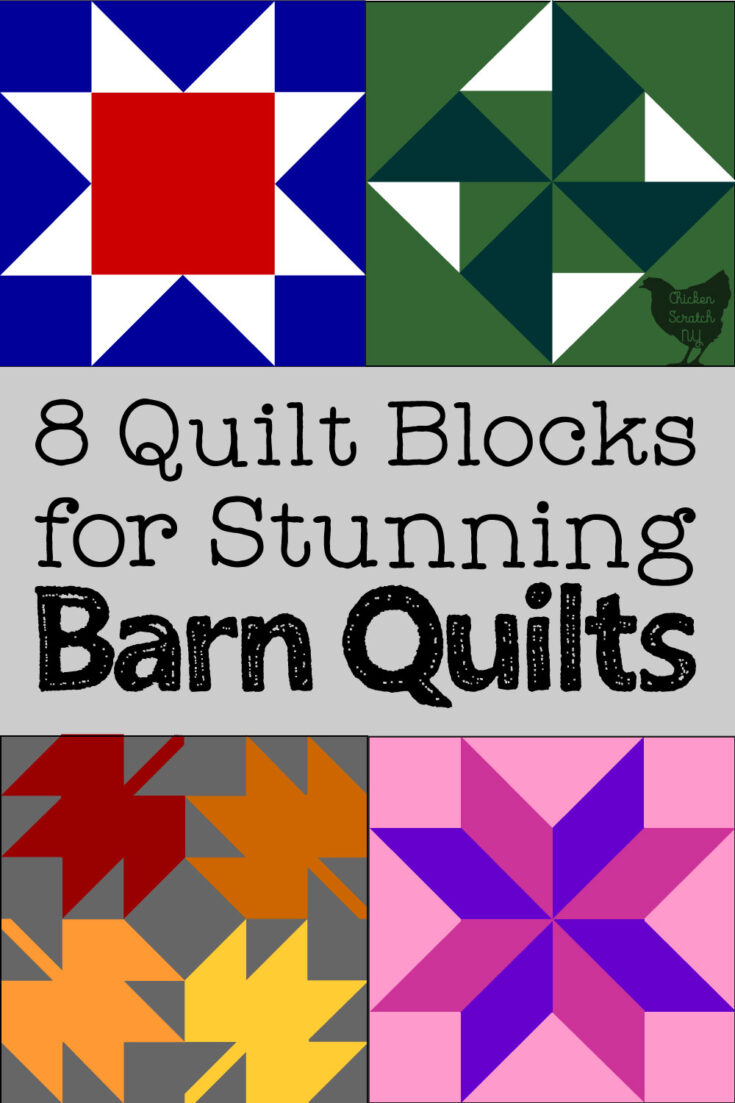 Barn quilts are a traditional barn decoration, large barns are decorated with 8 foot by 8 foot plywood painted to look like quilt blocks. Small barns can get in on the fun, I made a 4 foot by 4 foot barn quilt for my single story barn.
Find out How to Make a Barn Quilt
Before you can get down to business and start painting you need to pick your pattern. Barn quilts are usually meant to be seen from a distance and large, simple blocks work the best.
It might seem too boring up close but take a few steps (or a lot of steps) back and you'll notice all the details disappear from 50-100+ feet away. As much as I love my barn quilt, I wish I had gone with a simpler pattern.
Click here to download a free, printable PDF of these Barn Quilt Blocks
One more thing before we jump into the barn quilt blocks. Quilting is a very old art but the building blocks haven't changed that much, a lot of traditional quilt blocks go by several names.
Maple Leaf
It's not a secret that fall is my favorite time of year but even ignoring that, the Maple Leaf quilt block is perfect for a barn quilt. It has an easily identifiable shape and it's made from simple squares and triangles.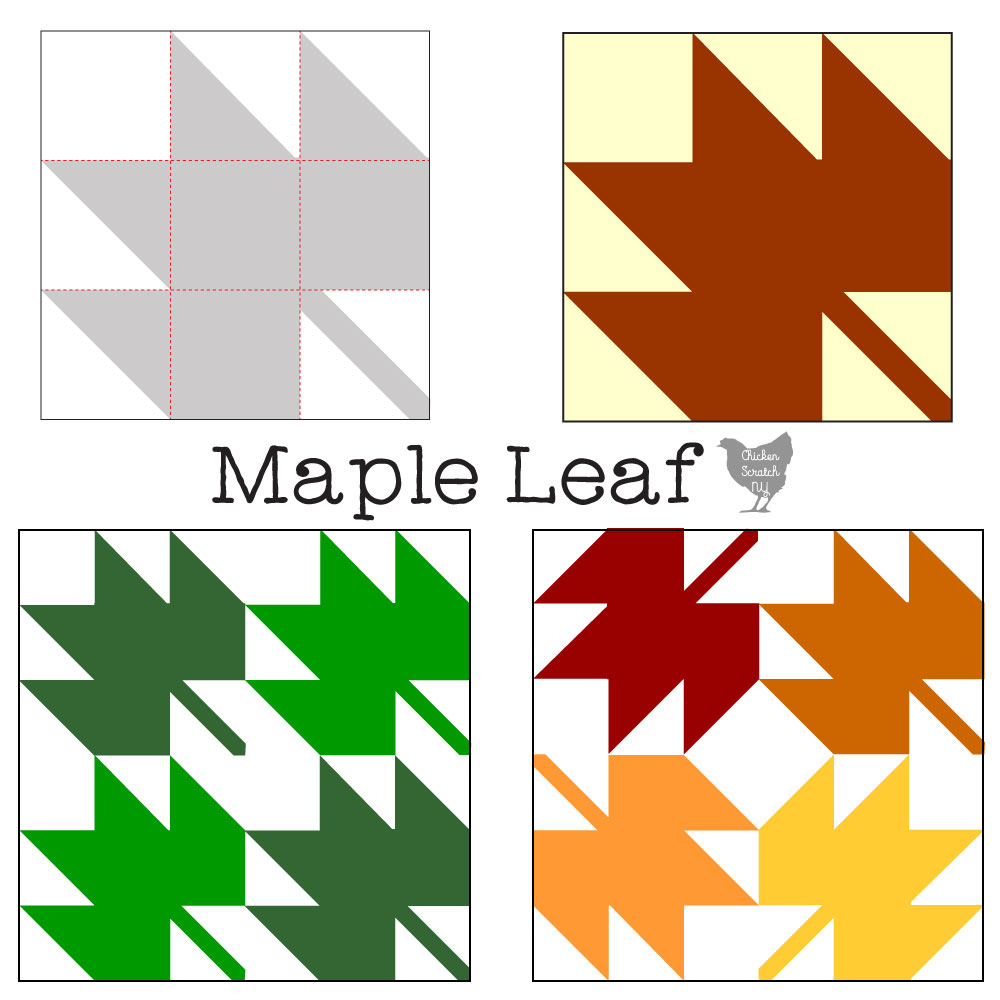 Start by dividing your wood into threes both horizontally and vertically. Then use tape to mark off the squares, triangles and stem.
I know I said that simple is better but I think this block is plain enough that it would work really well in a group of 4.
Ohio Star
The Ohio Star block is a simple star that looks great in two contrasting colors like white and red or white and blue.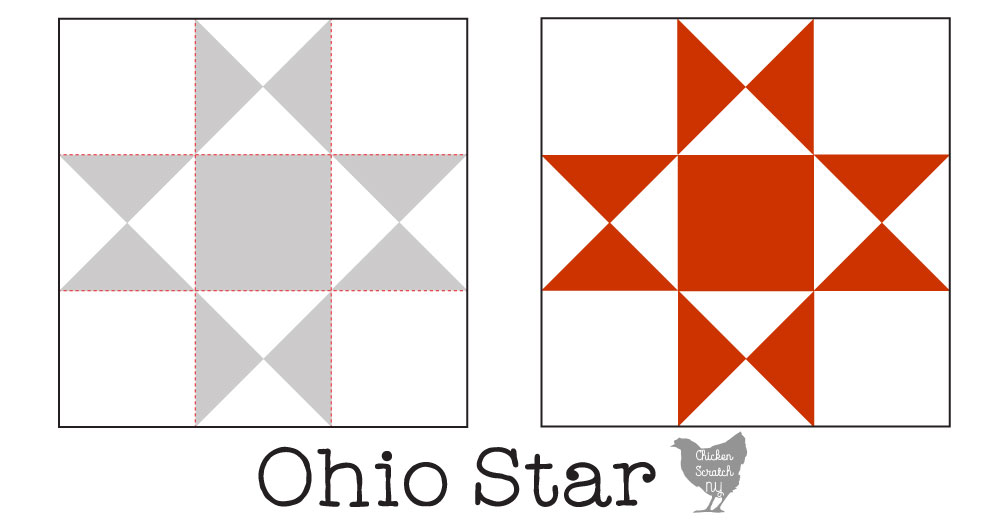 This block is also based on a nine-patch or 3×3 grid.
Card Trick
Some of my favorite quilt blocks are optical illusions. Card Trick is one of those blocks, it looks exactly like a fan of 4 cards overlaping and spiraling around the center.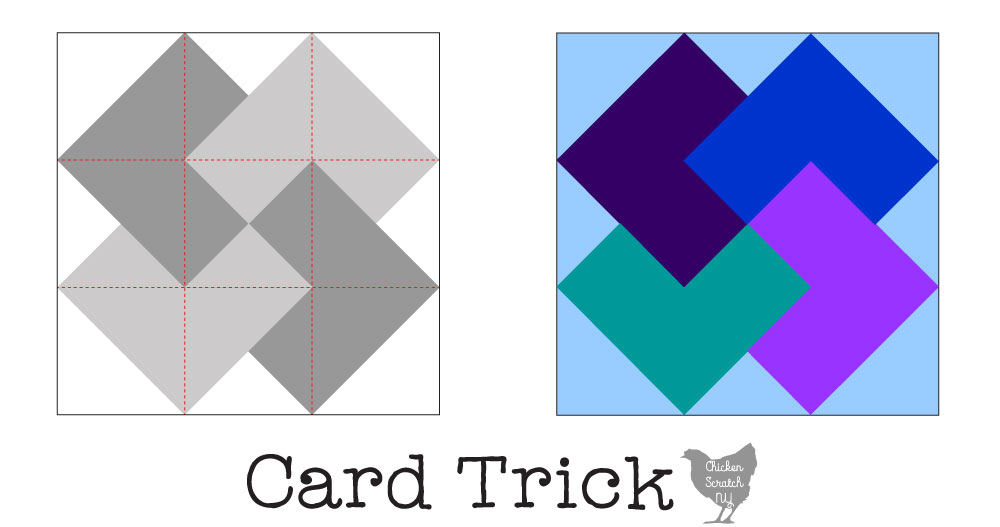 This block is based on a 3×3 grid and would look great in 3 or 5 colors.
Turn Style
Turn Style (or Turnstile or Turnstyle) is the first block I'm sharing that is based on a 2×2 grid or a four patch. It's also one of the simpler blocks but I still think it would have a lot of impact from far away.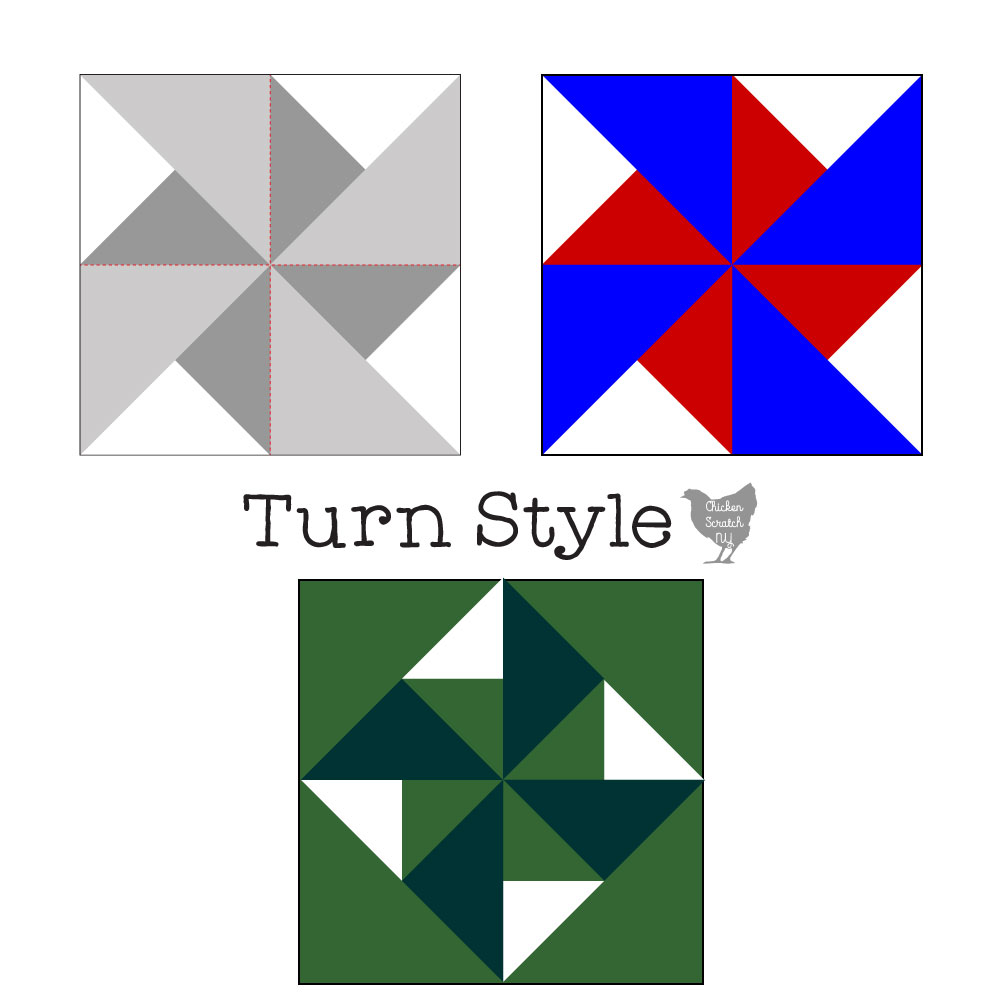 This block would be also be great rotated 45 degrees with solid triangles filling the the sides. This setting in the quilting world is called "on point" and the solid triangles are called "setting triangles".
Sawtooth Star
If I had to pick a favorite quilt block this would be it. I've got it down to a science in fabric and I've probably sewn a hundred of them at this point.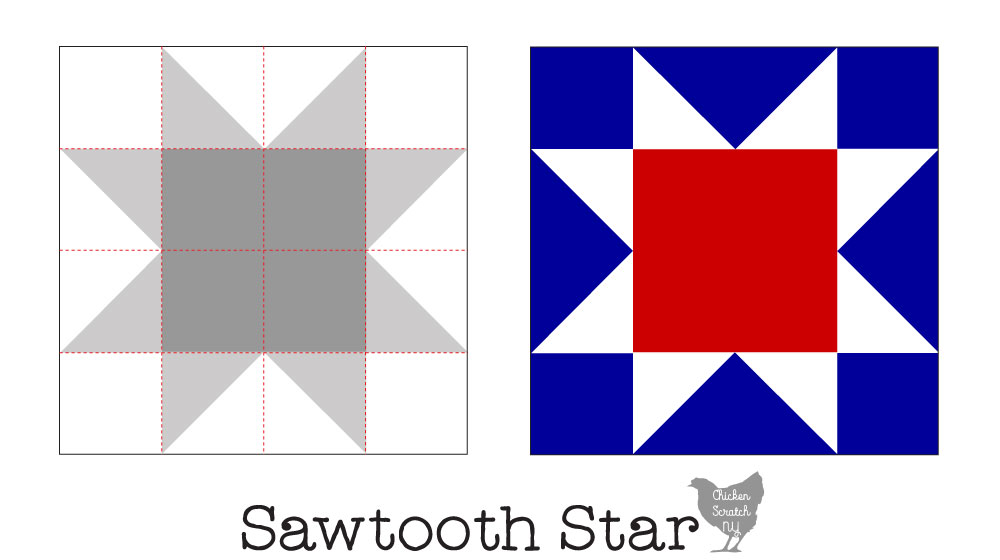 It is a very simple block but really has that old-school traditional quilt feel that works well on a large scale. You could keep it really simple with two colors, make the center a different color or go crazy and make all the star points different.
Without the dotted lines it's tricky to see how everything comes together but with them it's pretty clear that it's built off of a 2×2 grid.
LeMoyne Star
Another star, the LeMoyne Star is also built on a 2×2 grid and looks great in a 3 color combo.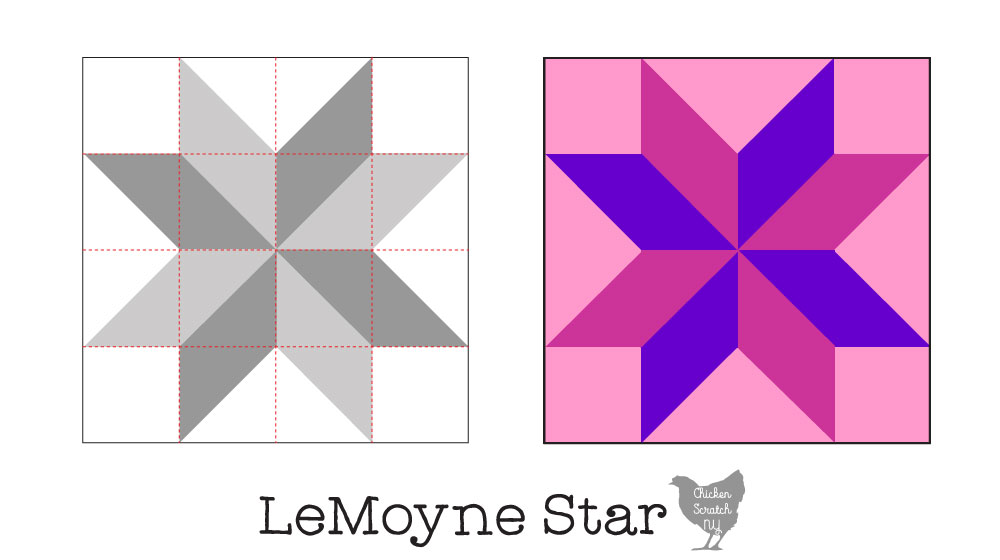 One of the coolest things about quilting is how you can combine the same exact elements in an unlimited number of ways to create something new.
Kansas Troubles
Now that we're reaching the end of the list it only makes sense to throw in a few more complex blocks. The key to making blocks like Kansas Troubles work for a barn quilt is sticking to bright, contrasting colors that stand out from the background.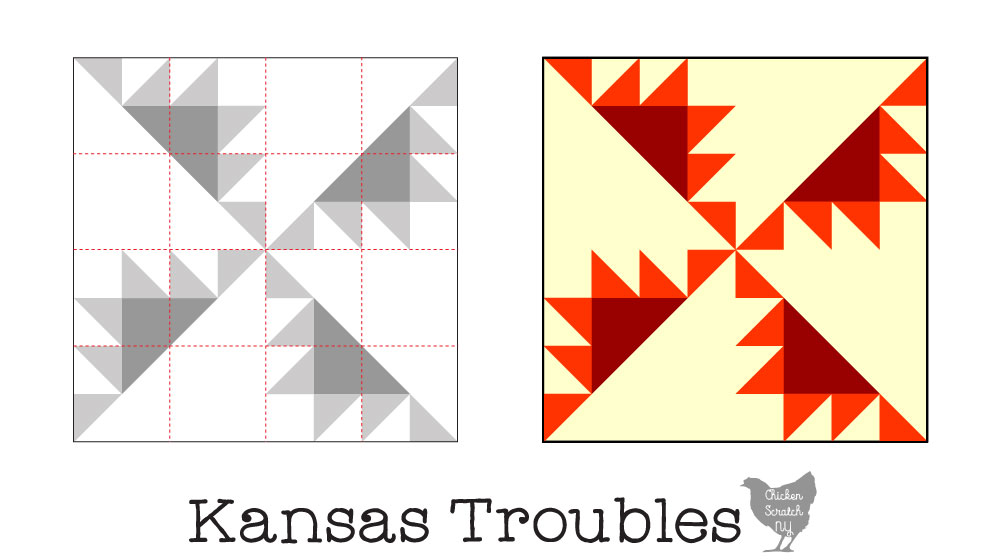 I know this block looks complicated but if you plan out your grid and get the larger triangles in place first it will come together fairly quickly. This block would also look really cool turned on point like the Turnstyle example.
Snail's Trail
Our final block, this is the only one that might actually be easier to sew than to paint on the side of a barn! If you were sewing this block you'd start with a 4 patch in the center and work your way out adding triangles to all the corners and working in a spiral.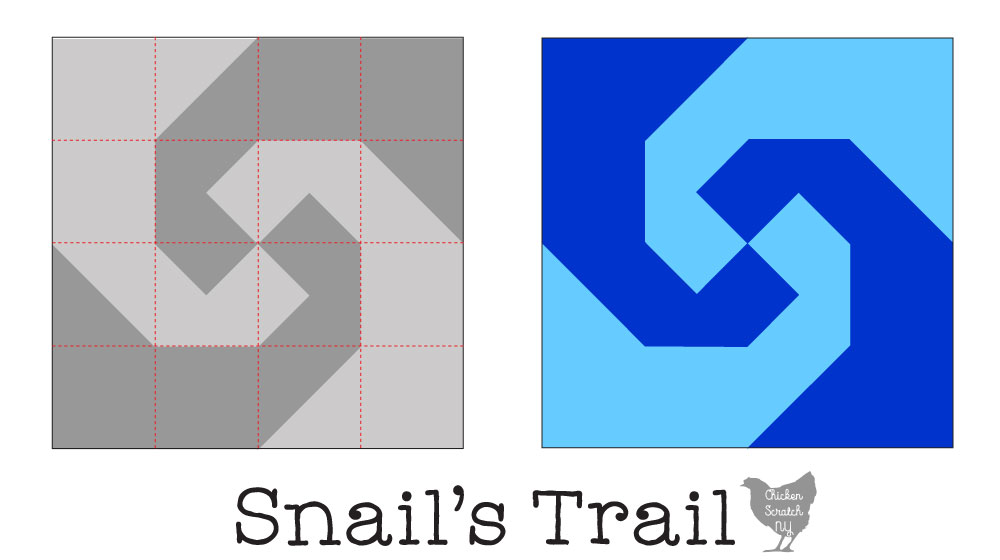 For the barn quilt version I think you're best bet is to get that grid in place and tape off two opposite spirals to paint first before filling in the empty spaces with a contrasting color. Like Turnstyle & Kansas Troubles this block would also look cool turned on point.
---
Check out my DIY Garden Projectspage for more ideas or start here: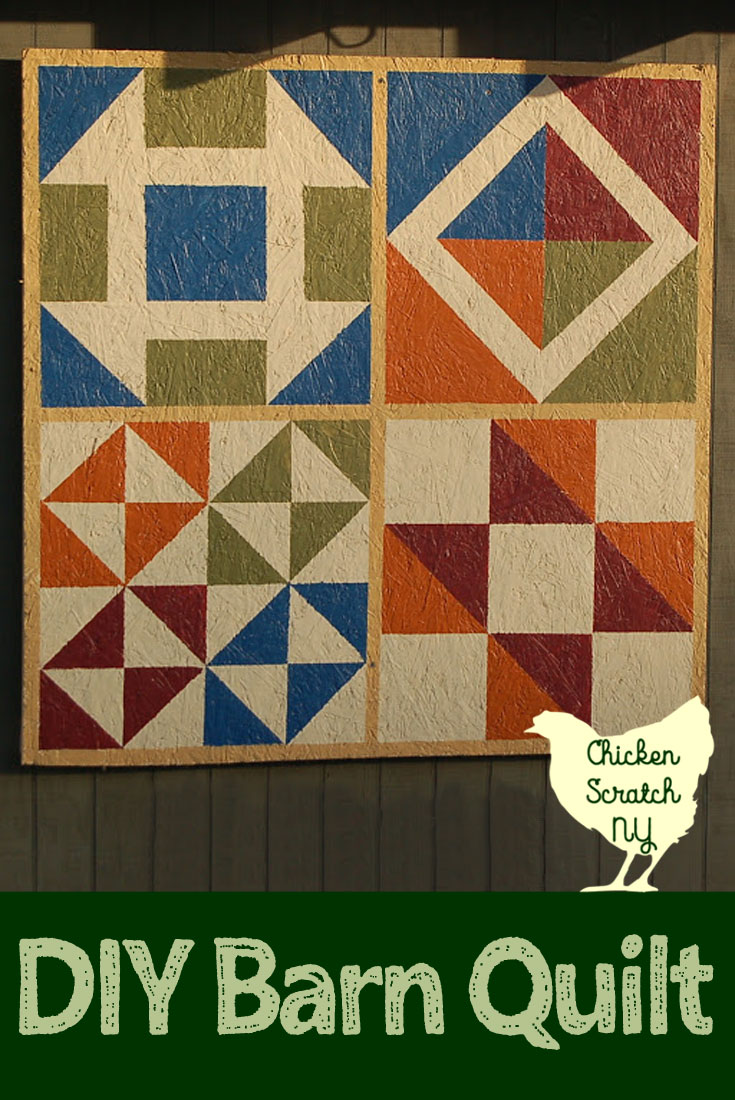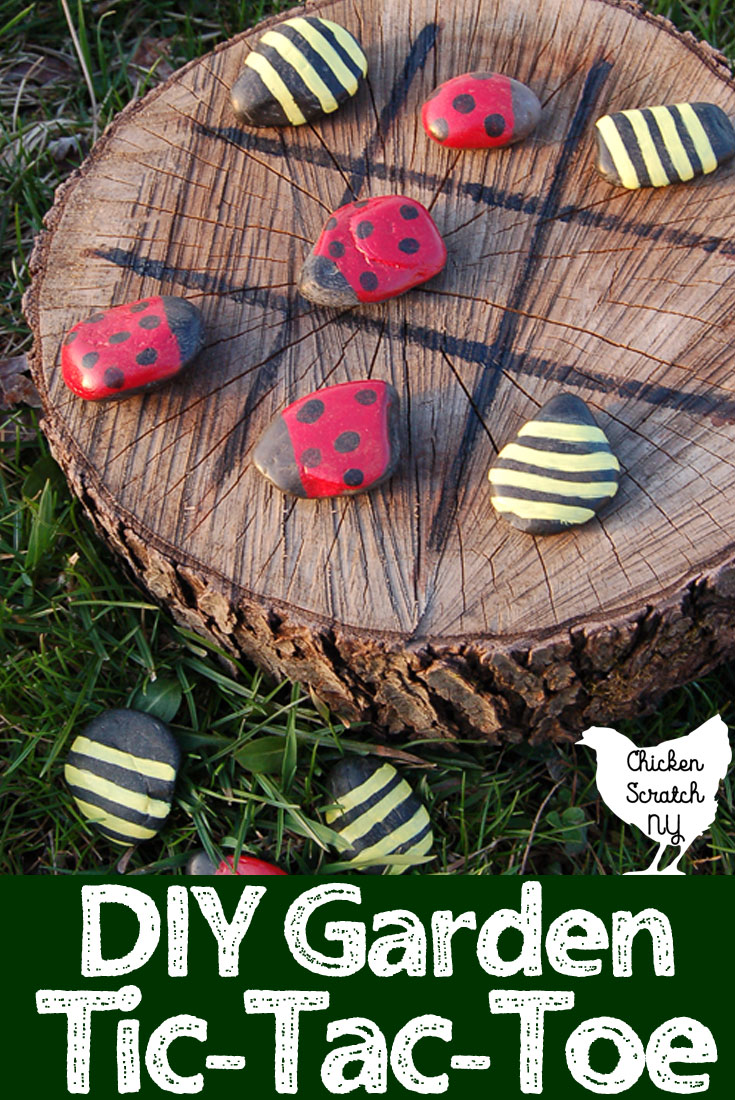 Sours: https://chickenscratchny.com/quilt-blocks-for-barn-quilts/
The Farmer's Daughter Quilt Block Pattern (Download)
Happy (Pre) Block Friday, again! This week I introduce the Farmer's Daughter Quilt Block Pattern, and I think she's a beauty.
I'm super happy to have so many already following along, If you know someone that you think might get value from Block Friday, please tell them about me and send them over here. If you're new here and you're unfamiliar with Block Friday, you can read the full post that explains it here.
A few housekeeping comments:
Your comments and feedback are super appreciated. Please feel free to let me know what you like or don't like about the information I provide.
Our December "dry run" for Block Friday has already helped me iron out some wrinkles in the pattern format. Plus it's helping me work out a schedule for pattern creation and block testing. I am so much more confidant that blocks will be posted in a timely manner. Honestly, when I decided to try this, I wasn't sure I was going to be able to keep up the pace. But so far, so good! (It's helped that I've spent so much time already creating the library and drawing blocks in Adobe Illustrator!)
As I fine tuned my Block Friday schedule, I realized that I should include more photos that explain the pattern. Starting with this post, that will be part of the weekly workflow.
There is now a central page on the site that lists all the Block Friday blocks. The Block Friday Gallery can be found  here. This page can also serve as a jumping in point for people who might want to get started later in the year.
Many of you may not just want to make quilt blocks for the sake of making blocks. Most of us want to have a plan or some kind of end goal in sight. You may be wondering, "What am I going to do with all those blocks if I play along with Block Friday?" Shortly after Christmas I hope to release some setting patterns that you can use to make quilts with your Block Friday blocks if you play along with us, so be on the lookout for that!
This week: The Farmer's Daughter Quilt Block Pattern
One of the things I really like about this block is it's simplicity, and yet it still has quite a bit of visual interest. The grouping makes a simple star pattern. If only it had the word "Star" in the name, I might have an easier time remembering what it looks like! (I've said before that quilt block names are such a mystery to me…) I can only imagine that some sweet farming mom wanted to name it something to remind her of her daughter.
One block. Many variations.
(The following information is from the Kansas Wetlands & Wildlife National Scenic Byway, which had information about the Kansas Quilt Walk Tour in Great Bend, Kansas. My interest was definitely peaked. I'm already thinking of excuses I can use to schedule a trip.)
There are at least three variations of blocks similar in design to this style "Farmer's Daughter Quilt Block pattern." The first known instance of it appeared in the Ladies Art Company catalog of 1898 as "number 419." (Apparently there were so many patterns released in these catalogs that they resorted to giving them numbers instead of names. Which makes perfect sense to me!) In the 1930's, the same design was presented by Nancy Cabot under the name Two Crosses. Another Farmers' Daughter design used the same construction but has a different coloring. This design is believed to have been introduced by Clara A. Stone, who wrote Practical Needlework: Quilt Patterns.
In light of the block's design history, it's easy to see how color/fabric choices can give it an entirely new look. Even though it's clearly a traditional design, it still translates well into modern quilts. The Farmer's Daughter Quilt Block pattern is made up of simple squares and half square triangles using three colors.
Putting it all together
I chose to make a 10″ version of the block. First, I cut the squares as directed by the 10″ column in the pattern. Then I sub-cut squares where indicated. (These are the squares that have a slash through the diagonal in the pattern.) You might note that I caught an error as I was working…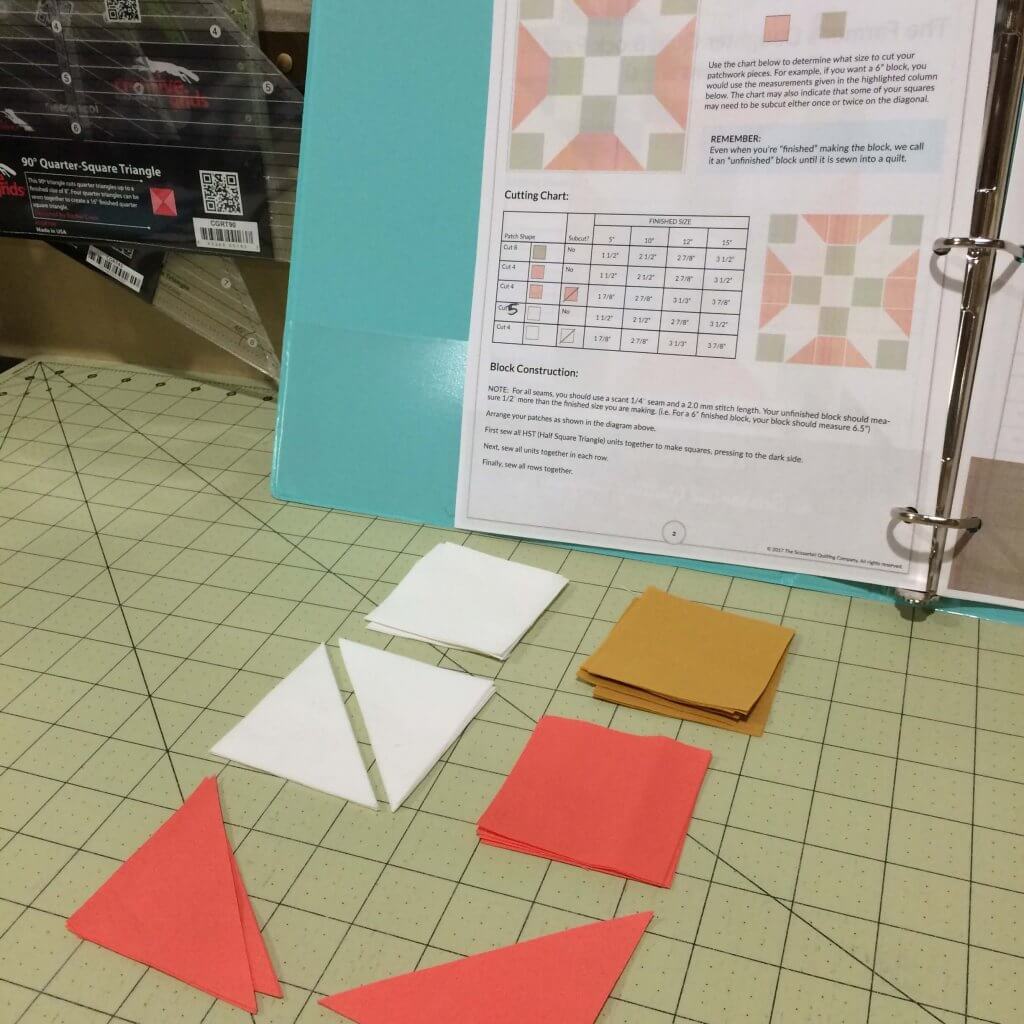 I'm a big believer in arranging my patchwork pieces on a mini design board when I make blocks. You can read more about them in this post. I have several versions. When I work at home, I use the ones I made according to Lori Holt's instructions  made from a piece of foam core board. Since the board is rigid you can move it from your cutting table to your machine without the pieces moving around much.
I also have some foldable design boards that I made using cute fabric and fusible fleece. These are great for retreats and sewing group meetings because they fold and pack up easily. Even though they are not rigid, they still work well as long as you aren't moving the board around between work stations. Photos of these are in the above mentioned post. More specific instructions are in the post, but to make them, simply fuse the fleece to a large square of fabric, then bind to finish it off. These make great gifts for quilting friends, by the way.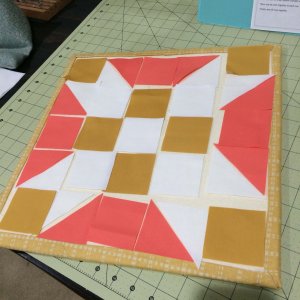 I went back and forth on the colors, but eventually decided to go with the peach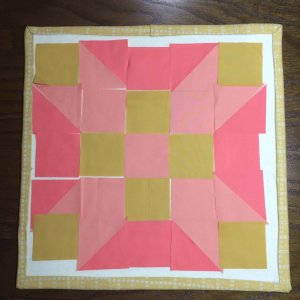 Constructing the block is fairly easy. First, I made the HSTs. I pressed to the dark side and trimmed up the little "ears."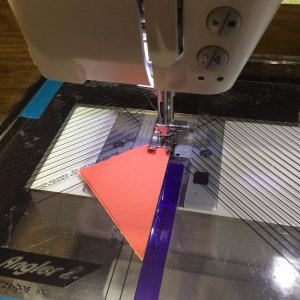 When chain piecing, I can make quick work of cutting the chain threads using this nifty gadget.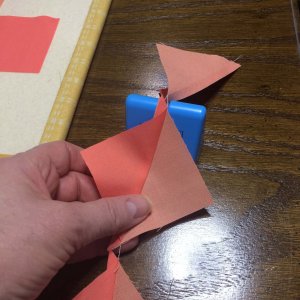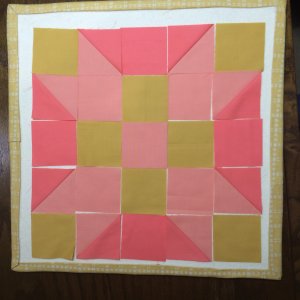 Then it's just a matter of sewing the rows, then attaching the rows together. Here is my finished block. It didn't turn out as well as I'd like. (Full disclosure, it's about 1/8″ short on one side.) but I'll keep it anyway.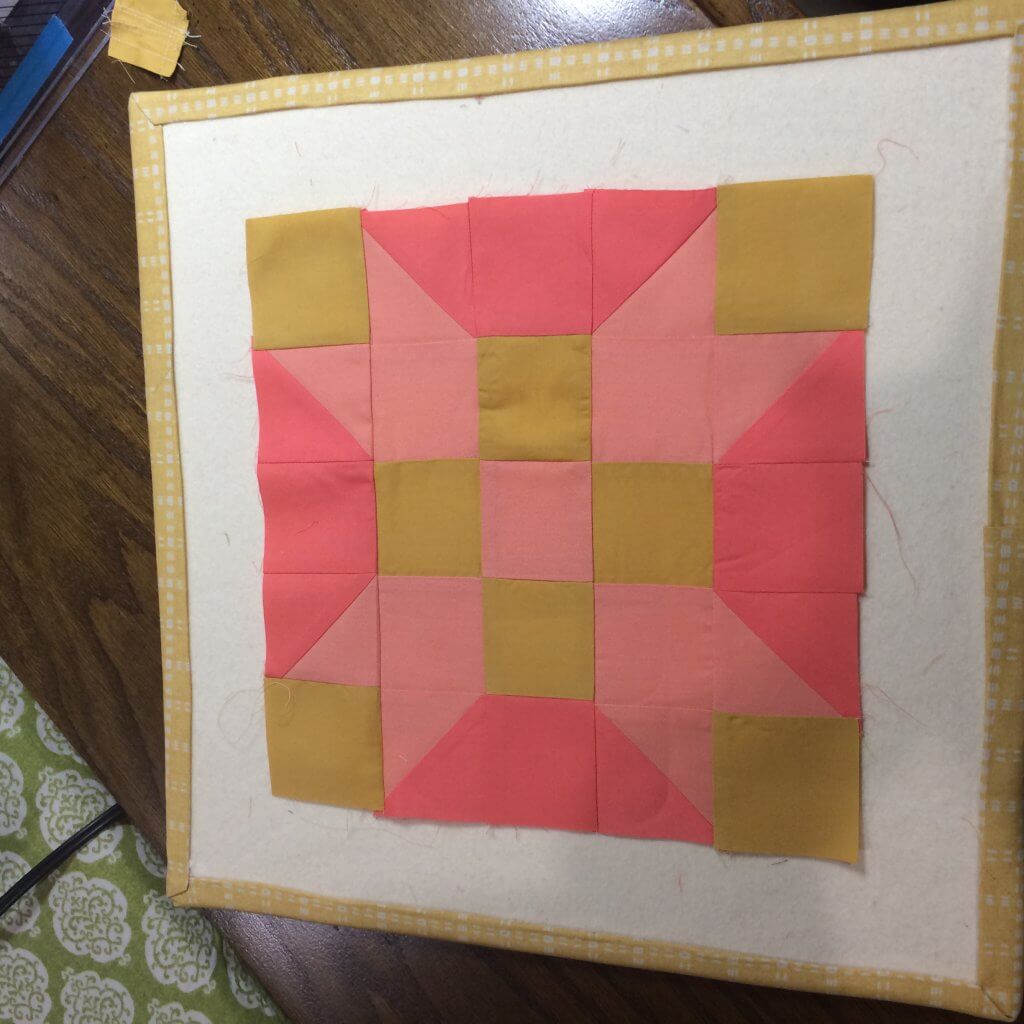 You can download the pattern by visiting the Farmer's Daughter Quilt Block page in the Quilt Block Library.
I hope you'll try out the block and tell me how it works out for you!
Happy Quilting!
Maria
Happy Quilting!

Sours: https://scissortailquilting.com/block-friday/farmers-daughter-quilt-block-pattern/
Farmer's Daughter Quilt Block Pattern

From our Free Quilt Block Pattern Library

Skill Level: Beginner
Our Farmer's Daughter quilt block uses connector corners to quickly create perfect points. For the beginning quilter that means no bias edges to deal with!
It makes the block quick to whip up for the experienced quilter. And a good candidate for a quilting bee or guild block swap!
This basic block design is very popular. At the end of this page, you'll find nine different variations to try for yourself.

Let's get started!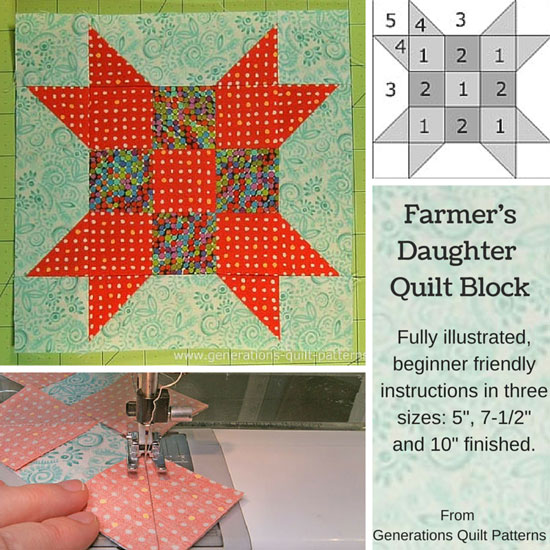 General Instructions
These abbreviations are used in this tutorial:
SA- seam allowance
BAC - background fabric
RST - right sides together
Seam allowances (SA) are 1/4" and are pressed toward the darker fabric unless otherwise instructed.

In the tutorial you'll see that I switch presser feet. I prefer an open toe applique foot for my connector corners and a foot with a guide for standard piecing. 
It's important to use what works best for YOU!
Step 1: Cutting the Farmer's Daughter patches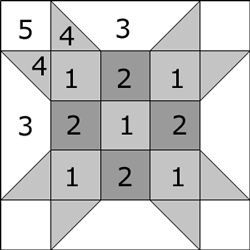 Farmer's Daughter design
Sample Size: 7½" finished / 8" unfinished
Grid: 5x5
Attribution: Ladies Art Company
AKA: Two Crosses (Nancy Cabot)
Design Type: Uneven 9-patch, large center, star
For this three fabric block you'll want to have enough contrast between the medium and background fabric so that your star points show.
Remember that YOU are the designer. While I've stitched the sample up with a light background, you can always substitute in a darker one if it suits your needs better.

Cutting Chart for a
Farmer's Daughter Quilt Block

~ Traditional Piecing ~


Patch
Fabric
Qty
Finished Block Size
5 "
7 1/2"
10 "
1, 4
Med
13
1 1/2" x 1 1/2"
2" x 2"
2 1/2" x 2 1/2"
2
Dark
4
1 1/2" x 1 1/2"
2" x 2"
2 1/2" x 2 1/2"
3
BAC
4
1 1/2" x 3 1/2"
2" x 5"
2 1/2" x 6 1/2"
5
BAC
4
1 1/2" x 1 1/2"
2" x 2"
2 1/2" x 2 1/2"
Unfinished Block Size
5 1/2"
8"
10 1/2"
Grid Size
1"
1 1/2"
2"
Step 2: Creating the units for our Farmer's Daughter

We'll need two different pieced units to complete our Farmer's Daughter.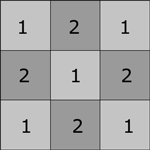 Nine Patch
Make 1

With RST sew a #1 to a #2. Repeat for a total of 3 pairs as shown below. Press SA toward the darker #2.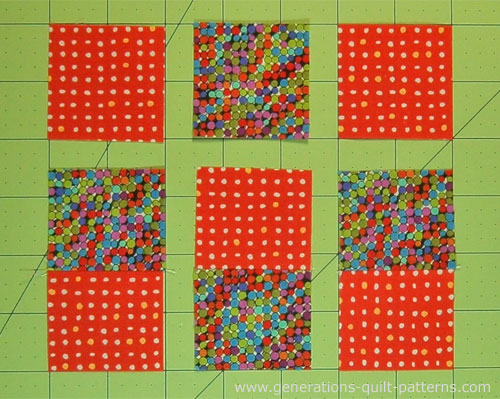 Sew a #1 to each of two of the pairs and a #2 to the final pair so that the fabrics alternate as shown above. Press these subunits again with the SA toward the #2s.
With RST, stitch the subunits together, pinning if it helps keeps the edges and seams aligned.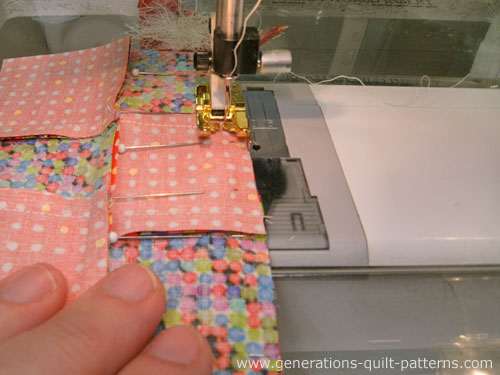 My favorite quarter inch presser foot with a guide is used for this stitching.
Press again with the SA toward the center of the 9-patch.

It's finished.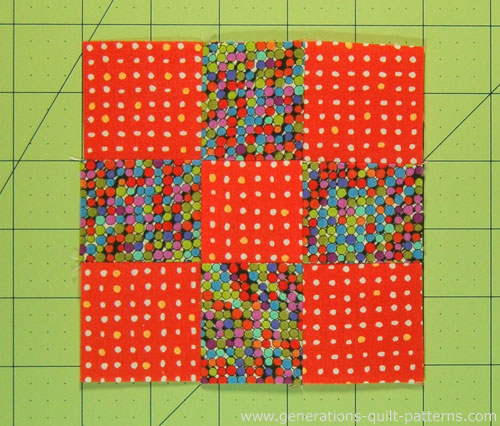 Star Points
Make 4


We'll use the connector corners to construct the star points. It's a simple technique that allows us to work with just squares and rectangles. No bias edges involved!
If you have one, switch to an open toe applique foot—it's much easier to see the line to stitch on.

On the back side of the eight #4 squares make a diagonal line with a pencil.  I like using a mechanical pencil for this because this line is always fine and uniform.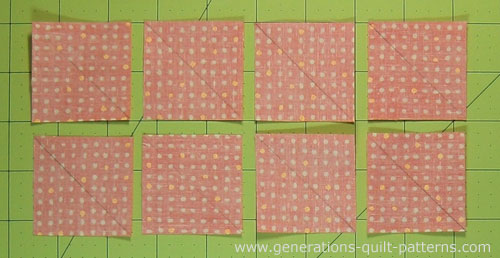 The lines need only be dark enough for YOU to see.
With RST, position a #4 with one side of a #3. Stitch on the line. Repeat for all four #3s.
Using this open toe foot provides an unobstructed view of the sewing line.
Add a #4 to the opposite side of the #3. On one long edge the lines bisect the corner; on the opposite long edge the lines point towards the center of the patch. Stitch, repeating until all four #3s have two #4 patches attached.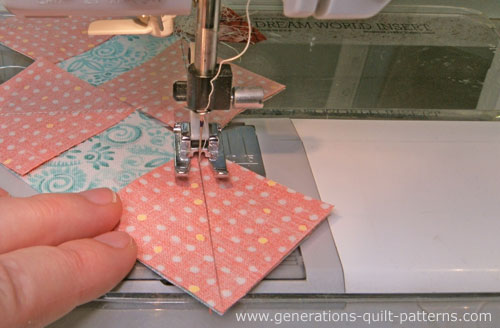 Press the units flat.
Now you have a choice to make. You can either trim away the excess of both fabrics between the seam line and the corner (below center row, left) or trim away just the excess of the #4 fabric (below center row, right). Either way leave behind a quarter inch SA.
Press the #4 patches open and towards the corner.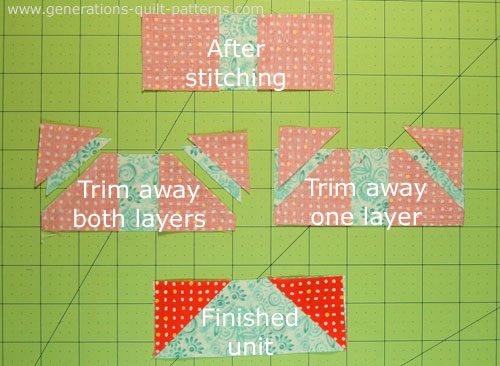 Repeat for a total of four star point units (above, bottom row).
Step 3: Assemble the Farmer's Daughter Quilt Block

Switch back to your favorite quarter inch presser foot to complete the rest of the sewing.
Arrange all your pieced and cut units into rows as shown below.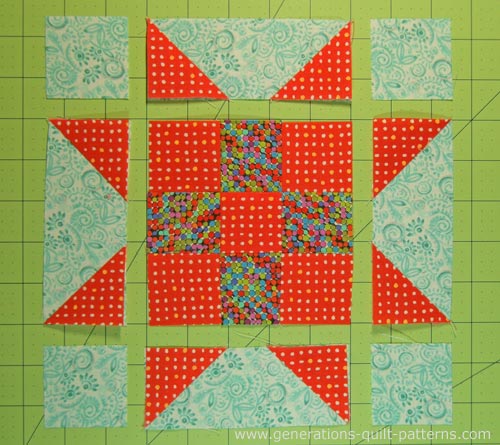 With RST, stitch the units into rows. You may want to pin match the connector corners to the seam lines in the nine-patch.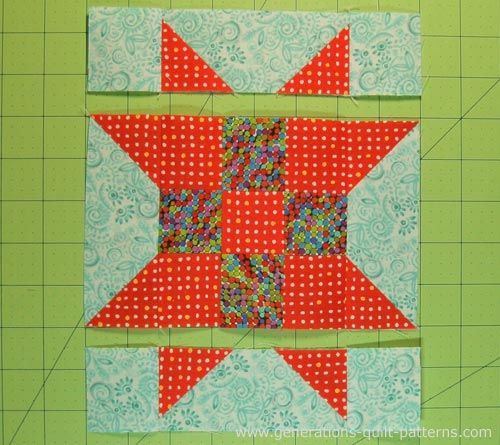 SA are pressed toward the nine-patch in the center, and toward the corner squares in the top and bottom rows.
And finally stitch the rows together. I did pin to keep the star points lined up with the 9-patch seams...just to be sure! :D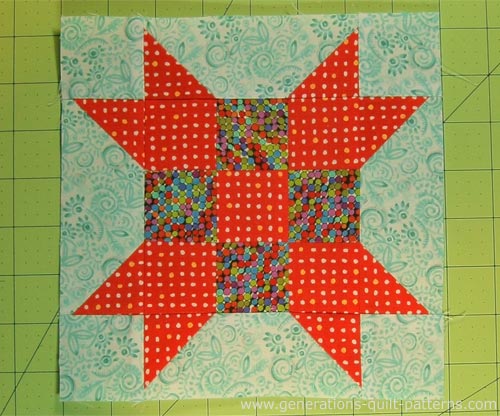 The finished Farmer's Daughter quilt block!
Give your Farmer's Daughter a final press and it's ready for a quilt.
Common Variations 
on the Farmer's Daughter Design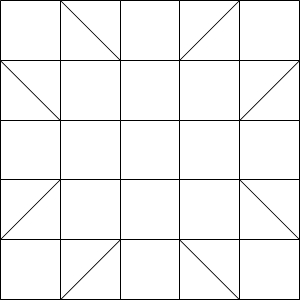 As promised in the introduction, there are quite a few variations on the basic design of our Farmer's Daughter quilt block. The 'bones' of the design are shown to the left.
These are some of the variations.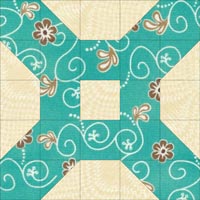 The Domino
Connector corners (CC) simplify the construction of this one, too!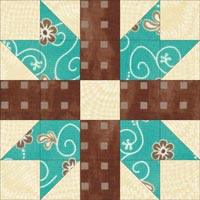 The E-Z Quilt Block
Our two-patch side units are now a single cut rectangle.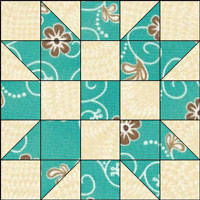 Churn Dasher
Click here for instructions.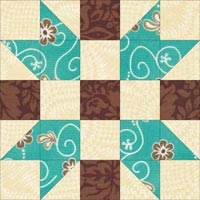 Father's Choice
A slight variation on the Churn Dasher with the addition of a third fabric.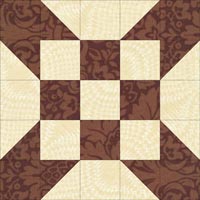 The Nine Patch Star
Sometimes you've got to wonder where the block names come from. This just doesn't look like a star...but I do like the effect.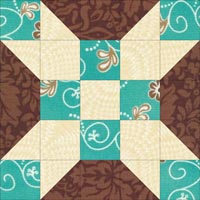 The Rolling Star
Again, CCs is the technique of choice to simplify the construction of the side units.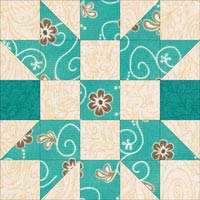 Sister's Choice
Another block very close to the Churn Dasher.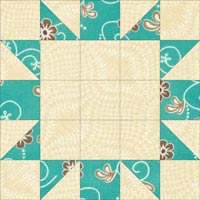 Souvenir Quilt Block
The open center square is a nice frame for embroidery of applique, or possibly even a smaller pieced block.

Click here for the instructions.

The Star and Cross
To simplify the piecing, cut a rectangle of the background fabric for the very center instead of three separate square patches.

Now, that's a lot of design potential to pull out of a basic design, isn't it!
Share your work to inspire other Quilters!
If you use our tutorials to make your blocks and quilts, there are some easy ways to share your creations so other quilters (including me!) can enjoy the fruits of your labor:

On Instagram please tag your blocks and quilts with the hashtag #GenerationsQuiltPatterns.
Visit our Show n'Tell page on the website. Click here to share photos and tell your own story, just start typing at 'The name of your quilt is...'. If you'd prefer to submit more photos than the form allows, simply email them to me at [email protected]
I love seeing your work!
Our readers do, too!
For even more blocks to make...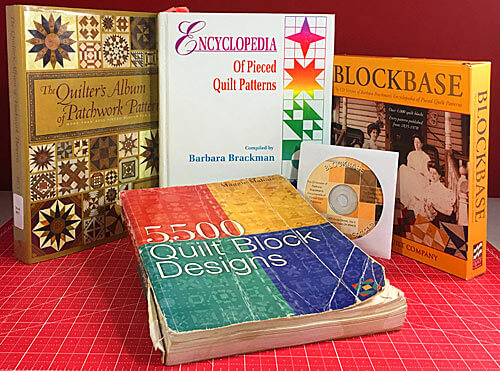 For you, are quilt block patterns like potato chips...
...you can't have just one?!!
Check the amazing resources I rely on for the majority of the quilt block designs you see on this website. 
To see if they're worthy of spot in YOUR quilting library, read about them HERE.

NOTE: All the attribution and alternate names shared in the Free Quilt Block Patterns Library came from these four resources.

Sours: https://www.generations-quilt-patterns.com/farmers-daughter-quilt-block.html
FREE Quilt Block Pattern: Farm Friendliness
.
Block free patterns quilt farm
.
FREE Quilt Block Pattern: Farm Friendliness
.
You will also be interested:
.
527
528
529
530
531