The Pachelbel Canon in D,
in the Keys of D and C
The Pachelbel Canon in D is the probably the most popular classical music ever. Print out this free sheet music for piano -- your students (and their parents) will love it!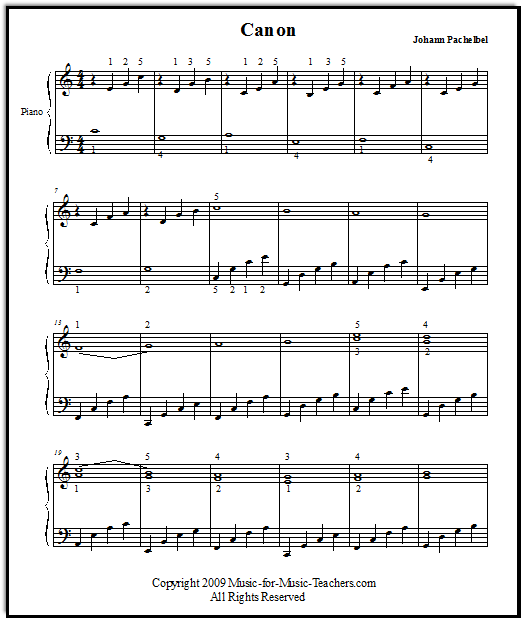 Please scroll down the page for the download links.
Is this music is beyond their playing level?
Then check out one of these other pages, shown below, because on this website there are FOUR different pages of the Pachelbel Canon music:
Here are the 4 different "Canon" pages on this website: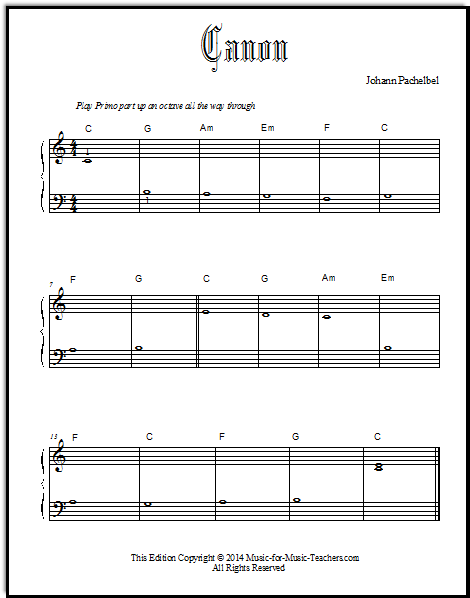 This is the easiest arrangement, found on the page "Canon Sheet Music."  
There are also lettered note versions.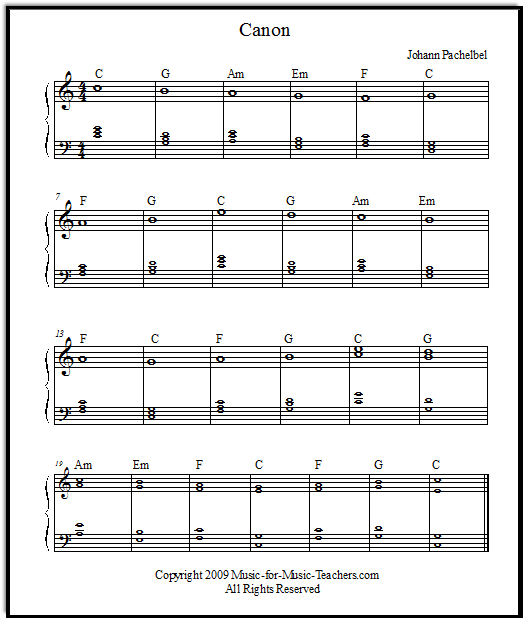 On another page, which is much harder for beginners to read, the basic melody of the Canon is paired with left hand triads, solid (as shown) and also broken.  
The chord symbols are helpful for some students.  And confusing for others!  It is important for pianists to learn to interpret chord symbols.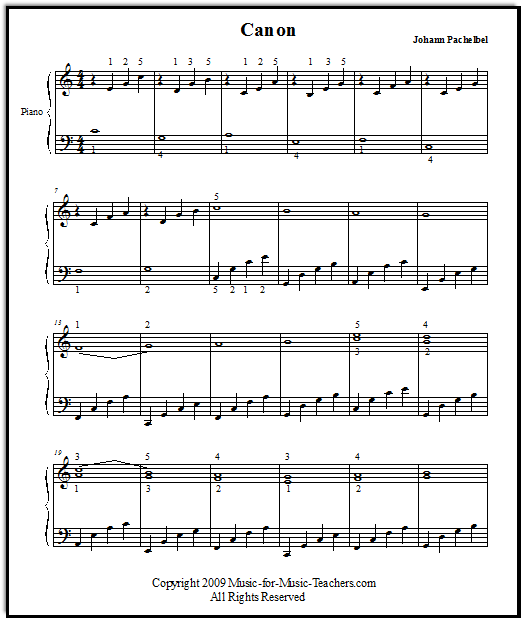 Here on this page, you will find the Pachelbel Canon as you are accustomed to hearing it played at weddings!
Several arrangements, including the original key of D.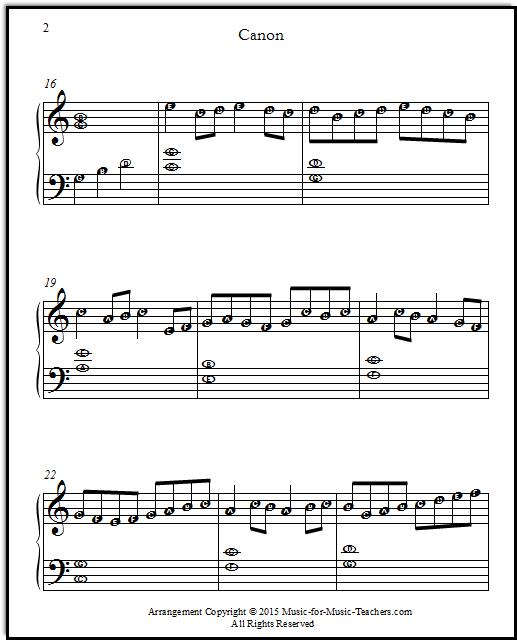 Here is the last Canon page.
Page 2 of this arrangement is shown...
On this page of the Canon in D sheet music, you'll find ALPHANOTES (letters inside the music note-heads) in some or all of the note-heads of the music.
This arrangement was written to help an early reader conquer this piece.  
It worked.
Now, back to what's on THIS page!
Here is the first arrangement (scroll down the page to see page 2 of the Canon, and also to find the free PDF download links):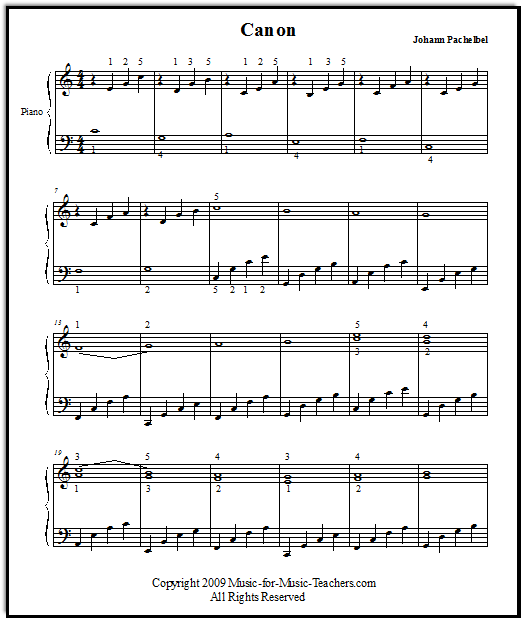 Please scroll down the page for the download links.
Does your student know an inversion from a root chord?

To play these arrangements easily, it is best if the student is already acquainted with chord inversions.
Root position chords such as c-e-g become easy to spot after some experience, but when a C chord is "in disguise" (such as the combination e-g-c) or "scrambled," kids can find it quite baffling.
In the beginning of the Canon, almost every RH (right hand) chord is an inversion with a different shape from the chord before it. Help your student find PATTERNS in each hand.
Page two: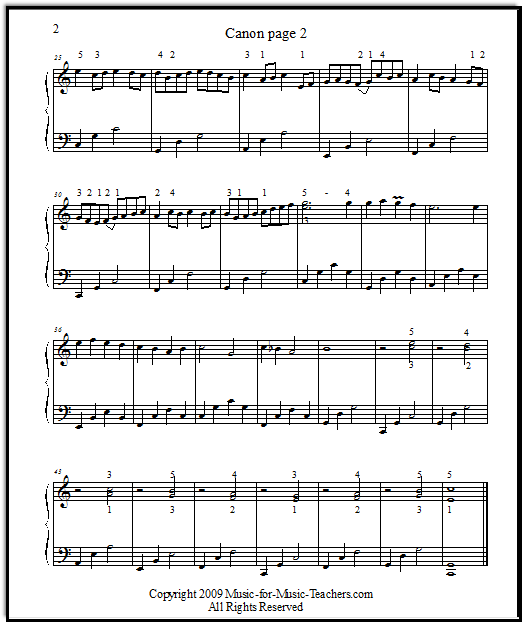 Please scroll down the page for the download links.
What do I mean, look for patterns?
Here's the best example: the LH goes down 4 steps from C, then up 1, down 4, up 1, down 4, turn around 4, then up 1, and start over! There's always SOME kind of pattern if you look, some kind of trick to help your memory.
Careful fingering helps this arrangement work

The fingering in the tricky but beautiful middle section is really pretty good fingering.  It even works in the key of D version with the black notes.
ALMOST CERTAINLY, your student will want to ignore this fingering, thus ensuring that they take 10 times longer to learn this section than they would otherwise!

Therefore, I suggest spending time playing short sections -- 2 or 3 measures of it -- over and over at lesson time; little, non-threatening amounts.
Don't load it on!  Assign them LESS than you believe they can do -- then it will seem do-able to them. 

Here is a similar arrangement, but for small hands!  Scroll down the page for page 2, and the free PDF download link: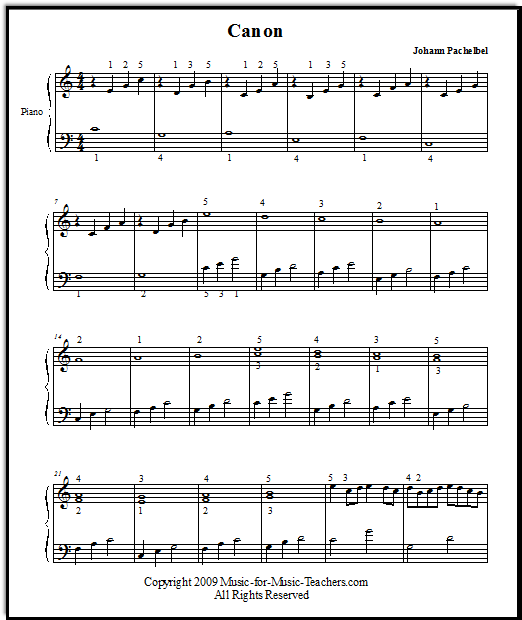 Please scroll down the page for the download links.
Understanding chords means bigger-sounding music

There are many arrangements of this piece out there on the web. I like these versions of mine because they allow a player whose reading and coordination are still pretty elementary to play a big-sounding piece of music.
That is the value of knowing chords!  They can be used like repeatable patterns.
Independence of hand movement 
In much classical music, what makes even simple pieces hard for beginners is exactly the seeming ABSENCE of pattern.

Every finger seems to need a brain of its own, because the hands and fingers move independently.
That's where your students are headed.  In the meantime, playing a beautiful-sounding piece like this motivates them to keep pushing!

Please scroll down the page for the download links.
I recently had a question about measure 27 of this arrangement:
Question: "According to the score, at Bar 27, both hands have to play the same E4 at the last beat, which I don't know how to do."
Reply: " It is true that both hands will play that E note in the same measure.  
"So the left hand must let go of the note early, in time for the right hand to play it, despite the fact that the half note indicates the E should be held down for 2 beats.
"Music writing is sometimes a bit of a compromise.  

I could have written that left hand E as a quarter note followed by a rest, and that would be a more accurate portrayal of what must happen, but that would have been more musical symbols to interpret what's happening.  
"I prefer to keep the measures consistent-looking and clean for beginning & early musicians."
The Pachelbel Canon is number one!

A classical radio station in Seattle used to have a Top 100 Countdown of the most popular classical pieces just before New Year's Day each year. Invariably, listeners voted the Pachelbel Canon number one!
The links for the downloadable piano PDFs:
Download free sheet music for Pachelbel Canon in the key of C
Here it is in its original key of D, but otherwise just the same as the C version.
Download Canon arrangement for small hands
Check out a fancy version of the Pachelbel Canon that even elementary students can play!

Interested in songs from the Bible for your students or church?  Check out my other website, SingTheBibleStory.com!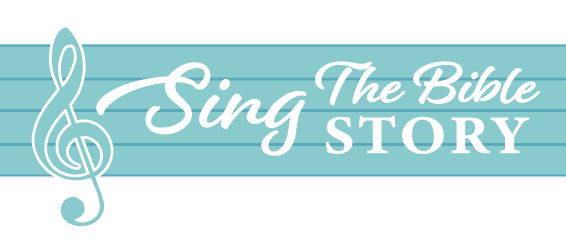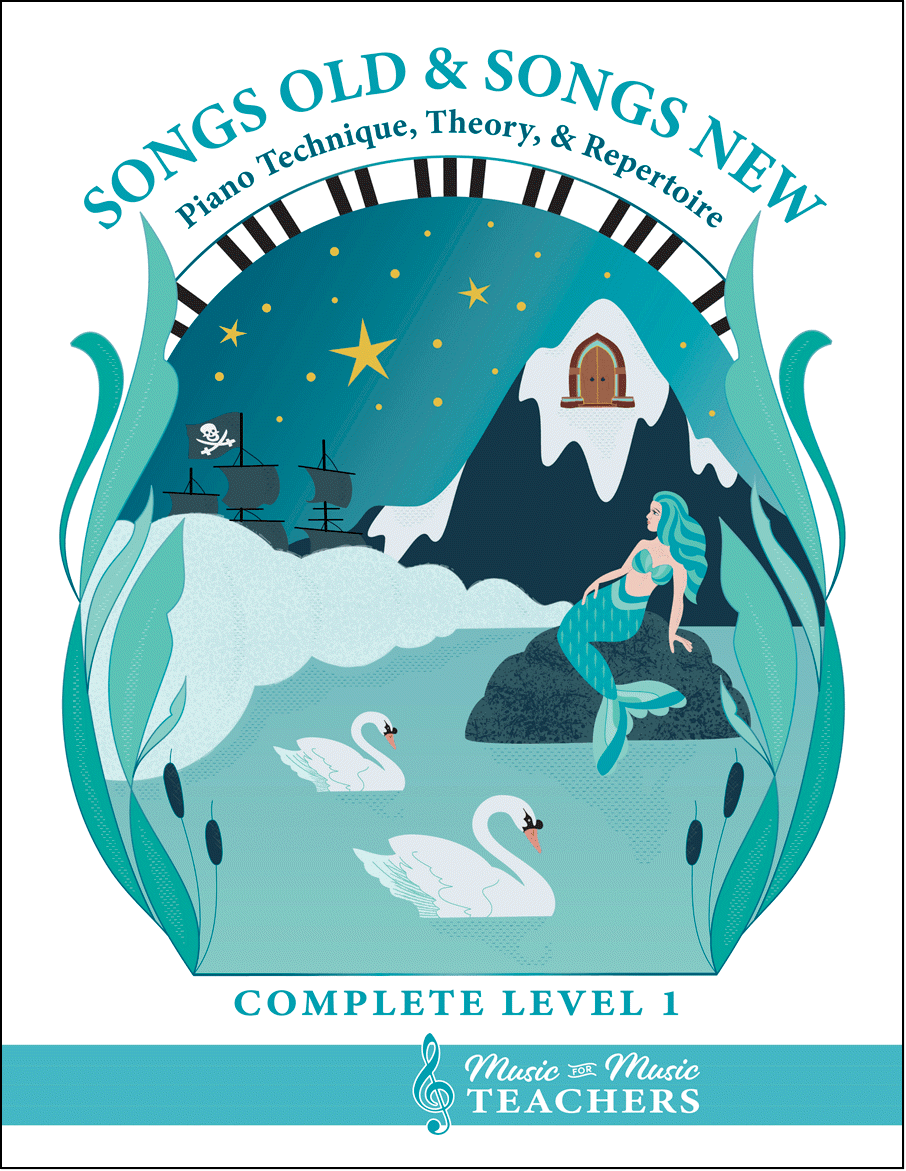 Songs Old & Songs New
All the first-year material I give my beginner students. 
Piano keyboard sheets, scales, chords, note-reading exercises, and over 256 pages of music!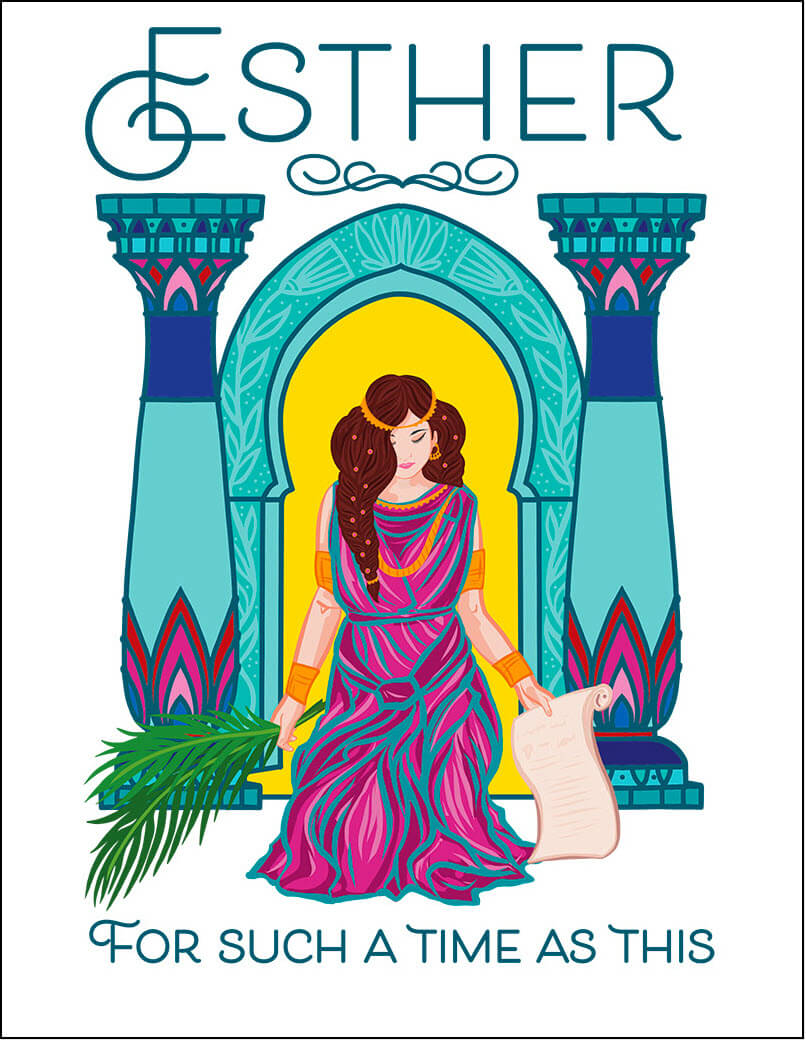 Queen Esther in the Bible
This beautiful song book for piano & voice "Esther, For Such a Time as This",  available as a digital download, tells the riveting story of the time when  Jews in ancient Persia faced a foe named Haman, and how a  brave young queen risked her life to save her people.
A good choice for a singing story-teller, an operatic group, a short theater production, or a class of children!
This book is also available from Amazon as a paperback.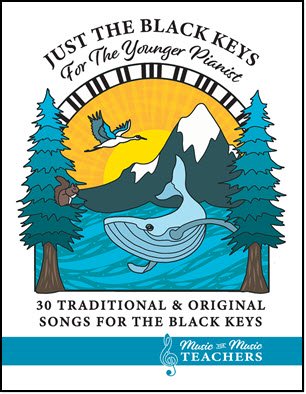 Just the Black Keys
This book is available as a digital download  from this site.  Visit this page to see some free examples from the book.
It is also available from Amazon as a paperback!
This is the perfect easy start for little pianists.
And when they start reading white-key notes on the staff, this is a fun easy resource to say each week, "Choose a new black-key song at home this week and figure it out to show me next lesson!"  They will be spending more time at the piano.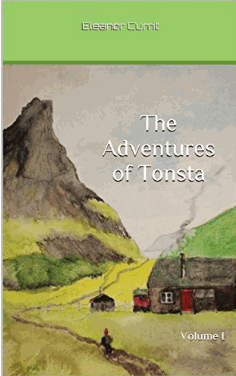 The Adventures of Tonsta
A perfect read aloud storybook
for little boys or girls. 
The Adventures of Tonsta highlight the travels of a very young boy with a good heart, who goes about helping folk in trouble.  
With a red cap on his head and a sack of tools slung over his shoulder, Tonsta seems to meet people in distress wherever he goes.
Lots of trolls in this book - including one who gives him a Christmas gift!
Available at Amazon
Becky:
A thousand thanks for your beginning piano and guitar songs.
I've already printed several for my children, including thePretty Little Horses TABandCarol of the Bells for piano. What a wonderful resource!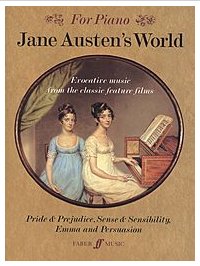 MusicGardenStudios:
This is an absolutely wonderful site!
As a voice and piano teacher looking for enrichment material for beginners, I have found your collections to be comprehensive and purposeful. It is clear that you are a wonderful musician and educator. Thank you!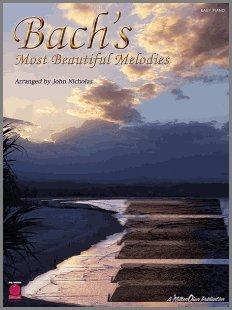 Ashley:
Thank you so so much for this site!
I'm teaching my little sister and everything up here is absolutely amazing! I will definitely be making a donation as soon as possible! Thank you again! You're wonderful!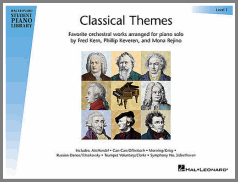 Bidur Kumar:
Thanks a lot for building such a nice site where people can easily find and free download sheet music for beginners. I am going to start teaching piano to kids.
I was just searching for some basic interesting songs for my pupil. Here, I found a wonderful site where I spent more than 3 hours and downloaded some music. Thanks again for making my day easier.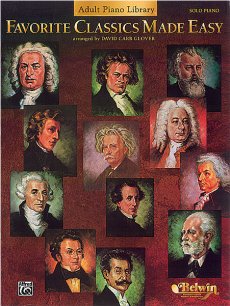 Sign up for "Take Note!" to see what's new every month.
Comments: Do you have a story or a question about music teaching? Share it!
Please note that all comments are moderated, and will not appear until I have approved them. Also, IF YOU ARE ASKING FOR MUSIC THAT IS NOT IN THE PUBLIC DOMAIN, YOUR REQUEST WILL BE IGNORED. That's pretty much any music written in the last 75 years...
What Other Visitors Have Said
Click below to see contributions from other visitors to this page...

Canon in C!

Thanks for this post. I am a Celtic harp teacher, and I always start my students out with Pachelbel's Canon ... in C! We at least work on what you have …
Click here to write your own.

About the Author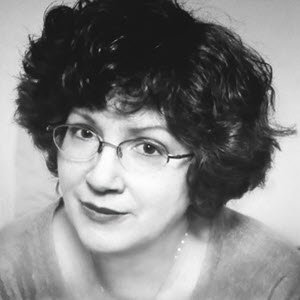 Dana Thynes
Hi, I'm Dana!  (Say that like "Anna".)  I'm the owner of Music-for-Music-Teachers.com, and a newer site, SingTheBibleStory.com.
Like some of you, I've been playing the piano since early childhood, and have added a few other instruments along the way, plus an interest in arranging and composing music.
You can find out more about me and the reason for this website at my About Me page.
Sours: https://www.music-for-music-teachers.com/pachelbel-canon.html
Johann Pachelbel (1653 - 1706)
Germany
Johann Pachelbel (IPA: [paˈxɛlbəl]) (baptized September 1, 1653 ? March 3, 1706) was an acclaimed Baroque composer, organist and teacher who brought the south German organ tradition to its peak. He composed a large body of sacred and secular music, and his contributions to the development of the chorale prelude and fugue have earned him a place among the most important composers of the middle Baroque.

Pachelbel's work enjoyed massive popularity during his lifetime, he had a large number of pupils and his music became a model for the composers of south and central Germany. However, he did not have much influence on the most important composers of the late Baroque such as Johann Sebastian Bach. Today Pachelbel is best known for his Canon in D; it is the only canon he wrote, and is somewhat unrepresentative of the rest of his oeuvre. In addition to the canon, his most well-known works include the Chaconne in F minor and the Toccata in C minor for organ, and a set of keyboard variations called Hexachordum Apollinis.

Pachelbel's music was influenced by south German composers such as Johann Jakob Froberger and Johann Kaspar Kerll, Italians such as Girolamo Frescobaldi and Alessandro Poglietti, French composers and the composers of the Nuremberg tradition. Pachelbel preferred a lucid, uncomplicated contrapuntal style that emphasizes melodic and harmonic clarity. His music is less virtuosic and less adventurous harmonically than that of Dieterich Buxtehude, although like Buxtehude, Pachelbel experimented with different ensembles and instrumental combinations in his chamber music and, most importantly, his vocal music, much of which features exceptionally rich instrumentation. Pachelbel explored variation forms and associated techniques, which manifest themselves in many diverse pieces, from sacred concertos to harpsichord suites.

Text source : Wikipedia
(Hide extended text)...(Read all)
Sours: https://www.free-scores.com/Download-PDF-Sheet-Music-johann-pachelbel.htm
Canon in D
Canon in D was composed by Johann Pachelbel (1653-1706), a German organist, teacher and composer. Pachelbel composed music for organ, voice, harpsichord, and chamber ensembles, and the majority of his music was composed for church services. His organ chorales and sacred vocal music are considered significant contributions to Protestant church music. It is interesting to note that while working in the Erfurt as an organist, teacher and composer, Pachelbel became friends with Ambrosius Bach, the father of Johann Sebastian Bach. Ambrosius asked Pachelbel to teach music to his son, Johann Christoph Bach (Johann Christoph later taught music to his younger brother, Johann Sebastian Bach.).
Pachelbel composed his chamber music, Canon in D, for three violins and bass continuo, and it is likely that he composed this piece in the 1690s while he was the organist of St Sebald, Nuremberg. The bass line consists of a two measure ostinato (a short melodic phrase that is repeated) and serves as the foundation for the 28 variations which follow. The term canon is often used to describe a form of composition in which two or more voices follow in imitation of each other, often in an overlapping format.[1]
REFERENCE NOTES
[1]Nolte, Ewald V. "Johann Pachelbel," The New Grove Dictionary of Music and Musicians. Ed. Stanley Sadie. London : Macmillian, 1980. 14:46-54.
*Sheet music is scored in three-part harmony, and parts are available with interchangeable viola, cello and bass music. Sheet music files are in PDF format, and require Acrobat® Reader. If you don't have Acrobat® Reader installed, it's a free download. Click on the following link: Get Acrobat Reader
Sours: https://www.violinonline.com/freecanon.html
Pachelbel's Canon is a "Canon" sheet music from Germany for the violin, viola and cello. This music was composed by Johann Pachelbel in c. 1680. This sheet music has been arranged by Norbert Caillet.
| | |
| --- | --- |
| Composer | Johann Pachelbel (c. 1680) |
| Arranger | Norbert Caillet |
| Typeset | Norbert Caillet |
| Origin | Europe > Germany |
| Kind | Canon |
| Instruments | 2 violins, 2 violas, cello |
| Key signature | D major |
| Rythm | 4/4 |
| Tempo | ♩=80 |
| Downloaded | 2303 |
| License | Creative Commons BY-SA |
Download
You can download this free sheet music for the violin, viola and cello below:
If you have some free sheet music (preferably written or arranged by yourself), we can add it easily (and for free, of course) to the Web site; just contact us!
The scores on this website are available for download for free; however, the non traditional scores can be copyrighted.
If you think one score should not be on this website, please contact the webmaster and it will be removed as soon as possible.
Sours: https://www.celticscores.com/sheet-music/1118_Pachelbel%E2%80%99s_Canon
Music sheet pachelbel free canon
Cantorion
About
Johann Pachelbel's Canon in D - Arranged by Lee Galloway
About Canon in D
Pachelbel's Canon is an accompanied canon by the German Baroque composer Johann Pachelbel in his Canon and Gigue for 3 violins and basso continuo. It is sometimes called Canon and Gigue in D or Canon in D. Neither the date nor the circumstances of its composition are known, and the oldest surviving manuscript copy of the piece dates from the 19th century.
The above text from the Wikipedia article "Pachelbel's Canon" text is available under CC BY-SA 3.0.
Other arrangements
Free sheet music on other sites
Buy printed editions
We have selected some printed editions we think may be useful.
Canon in D
$3.95
Classical Guitar, Acoustic Guitar, Guitar Tablature, Guitar Solo
Alfred Music Publishing

Canon in D
$7.95
Percussion, Marimba
Alfred Music Publishing
More music by Johann Pachelbel
Other users also liked
---
Sours: http://cantorion.org/
Pachelbel Canon
Pachelbel Canon in D
Pachalbel's Canon is one of the most famous pieces of classical music that has become a fixture at many weddings and in the playlists of classical radio stations around the world in recent decades. The Canon in D was written by the German composer Johann Pachelbel(1653-1796) during the Baroque period. Also known as Canon and Gigue in D, the piece was originally written in approximately 1680 for 3 violins and continuo. It is great to learn how to play the canon in D on the piano as it will be very popular with people if you choose to perform it to friends or family.
I have produced an arrangement of the Canon in D for piano which you can download/print off and have also put together a brief analysis of the work to help inform your learning and performance of the piece.
Pachelbel Canon in D Piano Version
Pachelbel Canon in D Piano Version
Click Here to Download Pachelbel Canon in D piano sheet music PDF
I have kept this arrangement of the canon in D major for piano quite simple so that piano players of varying levels of ability can all enjoy learning it. I have scored it with the opening bass notes played as half notes (minims) as this makes it easier for piano players to read the later rhythms. Note that the original version notates the opening notes as quarter notes (crotchets).
The opening bars are simple, but as the piece progresses to increasingly complex sixteenth notes (semiquaver patterns) it becomes quite challenging and will be a satisfying task for more experiences players to tackle.
When learning to perform the Canon in D major on the piano it is very useful to have an understanding of how Johann Pachelbel constructed the piece so that you can use this to inform your playing.
Analysis of The Piece
Johann Pachelbel's Canon is basically built upon 2 musical techniques – ostinato and canon. However, Pachelbel's use of these techniques is also heavily influenced by a 3rd technique – Ground Bass.
Bass Ostinato
The bass part in the Canon in D major plays a 2 bar repeated pattern that continues for the whole piece – this repeated pattern is called an ostinato. This bass ostinato (originally written by Pacelbel for continuo) provides the foundation for the entire piece of music and is a key element of Ground Bass. In my piano arrangement of Pachelbel's Canon, this is played by the left hand.
These bass notes imply a series of chords in D major:
This chord progression has had a huge influence on contemporary music and has been used as the basis for lots of popular music songs in recent years.
The Canon
The 3 violin parts in Pachelbel's Canon play the same melody lines as a round with each line entering separately:
It is impossible to transcribe this aspect of the Canon in D major onto a piano arrangement without making the piece extremely difficult and so I have simply taken one line of melody for most of the right hand part. You could achieve the canon of the 3 violins to varying degrees of success in an organ arrangement as the pedals would play the bass part leaving 2 hands free to play the other parts.
The Influence of Ground Bass
It is still possible to capture the essence of the Canon in D in your piano performance as Pachelbel's "canon" actually develops in a way that is very similar to the ground bass technique used in the chaconne dances popular in the Baroque period.
In a Chaconne the composer develops the melody lines in a manner similar to a series of variations that explore different ideas as the piece progresses.
In my piano arrangement of the Canon in D I have marked the beginning of each "variation" with a double barline. This helps to guide you as to how the piece should be progressing as you play. This development of melodic ideas is one of the key features of the Pachelbel Canon and needs to be expressed in the performance on the piano.
Here is a brief outline of how the original "variations" develop through the piece.
(Please note that this is only a brief summary and analyses by other musicologists go into considerably more detail!)
Performances of Pachelbel's Canon in D
There are literally hundreds of different performances and arrangements of the Canon in D that you will be able to find to have a look/listen to.
Here are just a couple of examples to inspire you.
The first example is a performance of the original version written by Johann Pachelbel and performed on early instruments by the ensemble Voices of Music:

This is an arrangement for cello and piano performed by The Brooklyn Duo:

I really hope you enjoy developing your own performance of this wonderful piece of music!
Share this post: on Twitteron Facebookon Google+
Sours: https://www.musictheoryacademy.com/piano-sheet-music/easy-classical-piano/pachelbel-canon/
You will also be interested:
.
524
525
526
527
528