The kitchen is one of the rooms that are prone to clutter. Foodstuff, kitchen utensils, fruits, pots and pans, dinnerware, spice bottles, groceries, silverware and a lot more! With most of your household's everyday essentials stored in the kitchen, you must find a way to keep them all safe, organised and stocked. A pantry is the kitchen catch-all for all items and is a must for all homes. Here are some of the many diverse kitchen pantry ideas and designs we love. Get design inspirations for your next kitchen upgrade!
1. Butler's White Pantry
White, efficient and bright! The white overall theme makes the space look larger than it is. The open shelving, glass cabinet doors and the window make the room seem bigger.
2. Pull-Out Shelves
The pull-out shelves of this kitchen larder improve the storage ease and accessibility. No more knocking over things in the front to reach those at the back! The sleek light grey complements the white modern interiors of the kitchen.
3. Charming Farmhouse
Spacious, stripped down and charming. All the things you need and none of the unnecessary. Good lighting, wide shelves, a room for everything and even a bit of counter space. The metal and screen partition are modern, sleek and ingenious.
4. Corner Shelves
Do not waste the hard-to-reach far corners of your cabinets. Installing lazy sally shelves will banish the unusable and inaccessible space. The aluminium gives a sharp and striking contrast to the black kitchen walls.
5. Pantry with a Window
This smallish-sized pantry looks spacious, thanks to the great organisation and to the window. Opening the end of the room extends the vision and lets in a lot of natural lighting. Make the window as wide as possible and do not let anything impede the view.
6. Pantry Containers
One trick to an organised pantry is having similar containers. Imagine this room with everything still on its original packaging, it would be a tumble of items - it would look cluttered, messy and crowded. These containers help you maximise the space is easy on the eye.
7. Modern Drawers
Modern minimalist kitchens also need ample storage. This modern kitchen combined the elements by installing pull-out drawers inside sleek modern cabinets. Smooth on the surface, spacious and efficient in the inside.
8. A Corner Room
Even the smallest kitchen can still have a room for a pantry. This corner pantry is accessible and a space-saver, taking advantage of the awkward and hard-to-reach space in the corner of the room. The full wall shelves on both sides will give you enough room for all your kitchen storage needs.
9. The Candy Store
Bring in some candy store glass jars to keep all your kitchen stuff organised and popping! The clear glass containers will let you see what it contains and save you time rummaging through things. The white interiors help make the room look more spacious.
10. Barn Door
A barn door is a charming twist to the ordinary door. Rustic and edgy, the tar-black door makes a striking contrast to the white kitchen. Basket organisers complete the delightful pastoral look.
11. The Classic Butler's
When you must have a place for each of your kitchen miscellany, this butler's pantry is for you. Classic, organised and splendid. There are shelves and drawers for every item, a centre island for preparation work and a timeless look that is modern, elegant and efficient.
12. Swing-Out Shelves
When you don't have the luxury of space, you must get creative with organising. This kitchen larder gets the most out of its available space with the swing out shelves. The installation not only maximises the space usage, but it also helps in organising the items and its accessibility.
13. Quirky Accents
There is no rule that says you cannot decorate your kitchen pantry. While it is the last room that your visitor will get to see, make the room special and delightful for you. Add some quirky décors and personal touches to make it truly your own.
14. Produce Baskets
Wire basket drawers are perfect for produce and perishables that shouldn't be in the refrigerator. Onions, potatoes, tomatoes and garlic are best left in the open. Adding a few produce drawers will keep them organised and stowed properly.
15. Under the Stairs
The space under stairs is just perfect for a kitchen pantry. Just add some shelves, light and a door! The half screen door will let the air in while maintaining maximum concealment. Adding a small caddy to hold frequently used items is a great idea!
16. The Larder
Efficient and accessible. This kitchen larder is ideal for smaller homes or for kitchens that don't need as much storage. The cabinet can hold enough food items and even has several drawers for organisation.
17. Tiled Within
Upgrade your humdrum kitchen pantry by adding subway tiles around its walls. The white tiles make the inside of the pantry brighter, sleeker and easier to clean! The open shelves offer ample storage and work space.
18. Grocery Drawers
Eliminate grocery clutter with these grocery drawers in your pantry. Organised and accessible even to young kids, this storage system will help you clean up the counters and the cabinets for good.
19. Small and Efficient
Ample storage space for less room. Space and traffic management and design make this pantry efficient and smart. Sliding barn door, open wall shelves and floor plan all add up to a well-organised pantry. The adjustable shelving system will give you flexible storage options.
20. A Hidden Pantry
For people who would rather hide their kitchen implements and food stash, a hidden pantry can be the perfect solution. A regular cabinet door can lead to an actual pantry room! Keep the interior well-lighted and properly ventilated.
21. Elegant Grey
Cool, modern, elegant! This sleek pantry design complements the modern minimalist interiors of the kitchen. A wall of floating shelves provides enough room for storage without cramping the space. The frosted sliding glass door and front wall give a posh and chic look to the kitchen.
22. Ladder Up
Pantry shelves go up to the ceiling, to make the most out of storage space. However, accessibility to the items decreases, and getting to the top shelves can be hard and sometimes dangerous. Installing a ladder is sensible and can save you from accidents.
23. Basket Organisers
No drawers? No problem! Use storage baskets to help organise your pantry. They are charming and flexible – you can change position and tags according to its contents. You can also the baskets to carry several items to and from the pantry.
24. Pull-Out Cabinets
Deep cabinets can hold more stuff but can also be inconvenient when trying to find or retrieve items from the back. Pull-out cabinets will give you the storage space you need and easy access to its contents.
25. A Window Seat
Turn your kitchen pantry into a personal nook. Add a comfy nook with a seat or a window seat where you can take a breather, read a book or enjoy a drink, comfortably. This spacious pantry is made to look even bigger by its wide windows and light interiors.
26. Steel Shelves
When you can't commit a room for a pantry, or just don't have one for it, these steel shelves can come in handy for your kitchen storage and organisation. Easy to set up and move, durable and multi-purpose.
27. The Pantry Cabinet
Instead of assigning a room for your pantry, why not design a cabinet for it. This cabinet swiss knife has all the storage and organisation solutions for the kitchen. Drawers, sliders and shelves. Built into a corner for maximum accessibility, this pantry cabinet is ideal for smaller homes and kitchens.
28. Lighted and Light
This modern minimalist pantry keeps the styling toned down – grainy wallpaper design, floating shelves and dark wood flooring. The effect is airy and light. The centre lighting is strong and bright daylight, perfect for a closed-in room.
29. Spice Rack
Spices are kitchen mainstays. They come in smaller bottles and kitchens usually have at least a dozen of them around. Add a spice rack to your kitchen pantry to help organise your spice bottles. This spice rack is installed behind a cabinet door. The chalkboard wall is a clever detail!
30. Black French Doors
Timeless and stylish. A classy pair of black French door is all you need to glam up your kitchen. Frosted glass panes, curved shelves and strategic lighting. Classic and perfect!
31. Vertical Pan Rack
We usually just pile up cookware to store and organise them. However, this would also mean rummaging through the inter pile when looking for a specific item. Install a section for your pans, baking sheets and other flat cookware. This will better organise them without sacrificing accessibility. The slots will let you adjust the width for a better fit. Smart!
32. Hippie Wall Art
Hippie, rustic and fetching. This hole-in-the-wall kitchen pantry is a design feat! The brick wall and barn door drive in the charming rustic look, while the chalkboard brings in the hippie brilliant appeal.
33. Lighted Drawers
Kitchen pantries don't usually enjoy a window or natural lighting, and it is dark in storage places like drawers and cabinets. Make sure you have enough lighting by installing drawer and shelf lights.
34. Black and Wood
Pleasantly sensible and enduringly elegant. This wood and black-walled pantry envisage warm and comforting food, prepared lovingly and served with joy. With shelves for everything and counter space for work, this pantry design will never go out of style.
35. Farmhouse Chic
Inject a good dose of farmhouse charm and to your modern kitchen by adding this shabby chic pantry door. The vintage light bulb, metal wire baskets and bare wood planks for shelves complete the pastoral vibe.
36. Chalkboard Wall
Adding a chalkboard wall in your kitchen pantry makes a lot of sense! It is while in the pantry that you realise the stuff you need to buy, and the chalkboard comes in handy to jot down things before you forget them. Don't let that wall space go to waste!
37. Butler's Pantry in a Corner
Showcase your dinnerware, glassware and fine silverware collections in a butler's pantry. This corner pantry also includes a wine chiller and plenty of counter space to work on. Strategic lighting in the cabinets and the eye-catching chandelier provides ample lighting.
38. Classy Glass Doors
Elegant, gorgeous and posh. These gracefully embossed glass double doors speak of muted luxury, classy style and elegant taste. Paired with warm and grainy teak wood, the interiors charming as it is affluent.
39. X-Cubes for Bottles
When you don't have space for a wine cellar or enough wine bottles to fill one, keeping your wine collection in the pantry is not a bad idea. Add a couple of X-cube boxes for your wine bottles. Storing bottles in a pile is safer and easier for you.
40. Pantry + Home office
Your pantry can also double as your home office. It offers peace and quiet and the needed workspace. With the right planning, a desk and office storage system can be easily incorporated into the pantry. The end portion of this pantry is allocated to a tiny office, separating it with a wall of cabinets.
41. Wall of Shelves
Deep shelves are ideal for optimum storage, but for narrow rooms, like this kitchen pantry, deep shelves will overcrowd the room. To maintain its roomy feel, opt for a wall of lean and open shelves, go for lighter tones and make sure there's enough lighting.
42. Pegboard
Pegboards are flexible and a great space-saver. You can hang anything on in – pots, pans and other kitchen implements, without taking much space. This kitchen pantry put the back wall into good use by installing a pegboard.
43. Rustic Modern
A healthy dose of warm wood panelling will inject a charming rustic vibe to your modern kitchen. The slide-out cabinet is designed for optimum storage and ease. A fusion of style and functionality.
44. Pull-out Metal Drawers
This pantry looks spacious and airy because of the open shelving and white interiors. It also avoided boxes and cabinets. However, for produce and other smaller items, closed storage is required. The solution – pull-out metal drawers.
45. Grocer's Room
This traditional pantry design is reminiscent of a grocer's shop. The glass windows, crowded shelves and half glass door are endearing and chic. Complete the look with black accents and elegant metal curlicues.
46. Organiser Wall
The kitchen pantry helps keep your kitchen neat and pristine – uncluttered countertops, neat cabinets and walls. Aside from the groceries and dinnerware, you can also take in the bits and pieces of kitchen clutter. Install an organiser wall for all your recipes, notes and kids' artwork.
47. The Silver Room
Stunning, elegant and luxurious. This bright and dazzling pantry is truly for the glamorous and opulent. The silver mirror subway splashback, the flawless cabinetry and efficient storage plan all contribute to the design success.
48. Pantry Skylight
Even if your pantry doesn't have access to a window, you can still bring in natural lighting with a skylight. Opening the ceiling to let in light will also make the room look bigger. The white interiors help reflect the light making the room a lot brighter.
49. Moving Parts
This pantry has a lot of moving parts. The service trolley comes in handy in transporting stuff from the pantry to the kitchen. Pull-out baskets and trays make for easier access, while the Lazy Susan allows optimum space usage.
50. Sliding Glass Doors
Well-designed and stylish. The light grey and glass-paned sliding pantry door complement the classy off-white kitchen. White walls to match the interiors and wood drawers for a rustic touch.
Do you have any amazing and creative kitchen pantry ideas and designs to add? Why not discuss it on our RenoForum
Sours: https://renoguide.com.au/kitchen/creative-kitchen-pantry-ideas-and-designs
Pantry is probably one of the best ways to organize your kitchen. Forget the countless cabinets, as one good pantry can save space, and open the place up. Modern pantry ideas are all about style and efficiency. Sure, you can hide your mess in there, but a well-organized, displayable pantry is a great motivation to keep things in order.
Cheap Modern Pantry Ideas
Let's start with the most straightforward example. This open shelving looks perfect in a modern farmhouse style kitchen with concrete floors and sleek furnishings.
Copper pots and weaved storage baskets add a rustic modern touch to it, while the display shelves encourage order and neatness.
Another similar concept features wooden wall-mounted shelves contrasting perfectly with the subway tiled walls.
There is no strict division between tableware, spices, and utensils, but they are all impeccably organized, and make for a decorative cafe-like display.
When you don't have much floor space to spare, you can really take advantage of your kitchen island. Storage-friendly designs are becoming more and more popular right now.
Of course, it may not be as convenient to bend over each time you need to find something, but it gets the job done.
Cabinet Pantry Designs
Your house doesn't have a kitchen room closet? A kitchen pantry cabinet/organizer is in order. Stylish and designed with a purpose, it can fit in nicely with your kitchen cabinetry without standing out much.
Designer cabinet pantries come with a pre-organized system inside of them, so all you really have to do is fill them up, and put things in place to avoid confusion.
Thanks to their differing interiors, you can choose how stringent your organization will be.
Here, smaller weaved storage baskets make numerous categories by which you can divide your food. And unlike the one before it, this one makes the most of the interior space.
A pantry doesn't have to contain only food. This attractive, sleek closet makes for a perfect home bar, its double-fold doors partially advertising what's inside.
Also, why not borrow the mirror from a home bar to brighten up a small pantry and make it seem bigger?
Alcove Pantry Designs
Wall shelves come in various shapes and forms. One of the best ways to save space is to use wall niche shelves that make for a sleek, minimalistic look.
If your kitchen doesn't have structural niches and you don't want to create them, look for spaces like stairs that naturally create nooks and outfit them for storage.
A pantry closet or alcove doesn't have to be deep. A few rows of thin floating shelves can be enough to deal with a usual load of food supply.
Take note of how both Palmerston Design and Statkus Architecture punctuated the pantry space with black in their white kitchens.
Another such contrasting design from Robert Plumb Project again proves how great of a design solution this is. Also, those oversized door handles add style points to the kitchen.
Other ways to make your pantry wall stand out include patterned wallpaper and decorative wall coverings.
If you don't want to show off your monthly food stash, an alcove requires a door or a pair. Sliding barn doors are very popular even in the most modern homes, but there are plenty of other options.
Glass doors are less in demand, but we conclude that a decorative pantry door may become a focal point and a designing element in your kitchen.
Small Modern Pantry Ideas
If you have even a small lot of space, you're better off setting up a pantry there, because it will keep all of your food out of the way, freeing up space for tableware and utensil storage.
Organize it well, and it will look picture-perfect even with a door open. Mark Williams placed decorative storage baskets underneath the organized shelves to prevent floor clutter, and his secret pantry looks incredible.
Kristianne Watts makes use of a sliding barn door in a white kitchen that can instantly turn a regular kitchen into a design dream.
Regardless of how cluttered and clogged your pantry is, an ornamental door will always save the situation.
Butler's pantry is usually smaller than the closet type, so if you lack space it can become a wlcome compromise between a dinnerware cabinet and a snack bar.
Jaime House treated this butler's pantry with some cool chevron wood tiles and a marble countertop. The result turned out amazingly luxurious with a touch of rustic modern design.
Another way to decorate your small pantry is to add lighting to it. It doesn't have to be fancy, although metallic pendants never hurt any interior.
This is especially helpful when your pantry doesn't have any windows, and you have no means of telling a sriracha sauce bottle from that of a ketchup.
Freestanding Pantry Room Designs
Since big industrial spaces often have a plain open layout, they may often benefit from a freestanding pantry structure.
Blank and Cables decided to use tempered glass to build this contemporary glass and metal pantry in a modern San Francisco home. They kept the interior as light as the structure itself. And the glass wall by which the pantry stands provides it with all the lighting it may require.
Design Platform shows another example of a loft-style dwelling with a freestanding pantry that not only provides storage space but also divides different areas.
Separated from the rest of the kitchen with smoked glass sliding doors, the cubic structure look modern and stylish.
Glass Pantry Ideas
This is the design we talked about in the beginning. A stylish pantry worthy of display separated with no more than glass. Although this particular design offers a discreet option as well.
Tiled feature wall makes for a restaurant-style atmosphere, while the pull out wooden drawers add a touch of rustic design to the smart black and white kitchen.
Talk about drama. Finished with black wood planks, this contemporary kitchen puts the pantry on display with the sliding solid glass doors.
Overhead lighting makes for an alluring accent as if the sun itself shines from above to illuminate the green juicy melons and savoury pickles.
Another pantry design partially disguises the contents with corrugated glass panes and familiar rustic drawers.
The similar wooden finish echoes them in the kitchen island, while the pantry extends above the upper cabinets to provide with more storage space.
Adjoining Kitchen Pantry
When space is scarce the galley kitchen with a pantry at one side may be just what you need to get a kitchen that both looks sophisticated and can house it all.
Cubby shelving is a perfect option here, because it is affordable and capacious. It can stretch from wall to wall, and provide each and every food type and tableware with its own dedicated space.
A.D.D. Concept + Design solved the claustrophobia of a galley kitchen with the use of an atrium and an entire wall of windows.
Even though the walkway between the sink and the pantry is narrow, the kitchen still feels airy and open thanks to them.
Simple Modern Pantry Ideas
Modern manufacturers offer various pantry designs. This one by Elan Kitchens looks like a perfect place for things like pots, pans, and other utensils that usually clutter the cabinets and backsplashes in kitchens.
Take note of the side inbuilt wine storage that allows to both store wine in droves as well as display it. Perfect modern design.
While a closet (room or furniture) requires some floor space and a kitchen island may have already been bought sans drawers, an overhead stainless steel pantry could solve the space problem, and also become a decorative display.
As you can see modern pantry ideas are very different, and don't seem to abide by any certain design rules. You create them wherever you've got space, and you don't have to always hide them behind closed doors.
Sours: https://www.trendir.com/modern-pantry-ideas/
There are a couple of different types of pantries – from a cold pantry that also serves as a fridge for restaurants, to Butler's pantries for meat and poultry, to the regular pantries that we have in our homes!
Like any room in the house, it follows the theme or style that our home does – or just the kitchen in the least.
Here have a list of 15 Classic to Modern Kitchen Pantry Ideas wherein we can see cabinet-types of pantries to a full room which is used as storage for our food, provisions, dishes and even linens!
Today, you be seeing some classic designs, traditional and even modern ones – so, have fun and share us your thoughts on them!
Butler's Pantry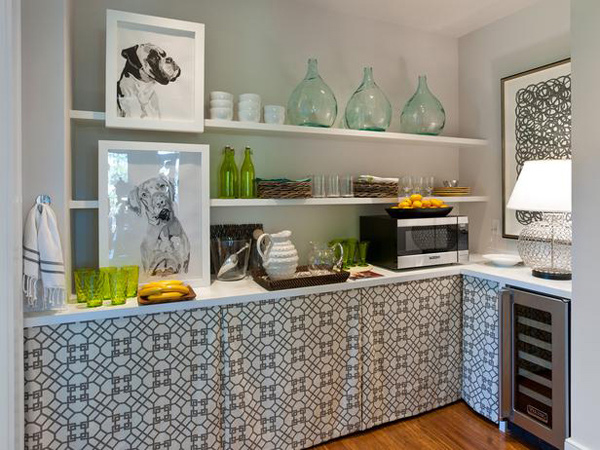 Linda Woodrum
Inspired by the muted gray of the kitchen cabinetry, interior designer Linda Woodrum chose trellis-style fabric for the pantry's counter skirt.
Bright Kitchen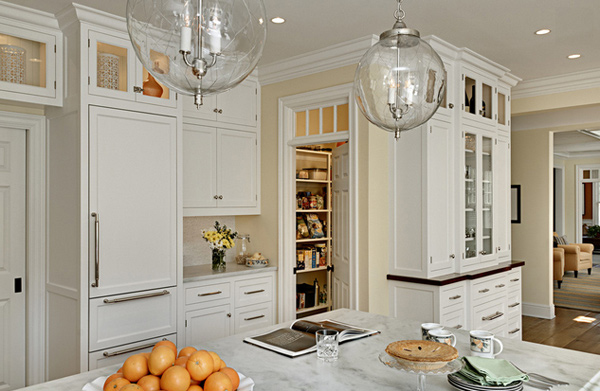 Crisp Architects
The pantry may be seen from afar, but the space sure looks pretty hidden in a white panel door.
Modern Dining Room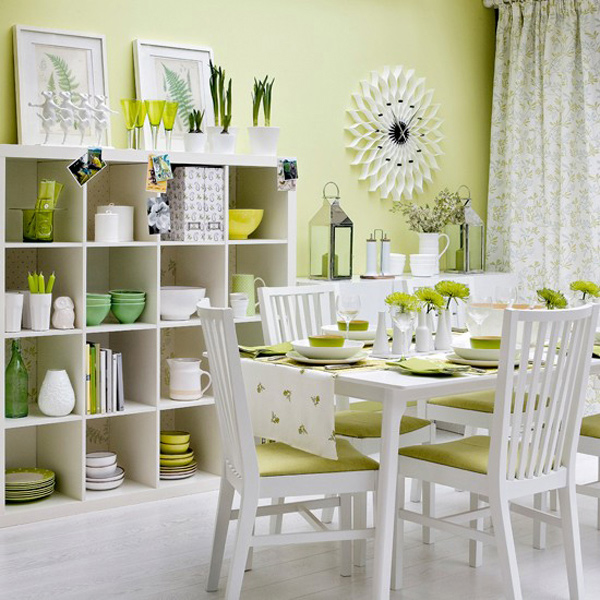 Transform Home
How do you like the pantry just beside the dining area with enough greens and white to last an entire day!
Modern Pantry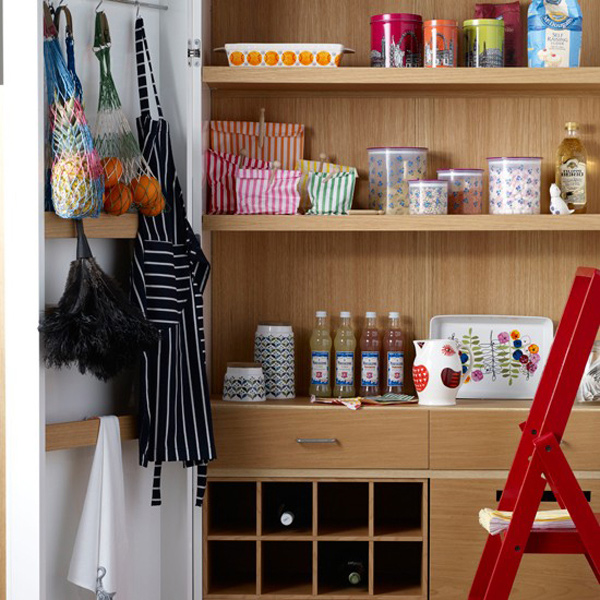 House to Home
An open shelving unit leads on from the worktop, creating a practical yet stylish storage solution. These have been built bespoke so every nook and cranny of space is used.
Kitchen Store Room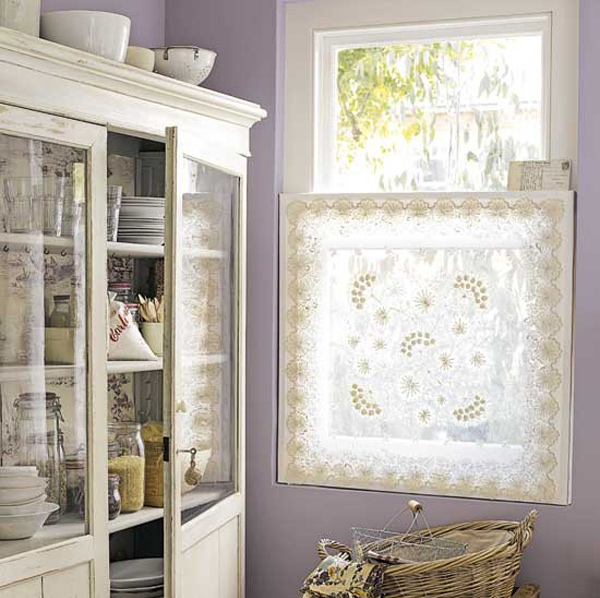 House to Home
Screen unsightly views without blocking out light by covering one half of a window with pretty lace. A decorative cabinet provides attractive kitchen storage.
Kitchen Pantry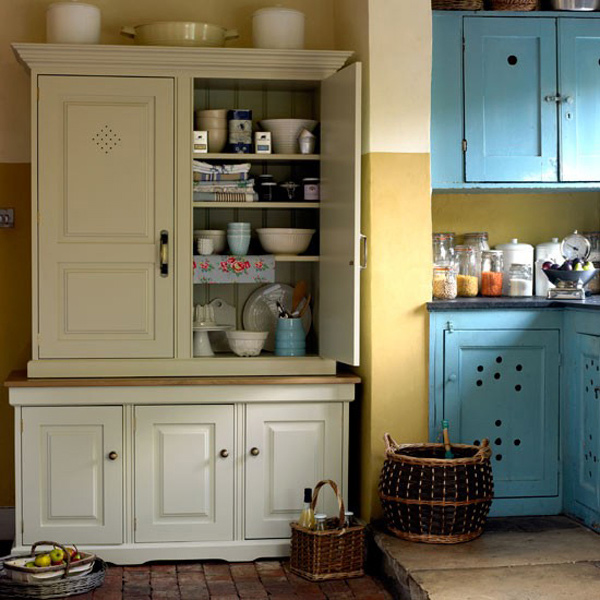 House to Home
An old and vintage kitchen pantry from our friends from House to Home! Don't you just love the rustic feel in this space?
Best Kitchen Pantry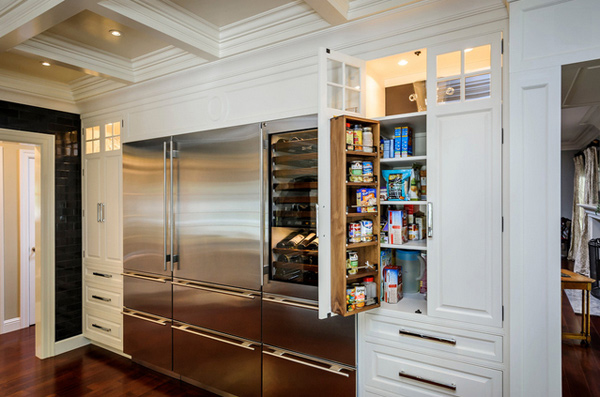 Leslie Ann Abbott
Modern appliances for the kitchen with classic designs for the cabinets, drawers and the pantry!
Holt Pantry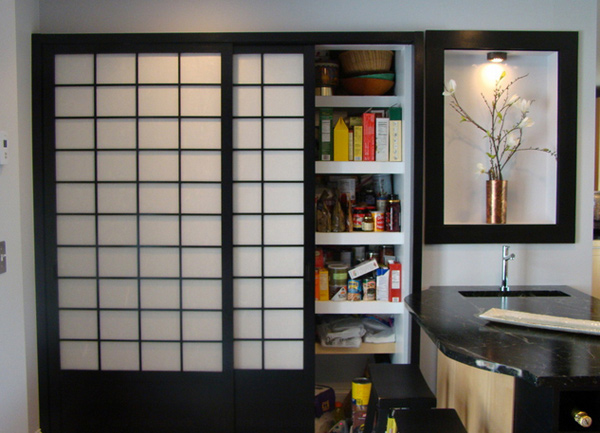 Annie K Designs
Familiar door? Yes, it is a Japanese-inspired door for the pantry of this small but functional kitchen.
Oak Park Kitchen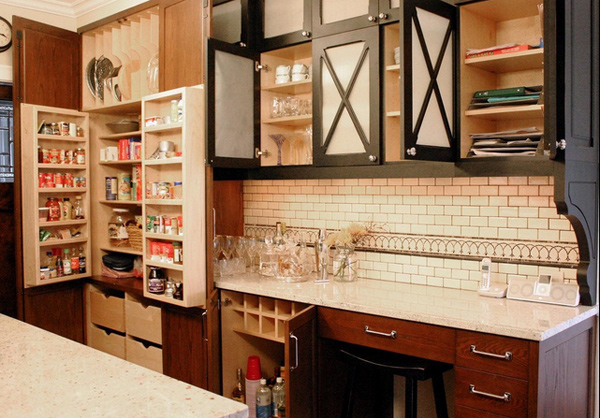 Kitchen Lab
This kitchen in Oak Park showcase traditional design both in the kitchen design and the pantry storage.
Pantry with Barn Door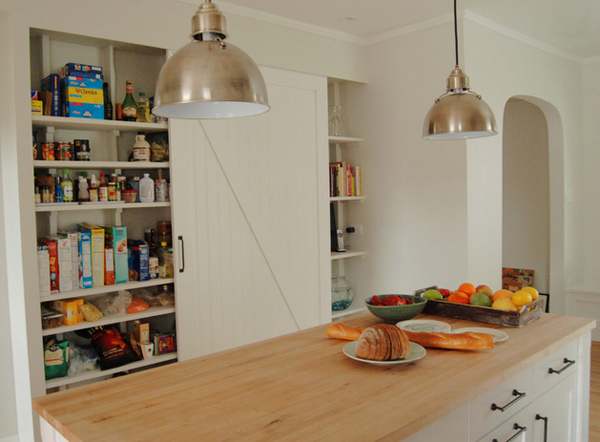 Kitchen Lab
A typical pantry design using sliding doors to save space.
Lunt Avenue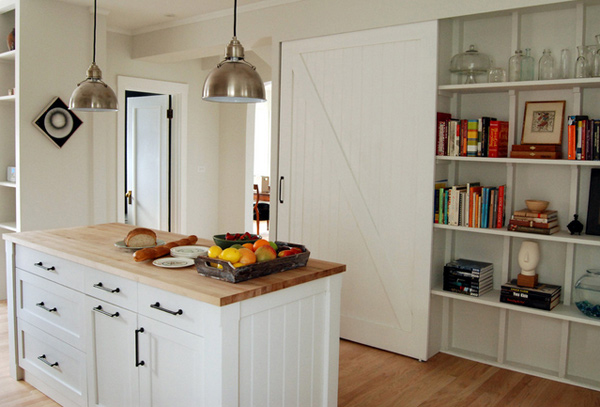 Kitchen Lab
Another beautiful kitchen from Kitchen Lab! Look at how the pantry door is just beside some books and small knick knacks – a pretty way to store stuff!
Atlanta Traditional Kitchen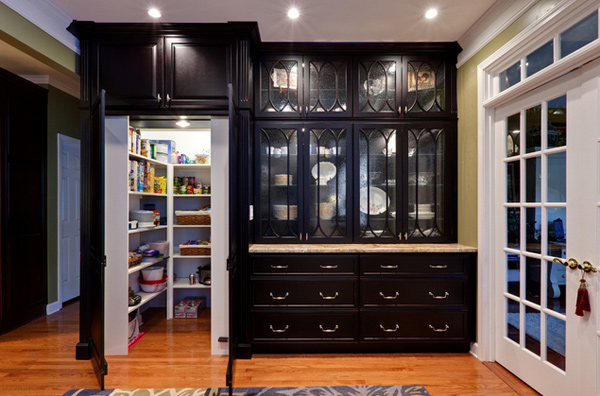 Teri Turan Designs
This black china cabinet sure looks lovely. The door that leads to the pantry is a charmer and using white for the walls make the black pop out!
Blue Kitchen Cabinets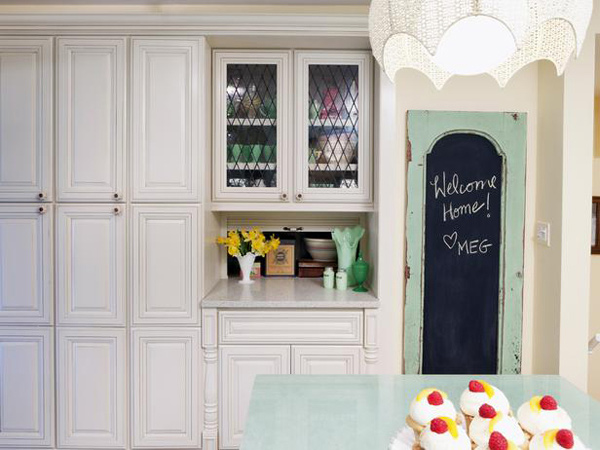 Meg Caswell
Noticed that the pictures that we have for today use panel flush doors for their pantry? Classic practice.
Kitchen Remodel Recessed Built-In Pantry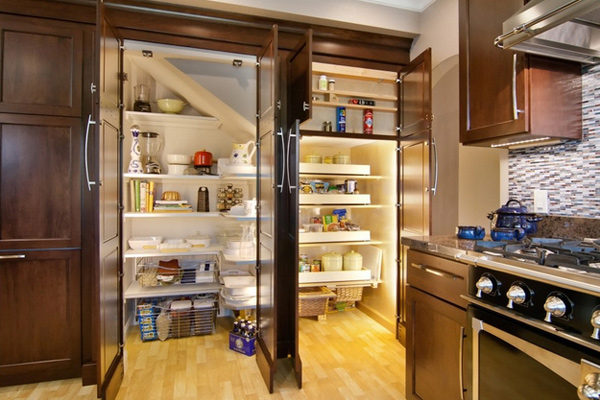 Remodel West
Using white light for the pantry is the best lighting treatment anyone could do so as to make sure the task will be done!
East Edina Home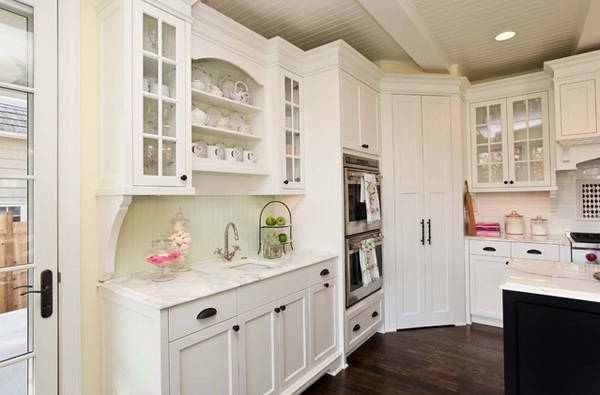 Refined, LLC
An all white kitchen looks really pretty! This may be a great color for the kitchen to be able to see all the stains when we do the cooking!
How did you find our 15 Classic to Modern Kitchen Pantry Ideas? They sure have a lot of things in common, don't they? From the colors that were majorly used, to the materials of the types of doors. All the more, they serve the same purpose, more storage for us! We hope you liked them! More about kitchens, here is a list of Cesar Kitchen Collection: Sustainable Kitchen Designs for more kitchen ideas!
Sours: https://homedesignlover.com/kitchen-designs/kitchen-pantry-ideas/
Luxury Kitchen - Designed for James Bond - BT45 \u0026 Bauformat - 2021
Top 70 Best Kitchen Pantry Ideas – Organized Storage Designs
Most of us regard the kitchen as the nucleus of the home, a place to gather and be nourished, and where there is always warmth and comfort to be had.
For those with a particularly passionate flair for the culinary joys of feasting and entertaining, a well-appointed pantry is an absolute must.
Older houses often boast impressive walk-in pantries, offering a glimpse of just how crucial these utilities were for early home owners. While the modern layout may not allot quite as much space and care to the pantry, there are numerous ways to re-implement this timeless necessity. From simple floor-to-ceiling cabinetry to free-standing units, the modern pantry is built to hold your bounty while keeping any special restrictions in mind. Many of today's pantries cleverly utilize unused nooks, corners, and closets, while larger installations create an extension of the kitchen itself.
The perfect pantry allows for optimal storage organization and infinite shelf capacity to hold your culinary goods. Whether you're looking for a full scale walk-in or more space-conscious cupboard addition, the kitchen pantry of today understands that the modern homeowner and gourmand moves–and cooks–with the times.
Sours: https://nextluxury.com/home-design/best-kitchen-pantry-ideas/
Pantry contemporary kitchen
.
Food Organization, But Make It Aesthetic - Modern Kitchen Pantry Makeover
.
Similar news:
.
509
510
511
512
513