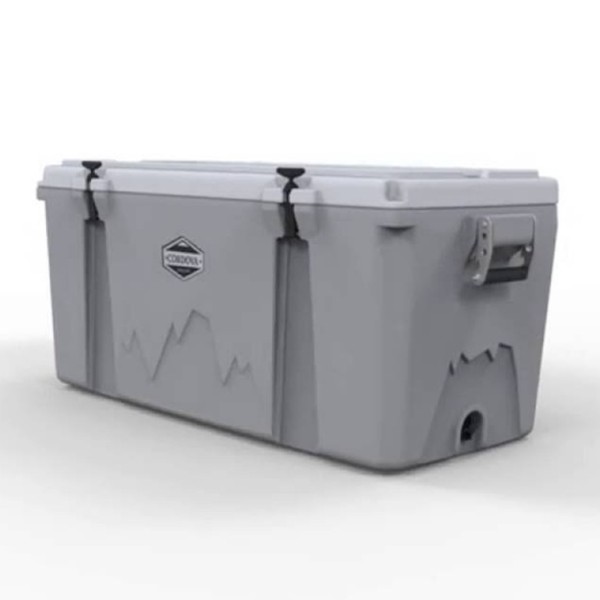 Cordova is a new entrant to the roto-moudled cooler market. In this Cordova cooler review we'll look at what makes this cooler stand out from the rest and whether or not it's worth buying.
A Little Bit About Cordova
Cordova are a brand new cooler, entering the market in June 2016 (see their announcement video) with the promise of 20-40% better ice retention, eco-friendly foam and the strongest handles of any cooler on the market.
Cordova was started by 3 exteme outdoor enthusiasts (Scott Campbell Jr. from Deadliest Catch, Steve West from Steve's Outdoor Adventures TV and Mike West winner of the Baja 500) who felt that the current coolers on the market didn't live up to their needs.
Features That Make Cordova Coolers Stand Out
Cordova coolers are quite similar to other roto-moulded coolers on the market (see Cordova vs Yeti comparison) with a few key differences.
Handles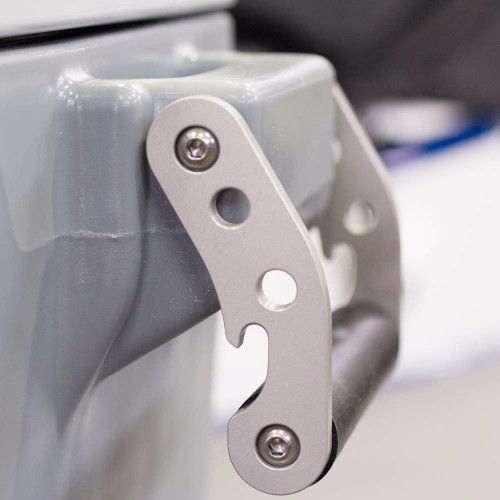 The Cordova handles are 100% unique. While other coolers use Nylon rope handles or plastic handles the Cordova takes it to the next level with their 100% alumium handles.
These handles look badass and give the design of this cooler some flair.
They also have built in bottle openers meaning you will never be without a way to enjoy your beer.
Most coolers similar to this one don't have bottle openers and you have to buy them separately and install them yourself. So having this is a really great feature.
Reverse T-Lock Latches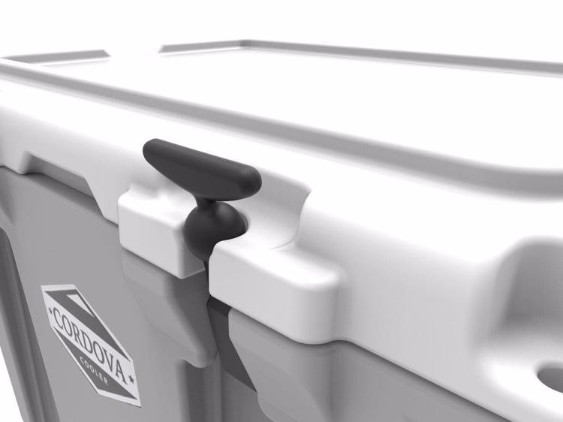 The latches on this cooler are similar to the Yeti's T-Rex latches. They are made of thick durable rubber and keep the lid locked in place with the tension of the rubber.
Unlike the Yeti the Cordova latches pull up instead of down.
This is much of a muchness and may be slightly easier to use than other coolers as you don't have to bend down as much to undo the latches.
Highest Insulation Rating Of Any Cooler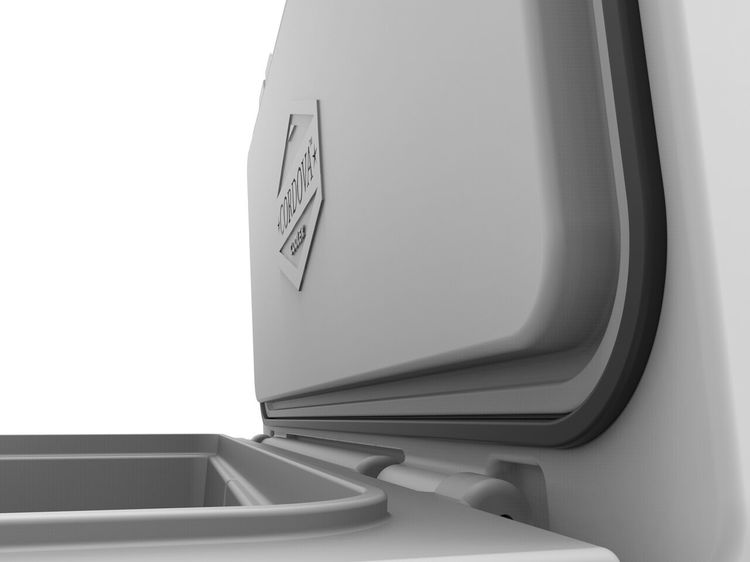 Cordova claim to have the highest insulation rating of any cooler on the market.
In saying this, I am unable to find how they have tested and defined this so I wouldn't take it as 100% fact.
Currently, as this cooler is so new, there are no comparison ice tests to prove that this cooler keeps ice the 20-40% longer that it claims.
It does appear to have thicker walls (around 3 inches instead of Yeti's 2 inches) and so that will likely add to it's ability to keep ice, but for now I would simply assume it perform better to other roto-moulded coolers.
Eco-Friendly Foam
A nice feature of this cooler is the use of eco-friendly foam, making this a more environmentally friendly choice than other coolers.
Made in USA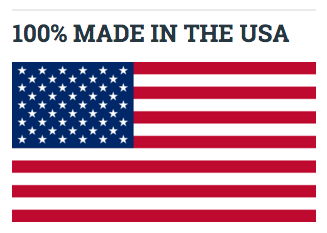 While other coolers like Yeti and Engel are manufactured overseas the Cordova coolers is made completely in the USA. So if supporting local manufacturing jobs is important to you then this cooler is definitely one to consider.
Lifetime Warranty

The Cordova cooler has one of the best warranties (see the details) in the industry – likely beaten only by Orca – with a lifetime warranty on their coolers.
This is great because you can buy this cooler knowing for sure it is going to be the last cooler you will ever buy.
If the cooler ever breaks of you have a problem with it you know that it will always be covered by warranty.
PLEASE NOTE: You must register your product within 30 days of purchase for the warranty to be valid. So don't forget to do this.
Price
Model Number
Quart
Capacity
Price
Amazon Price
(click to see)
Cordova Small
Yeti 35
28
28.8
$339.00
$299.99
-
-
Cordova Medium
Yeti 50
45
47.2
$439.00
$379.99
Not on Amazon
-
Cordova Large
Yeti 75
75
74.8
$539.00
$449.99
Not on Amazon
-
Cordova X-Large
Yeti 125
125
121.2
$699.99.00
$549.99
Not on Amazon
-
The Cordova cooler is actually one of the most expensive coolers in the market. Coming in at $40-$150 more expensive than the Yeti, depending on size.
This means shoppers looking to save some money on a cooler similar to Yeti will have to look elsewhere.
Yeti is already considered one of the most expensive brands of coolers on the market and you'll see in the comparison chart than Cordova coolers are actually a fair bit more expensive than Yeti.
However, they do come with a lifetime warranty and they are made in the USA so I guess the price can be justified. But then again the Orca cooler is also made in the USA and the price of that cooler is on par with Yeti, so I'm not sure.
Problems With Cordova Coolers
No cooler is perfect and when it comes to the Cordova it isn't without it's flaws. So let's look into them quickly.
Newness – The biggest flaw I have with this cooler at the moment is how new it is. Sometimes new means something is way better (eg. New computer) but new also means that something isn't as well tested and could have issues. The Cordova also has no comparison ice tests so there's no way to prove it's performance yet.
Price – The Cordova is more expensive than the Yeti which I don't like. If this cooler was cheaper I would be way more inclined to recommend people buy it over a Yeti. But being more expensive than a Yeti means it REALLY needs to stand out.
Lack of Color Options – There is currently only one color option available for this cooler – grey with a white lid. So if you're not into that color you're out of luck.
Lack of Accessories – Other coolers sell accessories (like cup holders, seats etc) but currently Cordova don't have any accessories available.
Should You Buy A Cordova Cooler?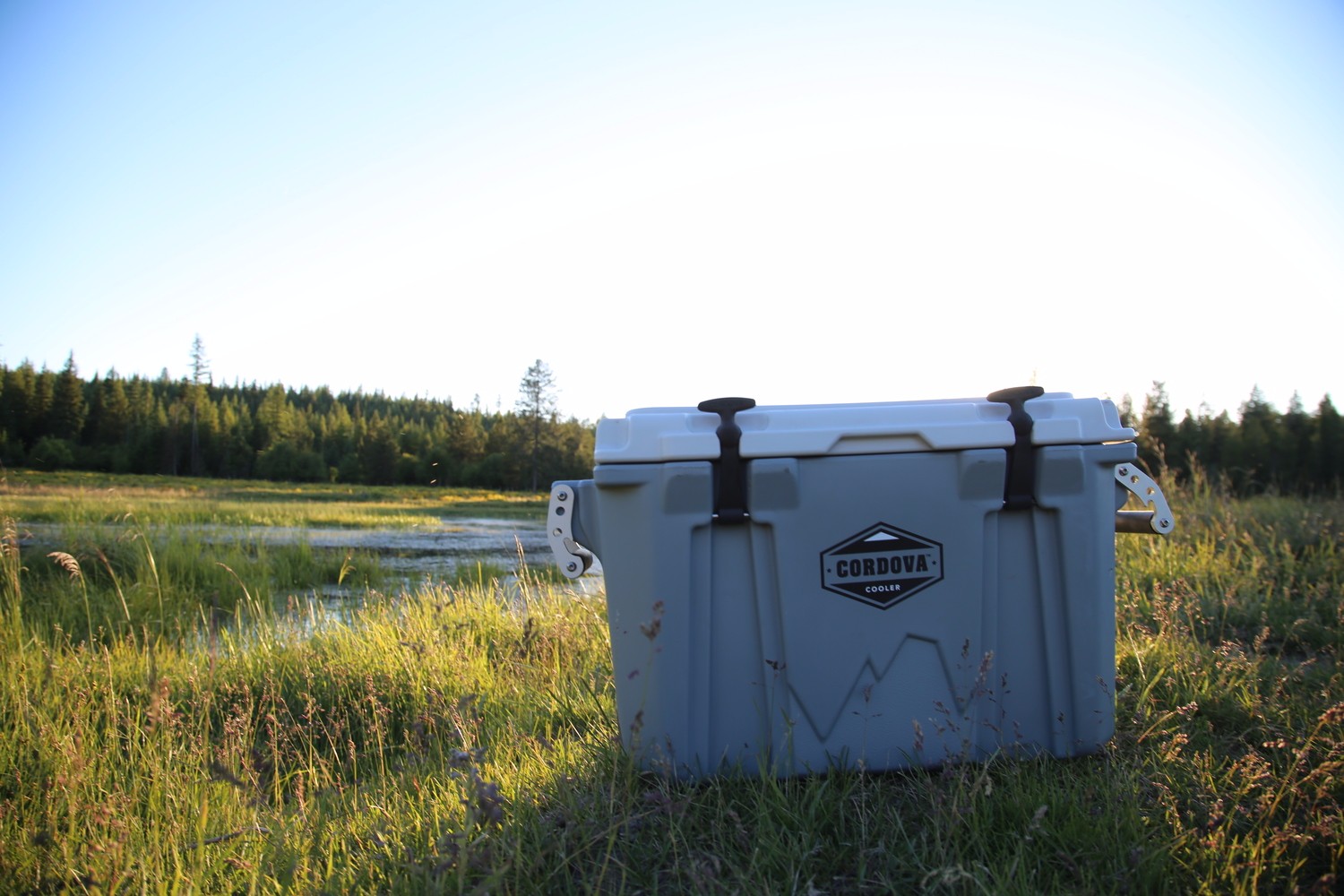 The Cordova cooler looks like a great cooler.
The strong aluminum handles and the lifetime warranty, as well as being completely made in the USA, are real selling points for this cooler.
The design is really nice and it comes with all the features you'de expect in a roto-moulded cooler – commercial grade gasket, non-slip rubber feat, bear proof, keeps ice for over 5+ days.
The real question is do you think the Cordova cooler is worth the extra cost when compared to the more popular brand or would you prefer to look into coolers like Yeti but cheaper?
The last of comparable ice chests and the fact that this product hasn't been on the market very long also makes it a riskier purchase than something like a Pelican or Yeti that has been around almost 10 years.
Ultimately the choice is yours and I wish you the best of luck.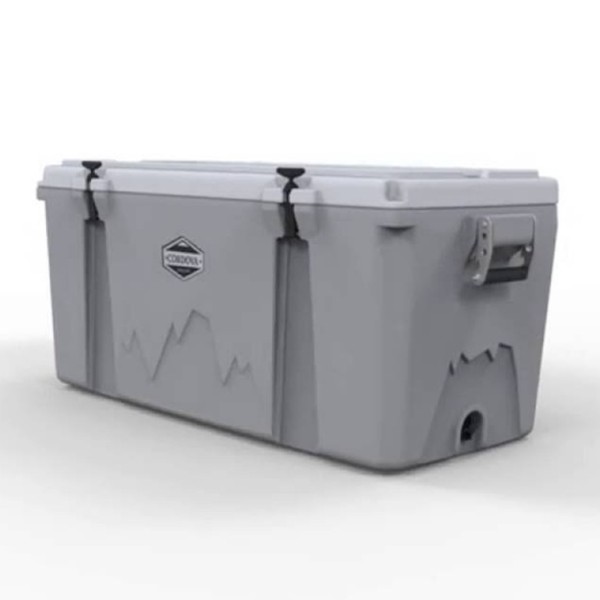 Sours: https://huntingwaterfalls.com/cordova-cooler-review/
CORDOVA COOLER GRAY XL 125
Cordova Hard Sided Coolers are rotational molded coolers with Gorilla Grip non-skid feet and integrated bottle openers. They feature Top Loaded latches for a secure hold and easy access to the contents, even when the sides of the cooler are blocked. The lid also features a lid lock system to help keep the top open when desired. These coolers have a 2:1 ice to contents ratio, anodized aluminum handles with bottle openers, air tight o-ring seal and a Standard Cyclone Delrin side drain plug. Made in the U.S.A.
Specifications (Click to expand):
| PART # | CAPACITY | INSIDESIZE | OUTSIDESIZE | WEIGHT(EMPTY) |
| --- | --- | --- | --- | --- |
| CDV-CCSG-28QT | 28 Cans | 18" x? 8.75" x 10" | 26.25" x?14.25" x 16" | 19 Lbs. |
| CDV-CCMG-45QT | 42 Cans | 20" x 12" x 11.25" | 28.25" x 18" x 16.75" | 26 Lbs. |
| CDV-CCLG-86QT | 85 Cans | ?30.5" x 12" x 13.5" | 38" x 17.75" x 18.75" | 34.5 Lbs. |
| CDV-CCXLG-126QT | 120 Cans | 37.88" x 14" x 14.75" | 46" x 19.63" x 19.75" | 45 Lbs. |
Sours: https://www.englundmarine.com/products/cordova-cooler-gray-xl-125%7C7020500000%24q.html
Please Enable Your Browser's Cookies Functionality Cookies are not currently enabled in your browser, and due to this the functionality of our site will be severely restricted. Web browser based cookies allow us to customize our site for you, save items in your cart, and provide you with a great experience when shopping CampSaver. Your privacy is important to us, and any personal information you supply to us is kept strictly confidential.
If you cannot enable cookies in your browser, please contact us — we are always here to help!
JavaScript is blocked by AdBlocker or ScriptBlocker We're sorry - it looks like some elements of CampSaver are being disabled by your AdBlocker. Unfortunately we are unable to offer our excellent shopping experience without JavaScript. Please add "campsaver.com" and "https://csl.0ps.us/assets-c1e0f7f3710/" to whitelist, or disable AdBlocker for this site (please note that we do NOT feature any annoying ads on this website). Thanks!
Cordova Drain Plug, Aluminum, Aluminum, One Size, CCDP
Cordova Delrin Plastic Drain Plug
Package Contents:
Cordova Drain Plug, Aluminum, Cooler Accessories
Cordova Drain Plug, Aluminum, Cooler Accessories Unavailable & Discontinued Models
List of Unorderable Models
Sours: https://www.campsaver.com/cordova-drain-plug-aluminum-cooler-accessories.html
Cordova Story
Best Cooler Accessories for 2020
Updated by Brandon F. on July 24, 2020
While we all enjoy a quality cooler, sometimes the features that it comes with just aren't enough.  Depending on who you ask, there may be some additional capabilities that they wish their cooler could handle.  This could have something to do with transporting the cooler, adapting it to a hunting/fishing trip, or maybe it is just a matter of wanting to stand out from the crowd.  No matter what the reason, we have put in hours of research to come up with a list for you!
Below we list some of the best cooler accessories for 2020.  These products can improve performance, usability, looks, and overall just help you maximize the capabilities of your ice chest investment.
Best Ice Packs for Coolers
We have noticed that ice packs are becoming increasingly popular among cooler enthusiasts.  Ice packs have several inherent benefits that conventional ice doesn't have.  They include being reusable, less messy, and can often be tucked away into areas of the cooler that minimize the impact on the storage volume.  Below we list some of the best ice packs for you to add to your cooler.  And if you are after a more thorough review of the best ice pack coolers on the market, check out our other article on that very subject.
Fit & Fresh Cool Coolers
Check Out Price on Amazon
The Fit & Fresh Cool Cooler is a very slim ice pack that is extremely popular, and for good reason.  The first thing you will notice about them is that they are extremely affordable.  Also, it's optimized area and thin profile means that you can add it to just about any type of cooler without sacrificing a lot of storage volume.  They are made with 100% BPA-Free, non-toxic gel which means that they are perfectly safe being near food and beverages.  We will say that we recommend this mostly be used for smaller coolers and soft-sided chests as they won't make a huge difference in larger coolers.
Cooler Shock Gel Packs
Check Out Price on Amazon
Cooler Shock Gel Packs is another very popular pack that many people have likely seen or heard of.  These ice packs are a bit pricier than Cool Packs but you get a significant boost in the performance of ice life.  The 4-pack is designed to replace around 12 pounds of ice and they also work very well being mixed in with already existing ice.  In our experience, you can expect around 48 hours of performance out of these before you will need to re-freeze them.  The only issue worth mentioning is that they will be shipped in powder form to save on shipping.  You will have to "assemble" and seal them yourselves.  It is a pretty easy process but just make sure you follow the instructions!
Arctic Ice Alaskan Series Reusable Cooler Pack
Check Out Price on Amazon
The Arctic Ice Alaskan Series Reusable Cooler Packs are another one of our favorite ice packs and they often fly under the radar.  They are available in sizes ranging from ¾ of a pound up to 5 pounds.  For a given size, the performance is very good and each size is optimized for a specific application.  For instance, if you go with one of the smaller sizes, you are best sticking to using it in a lunch bag.  However, the larger sizes can be added to any large cooler for a nice boost.  Arctic Ice recommends using the equivalent weight of their ice packs for the ice you want to replace.  For instance, instead of using 5 pounds of ice, use a 5 pound Arctic Ice Cooler Pack.  However, these will far exceed the performance of ice and you can expect them to help keep things cool for 2 days or more.
Rubbermaid Blue Ice
Check Out Price on Amazon
Rubbermaid Blue Ice has seemed to be around for as long as coolers have been and just about everybody has likely seen or used one of their products before.  The classic blue liquid that fills these containers has been keeping coolers colder for many years and will likely continue to do so for many more years to come.  They typically come in 2-packs and with dimensions of around 6" x 7" and a thickness of less than 2", they can be oriented to fit comfortably in just about any container.  The performance is quite good and they should stay completely or partially frozen for up to 2 days.  The only issue to keep an eye out on is the occasional swelling that these products may suffer from when used a few times.
Yeti Ice Pack
Check Out Price on Amazon
How are we going to write a review about cooler accessories without mentioning Yeti at least a couple of times?  Yeti has come out with their proprietary ice pack (called the Yeti Ice Pack – very clever!) that they feel leads the pack in a similar way that their coolers tend to.  They have designed their Yeti Ice to perform at the most effective temperature, finding the happy medium between cooling performance and longevity.  While the sizes of the 1, 2, and 4-pound ice packs are designed around fitting in Yeti products, you can easily use them in many other coolers without issue.  But they do come with the high Yeti price tag we are accustomed to seeing.
Best Cooler Baskets
We are seeing many new premium coolers come included with cooler baskets (or have them as available accessories for purchase).  We love the concept as the basket allows you to compartmentalize various products while still being able to tap into a majority of the precious cooler volume. 
However, it is important to make sure that a particular basket fits your particular cooler.  Since cooler sizes vary so greatly, simply going out to the store and buying the first cooler basket you see will likely result in you having a product that is either too big or too small.  Because of this, we recommend sticking with a basket made from the cooler brand you own.  We will go over a few of our favorites below.
Yeti Dry-Goods Basket
Check Out Price on Amazon
Yeti was one of the first to offer up optional baskets in their premium coolers.   All Yeti coolers now come with one dry goods basket (but many models can handle more as necessary).  These 2-latch baskets are made of thick, quality metal and should last for many years.  They come in 7 different sizes: Tundra 35/45, Tundra 50/65, Tundra 75/110, Tundra 105/125/160, Tundra 210, Tundra 250, and Tundra 350.  Be sure to double-check what sized of Yeti Dry-Goods Basket you need before ordering!
Igloo Cooler Basket
Check Out Price on Amazon
Igloo has made its name by offering products that perform well but are very reasonably priced and their cooler baskets are no exception.  The first thing you will notice about the Igloo Cooler Baskets (outside of their great price) it that they tend to be deeper and also have finer metal grids (and many more of them). 
This is beneficial for two reasons.  First, the deeper shape means that you have a huge volume of storage to stick your dry goods.  Second, the finer grids mean that there is less space for items to fall through to underneath.  This is great if you tend to store items that are small in size and may be prone to slip through. They have sizes for 55/70 quart, 72-94 quart, 128-165 quart, 90 quart, 40 quart, 20 quart, 50 quart, 120 quart, and 150 quart.
Pelican Dry Rack Basket
Check Out Price on Amazon
Pelican is a brand that we don't talk about nearly enough on here. But they compete with the very best in terms of toughness and ice life.  You can check out our huge review on Pelican Coolers to see for yourself.  The Pelican Dry Rack Baskets offer extremely robust and give off a "tough" vibe just looking at them.  They are powder coated and also resistant to corrosion which means that they should last for many years.  They have 6 sizes: 30 quart, 50 quart, 70 quart, 80 quart, 35/45/65/95 quart, and 150/250 quart.
Best Cooler Dividers
Cooler dividers work in a similar way to cooler baskets in that they help divide up a cooler's storage volume to allow for multiple compartments.  This is another accessory that has recently become much more popular.  Not only does it make it is easier to keep track and access various items in your cooler but it can also help you to "build up" ice on one area of the cooler which can help ensure that those items stay nice and cold. 
Similar to cooler baskets, cooler manufacturers will typically make cooler dividers that are specifically designed to fit their coolers.  This can make cross-shopping a bit risky.  We encourage you to check your own cooler company to see if they have a divider just for you.  However, we do have a few that are our personal favorites.
RTIC Cooler Divider
Check Out Price on Amazon
The lineup of RTIC cooler dividers is simple yet effective.  They are a bit on the thin side which means that they don't take up much space.  Yet they are tough enough to be also used as a cutting board.  The built-in hand slot at the top makes pulling it out and inserting it back in a breeze.  Currently, they have dividers for the 45 quart and 65 quart but we assume that there are more to come.  And if you are looking for an RTIC Cooler to but your new cooler divider in, head on over to our RTIC Cooler Review to find the perfect product to meet your needs.
Engel Cooler Divider
Check Out Price on Amazon
We have always loved Engel Coolers as they can compete with the big boys but at a lower asking price.  Their cooler dividers follow this ideal.  They are made of extremely tough King StarBoard, can double as cutting boards, and fit comfortably in built-in slots on Engel Coolers.  There are plenty of sizes to choose from including 25 quart, 35 quart, 50 quart, 65 quart, 80 quart, 123 quart, 165 quart, 240 quart, and 320 quart.
Siberian Outback Cold Divider
We also really love Siberian Coolers and their unique approaches to solving a problem.  Their Outback Cold Divider combines the benefits of a divider and also can be filled with water to create an additional icy barrier that helps to maximize ice life.  It does cost a bit more than a traditional cooler divider and you do sacrifice the cutting board ability but we feel it is worth it.  This product is currently available for 82 quart and 125-quart sizes.
Best Cooler Cushion
Cooler cushions are designed to sit on the lid of your cooler, transforming it into a makeshift seat.  Some people may be worried that sitting or standing on a cooler will damage it, and they may have been the case for older, low-quality coolers.  However, with the new lineup of roto-molded coolers that have taken the cooler world by storm, the toughness of a cooler has skyrocketed up and now you can easily stand or sit on them without concern of them breaking. 
As for sizing, while you do have to look for a size that fits your particular cooler, the requirements are much less strict than with cooler basket and cooler dividers.  Several third-party manufacturers make generic cooler cushions that are designed to fit a wide variety of cooler brands at a particular size.
Wise Cooler Seat Cushion
Check Out Price on Amazon
This is an extremely popular seat cushion that has had many success stories while it has been around.  It contains 3 inches of dense foam, stainless steel studs for support, and a mesh panel underneath to help expel any moisture build-up.  It is available in several different color choices including the very popular camouflage choices.  You have plenty of size options including 35-quart, 45-quart, 50-quart, 65-quart, and 75-quart and we have many success stories of these sizes comfortably fitting the respected cooler sizes in RTIC, Yeti, etc.
Igloo Seat Cushion
Check Out Price on Amazon
Igloo is also in the seat cushion game and they have multiple size options including 48, 58, 72, 94, and 128-quarts.  And their asking prices are very competitive.  While these sizes are designed around fitting their respected Igloo cooler sizes, many people have been able to use them in other sizes.  We recommend measuring your specific coolers' length and width and comparing them to the sizes of the cushions. 
Remember, it doesn't have to be perfectly exact.  As for quality, the Igloo seat cushions are made of heavy-duty, water-resistant vinyl that is stuffed with thick foam.  It is also treated with anti-mold compound and UV protective shields which make them great for marine applications.  It is important to note that the studs that traditionally were used to secure the cushion to your cooler have been replaced by 4 Velcro straps.
Yeti Seat Cushion
Check Out Price on Amazon
For those wanting to experience the best of the best, Yeti has seat cushions designed for their 35, 45, 50, 65, 75, 105, 110, 125, 160, 210, and 250-quart Tundra Coolers.  With so many size options you could likely make them work with other cooler brands as well with a bit of ingenuity.  They are made of tough, UV marine vinyl which is both water and sun-resistant. 
The stitching is also very well done and uses thick, quality materials that should hold up to wear and tear for many years to come.  The installation requires screwing stainless steel studs directly into the cooler lid and snapping the cushion in place.  While this is a bit more laborious, the result is a very snug and reliable connection.  And, as you probably guessed, you will pay the Yeti premium to enjoy these seat cushions.
Best Cooler Lights
Cooler lights are a great way to help light up your cooler when it is dark outside.  This not only greatly assists in finding the item you are looking for but it also can add a cool aesthetic effect.  Most of the cooler lights available right now are sort of "one size fits" all and not customized for specific cooler sizes.
StarBright Cooler Light
Check Out Price on Amazon
The StarBright Cooler Light is a very simple approach that utilizes a waterproof LED cylinder to light up the inside.  It isn't designed to be mounted on your cooler and rather is simply placed inside wherever you can find room.  The light is waterproof to up to 6 feet and offers 60 hours of white light and up to 31 hours of red light.  An easy to read LED indicator light also displays if and when the product needs to be recharged.  It takes advantage of a rechargeable battery pack that is fully charged in around 5 hours.
Cooler Brightz
Check Out Price on Amazon
Cooler Brightz takes a slightly different approach and implements a small strip of waterproof LED lights that you spread around in the cooler.  There is an external battery pack that has to be left outside of the cooler as it isn't waterproof.  There are several different color options and the asking price is very affordable but you do have to deal with keeping track of the battery pack and making sure it isn't damaged or exposed to Mother Nature.
Coleman Cold Glow Cooler Light
Check Out Price on Amazon
The Coleman Cold Glow Cooler Light is made by the very reputable Coleman company and is designed to be mounted to the inside of your cooler using screws.  There is a really helpful motion-activated feature that makes the product turn on and off whenever it senses movement.  The LEDs used are battery-powered and surprisingly bright.  And all of this can be yours for a very reasonable price.  The only issue is that you will be required to drill directly into your cooler lid to fasten it.
Badger LED
Check Out Price on Amazon
The Badger LED takes a similar approach to the Coleman Cold Glow but requiring you to mount it on the lid and not needing any sort of external battery pack.  The main difference is in the bulbs used and also the method of fastening.  The bulbs are not quite as bright as the Coleman (mostly due to their orientation) but they are also waterproof. 
Also, the mounting is accomplished by using adhesive rather than mountain screws.  This may be a good thing or a bad thing depending on who you ask.  While you don't have to screw into your lid, the adhesive doesn't stick as well and you may find that the light falls off over time.  Finally, this product comes in at the most expensive of the four cooler lights discussed.
Best Cooler Wraps
Cooler wraps are a great way to help customize your cooler and make it stand out from the competition.  While some cooler brands offer in-house wraps and color choices, the selection is oftentimes sparse and it can also be quite expensive.  Because of this, various third-party companies have popped up who specialize in aftermarket wraps for your favorite cooler brands.  We will go over a couple of our top choices below.
USA Tuff Cooler Wrap
Check Out Price on Amazon
USA Tuff focuses on mostly patriotic and USA-focused wraps such as American flags, hunting, domestic vehicles, etc.  They have wraps for the lid, the lower contour of the body, and in some cases a full wrap that covers the entire cooler.  It appears that right now their main focus is on Yeti Coolers.
MightySkins Cooler Wrap
Check Out Price on Amazon
MightySkins is in the business of putting wraps and decals on just about everything and they have an impressive lineup of cooler-inspired wraps as well.  Their themes are much wider than USA Tuff and seem to span a huge array of categories and interests.  Most of their wraps focus on the lid and lower contour region of a cooler.  Furthermore, they have an offering for various sizes of Yeti Coolers as well as RTIC coolers.
Summary
We hope that this huge list of the best cooler accessories for 2019 was helpful to you and helped to find some potential ideas of ways to accessorize your favorite ice chest.  While this list is thorough, it is by no means all-encompassing and there are many other accessories out there. 
And if you happen to find out that a particular accessory doesn't meet your needs, don't be afraid to experiment and try to come up with some ideas yourself!  We have seen some great pictures of cooler owners who have adorned their cooler with custom lights, built sound enclosures, have had custom paint jobs performed, installed wheels, and much more.  Your cooler is an extension of you so accessorize it to your heart's content!
Sours: https://www.thecoolerzone.com/best-cooler-accessories/
Accessories cordova cooler
.
Cordova Accessories - Cooler Wraps, Marine-Grade Pads \u0026 Rulers by USATuff
.
You will also like:
.
388
389
390
391
392