Monday January 23,
NEAL P. GOSWAMI
Staff Writer
BENNINGTON -- Local and state police are working with a veteran lawmaker to create a statewide gang task force and amend state laws to counter a growing illicit drug trade they say is driven by gangs and organized crime.
Bennington County Sen. Dick Sears, the Democratic chairman of the Senate Judiciary Committee, has been meeting quietly behind the scenes for months with police to strategize on how to stave off drug use and its associated crimes. A dedicated task force, continued cooperation with federal law enforcement agencies and changing the state's conspiracy laws will help, Sears said.
Col. Thomas J. L'Esperance, director of the Vermont State Police, is fully on board. He said there is no denying that gangs and other organized groups are moving drugs from out-of-state into Vermont and driving ancillary crimes like burglary that support drug habits. Low-level gang associates are turning up as dealers in each corner of the state, he said.
"There's a level of gang activity, gang influence, over a lot of the drugs that are being distributed across the state. It's more organized than it has been in the past," L'Esperance said. "What we're finding in pockets across the state, the drugs that we're buying, there's a network in place."
Police, government officials and the community must accept the changing reality and face it head-on, according to L'Esperance. Vermont has a growing drug problem that is driven by organized crime in New York and Massachusetts, but they are simply feeding a demand, he said.
"We have to, as a state, stop saying that it's out-of-state drug dealers coming up to Vermont to deal. The appetite is here. The reason people come up to deal is because the appetite is here. We have to start looking at ourselves and say we have the problem," L'Esperance said. "The conversations that are happening now, and have been happening, particularly in the senator's committee, are moving that conversation forward. We have to continue talking in those terms. It's easy, it makes us feel good to say it's out-of-state dealers coming up. Well, it's us. They're living in Vermont. They're dealing in Vermont. We're buying in Vermont."
Low-level dealers are being tied to traditional street gangs like the Bloods and the Crips through their tattoos and from interviews with police. Bennington Police Chief Paul Doucette, who along with L'Esperance has been meeting with Sears on the issue, said his officers are also dealing with motorcycle clubs, particularly the Hells Angels.
"We are in a situation now where we have people that are providing us with information, that are telling us things that are going on. For example, with our motorcycle gang activity going on here, they're advertising their events. We know that they're here. They advertise it, they look for the community support. They come into the area, people think, 'OK, these guys are OK; we're having family events.' But in reality, they're not seeing what goes on before the event, what goes on after the event and what's going on for the rest of the year," Doucette said.
While there is no local chapter of the motorcycle club, Doucette said local residents belong to chapters in nearby areas. One member of a Massachusetts chapter that has spent significant time in the area is currently locked up in Massachusetts facing three murder charges. Prosecutors allege the Hells Angels member killed three men to keep them from testifying.
"Just to be specific, when we talk about the Hells Angels, for example, we don't have a chapter established here in Bennington. We have people in Bennington that are members of the Hells Angels in another state, in Massachusetts, for example. They're up here conducting their business. You know, people can laugh, but we've seen this in other areas where people are oblivious to what's actually taking place. They just go about their lives, they have no idea what's going on, and then all the sudden, bang, it hits. That's what we're trying to combat here. We're trying to prevent it," he said.
"We have seen it where a rival motorcycle gang has come into several local establishments that are open late, specifically bars, and there has been some confrontations. We've had to go there, we've had to respond and we've had to remove them. These are things that we didn't see 10 years ago or 15 years ago."
Motorcycle clubs
State police are keeping a close eye on the motorcycle clubs in the Bennington Area, L'Esperance said. The influence of motorcycle clubs has yet to spread to other parts of the state, but it could, he said. "The outlaw motorcycle club influence has not taken off in the rest of the state to the degree that it has here in Bennington. Bennington certainly has the most Hells Angels influence across Vermont.
"Although, there are influences out there with other smaller clubs that are support clubs of the Hells Angels that we're seeing are either being patched into the club or in the process of that," L'Esperance said. "So, we're watching that as closely as we can and working with the local agencies across the state, to include the federal government. We certainly monitor as best as we can and try to initiate investigations when we can and work hand-in-hand, specifically in Bennington, with the Bennington Police in particular, because that's where the influence is."
Another alleged member of the Hells Angels recently had his property set on fire in the Bennington area, L'Esperance said. So far, violence has been contained to members, he said. "That's just the members. The influence outside of that, the intimidation, and things like that, the community may start to see," he said.
The situation is serious, and should be tackled, Sears said. Legislation he is working on with legislative lawyers will create a statewide gang task force, provide funding through the Community Drug Interdiction Program, strengthen the state's conspiracy laws and allow law enforcement access to a prescription drug database. "Most people don't believe it," Sears said of the problem. "I didn't quite believe it either. I thought they were just trying to exaggerate, but the more I heard about it the more I got worried."
Police are strongly in favor of a gang task force. L'Esperance said the existing drug task force focuses on mid- and upper-level dealers. A gang task force would focus its efforts on street-level activity, he said. Officers on the drug task force are usually under cover for lengthy periods of time. That may not be the case with those on the gang task force.
"The drug task force runs under the radar. The gang task force may not run under the radar," L'Esperance said. Vermont may already be falling behind on tackling gangs and organized crime. States across the country have already begun to move forward with similar plans, according to L'Esperance.
"Vermont has a history of staying ahead of social issues, clearly. In some of the crime issues we kind of lag behind," he said. "Most states, all of the New England states that I'm aware of, have a gang task force to one degree or another."
"We're operating behind the eight ball in terms of some of the activity but we're not that far behind," he added. "I think that collectively, the police agencies across Vermont, if we put something together with a gang task force mission, we can work with the communities and put something together that I think will he helpful to the state."
Additionally, police believe the state's conspiracy laws are too soft to tie street-level dealers to the brains behind the organized operations police are seeing. Low-level dealers rotate in and out of jail, but leaders remain in place. Strengthening the state's conspiracy laws "would break down some barriers from an investigative approach," L'Esperance said.
"It's a tool in law enforcement that we use really only through the federal government right now. There are pretty good conspiracy laws that the U.S. attorney's office works with us on. If we can drill those down to the state level we can probably effect investigations on a local level at a higher rate than we can right now," he said.
"To get to that higher-level person, we hit so many road blocks and barriers along the way. The street-level and those people that choose to deal, we can get to them."
"We need a bigger hammer"
Local and state police do have the ability to bring cases to the U.S. attorney's office and partner on cases, gaining access to federal conspiracy laws. That means investigators can apply pressure to low-level offenders to roll over on the people directing them. The cases local and state police bring forward are not always big enough to draw the interest of federal agents and prosecutors, though.
"They don't take every case. A lot of cases may not rise to that level," L'Esperance said. "But, it's a big enough deal to the people living on Main Street in Bennington or Rutland that these types of investigations of people that are causing quality of life issues need to be dealt with. We need a bigger hammer at the state level so that we don't have to rely on the federal government."
Sears said the head of the New Jersey Crime Commission will speak to lawmakers on Wednesday on the steps that state has taken. Some of what is developing in Vermont has already occurred in New Jersey and other states.
The legislation will also include new ways to address drug addiction and treatment. Sears said solving a growing drug and gang problem in the state must allow new tools for police. It must also include ways to help people addicted to drugs to reduce the demand.
The culture within the policing community has changed, according to L'Esperance. As director of the state police force, he is backing Sears' efforts to introduce new treatment methods, including mobile methadone clinics that have seen vehement opposition in Bennington in the past.
"I don't think you can have a conversation about prescription drug abuse without talking about treatment. It has to be a component of everything that we do," L'Esperance said. "Treatment and education are vital, otherwise we deal with the same people over and over again. I don't think anybody wakes up and says, 'Today I'm going to be a heroin addict.' You graduate to that level. At some point in their life they're going to hit rock bottom. It may be through the police, it may be through just circumstances in general, yet it has to happen. And when it happens there has to be facilities and people in place to allow them to get their life back on track, otherwise, we're never going to put a dent in this thing. So, I'll back, percent, any treatment options, any treatment facilities, with a straight face and look you in the eye. It has to be a component of what we do. There has to be some type of relationship that's already developed with people in that arena that we work with."
L'Esperance and Sears said Vermont remains an ideal place to live and work. In fact, it remains one of the safest places in the country to reside. Sears' pending legislation is a way to prevent the situation from growing out-of-control, he said.
"We're the second-safest state in the nation. It's a beautiful place to raise a family. I wouldn't want to go anywhere else to raise a family. But, times have certainly changed and crimes have certainly changed. Just the quality of life crimes have really increased," he said. "We're not getting overrun with gangs. I think we should be clear with that. But, it's here. The activity is here." Sears said he expects his legislation will receive broad support in the Legislature. Lawmakers and the community must take steps to keep the issue of drugs and organized crime from being able to fester, he said.
"My goal is to try to not have it get worse. To admit that we've got a problem," he said. "The first thing you have to do to solve a problem is admit that you've got a problem. I think for too long here we've been denying that we've got a problem. We, as community members, have been denying it."
Contact Neal P. Goswami at [email protected] Follow on Twitter: @nealgoswami
Sours: https://www.benningtonbanner.com/content/tncms/live/
VTrendlines: Gangs follow opiates to VT
As illicit drugs have trickled into Vermont in past decades, so have gangs. There is no comparison to the nation's larger cities, those in law enforcement say, but communities across the state regularly experience activity related to organized crime.
Federal laws have made a difference in the past two decades, local police chiefs say, but more needs to be done, including the creation of state gang laws.
Some identifiers include tattoos and clothing colors, but some gang members come and go without being detected. Burlington's police chief reminded the community to steer clear of stereotypes, as he said the word "gang" conjures an image that might be inaccurate.
The Burlington Free Press interviewed law enforcement about gang activity in Vermont. Excerpts from their emailed responses:
Burlington Free Press: What, if any, gang-related activity do you see in your community? Is it constant, intermittent or rare? Are there certain characteristic crimes (drugs, weapons, etc.)?
Gary Taylor, chief, St. Albans Police Department: We have seen gang-related activity in St. Albans in the past and continue to see sporadic levels of gang-related activity with a fairly low level presence in the community. The presence and activity is generally centered around certain individuals, their associates and subject of interest. Much of the illicit drug activity in St. Albans has a connection or supply chain that has ties to out of state groups/gangs. The most notable being the "Bloods."
Michael Schirling, chief, Burlington Police Department: We see intermittent activity not related to organized street "gangs" but to individual members of organizations that are in Vermont from elsewhere for criminal enterprise. Our diffuse drug market, particularly in the arenas of heroin and crack cocaine, are sometimes exploited by members of organized crews, sometimes affiliated with "street gangs" from urban areas.
Members of the Vermont State Police, including Sgt. Daniel Trudeau and Lt. Col. Matthew Birmingham: Gang activity at different levels is prevalent throughout Vermont, but it is mainly concentrated in population centers. There are various types of gang activity including street gang members, such as the Bloods, Crips and Latin Kings from other states, and small-scale gangs comprised of local adult or juvenile residents. Small-scale outlaw motorcycle gangs also are found in some areas of Vermont. Drug trafficking is the most common gang-related crime in Vermont, especially for the out-of-state gangs who are exploiting the drug market here. Weapon trafficking is another crime generally committed in combination with drug trafficking.
BFP: Does your proximity to other states/cities have an impact on the volume of gang-related activity you see? How do we compare nationally?
GT: I don't think any of us would characterize the gang-related activity that we see with the high-profile gang activity that large cities and metropolises experience, but I do believe that we are experiencing the same inner-city spillage that the rest of rural America is experiencing.
MS: We do not have a sense of comparison nationally. Proximity to New York City and other more urban New England cities does have an impact, but it seems less so the further north into Vermont. What is interesting is that northern Vermont seems more impacted by cities further away: New York, Chicago, Detroit and Philadelphia most recently.
VSP: When speaking specifically about well-known street gangs, such as Bloods, Crips and Latin Kings, our proximity to other states has certainly had an impact on gang-related drug activity. Most organized gang members come to Vermont from surrounding states.
BFP: How hard is it to determine if someone is in a gang? It seems likely an affiliated member could be in the community without being charged with a crime or if arrested for a crime might withhold that information. Does this ever happen?
GT: It really depends on the gang's desire to assume a high or low profile. We have seen it both ways. We have both "big city gangbangers" and some home-grown gangbangers. The home-growns have names such as Franklin County White Boys, ESR or East Side Ryders and a few other names that come and go. The home-grown gangbangers tend to be more high profile. Many of them do in fact withhold that information. We look for gang tattoos, street names or monikers, associates and self-reporting.
MS: Historically, gang members wore their colors or symbols overtly. That happens less often, especially in places like Vermont, where they stand out. Determining affiliation or former affiliation is done through law-enforcement contacts, sometimes tattoos, information provided by people who know them, and even from the person themselves indicating an affiliation or former affiliation.
VSP: It can often be very difficult to determine if someone is a gang member. Gang members are frequently identified by intelligence, tattoos, clothing or self-admission. It is common for out-of-state gangs to recruit or have affiliate or associate members, which are frequently Vermont residents. An affiliate may not be readily identifiable but may make it known that they associate with a specific gang. It is also possible that a gang member or associate could be arrested and not detected as a gang member.
BFP: When arrests are made, in what cases is gang activity/affiliation suspected? Are people asked about affiliation or is there a reason to ask them?
GT: Assaults, home invasions, tagging, illicit drug and gun activities, threats and intimidation, etc. If we suspect it, we often ask.
MS: Generally, there is only a line of questioning on that topic if there is some inference that there is an affiliation, not as a matter of regular practice.
VSP: If an arrest is made as a result of a long-term investigation, such as a drug case, many times the suspect(s) may have been identified as gang members during the investigation. Some arrests are a result of a brief interaction with law enforcement, such as a traffic stop, and the arresting officer may not be able to readily identify the suspect as a gang member.
BFP:Do you anticipate changes in the future of gang activity seen in Vermont? Why or why not?
GT: As the availability and costs of illicit drugs such as heroin, crack cocaine, bath salts, ecstasy and meth have lowered in the large metropolises that we are surrounded by (Montreal, Boston, New York City, Springfield and Holyoke, Mass.), I anticipate that we will experience more and more of the gang spillage into our area. I fear that some of the recent media attention about the potential profit margins that can be made selling drugs to Vermonters may motivate some, who did not know, to seize the opportunity to get into the supply-line business. We have experienced gangbangers from the city setting up shop in a hotel or motel room and wheeling and dealing for several days (until they run out of product) and then closing up shop and going back to the city.
VSP: Because of its rural nature and small population, Vermont does not compare to large metropolitan areas as it relates to gang activity. There are local gangs and imitators, but most are not very organized. These types of gangs will always be present and can be found all over the country.
BFP: What are your general thoughts regarding gang involvement within Vermont?
GT: From the outside looking in, gangs look different in Vermont than they do in large metropolises. They do not traditionally hang out on street corners in large groups, flagging and dealing drugs. They tend to fly under the radar and conduct themselves more like street entrepreneurs. They often are hauling drugs to Vermont and guns back to where they have come from.
MS: It is important for Vermonters and Burlingtonians to know that we do not exist on an island. We have all the same challenges that any state or city have. While we remain a very safe place; it is their vigilance and low tolerance for crime and disorder that creates that safe environment. Be engaged and exhibit tempered vigilance with regard to safety, while not being hypersensitive.
VSP: Gang prevalence in Vermont is generally dependent upon the drug market in Vermont. The current opiate epidemic is a driving force behind the out-of-state gang members operating within the state.
BFP: What's at stake for Vermont?
GT: Our very way of life. The quality of life in our communities.
VSP: The opiate epidemic will continue to drive gang activity in Vermont for the foreseeable future. We expect that out-of-state gangs will strengthen their efforts and continue to exploit the lucrative drug market. Law enforcement will continue to remain vigilant and maintain pressure on the supply lines.
BFP: How have we made a difference (federal laws taking action, etc.)?
GT: We need to create and/or adopt state gang laws.
MS: In the realm of organized criminal activity, violent crime and high-level drug dealing, the federal criminal justice system is the key component of the criminal justice landscape that protects Vermonters. Federal laws targeting organized gang activity nationwide have been one key component in reducing violent crime everywhere from historic highs 20 years ago.
VSP: There has been a significant increase in state-level drug investigations that have been referred to the U.S. Attorney's Office for prosecution. This has been very successful in going after multistate organized criminal organizations.
BFP: What are the available resources, if any? Roadblocks?
GT: Individual officials refusing to acknowledge the presence of gangs in Vermont and refusing to commit any resources.
VSP: On the law-enforcement side, we have many resources to include the Vermont Drug Task Force, which utilizes specific state allocated funds for anti-gang operations. This unit has been incredibly successful in identifying gang members operating in Vermont and arresting their members. The Attorney General's Office, state's attorneys across the state and the U.S. Attorney's Office have been very successful prosecuting organized gang members who sell guns and drugs in Vermont and across the region.
Contact Jessie Forand at [email protected] or
Just the facts:
Data based on information gathered by the Vermont Department of Corrections since June
● The Vermont DOC defines a Security Threat Group (or prison gang) as a group or association of two or more persons who may have a common identifying sign, symbol or name and who individually or collectively engage in, or have engaged in, criminal activity which creates an atmosphere of fear and intimidation. Criminal activity includes juvenile acts that, if committed by an adult, would be a crime.
● Other common elements and identifying criteria of Security Threat Group associations or groups are:
A common name or identifying sign, tattoos, gestures, colors, language or symbols.
Members or associates who individually or collectively engage in or have engaged in a pattern of gang activity, criminal activity or departmental rule violations.
Potential to act in concert to pose a threat or potential threat to the public, staff, visitors, inmates or the secure and orderly operation of the facility.
● 9, individual males have been jailed at a correctional facility in Vermont in the past three years.
● of them, or percent, have been identified as being affiliated with a Security Threat Group.
● Groups with the most affiliations or ideals within the Vermont system include: Outlaw Motorcycle Club, Latin Kings, Crips, Bloods, white supremacy and those categorized as homegrown.
■ 12 percent of the Security Threat Group affiliations are within homegrown Security Threat Groups within the male population. There is little to no data about female gang activity; females are less likely to be involved in gang activity nationwide.
Source: Vermont Department of Corrections.
Sours: https://www.burlingtonfreepress.com/story/news/local//07/06/vtrendlines-gangs-follow-opiates-vt//
THE BILL'S BACK IN TIME COLUMN PAGE
Copies of my column in Mark Thomas' "Racin' Paper"
Column #4 [All previous columns unavailable]
BILL'S BACK IN TIME
By Bill Ladabouche
REMEMBERING BUCKY, WITH HELP FROM OX
Terry "Ox" Osterman had a number of thoughts, which he conveyed in a recent lengthy phone to me. I hadn't talked to him more than twice in my life, the most recent conversation being , but all he had to say is "This is Ox" and I knew who he was. Must be nice to be that unique. Ox had wanted to point out that the Bundy family who raced in the Hurricane division at Catamount Stadium in the early 's was not from Essex Junction, Vermont – but, rather, from South Burlington.
We had landed on the topic of the NASCAR Grand National Division [now Nextel Cup], probably because of Ox's affection for the late Richie Panch, who had raced with us in the Northern NASCAR Tour in Richie had gone into the Grand Nationals in and had raced there with some success until his untimely death in a plane crash. Ox had been looking at some special release from NAPA and found out that Lee Petty had won a race at Plattsburgh, New York's Airborne Speedway in , driving a Chrysler.
We had touched upon some of the men from the Keene, New Hampshire area who had connections to that golden era of the late 's and early 's. He mentioned the name of Terry Marks, who has done much to preserve the cars and the memories of that time – in that region. Terry is best known for co-organizing the wonderful Swanzey vintage car meet that happens every summer near Keene. He restored the Stroker Smith driven to so many championships by Moran "Sonny" Rabideau from Brattleboro, Vermont.
!

Bill Ladabouche Photo
Terry Marks [furthest left] organized the assemblage in this vintage
car show photo.
Marks' shop in Westmoreland is, according to Ox, a treasure land of vintage racing stuff, like vintage racers, racer parts, photos and more. He has made many friends over the years, and he has preserved one of the most important race cars in New England, the , to boot.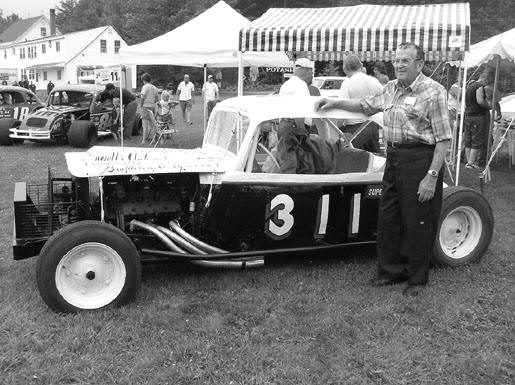 Bill Ladabouche Photo
Sonny Rabideau with the legendary Stroker Smith flathead.
Osterman, himself, has quite strong connection to the racing of the past. As a member of the motorcycle organization The Super Hogs, he hung out with the likes of Kenny Bucklin, Phil "Super Hog" Bowler, and Darrell Tucker – to name a few. Bucklin [or Bucky as we all called him] was a pretty fair racing mind in the region. In , when Marvin Panch decided to send his son, Richie, up to Vermont to learn the racing trade, he acquired the services of Bucky as crew chief. That meant Ox, Hog, and Bucky's father – in – law Mr. Coke, were thrown into the deal.
Richie, one of the most pleasant and popular young men to ever race up here, was only 16 at the time, and he had to essentially become one of Tom Tiller's family that summer. He had one of the more unique first seasons any driver ever had, rubbing shoulders with a motorcycle gang of very intelligent men as his crew. The Panch effort had landed a former Donnie Allison Chevelle, an extra engine, a borrowed [but topnotch] hauler, and a sponsorship from an obscure local business called Mer Con. Mer Con happened to operated by a little-known business [and former Catamount Flying Tiger driver] named Thomas "T-Bone" Curley.
The brief Richie Panch chapter is one of the most interesting little vignettes in the history of racing in my region. It had a semi-sweet conclusion. Richie went down, from the Northern NASCAR experience and proceded to compete in the Grand National division for Rookie of the Year. Marvin Panch had Bucklin build a car, and Richie was holding his own against Canadian Earl Ross until the latter landed a fat deal with Carling Brewery, advertising their Red Cap Ale brand. Ross then took the show over to Junior Johnson, which helped him be one of the few rookies in NASCAR's big leagues to ever win a race in his rookie year [at Martinsville].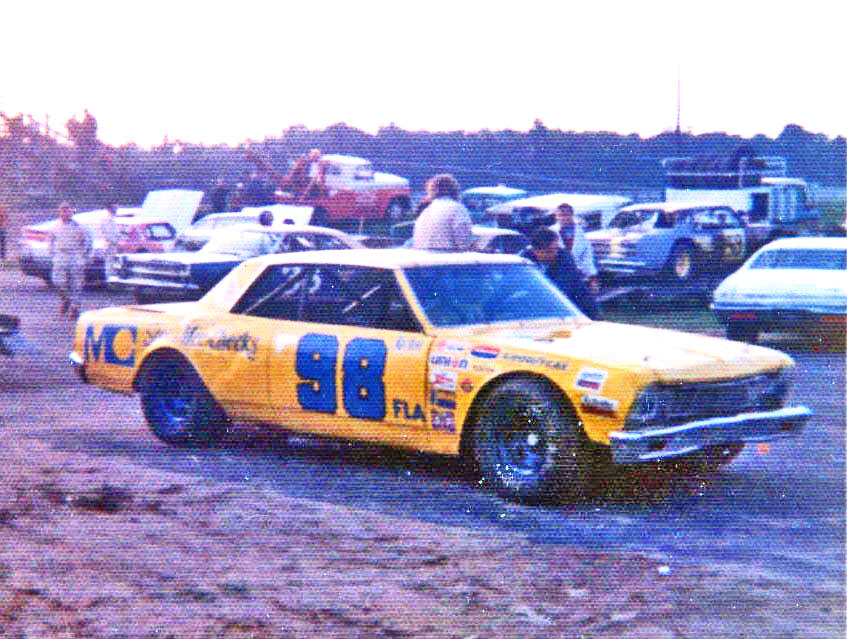 Bill Ladabouche Photo
"Save Mer Checks" urges the ad on Richie Panch's quarter panel . That's Ox towering over the car and Kenny Bucklin leaning in to talk to young Richie.
That pretty much left Richie without a chance of landing the rookie title. Ross went off into the sunset and Richie stayed on, racing for a few more seasons. It was difficult for him to be totally effective because his eyesight was always suspect. It was said that if you need someone with balls enough to drive a car to its limit where others chose not – it was Richie Panch you wanted to find. But, finally we lost Richie in that plane crash and that was that. Marvin Panch had found Richie's host father, Tom Tiller, a ride in the Permatex race, but we no longer had one of our Catamount graduates to root for in the big time for several years. One of Richie's last cars lived on, as the first car for Bill Elliott.
Ox had several stories about Tiny Lund to relate. After Lund had come and raced with boys with his Chevelle, it ended up in the hands of Claude Aubin, who had a wonderful season with it around or Aubin inherited the entire Bucklin entourage as his supporting cast, as well as a few colorful Candians [and, of course, his gorgeous blonde daughters who were always around]. I'll always remember a fourteen year-old kid named Kevin Lepage, tired of watching his brother race, flirting with the younger Aubin daughter and trying to speak French to her.

Photo Courtesy of Guy Corriveau
Claude Aubin was just another Canadian driver until he got his hands on a Tiny Lund Chevelle around
Aubin did not always have the best relationship with American customs officials, so the car often was garaged on Riverside Avenue in Burlington, Vermont – kept at the Road Chop Shop, a hangout for Ox, Bucky, Hog, and their buddies. Claude really flew that year, and it seems as though he was never again as strong a factor as he was when the former Lund Chevelle was in his hands. Given the lifestyle in Canada with that crowd, I imagine Ox would have some stories that could curl your hair.
Ken Bucklin did get around in those days. Besides building a couple of Grand Natinal cars, crew chiefing for Aubin and Panch, he ran operations for the well – funded Hector LeClaire team for a while, and he also was the first crew chief for the even – better – funded Remo Pizzagalli team, which fielded a car for Mike Barry and one for Peter Pizzagalli for a while. That operation had the best of everything, but Bucky's rough – around – the – edges image did not sit well with the image desired by the PC Racing group, and he soon departed. Kenny is another of those people we lost too soon and everyone who knew him misses him.
Lastly, current – day Airborne Speedway frontrunner Brian "Bucko" Branham really helped those of us who are trying to preserve race history when he recently released from very old photographs that go back into the early days of Airborne Speedway. Apparently the property of his family [and Bucko is the youngest of three racing brothers], these pictures include several of his oldest brother, Bill, who had shown tremendous potential in the 's as a late model driver. Also featured in the Branham pix were the early legend, Jackie Peterson, along with Mack Miller, and several other shots of Airborne in its crude infancy as a dirt track. It is helpful to me because many of the same men who raced Airborne then, also raced in the northern Vermont area at the same time.

Photo Courtesy of Bucko Branham
This rough and ready bunch raced the Studebaker [numbered 7UP later] at Airborne and Catamount, to name a few tracks. From left – Gene Fountain, Bill Branham, and Don Burl.
Tracks running at the same time as Airborne at the time of the Branham photos included Malletts Bay, Otter Creek. Saranac Lake, Fairmont, and perhaps the track in Warrensburg, New York. I recently drove through Ticonderoga, New York and saw a road named "Race Track Road". I am hoping that this area of the town might be where the old Champlain Speedway was located. I have seen Champlain on the Terraserver satellite photo system, and I must go back to it and see if I can determine if this is the case. Anyone who knows anything about either Warrensburg or Ticonderoga would be doing me a favor if they would contact me.
Please email me at [email protected] if you have any photos to lend me or information and corrections I could benefit from. Please do not submit anything you are not willing to allow me to use on my website - and thanks. For those who still don't like computers - my regular address is: Bill Ladabouche, 23 York Street, Swanton, Vermont
AS ALWAYS, DON'T FORGET TO CHECK OUT MY WEBSITE: www.catamountstadium.com
Return to the Main Page
Return to the Columns Link Page
Return to the Main News Page
Sours: http://www.catamountstadium.com/4thcolumnA.htm
Bandidos MC Brazil - Red and Gold Party 2020
This comment is truly one I will tell for years to come. It shows how strong the Harley family is, how well an employee at Wilkins stepped up to the plate and helped out a breakdown situation. 6 days into an east coast Canadian and US ride, my rear tire blew in the middle of White mountain park, Crawford Notch, in 95 deg + temp and no cell service. After a tow to Conway, many phone calls, Wilkins had the only unique size I needed in the whole state. The only way for me to get that tire and to get back home to Canada for the weekend, was to get that tire delivered that Thurs night for a Fri install. Richard Cleveland, after hearing desperation in my voice I'm certain, kindly said he would ride down for a 3 hour trip, after work Thursday afternoon, to deliver the tire to me for a Fri am install so i can get back home for the weekend. Who does that, seriously ?!?! So on way back home, we of course, stopped into Wilkins to see the store, get our poker chip, and meet everyone. All staff, ownership and what a great store, treated us like gold again. Pride of history, ownership, services and customer service resonates throughout the store. So again, hats off to the unbelievable level of service to help out a customer and fellow rider in trouble. Richard, you out did yourself and should be applauded for what you did by your peers and coworkers. Again, many thanks to Wilkins staff and specifically Richard. thx. Launce " Bagger " Bagg.
LaunceBagg,Shelburne,ONTARIO CA
Sours: https://www.wilkinsharley.com/read-other-customers-testimonials--xtestimonials
Hogs mc vermont super
.
Bandidos MC Brazil - Red and Gold Party 2020
.
Now discussing:
.
298
299
300
301
302