Weekend on the Edge 2020
Rain or Shine
2020 was the year of cancelled events. Nothing was what it was supposed to be with the 'Rona running rampant everywhere. Drag races cancelled. Sled pulls all over the country cancelled. Even the Ultimate Callout Challenge, the biggest diesel gathering of the year had to be postponed and later cancelled. Social gatherings of any kind were being limited all spring and summer long but come fall, some areas were starting to loosen up the reins a bit and a few things could start happening. Luckily, one of those things was Weekend on the Edge, hosted by Edge Products at their Ogden, UT facility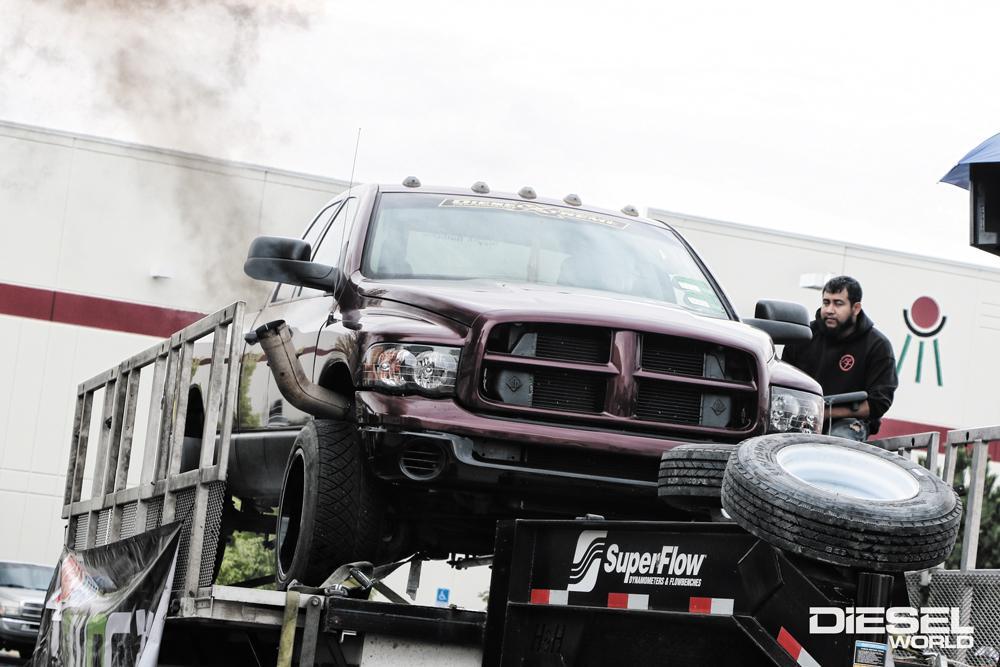 For 15+ years Edge has been hosting this annual fall event and had just about come to terms with the idea of not being able to continue the tradition for 2020, but luckily county regulations let up and the team was able to put together a scaled back version of the event. In year's past, Edge hosted quarter mile drag races on a Friday night, followed by a Saturday dyno competition and sled pull. Unfortunately, with the closing of their local track in Salt Lake City a couple years back, they've tried to continue with their big sled pull and dyno competition every year since. Due to some uncontrollable circumstances with this massive health pandemic around the world, it was decided to hold off on the sled pull event for 2020 and just host a quaint customer appreciation event at their facility with the Northwest Dyno Circuit portable chassis dyno to run some trucks. With next to no marketing and advertising campaign, and mainly word of mouth just weeks before the event, there were still almost 100 trucks registered to compete.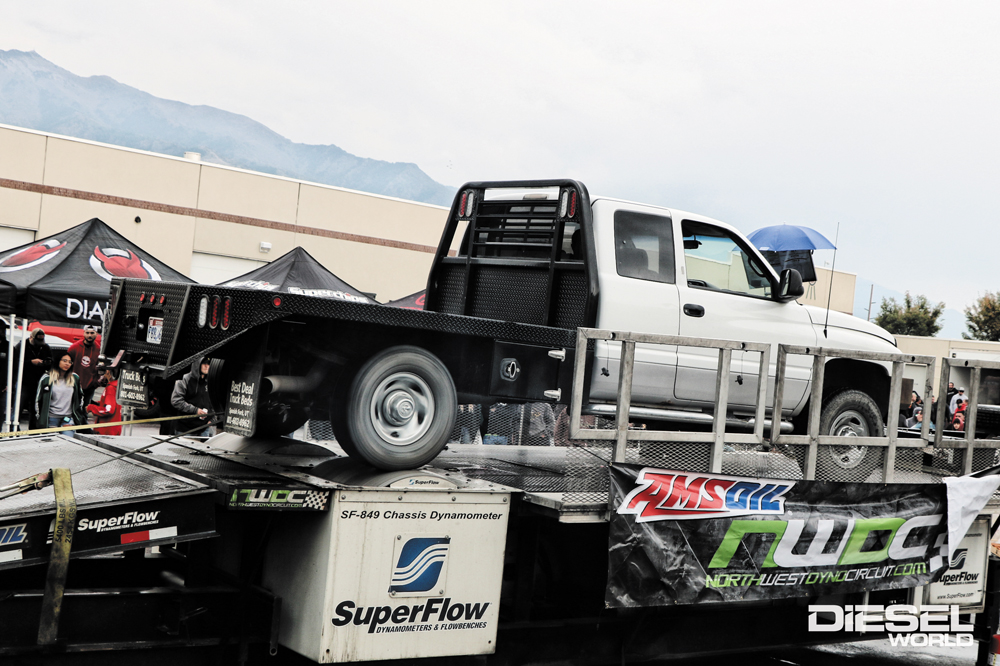 Like previous years, Edge Products hosted a small vendor alley where event sponsors like OptiLube, BD Diesel, Randy's Transmission, Daily Driven Performance, and Industrial Injection were set up displaying some product and selling swag. Other sponsors for the event included Alligator Performance, Thoroughbred Diesel, Premier Performance, ATS Diesel, Dynomite Diesel, Nitro Gear and Axle, and SureCan. Edge even brought in a few food trucks to setup during the lunch time hours to offer free plates to the competitors, employees and public attending the event. Light rain showers through the morning limited some of the crowd in the early hours, but by lunch the sun was shining, and the horsepower numbers were rolling strong.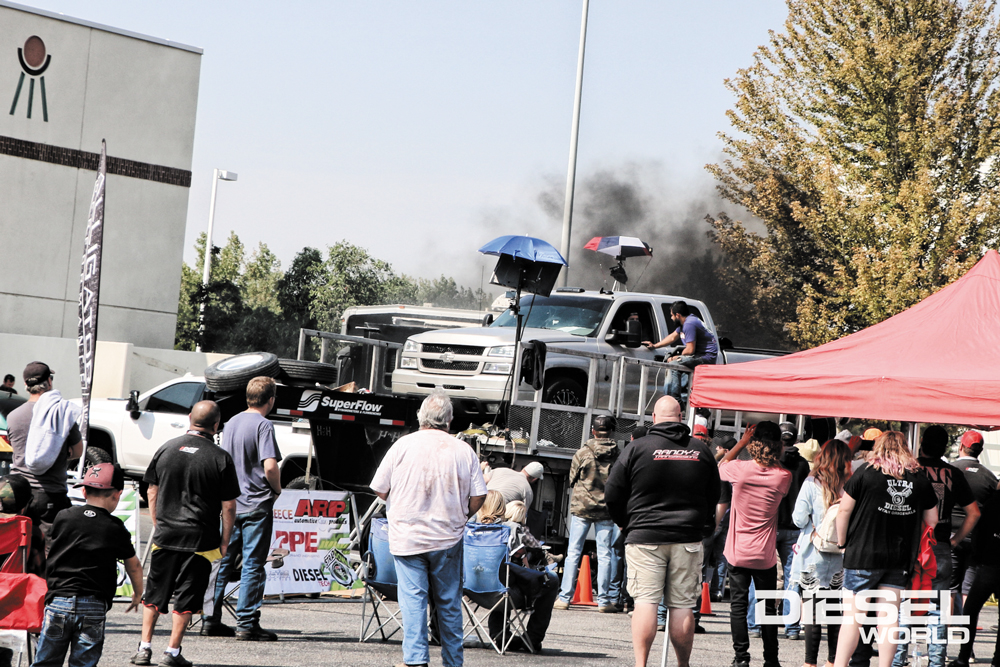 Big talk of the show came from the Ultimate Callout Challenge competitor, Shawn Baca, and his Master Shredder truck. As the lead engine builder at Industrial Injection, this truck has proven itself has one of the top diesel trucks in the country when it comes to horsepower. Baca has been pushing the limits for years and with a handful of 2400-2700 hp pulls consistently over the last year there was talk he'd be shooting for that unattainable 3000-horspeower number on a chassis dyno. It's never been done, but with near perfect conditions, and the excitement in the air from everyone in attendance, the whole Industrial team on site knew it was time to push the limits and break some records.  On the first pull, the truck stood up hard on the rollers, the triple turbos were squealing hard and when the smoke had settled Baca broke his previous best and a new dyno record at 2920hp. With the engine still purring like a kitten, they opted to let it cool down a bit and install a couple larger nitrous jets and go for broke and break that 3000-hp mark. Today was the day.
Unfortunately, on his second pull, the RPM's climbed to quickly and missed the dyno's operating window and didn't record his run so a third pull had to be made.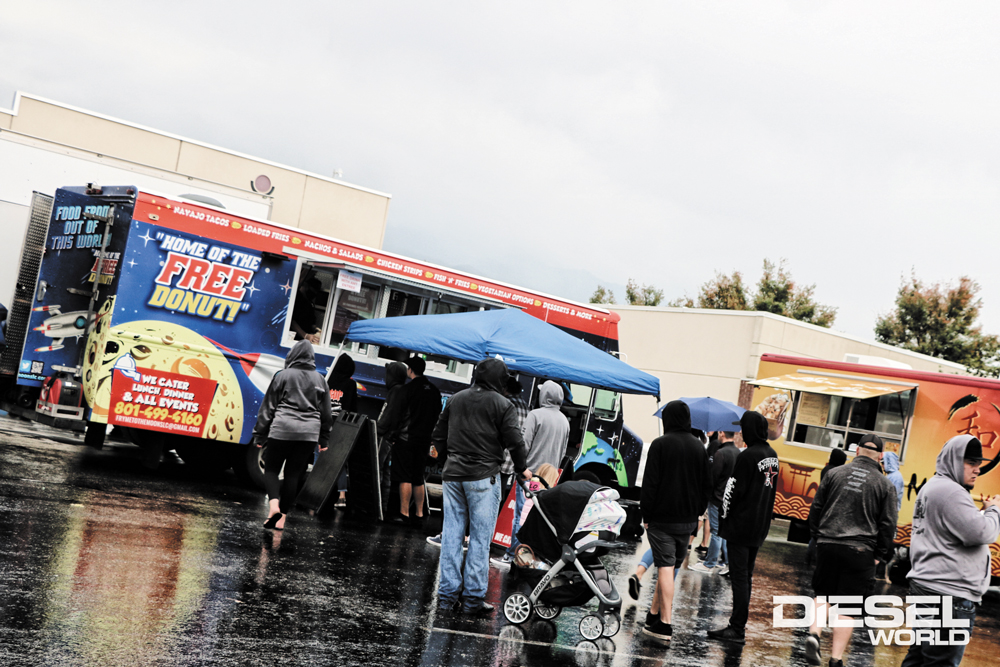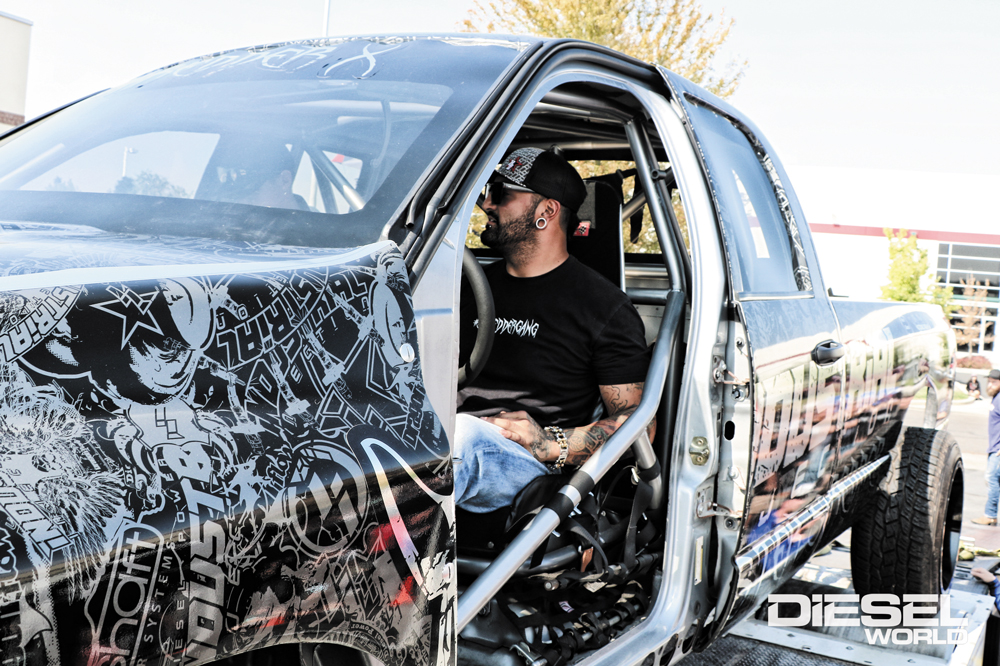 At this point, the engine was extremely hot and struggled to get up on boost with all that fuel as he started the dyno pull, and the nitrous started to come on hard, the engine block let loose near the camshaft journals and one of the largest, most terrifying, and loudest engine explosions we've ever witnessed sent the crowd running. The massive fireball and surrounded the cab where Baca and dyno operator, Kody Pulliam, were able to exit quickly with only minimal burns to their arms and neck. The force of the explosion was enough to send the entire engine block about 8-ft straight up into the air where it later settled back between the frame rails with pieces, parts, and fluids scattering everywhere. Unfortunately, from what we can tell, the entire truck, chassis, engine, and transmission were a total loss, and this will most likely be the last time we see Master Shredder. But knowing Shawn, he's already gone to the drawing board and started devising a new plan for a replacement to continue pushing the limits. Maybe that 3000hp mark just isn't possible on a chassis dyno? If 2020 has taught us anything, it's to always be prepared for the unexpected. With his $100k+ truck rolling away, Baca breaking that record is the unexpected at this specific point in time. But we know Shawn well and honestly, we can't wait to see him break that 3KHP mark.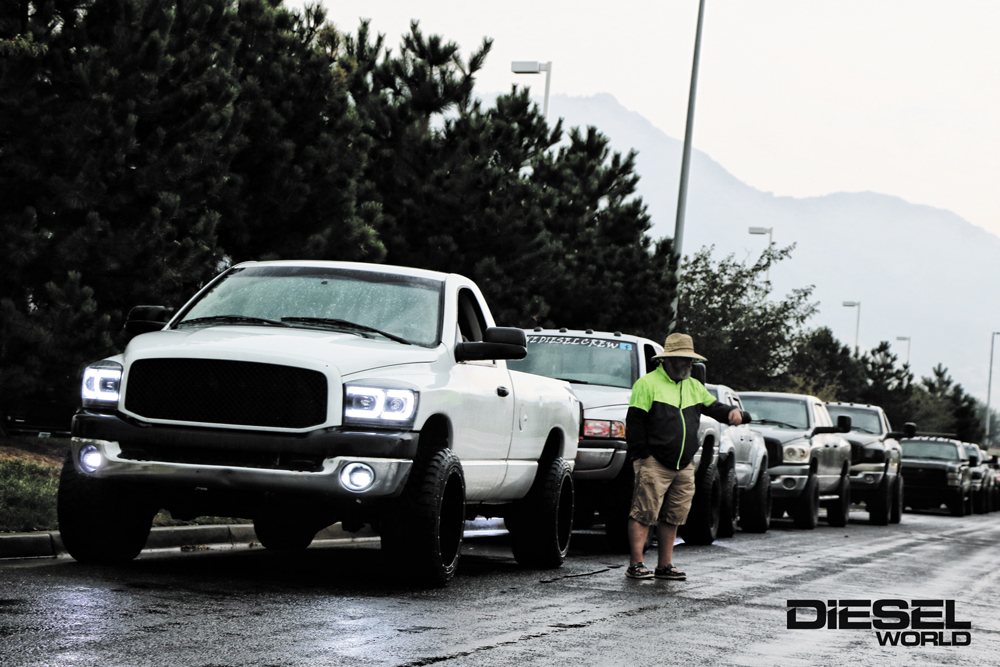 Weekend on the Edge 2020 was definitely a scaled back version of what we're used to seeing at this event year after year. But with everything we've seen happen this past year, we were so thankful Edge Products was willing to put in the time and the effort to make this happen and give diesel enthusiasts something to look forward to and a place they could get together to share their love for the sport.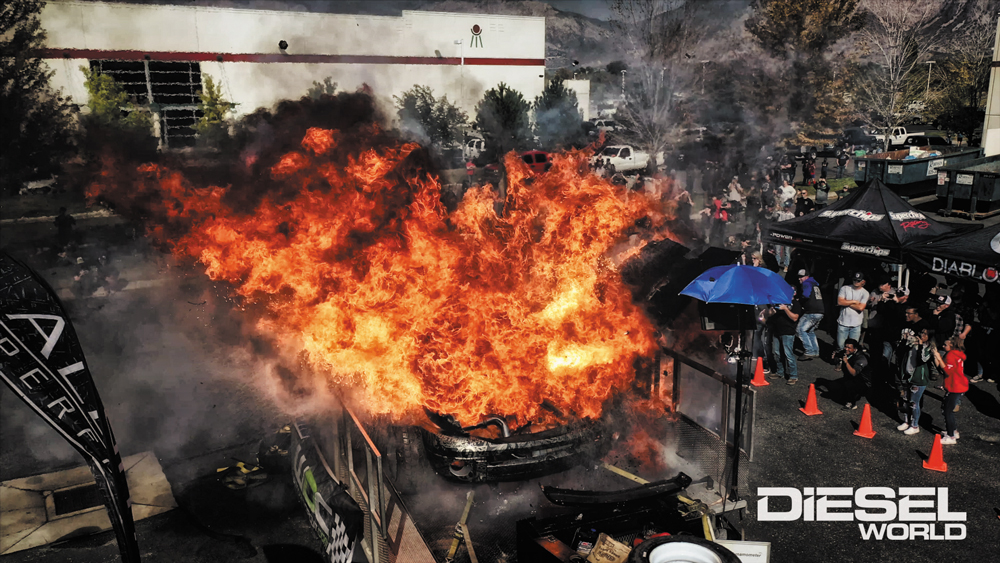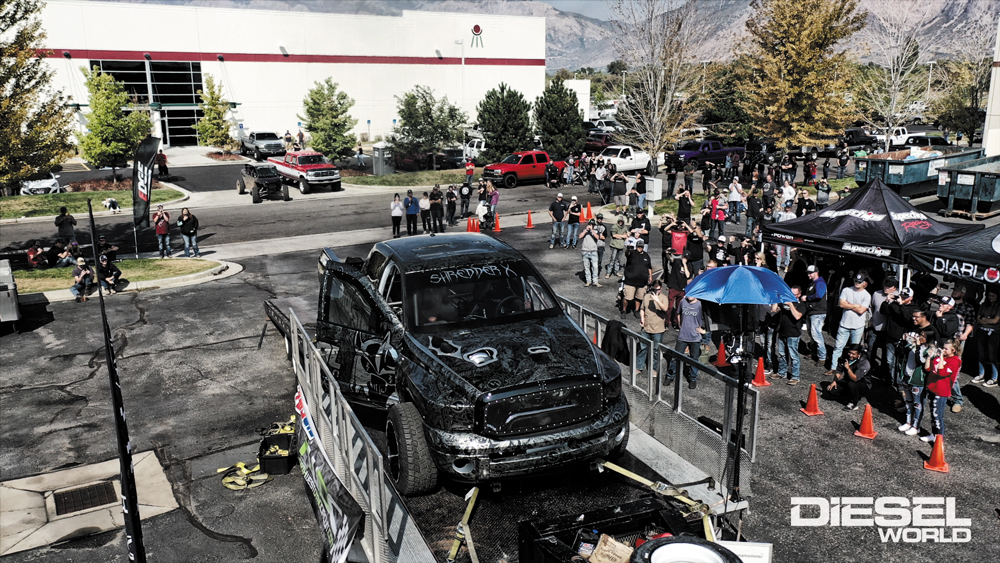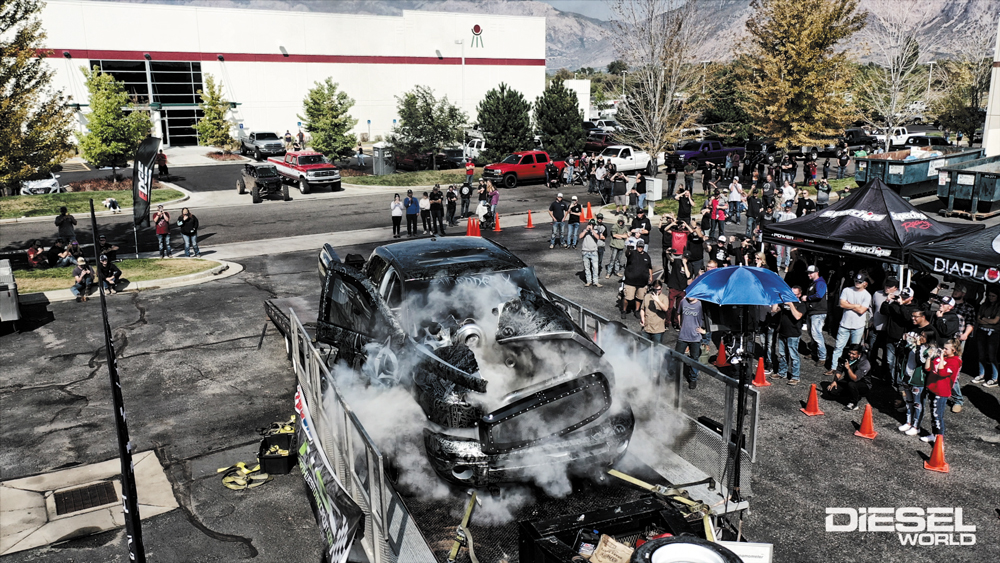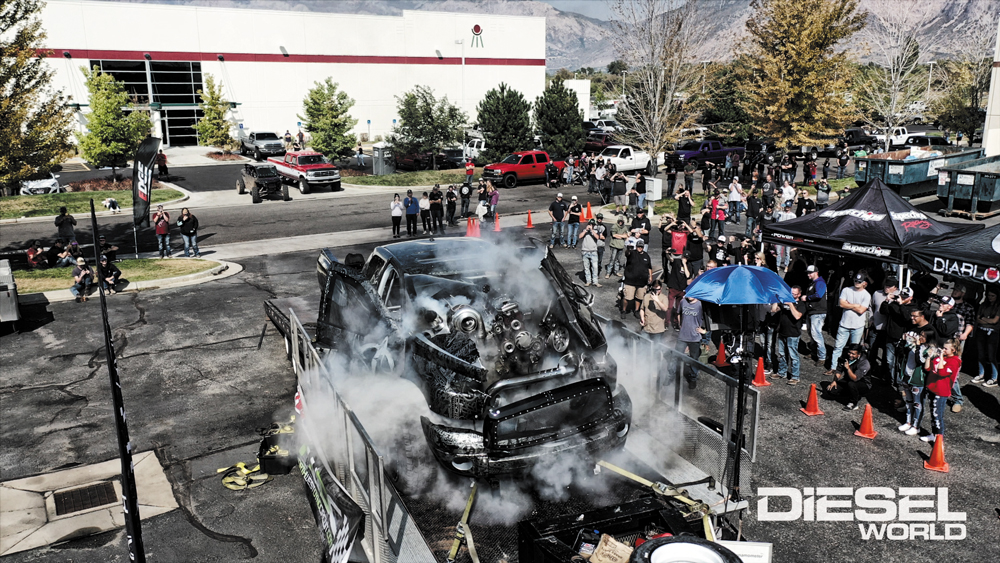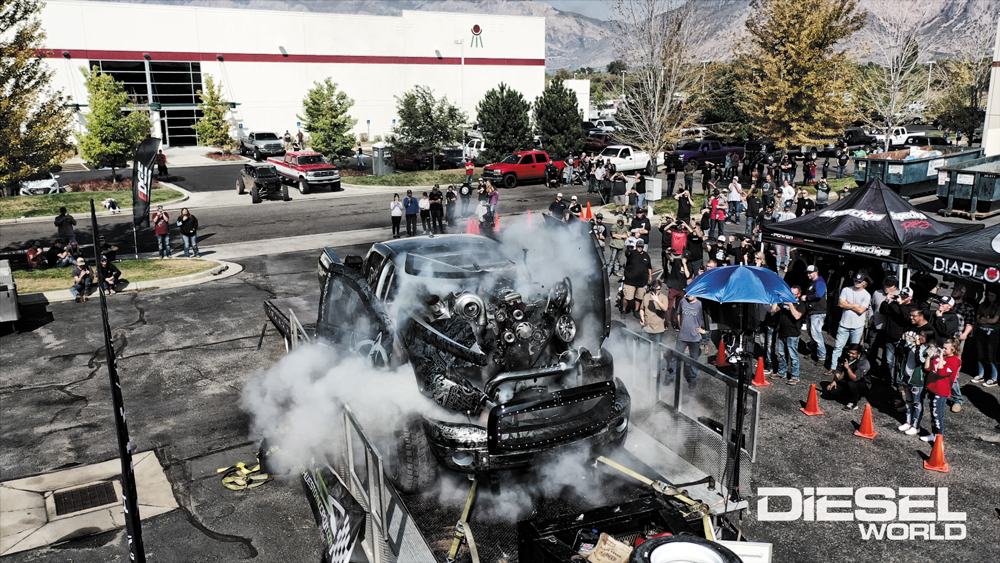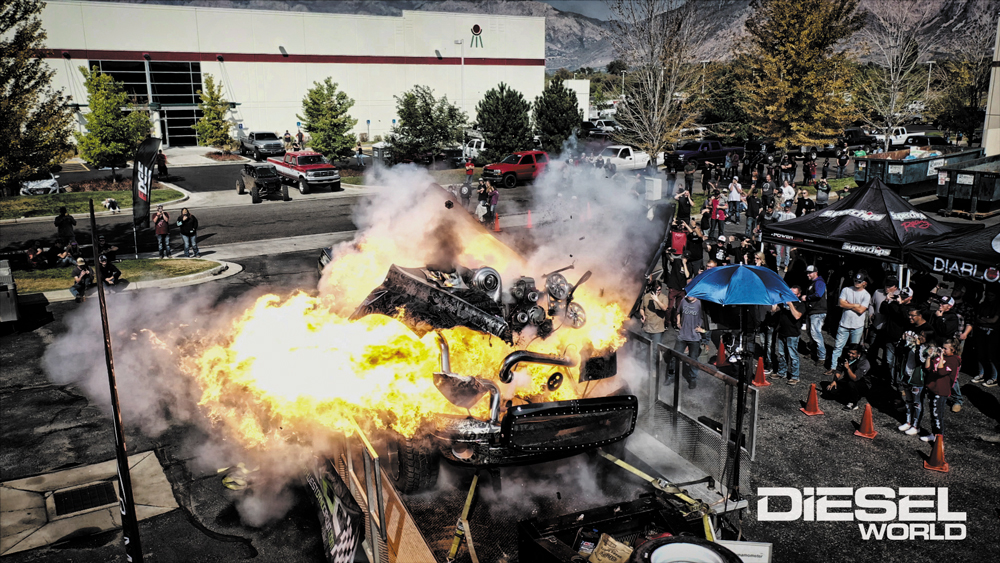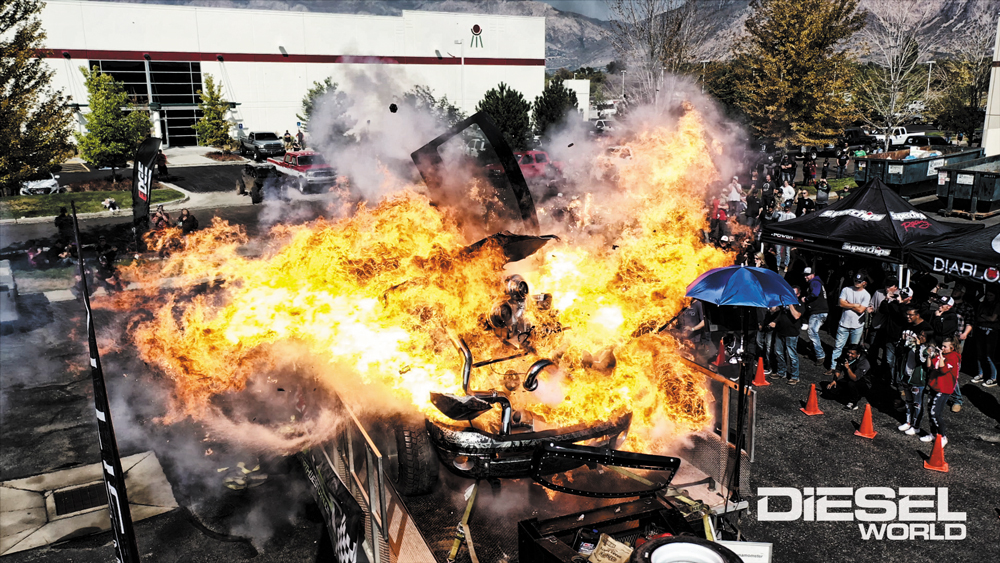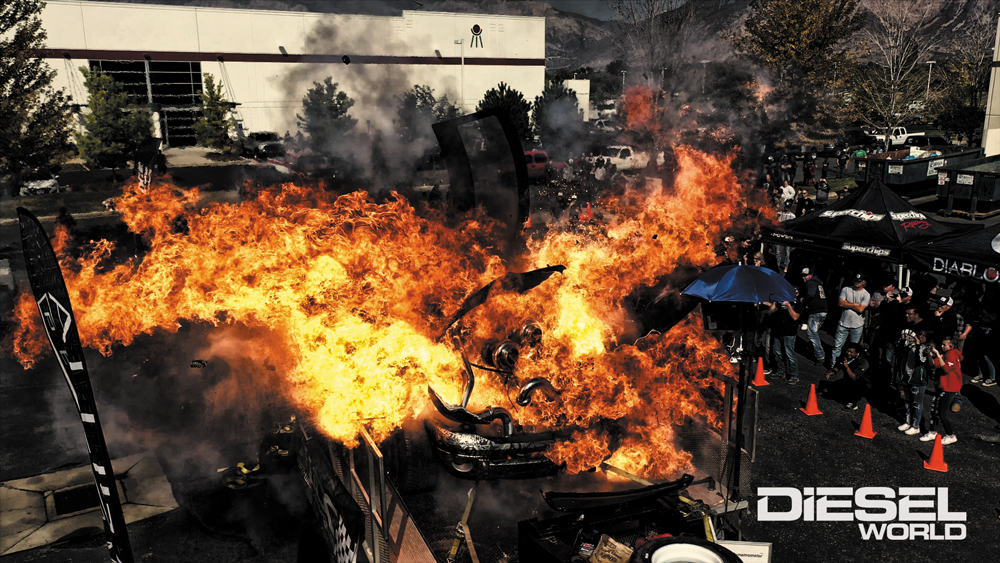 NORTHWEST DYNO CIRCUIT – RESULTS
Stock GM
Trent John
629
Jake Johnson
587
Kole Richards
540
Stock Ford
Dakota Wright
566
Joseph Sampson
429
Stock Dodge
Zach Palacios
581
Clint Bray
512
Tyler Curtis
508
Small Single
Matt Highland
730
Derrick Glass
678
Jacob Preece
607
Large Single
Steven Are
993
Dylan Higley
694
Gerrit VanBeekum
678
Small Twin
Justin Archibald
1004
Austin Ford
726
Richard Henry
691
Large Twin
Paul McClure
836
Unlimited
Shawn Baca
2920
Wayne Yates
767
Kyle Walker
709
Misc/Gas
John Hall
245
Braiden Glover
202
Sours: https://www.dieselworldmag.com/events/weekend-on-the-edge-dyno-competition/
Edge Tuning for the 17-19 L5P Duramax Is Now Available
Author: Edge Products | 09/03/2021
The new GM diesel trucks equipped with the L5P Duramax are heavy hitters in the light-duty truck world and are a crowd favorite due to solid performance, great towing capability, and appealing new body styles. These trucks were also tough to tune via the OBD2, however, we now have full tuning support with the EvoHT2 for L5P. The EvoHT2 is a great tuning option with simple and easy-to-use interface, color screen with great visuals, and pre-loaded tuning offering up to 150 HP and 350 LB-FT of torque. Multiple power levels are included offering performance gains for all types of uses, including towing! To attain such potent performance gains, we've adjusted timing, duration, fuel pressure, torque management, and airflow to attain optimal performance while keeping the truck emissions legal.

The EvoHT2 product requires a simple and quick ECM send-in that is included free of charge with the purchase of the EVOHT2. Simply purchase the EvoHT2, then go to our online form to set up a return for the free ECM MOD process. We made sure to make the send-in process as simple and quick as possible. We will turn around qualifying ECM unlocks within 24-48 hours and overnight ship the ECM back to your door.
Read More
Sours: https://www.edgeproducts.com/blog/post/tremonton_pulls_drags_and_dyno/
It did take us a couple of days to reach Chris, but I had the opportunity to sit down with him yesterday and he was wonderful. He is one of the most best and well known mustang tuners in the US. I learned this first hand when BBR racing called me about an out of stock motor I was having shipped there. The rep, LIVING IN FLORIDA, boasted about how good Chris is. If you want Duff to bake you cupcakes, you have to be patient. If you want your mustang tuned by one of the best in the region, you have to be patient. I stopped by the shop twice and both times Chris was grinding away non-stop at jobs, which is great to see. The rest of the staff was super friendly and helpful in suggesting some suspension parts Id want to pick to help in our build. Piecing together a suspension, is about as complicated as piecing together an engine, but (Justin?) was awesome at pointing me to right what to look for.There might be an appearance that Dynoedge turns down business sometimes. Not really. I have a big project, and while Dynoedge was recommended all over forums, I realized it was smart to try and get quotes. I learned pretty quickly, since I had a mustang nobody local would give me a quote, they pointed me right to Chris (and yes the rates are good). Its good to see that local owned automotive experts have such a great respect for each other that they guide customers to the experts based on their car, turbo, etc... Its great for customers to be guided to the people that can do the best work for them. Its true that some of the chain tuners and shops will answer your call right away, but my positive experience ended there when the representative had to put me on hold for 10 minutes for every question I asked.Anyway, Ill write another review when we finish up our first build with Dynoedge, but we had such a great first impression with them, that we wanted to share it.
Sours: https://usa-services.worldorgs.com/catalog/albuquerque/auto-tune-up-service/dyno-edge
EP EPeX 300Ti put 381 Hp on the Dyno
.
Edge the dyno
.
Dyno Day @ The Dyno Edge
.
Now discussing:
.
276
277
278
279
280