If you are out In the backcountry and keeping your pack weight light, it's impossible to bring a perishable food like milk along for the journey. So, what's the next best thing? Bring a form of powdered milk that can be re-hydrated and still give you that taste of home.
Below we'll be discussing everything you need to know about powdered almond milk – how to make your own, where you can buy it and some yummy recipe ideas!
Putting together a backpacking trip, one thing that can be easily overlooked is the finer details of food preparation and planning. Especially when it comes to breakfast! The saying, "breakfast is the most important meal of the day" has never been truer until you're days-in on the trail and desperate for energy and extra flavor.
Powdered almond milk is a nutritional and tasty addition to your oatmeal, coffee, and cereal.
Make Your Own:
Making Almond Milk Powder takes some time, but I recommend doing so if you are looking for the most flavor and nutrients. Powdered Almond Milk is also hard to find in the U.S. or can be expensive to buy in large quantities. To make your own Almond Milk Powder, you will have to procure a lot of almonds, and have access to a food dehydrator.
Dehydrating Almond Milk – If you want to dehydrate Almond Milk, it is best to create your own Almond Milk. This is because Commercial Almond Milk is made with a very small percentage of almonds to save money, so you'll end up with dried Almond Milk that has almost zero nutritional value or flavor from the nuts.
How to Make Almond Milk:
Soak almonds for anywhere between 12-24 hours. They will be soft and plump. Drain the water used to soak the nuts.
Blend the almonds with a small proportion of water at first, then slowly add water until you've reached the consistency you want. For the best results, use a lot of nuts and not a lot of water. Remember, you're making the milk for powder, so the milk doesn't have to be super viscous or tasty.
Use a mesh nut milk bag to strain the almond bits. The liquid left is your Almond Milk!
How to Dehydrate the Liquid Almond Milk Into Powder:
Line a dehydrator tray with non-stick paper or dehydrator sheet and pour only enough milk on each tray to line the bottom. If your dehydrator doesn't have trays with sides, you can make a "bowl" out of a dehydrator sheet with some paperclips.
Turn the dehydrator to 135 degrees F for 16-18 hours until completely dry.
The product you'll get is similar to a baked brittle. Break up and grind the brittle until you get a fine powder. You can use a clean coffee grinder or a manual grinder.
Is Almond Milk Powder Healthy?
Almond Milk is a healthy alternative to Cow's Milk. Whether you are Vegan or Lactose Intolerant/Sensitive, or just enjoy the taste of Almond Milk, it is a tasty option to consider. Enriched Almond Milk is very high in calcium, vitamins E and D, and very low in sugars and calories compared to cow's milk.
The nutty flavor is another big motivator for Almond Milk trail consumers, as it brings a little bit more taste to meals like backpacking cereal and oatmeal.
Enriched Vs. Not Enriched:
Since Almond Milk does not contain as much calcium as Cow's Milk, some producers enrich it with Calcium and Vitamin D. If you make your own Almond Milk, there will not be any Vitamin D in the product. If you are on the trail, however, you are probably getting enough Vitamin D from sunlight.
Sweetened Vs. Unsweetened:
It has become common for brands to make sweetened almond milk, which has more sugars and calories. It is harder to make your own Powdered Almond Milk with sweetened liquid Almond Milk because it is made from more water and sweetener than nuts.
In the case of making your own pre-packaged oatmeal or cereal mixes, you can also add sugar, cinnamon, or cocoa powder to sweeten the mix. At least then, you know what sweeteners you are consuming, versus the processed gums and artificial sweeteners that might be in sweetened almond milks.
Buying Powdered Almond Milk:
There are a bunch of powdered milks out there in the world. It is important to read the labels when buying Powdered Almond Milk. There are Powdered Almond Milk Mixes which are made for making Asian Bubble-Teas. This stuff tastes very odd when by itself or in anything other than bubble tea. These mixes also usually contain powder from Cow's Milk and are not Dairy Free.
If you are looking for pure Almond Milk Powder, it is imperative to look at the ingredient list of the milk powder you might purchase; a lot of Almond Milk Powder products on the market have additives, gums, and other processed binding agents in the mix.
There is a U.S. based company called JOI that has recently made strides as one of the best powdered milk producers because of their short ingredient list: Blanched California Almonds. This nutbase is Dairy Free, Vegan, Gluten Free, Non GMO, Kosher, and made in the U.S.A. There are 7g of protein per 2 tbsp of Almond Milk Powder, making this a pretty great addition to backcountry meals.
BioFinest is another American brand that makes an Organic Almond Powder. BioFinest uses freeze drying to get its fine powder. There are no additives or sweeteners in this powder.
Using Almond Flour:
This is best if you are just wanting Almond Milk Powder for food purposes like cereal and oatmeal. You can find Almond Flour at almost any grocery store. For the best results, I suggest using a superfine-ground Almond Flour. You will not end up with a super creamy milk consistency, and there will likely be some small particles floating.
If you're only using the powder for oatmeal and cereal, you'll hardly notice the floating bits and although it's not the creamy goodness of fresh Almond Milk, it is still better than water!
I personally love using Almond Flour for trail oatmeal because it adds just enough flavor to make a difference and is easy to acquire.
Not Almond Milk, but Another Alternative:
REI sells a powdered milk creamer made by Laird Superfood. Laird's creamers are Dairy Free, but are made with Coconut milk powder, organic extra virgin Coconut oil, and Aquamin. Aquamin is calcium from marine algae and is packed with healthy minerals. Laird's powdered milk creamers have zero refined sugars or artificial flavors.
If you are interested in using a powdered milk substance for your coffee as well as your meals while backpacking, this might be a great option for you. Laird Superfood has one Dairy Free creamer with organic cacao powder added. The cacao powder adds an extra energy boost and supports cognitive performance.
Recipe Ideas
Chocolate Banana Oatmeal:
Mix Oatmeal, Chocolate Milk Powder, Brown Sugar, Dehydrated Bananas, Dehydrated Blueberries, Semi-Sweet Chocolate Chips (I prefer the mini-chips), and Chopped Walnuts in a large bowl.
Use Ziplock bags to make serving size portions of your oatmeal. Pour about 1 cup of your mix into a bag.
Add 1/4-1/2 cup Powdered Almond Milk or Almond Flour in each bag.
To prepare this meal in the back-country, simply heat up water, and add it to the oatmeal mix in a camp bowl. Add enough water to get the consistency you like and let the mix sit until oatmeal is soft.
This recipe is also great with Shaved Coconut, Honey, White Chocolate Chips, or even Chopped Almonds to add to the Almond Milk. If you have a Food Dehydrator, you can easily dehydrate other fruits to add to this (or any) recipe. If regular Chocolate Milk Powder makes the mix too sweet for you, experiment with Dark Chocolate Hot Chocolate Powder or Dark Chocolate Chip Morsels instead of the sweet ones.
Strawberry Almond Oatmeal:
Mix Dehydrated Strawberries, Dehydrated Blueberries, Oatmeal, Brown Sugar, White Chocolate Chips, Chopped Almonds, Vanilla Powder, Chopped Walnuts in a large bowl.
Divide up into Ziplock bags, 1 cup per bag.
Add 1/4-1/2 cup Powdered Almond Milk or Almond Flour to each bag.
To prepare this meal in the backcountry, simply heat up water, and add it to the oatmeal mix in a camp bowl. Add enough water to get the consistency you like and let the mix sit until oatmeal is soft.
This Oatmeal Recipe is also great with Dried Bananas or other Berries such as Raspberries, Blackberries, etc. This is a sweet tasting oatmeal breakfast but packed with all the fruit sugar and protein from nuts and oats that are perfect for the trail.
Experiment!
There are many ways to use Powdered Almond Milk on the trail, and I highly recommend experimenting with it in your trail recipes. If you're looking for a tasty alternative to your current Powdered Coffee Creamers or want to add some extra flavor and nutrients to your breakfasts, Powdered Almond Milk is a great prospect.
If you are interested in dehydrating food for the trail, something like the Nesco Snackmaster is a great product to start with and will easily earn it's worth within the first few times you use it for backpacking meal preparations. Either for meals, or snacks, dehydrating food is a great way to preserve all the nutrients and shed weight. The dehydrating possibilities are endless. I personally love making my own dehydrated fruit mixes or drying vegetables and chicken stock to use in trail soups.
Also read:
Top 20 Best Day Hikes in the World
Backpacking Food: Lightweight and Nutritious Ideas
Share this article!
Sours: https://trailandsummit.com/powdered-almond-milk-how-to-make-it-where-to-buy-it/
This dairy-free sweetened condensed milk is another fun, helpful, shortcut recipe that I created for Growing Naturals. Unfortunately, they discontinued their rice milk powder line. However, you can still buy rice milk powder from Namaste Foods, Essona Organics, and Better Than Milk. Soy milk powder may also work well, and readers have said that dairy-free coconut milk powder works, too.
Yes, it really is instant. Just 5 basic ingredients, 5 minutes, and a blender is all that stands between you and dairy-free sweetened condensed milk.
This luxurious no-cook, dairy-free recipe can be used as a 1:1 replacement for 1 can of sweetened condensed milk in recipes. And with the ingredients that I use, it is a top allergen-free and vegan substitute, too.
Special Diet Notes & Options: Dairy-Free Sweetened Condensed Milk
By ingredients, this recipe is dairy-free / non-dairy, egg-free, gluten-free, nut-free, peanut-free, soy-free, vegan / plant-based, vegetarian, and generally food allergy-friendly.
Sweetener options: This recipe for dairy-free sweetened condensed milk really does work best with regular or organic white sugar. For a more caramel-like flavor, coconut sugar can be substituted. I do not recommend date sugar (and most likely maple sugar), which yielded a mixture that was way too thick.
I'm sharing this recipe on Shirley's Gluten-Free Wednesdays at Gluten Free Easily and Allergy-Free Wednesdays at Whole New Mom!

Instant Dairy-Free Sweetened Condensed Milk Alternative
Place the rice milk powder and sugar in your blender.Whiz the ingredients for about 30 seconds, or until powdered.
Add the water, oil, and salt to your blender and blend for 2 minutes, or until thick and creamy.
Use as a substitute for sweetened condensed milk in recipes!
3.5.3226
Sours: https://www.godairyfree.org/recipes/instant-dairy-free-sweetened-condensed-milk
6 Substitutes for Milk Powder (Dry Milk)
We include products we think are useful for our readers. If you buy through links on this page, we may earn a small commission. Here's our process.
Powdered milk, also called dry milk, is made by removing the moisture from regular milk, turning it into a powder (, 2).
Due to its low moisture content, powdered milk doesn't have to be refrigerated and has a much longer shelf life than liquid milk ().
When mixed with water, reconstituted dry milk can be used in place of regular milk in your favorite recipes. However, the powder can also be used on its own to help thicken liquid-based foods, such as soups and sauces.
Dry milk is also a common ingredient in chocolate and caramel candy recipes in which regular milk would make the final product too thin.
While convenient, you may not always have dry milk on hand. Additionally, as it's made from cow's milk, milk powder is unsuitable for those avoiding dairy due to allergies, intolerances, or personal preferences.
Here are 6 substitutes for milk powder.
1. Regular milk 
Regular liquid milk is an easy substitute for reconstituted milk powder. After all, dry milk is just the evaporated solids from regular milk.
The main benefits of using regular milk are its nutritional content and flavor, both of which will be similar to those of powdered milk (, ).
One cup (240 mL) of whole milk provides ():
Calories: 149
Fat: 8 grams
Protein: 8 grams
Carbs: 12 grams
Calcium: 20% of the Daily Value (DV)
In comparison, 1/4 cup (32 grams) of whole fat milk powder contains ():
Calories: 159
Fat: 8 grams
Protein: 8 grams
Carbs: 12 grams
Calcium: 22% of the DV
However, given that regular milk will also contribute liquid to the recipe, only use it in recipes that call for water as well, such as soups and some baked goods. Avoid using regular milk in recipes in which the liquid would make the final product too soggy or wet.
For every 1/4 cup (32 grams) of milk powder, substitute 1 cup (240 mL) of regular milk. You'll also want to reduce the original amount of water called for in the recipe by 1 cup (240 mL).
Whole fat, reduced fat, and nonfat milk can all be used in place of milk powder. Just note that the higher the fat content of the milk, the creamier and richer the final product will be.
Additionally, for recipes calling for buttermilk powder, it's best to use liquid buttermilk, as the acid in the buttermilk will affect the texture and flavor of the recipe.
Summary

Regular liquid milk can be substituted for milk powder in recipes that also include added water. One cup (240 mL) of regular milk can be used for every 1/4 cup (32 grams) of milk powder.
2. Liquid nondairy alternatives
To make a recipe dairy-free or vegan, you can also use liquid milk alternatives, such as almond, oat, or soy milk.
As with using regular milk, liquid milk alternatives should only be used in recipes that use both milk powder and additional water.
The substitution is also the same — 1 cup (240 mL) of milk alternative for every 1/4 cup (32 grams) of dry milk and 1 cup (240 mL) of liquid in the original recipe.
To replace buttermilk powder, combine 1 cup (240 mL) of a milk alternative with 1 tablespoon (15 mL) of vinegar or lemon juice. Allow the mixture to sit for 5–10 minutes before adding it to your recipe.
Given that plant-based milks provide varying types and amounts of nutrients, as well as different flavors, substituting them will affect the nutritional content and taste of your sweet or savory dish.
Summary

Liquid plant-based milks, such as almond or oat milk, can be used in place of milk powder as long as the recipe already calls for additional water. Use 1 cup (240 mL) for every 1/4 cup (32 grams) of milk powder.
3. Coconut milk powder
Not to be confused with desiccated coconut, which is the dried and shredded flesh of the coconut, coconut milk powder is made by spray-drying coconut milk or cream.
One-fourth cup (32 grams) of coconut milk powder provides 240 calories, 20 grams of fat, 4 grams of protein, and 8 grams of carbs ().
As coconut milk powder is high in fat, it's a good substitute for whole fat milk powder in cooking. In particular, it works well in soups, curries, and sauces.
Yet, given that it's higher in fat than whole milk powder, coconut milk powder can result in heavier baked goods (, ).
Coconut milk is naturally vegan, as well as dairy- and lactose-free. However, some brands of coconut milk powder add sodium caseinate, which contains a milk-derived protein ().
In general, coconut milk can be substituted for milk powder at a 1-to-1 ratio, unless stated otherwise on the packaging.
Shop for coconut milk powder online.
Summary

Coconut milk powder is generally a nondairy, vegan alternative to milk powder that can be used in equal amounts. It's best used in cooking rather than baking, as it can result in dense baked goods due to its high fat content.
4. Soy milk powder
Soy milk powder is another good nondairy alternative to milk powder.
As with powdered milk, soy milk powder has a long shelf life. It's also more nutritionally similar to powdered milk than other nondairy alternatives.
While the nutrition content may vary by brand, 1/4 cup (19 grams) of soy milk powder provides approximately 90 calories, 3.5 grams of fat, 8 grams of protein, 6 grams of carbs, and 4% of the DV for calcium (8).
Soy milk powder can be substituted for milk powder at a 1-to-1 ratio in nearly any recipe, including baked goods. It's also a convenient way to add a boost of plant-based protein to homemade granola bars and smoothies.
While some specialty health food stores may carry soy milk powder, it's generally easiest to buy it online.
Shop for soy milk powder online.
Summary

Soy milk powder is a convenient dairy-free alternative to milk powder. Nutritionally similar to reduced fat milk, soy milk powder can be substituted in equal amounts for milk powder in nearly any recipe.
5. Rice powder
Rice powder, also called rice flour, is a good option for those who are vegan, lactose intolerant, or allergic to soy or dairy.
Similarly to soy milk powder, rice powder is a shelf-stable, plant-based alternative to milk powder that can be substituted in equivalent amounts in nearly any recipe.
However, it's worth noting that rice powder tends to be sweeter than milk powder. Therefore, it may be best suited for sweeter dishes like desserts, baked goods, granola bars, and smoothies. Some even use it as a nondairy, powdered coffee creamer.
Additionally, unlike milk powder and soy milk powder, rice powder primarily comprises carbs and is low in protein, fat, and micronutrients like calcium ().
One-fourth cup (39 grams) of rice powder provides 140 calories, 0 grams of fat, 3 grams of protein, 31 grams of carbs, and 1% of the DV for calcium ().
Rice powder can be hard to find in stores. Instead, it's often easiest to purchase it online.
Shop for rice powder online.
Summary

Rice powder is a good substitute for those with multiple food allergies, such as soy, dairy, or nut allergies. Vegan-friendly and lactose-free, rice powder is sweeter than milk powder, so it's best used in sweet recipes like desserts and smoothies.
6. Cashew powder
While nut powders can generally be used in place of milk powder, cashew milk powder, in particular, best mimics the creamy, slightly sweet texture and flavor of milk powder.
Cashew powder can replace milk powder in equal amounts, unless otherwise specified on the packaging.
This substitute works well in a variety of dishes, including savory recipes, smoothies, baked goods, and granola bars.
It's also worth noting that some brands seem to clump more often than others. As such, when adding cashew milk powder to recipes like soups, you may need to blend the powder with some of the liquid in a blender for a smoother consistency.
One-fourth cup (26 grams) of cashew milk powder provides approximately 140 calories, 6 grams of fat, 3 grams of protein, and 20 grams of carbs (10).
Although cashew milk powder is difficult to find in stores, it's available online.
Shop for cashew milk powder online.
Summary

Cashew milk powder has a creamy texture and sweet flavor, making it another good plant-based alternative to milk powder. It can be used in sweet or savory dishes.
The bottom line
Milk powder is an inexpensive, nonperishable ingredient that can be convenient to have on hand.
In addition to being lightweight and shelf-stable, milk powder is added to baked goods or savory recipes to help thicken the final product.
If you don't keep milk powder on hand or need a nondairy alternative, there are several options to choose from depending on the type of recipe you're making and any dietary restrictions you may have.
Sours: https://www.healthline.com/nutrition/milk-powder-substitute
8 Best Powdered Milk Brands—Taste Tested & Reviewed
Just so you know, this page contains affiliate links. This means if you make a purchase after clicking through one, at no extra cost to you we may earn a commission.
After subjecting 5 people, including myself, to a blind taste test of 8 popular powdered milk brands, the results are clear — Carnation NonFat Dry Milk is the best tasting powdered milk out there.
We're an outdoor gear site, so we tasted and reviewed these milks with campers and backpackers in mind. Powdered milk is a popular way to add flavor to trail food or instant camp coffee, after all.
However, whether you're an ultralight hiker or someone who just wants to know which powdered milk tastes best, our results will help you pick the right brand for your needs.
Read on for our reviews.
The 8 powdered milk brands we tested.
Best Tasting: Carnation NonFat Dry Milk
Carnation was the clear winner in terms of taste and aftertaste, receiving more 5-star ratings than any other brand. If you're looking for the best tasting powdered milk brand, this is it.
"Tastes the most like actual milk," wrote one tester on her comment card. "Rich, sweet, creamy," wrote another.
The only real downside of this brand is related to backpacking — it has the lowest calories per ounce ratio of any brand we tested.
Overall, we figured taste would be the most important attribute for someone looking for powdered milk. And if that's the case with you, Carnation is the brand we recommend. However, if you can't find it or you want a dairy-free option, the other award winners are good alternatives.
Runner-Up: Peak Full Cream Instant Milk Powder
Peak received the second-best rating for taste and tied for the second-best aftertaste. One tester noted it was "creamy," while another liked its "smooth" texture. It was also one of the easiest brands to mix together.
When would you choose Peak over any of the others?
We'd only recommend it if you already have an affinity for the taste or can find it for a good deal. Its 142 calories per ounce also makes it a solid option — but not the best — in terms of caloric density.
Honorable Mention: Nido Powdered Milk
When researching for this assignment, Nido was the most frequently mentioned brand in forums and other articles on the topic. It seems to be the most popular brand among backpackers.
While Nido averaged a lukewarm 3/5 in both taste and aftertaste, its mixability was among the best and, importantly for backpackers, it has the highest calories per ounce ratio of any cow's milk brand we tested.
For lightweight backpackers who carry a lot of powdered milk, Nido is a good option. You get decent flavor for the weight.
For non-backpackers, there isn't any reason we'd recommend this option over Carnation.
Best Milk Alternative: Z Natural Foods Coconut Milk Powder
If you're lactose-intolerant or don't like consuming dairy, we recommend Z Natural Foods Coconut Milk Powder. It was the highest-rated alternative milk powder in our tests.
What's more, this brand would have likely received better ratings had testers known beforehand it was coconut.
One tester, once I revealed that this brand was coconut, admitted that "it tastes better now that I know it's coconut." Other testers shared similar sentiments.
It seems our testers were expecting a flavor akin to cow's milk and — when they didn't taste that — they were a little grossed out and rated this brand poorly.
This brand is also one of the top options for backpackers from a weight perspective. It packs a staggering 194 calories per ounce since it is mostly fat and contains very little sugar relative to the other brands. If you're a backpacker who's looking for a lactose-free option, we highly recommend this stuff.
As for cons, the overall taste was still worse than our two top brands, Carnation and Peak. And this brand was the hardest to mix together.
Reviews of the Other 4 Powdered Milk Brands We Tested
The remaining brands we tested ranged from passable to unpleasant. They didn't win any awards because they simply didn't taste as good as the ones listed above.
As such, we don't recommend any of them, but we've briefly reviewed them here for the curious.
Hoosier Hill Farm Whole Milk Powder
"Kind of tastes watery — smells like powdered milk," wrote one tester. "Dry," wrote another, though I forgot to ask him what he meant by that…
The Hoosier Hill Farm powdered milk was neither loved nor hated. In fact, it was almost perfectly average. All but one of its ratings for taste and aftertaste were either 2/5 or 3/5. And we rated it a middle-of-the-road 3/5 for mixability.
I can't think of a scenario in which we'd recommend you go with this brand over any of the ones mentioned above. Bottom line: it's not terrible, but there are better options out there.
Meyenberg Whole Powdered Goat Milk
Meyenberg's powdered goat milk was the most intriguing option on the list for me. I love goat cheese and was excited to see if reconstituted goat milk would be as wonderfully creamy.
Overall, all our testers (including myself) weren't thrilled with it. It scored 2.6/5 for both taste and aftertaste.
I should note, however, that this brand would have also likely received slightly higher ratings had the testers known beforehand that it was goat milk. One tester wrote down that this brand had a "very strong and distinctive flavor, kinda tastes like sour milk." Yet when I revealed to him that it was goat milk, he said the flavor made "more sense" because he could place it better.
If you're intrigued by the idea of powdered goat milk, then by all means go with this option. It does in fact taste like goat's milk.
But if you're simply in search of the best flavor or a high calorie per ounce ratio, we don't recommend it.
Milkman Instant Lowfat Dry Milk
Our testers gave Milkman the most 1/5's for taste and aftertaste of any brand. (The only reason that it didn't rank dead last was because one tester, interestingly enough, rated it 5/5 for taste and 4/5 for aftertaste.)
" Extremely unpleasant aftertaste," wrote one tester. "Couldn't figure out the flavor but I didn't like it," noted another.
Personally, I thought the taste was awful. The aftertaste reminded me of the inside of the foil pouch the powder came in.
Look elsewhere.
Better Than Milk Vegan Soy Powder
We decided to test Better Than Milk's powdered soy milk after seeing a couple recommendations for it in this forum thread on Backpacking Light. We figured it might make a nice dairy-free alternative.
However, this brand received the worst overall rating for taste of all the brands we tested: 2/5. It had the second-worst aftertaste, too.
"No to the soy milk!" wrote one tester who identified it by its flavor despite not knowing which brand was which. Another tester thought it "tastes like paint smells." I thought it was passable and gave it a 3/5 for taste — but that was the highest rating of any of our testers. The consensus was that this brand did not taste good.
If you're a vegan or someone who doesn't drink cow's milk, we recommend the powdered coconut milk reviewed above.
Video of Taste Test Results
How to Choose the Best Powdered Milk for Your Needs
Taste
Of course, taste will be the most important consideration for most people. We've accordingly indicated our ratings for each brand's taste and aftertaste.
Mixability
It can be a minor annoyance to have to stir excessively to mix the powder and water together. This is by no means a major consideration unless it's just a pet peeve of yours — or if you'll be consuming your powdered milk on the trail and you don't carry a utensil for whatever reason.
Calories per Ounce
This consideration applies to backpackers only. If you're buying powdered milk to take into the backcountry, like any other food you take you'll need to consider the calories per ounce ratio of your powdered milk brand.
Powdered milk in general is calorically dense, but some brands — Peak, Nido, and Z Natural Foods Coconut in particular — are a great mix of taste and caloric density.
How We Tested
This was the fun part.
To keep the results as objective as possible, I recruited 4 testers to participate in blind taste tests. I also tasted the milks myself in a semi-blind way (since I knew which milks were in the running, it was easy for me to pick out the soy, goat, and coconut milks the moment I tasted them, so my tasting wasn't 100% blind).
The 4 testers I recruited were:
Kevin, 27, a very occasional car camper and backpacker
Max, 24, a former NOLS employee and backpacking guide and occasional car camper and backpacker
Ann, 63, a very occasional day hiker and car camper
Gardner, 24, an occasional weekend camper and backpacker
How We Conducted the Blind Taste Tests
I performed 3 of these blind taste tests — once with my family members and twice with two different friends. They were conducted in the same way:
1. First, I labeled 8 empty cups or glasses with the numbers 1 through 8.
2. Next, I prepared an 8 oz glass of each brand of powdered milk according to the instructions on the package.
3. Then I prepared some comment cards so testers could record their ratings for the taste and aftertaste of each glass of milk (on a 5-point scale) as well as any additional comments they wanted to include.
4. Then I let the testers have at it and taste the milks to their hearts' content.
A taste tester samples reconstituted powdered milk.
5. Once the testers had tasted all the milks and written down all their ratings and comments, I revealed which milk was which. This was an interesting part of the taste test because almost every tester mentioned how a particular brand — in particular the soy, goat, and coconut ones — tasted better after they learned what it was.
Testing Notes
These blind taste tests weren't very scientific and shouldn't be treated as such. They were just a fun and informal way to get a number of differing opinions.
The greatest flaw in these taste tests that I didn't realize until too late was that I didn't standardize the amount of powder. I followed the instructions on each brand's package which led to discrepancies since some brand called for 2 tbsp of powder while others called for 1/3 cup.
To account for some of this I told testers to rate the taste not on the strength of flavor but instead on the quality, however mild it may be. I can't be certain they were able to effectively do that, though.
Alex is the owner and editor of 99Boulders, and he's been testing and reviewing outdoor gear since 2015. When he's not outdoors camping or backpacking, he can be found at the climbing gym.
Sours: https://www.99boulders.com/best-powdered-milk
Dairy powder walmart milk non
Our grandparents had it easy: The milkman came, dropped off a few quarts, and all was good. Then, things started to get complicated. First, it was skim, then 1% and 2%. Then cows started getting crowded off the shelves by almonds and soybeans, of all things, bringing milk alternatives to light.
Why the move? Whether it's because you're vegan, sensitive to dairy, trying to lose weight, or jumping on the trend, more and more Americans are shying away from dairy products and embracing plant-based alternatives. But with so many options, it's no wonder so many of us are roaming the dairy aisle in udder confusion.
This is our guide to the healthiest milk alternative brands to buy (and what to skip).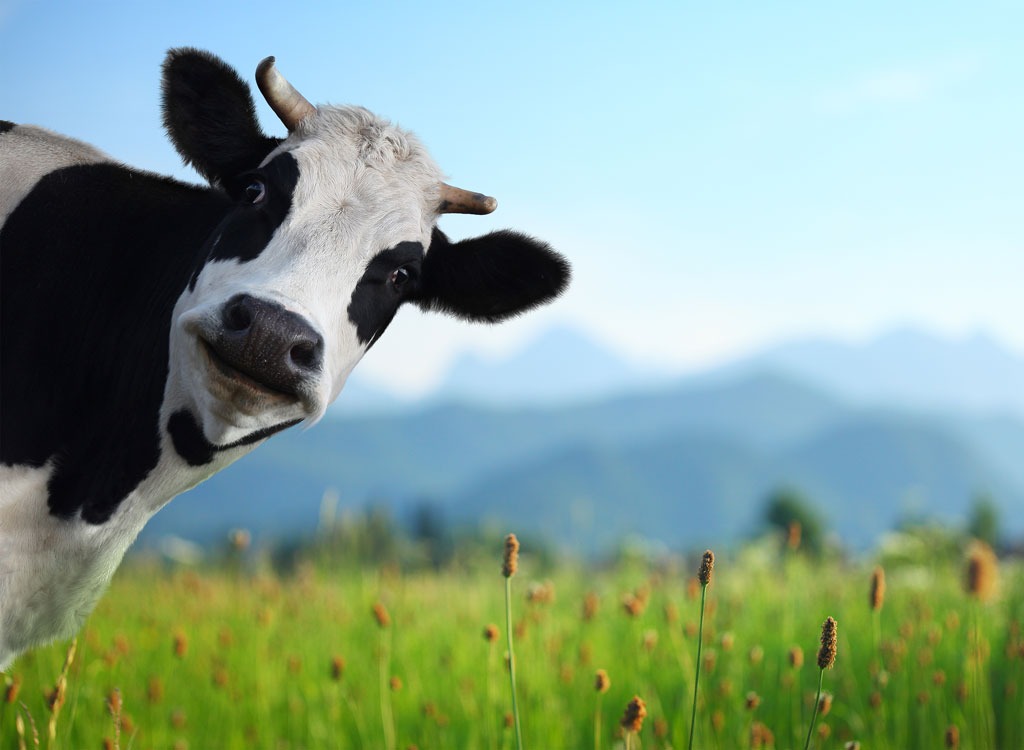 Pros
Milk proteins are some of the best sources of amino acids out there. The two proteins in milk, whey, and casein, have the ability to preserve lean muscle mass and improve metabolic health during weight loss, according to research published in the journal Nutrition & Metabolism. And if you go for Grass-fed, you'll be getting higher levels of omega-3 fatty acids (good) and 2 to 5 times more CLA (conjugated linoleic acid) than their corn and grain fed counterparts. CLA contains a group of chemicals which provides a wide variety of health benefits, including immune and inflammatory system support, improved bone mass, improved blood sugar regulation, reduced body fat, reduced risk of heart attack, and maintenance of lean body mass.
Cons
Like humans, when cows have weakened immune systems (because they're fed corn and soy that they weren't meant to eat), they get sick. When they get sick, they take antibiotics, and those antibiotics are then passed on to their milk. The milk we drink. On top of that, dairy is a source of inflammation-inducing saturated fats. Although studies have linked full-fat dairy drinkers with lower weights and lower risks of obesity, studies have also connected these saturated fats to disrupting our gut microbiome, actually decreasing levels of our good gut bacteria. So if you're going to drink milk, it's probably best to drink some with fat, but not too much fat. And lastly, dairy is a common allergen. Many people have difficulty digesting milk, whether it's because of lactose intolerance or sensitivity to its casein proteins, which can also cause acne.
Eat This! Tip:
Organically raised cows are not subject to the same hormones and antibiotics that conventional cows are; no antibiotics for them means no antibiotics for you. And if you may be a little lactose intolerant, but want to continue drinking animal milk, give goat milk a try. "Though cow's milk and goat's milk have similar nutritional profiles, the latter contains less lactose than the cow variety, so it's easier for those with lactose intolerance to stomach," explains Isabel Smith, registered dietitian and founder of Isabel Smith Nutrition. "For some people, this may help reduce the most common side effects of cow's milk, including gas, bloating, and congestion," she explains. "Plus, the protein that comes from goat's milk is easier for our bodies to use than plant protein, so it may aid muscle repair and regrowth post-exercise better than dairy-free milk alternatives."
Grass-fed is the best option, but if you can't find it at your local grocery store, don't fret. Any plain ol' organic brand will do. Organic Valley's herds are 100% grass-fed and thus have higher levels of omega-3s and CLA in their milk. And always remember to choose milk with at least 1% fat. While skim milk may be lowest in calories, many vitamins are fat-soluble, which means you won't get all the benefits of the alphabetical nutrients listed on your cereal box unless you opt for at least 1%.
Drink This
Organic Valley Organic Grass-Fed 2% Milk

per 8 fl. oz: 130 calories, 5 g fat (3 g saturated fat), 120 mg sodium, 12 g carbs (0 g fiber, 11 g sugar), 8 g protein, 20% DV calcium, 15% DV vitamin D
Or This
Kirkland Brand Organic 1% Milk

per 8 fl. oz: 120 calories, 5 g fat (3 g saturated fat), 125 mg sodium, 12 g carbs (0 g fiber, 12 g sugar), 8 g protein, 25% DV calcium, 25% DV vitamin D
Not That!
Conventionally produced nonfat milk, brands vary by region

90 calories, 0 g fat (0 g saturated fat), 130 mg sodium, 13 g carbs (0 g fiber, 12 g sugar), 8 g protein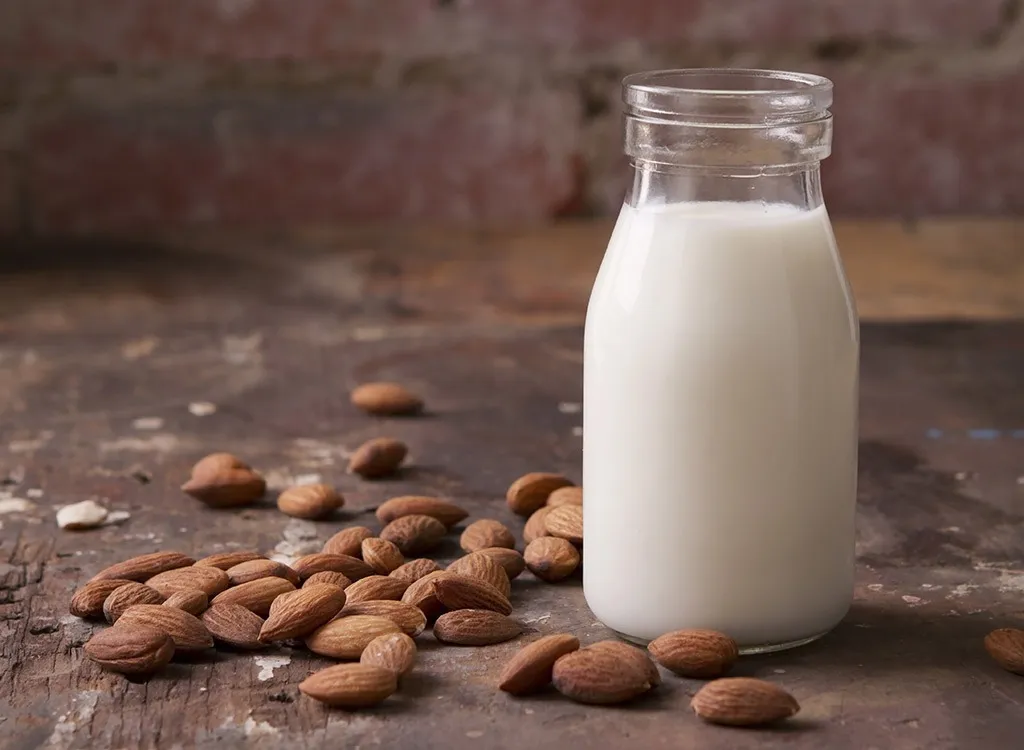 Pros
Almond milk may be all the rage these days, but it's nothing new. In fact, almond milk has been around since the Middle Ages. A mixture of ground almond and water (so simple, you can make it at home!), almond milk is naturally low in calories. Almonds are high in vitamin E, manganese, selenium, magnesium, potassium, zinc, iron, fiber, phosphorous and boast the highest levels of calcium out of all the nuts. That's quite the resumé! While other forms of milk need to be fortified with vitamins (including cow's milk), almond milk is naturally chock full of nutrients. It is, however, also supplemented with calcium, but in doing so, it serves up more of the bone-building mineral than cow's milk per serving!
Cons
The downsides are that almond milk is significantly lacking when it comes to the muscle-building macronutrient, protein, averaging a mere gram per serving compared to around 8 grams for dairy milk.
Eat This! Tip:
One reason to choose almond milk over cow's milk is to improve digestion, especially in those with lactose intolerance. But you might be undermining your goals if you choose a brand that uses carrageenan as a thickening and emulsifying agent to keep the almond protein properly dispersed in the water. Carrageenan is an additive derived from seaweed that has been linked to ulcers, inflammation, and other gastrointestinal problems. Look for brands with no emulsifiers or those which use sunflower lecithin and gums instead.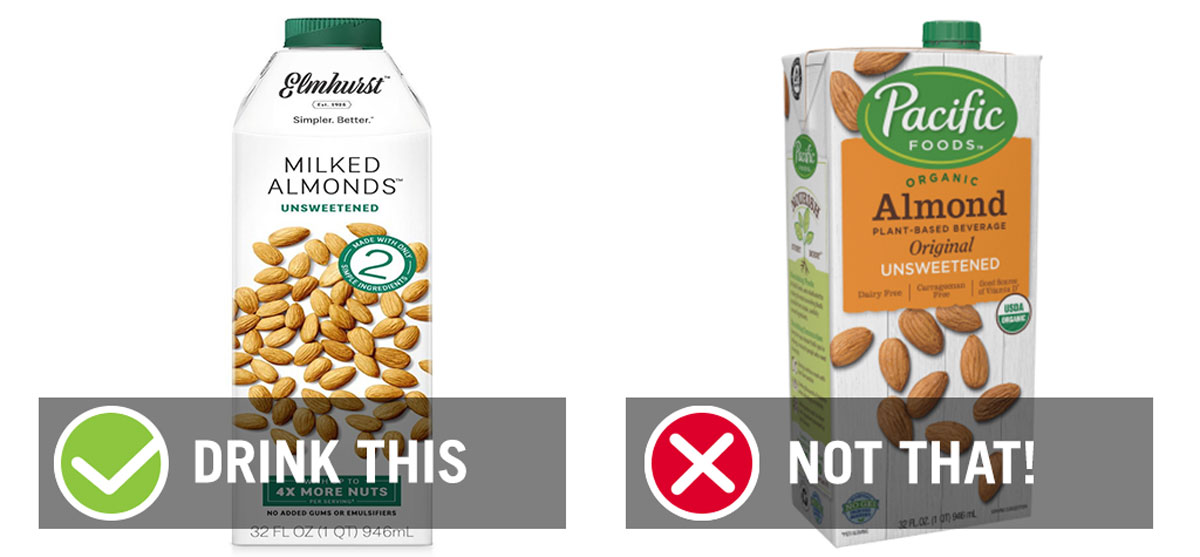 Elmhurst Milked Almonds is made with just almonds and water. Major bonus: Elmhurst uses 4 times more almonds than other almond milk brands, which drives up this cup's protein content to an impressive 5 grams.
Drink This
Elmhurst Unsweetened Milked Almonds

per 8 fl. oz: 130 calories, 11g fat (1 g saturated fat), 5 mg sodium, 3 g carbs (0 g fiber, 1 g sugar), 5 g protein
Not That!
Pacific Organic Unsweetened Original Almond Beverage

per 8 fl. oz: 40 calories, 3 g fat (0 g saturated fat), 180 mg sodium, 2 g carbs (1 g fiber, 0 g sugar), 1 g protein, 10% DV vitamin D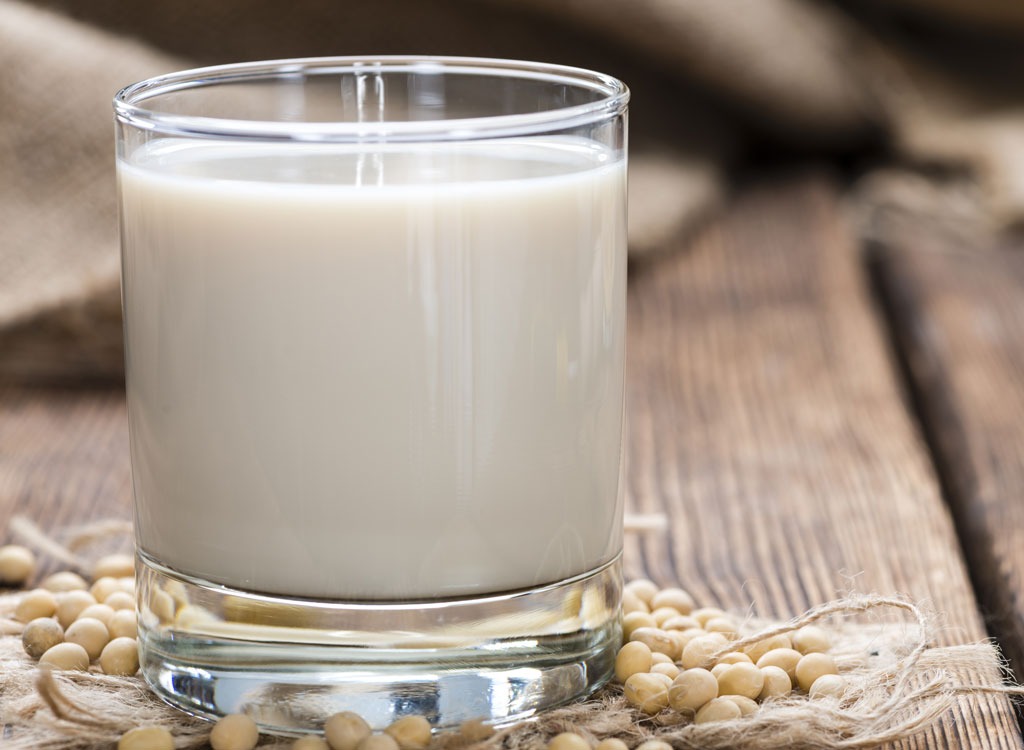 Pros
Researchers could go to war over the pluses and minuses of soy, and basically, the jury is still out—but we do have the low-down on what happens to your body when you eat soy. (And no, you won't get man boobs.) As of now, what we do know is that soy milk is the least processed of all dairy-alternative milks, highest in protein, low in saturated fat, and widely available to consumers.
Cons
On the other hand, soybeans contain high levels of phytic acid, an antinutrient compound which inhibits your body's absorption of essential minerals like calcium, magnesium, iron, and zinc and may cause digestive problems. Fortunately, these effects only occur in the meal during which you're drinking the soy milk, and the phytates won't disrupt absorption indefinitely. But if you're drinking soy milk every day, the effects may be more pronounced. You may have heard sprouting grains and beans decreases levels of phytates, but this method doesn't work with soy. The only way to decrease phytate levels is through a combination of sprouting and fermenting, like in foods such as miso, tempeh, soy sauce, and natto.
Eat This! Tip:
When choosing soy milk, stick with organic, non-GMO brands to avoid unnecessary pesticide consumption. An astounding 94 percent of soybeans are genetically engineered in the U.S. And according to a study published in Food Chemistry, genetically engineered soybeans accumulate and absorb high levels of glyphosate—an ingredient that's a probable human carcinogen, according to a study in BMJ—upon being sprayed by pesticides during their growing season. The same study also found GMO soybeans have poorer nutritional profiles compared to organic soybeans. And beware flavored varieties, which can be packed with unnecessary sugars.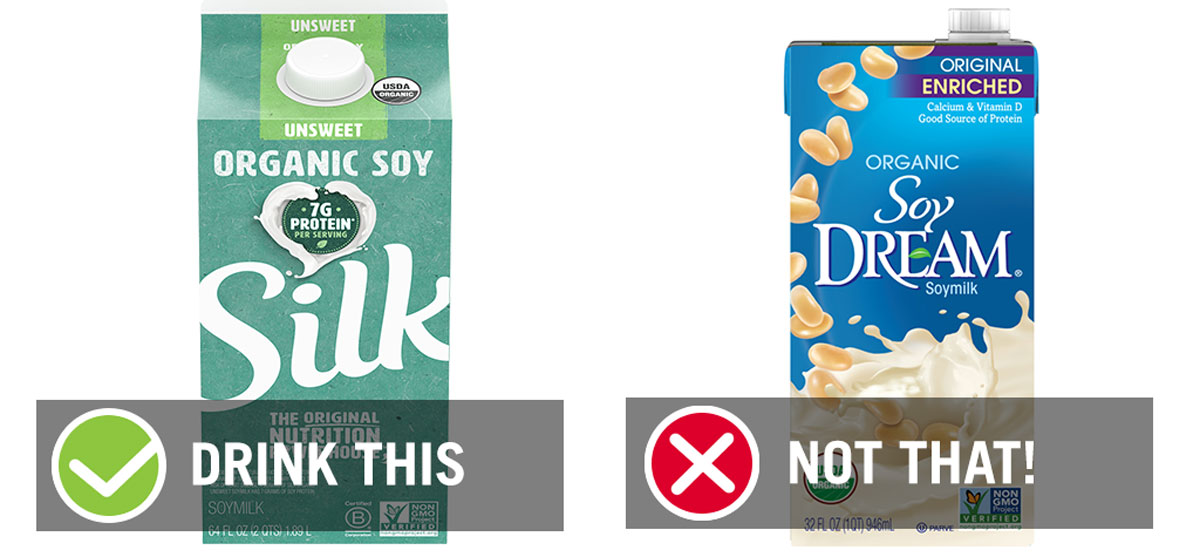 While both brands are organic and non-GMO, Soy Dream uses carrageenan as their emulsifier and thickening agent, whereas Silk uses gellan gum. Not to mention, Soy Dream adds cane sugar to their milk and doesn't come in an unsweetened version.
Drink This
Silk Organic, Non-GMO, Unsweetened Soy Milk

per 8 fl. oz: 80 calories, 4 g fat (0.5 g saturated fat), 75 mg sodium, 3 g carbs (2 g fiber, 1 g sugar), 7 g protein, 20% DV calcium, 15% DV vitamin D, 120% DV vitamin B12
Not That!
Soy Dream Enriched Original Organic Soy Milk

per 8 fl. oz: 100 calories, 4 g fat (0.5 g saturated fat), 135 mg sodium, 8 g carbs (2 g fiber, 6 g sugar), 7 g protein, 30% DV calcium, 25% DV vitamin D, 50% DV vitamin B12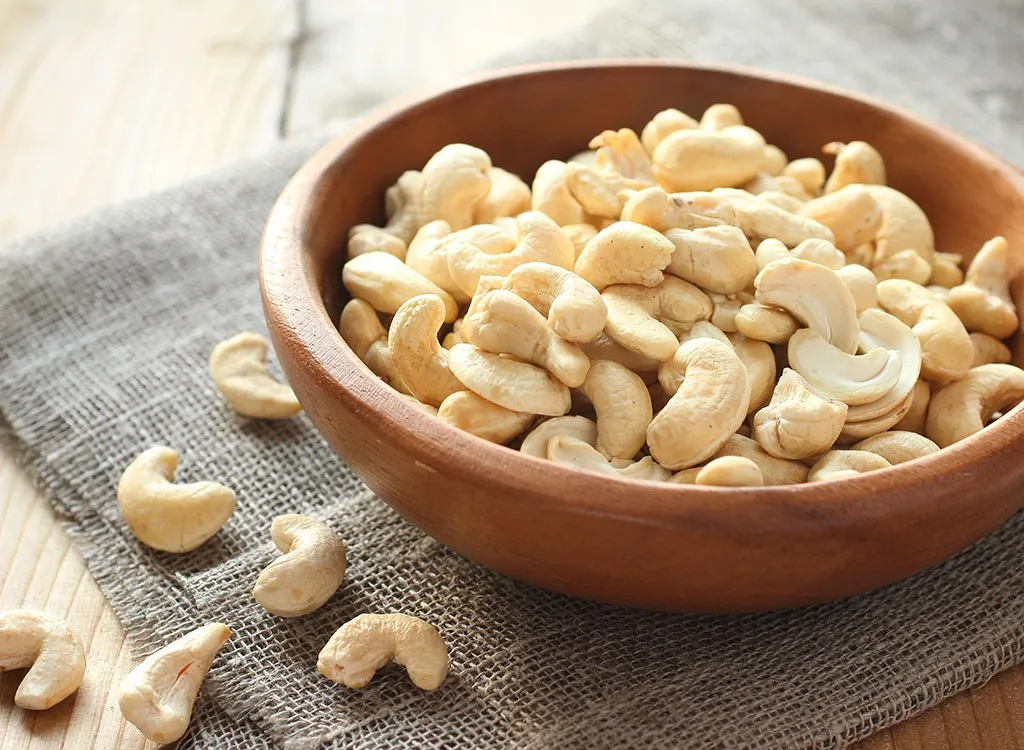 Pros
Move over almond milk, a new nutty milk substitute has hit supermarket shelves. Made by blending water-soaked cashews with H2O, this subtly-flavored beverage is a good source of fiber, antioxidants, copper (which helps produce and store iron) and magnesium (a mineral needed for proper nerve and muscle function). It can be added to everything from cereals to homemade puddings, but if you typically use milk alternatives or creamers to add a flavor to your coffee, cashew milk may be worth a try—especially for those who are wary of soy or have a gluten sensitivity.
Cons
Like almond milk, cashew milk is fairly low in protein, so you'll have to pair it with protein-rich breakfasts like a veggie omelet.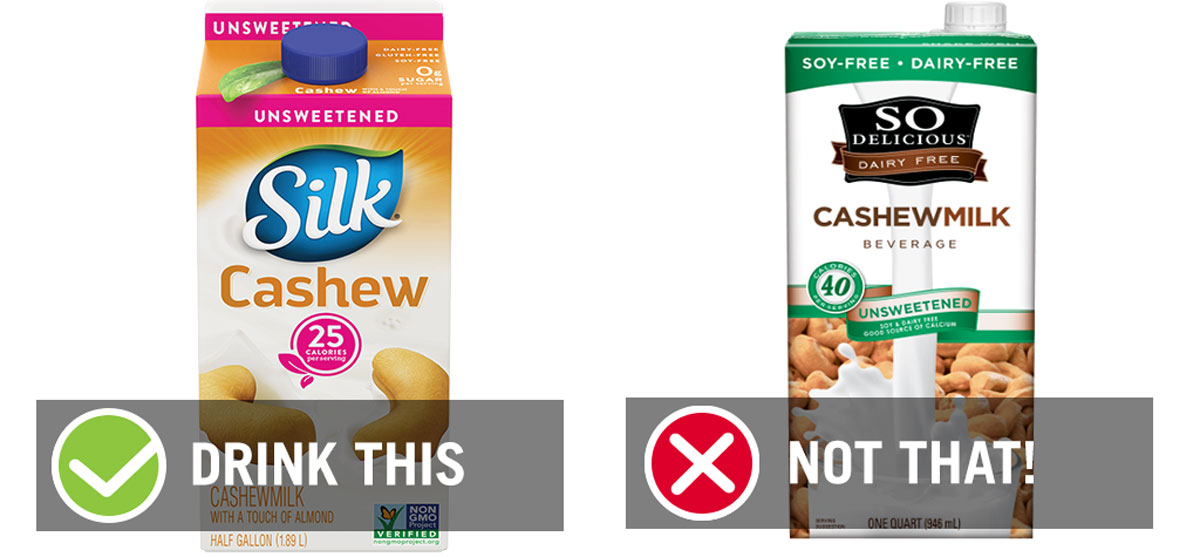 Drink This
Silk Unsweetened Cashew Milk

per 8 fl. oz: 25 calories, 2 g fat (0 g saturated fat), 160 mg sodium, 1 g carbs (0 g fiber, 0 g sugar), <1 g protein, 45% DV calcium, 25% DV vitamin D
Not That!
So Delicious Unsweetened Cashew Milk Beverage

per 8 fl. oz: 35 calories, 3.5 g fat (0 g saturated fat), 85 mg sodium, 1 g carb (0 g fiber, 0 g sugar), 0 g protein, 10% DV calcium, 35% DV vitamin D, 60% DV vitamin B12
Eat This! Tip:
If you typically get your calcium fix from milk, be sure to pick a variety that is a good source of the mineral. Silk's bottle has 45% of your DV of calcium compared to So Delicious' 10%. So Delicious adds canola oil to the mix—even if it is non-GMO, why would you want to drink canola oil? Plus, it contains phosphates, which have been linked to kidney disease, according to a study in Diabetes Spectrum.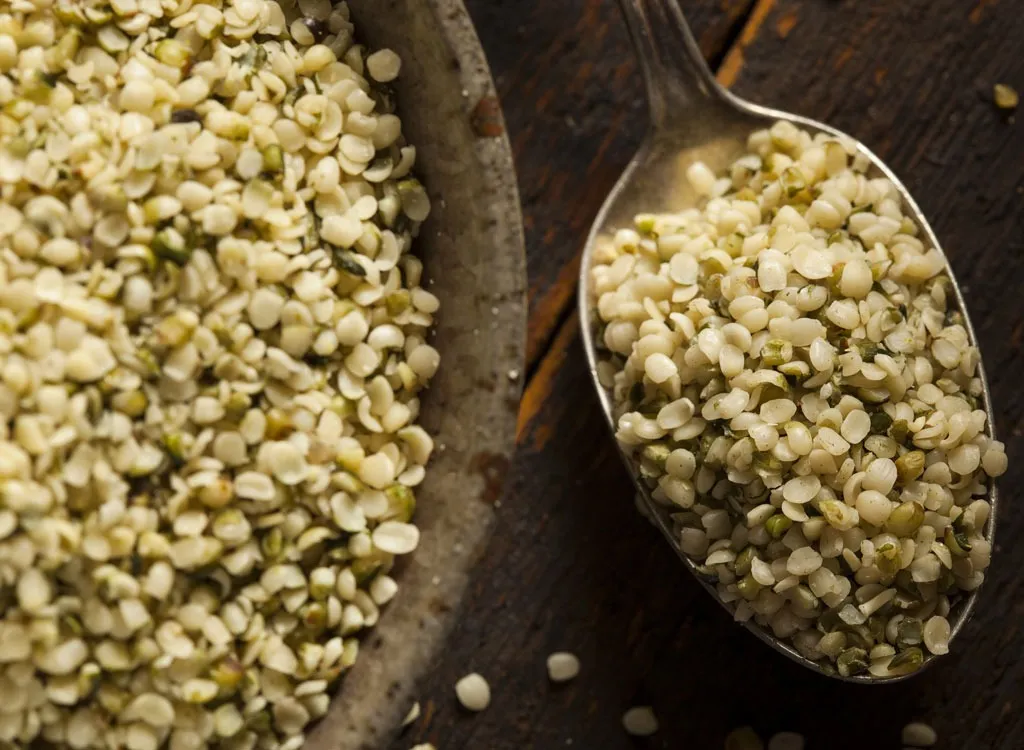 Pros
This nutty tasting, creamy milk substitute is made from water and cannabis seeds. Yes, this is the same type of plant used to make marijuana, but the beverage lacks the psychoactive component of the drug so it won't get you high (sorry!). Hemp is rich in heart-healthy omega-3 fatty acids and naturally carries 10 essential amino acids, making it a good vegan source of protein. Many brands are also fortified with a variety of other good-for-you nutrients like riboflavin and vitamins D2 and B12. If soy milk upsets your stomach, that's the other reason this milk may be worth trying. Unlike soy, hemp doesn't contain oligosaccharides, complex sugars that can cause gas and flatulence. The natural, unobtrusive flavor makes it a good allergen-free option for homemade baked goods and side dishes like mashed potatoes.
Cons
The only downside? It won't necessarily help keep your bones strong. If you depend on milk to get your daily calcium fix, hemp isn't the best pick. Although amounts of the nutrient vary by brand, some varieties only serve up ten percent your daily need. Also worth mentioning is the cost. It's a bit pricier than other milks on supermarket shelves.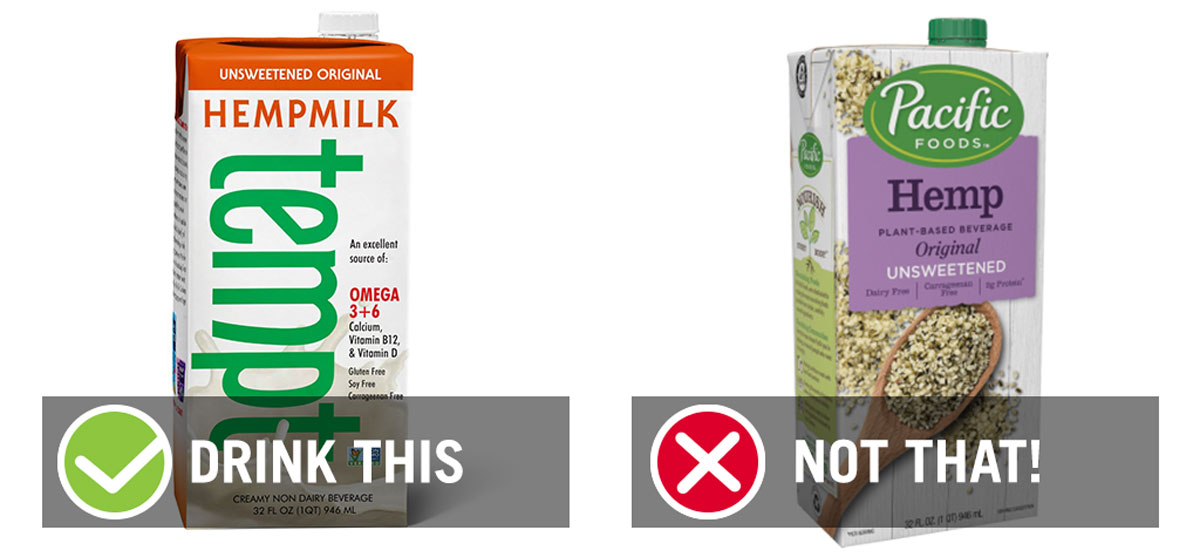 Both options contain phosphates, but we chose Living Harvest Tempt as our top pick because it has less phosphates than its competitor and also contains vitamin B12. This vitamin is added to nut milks because they're typically used by vegans, who won't get the vitamin essential to blood and nerve health as it's only found in animal sources.
Drink This
Living Harvest Tempt Hempmilk Unsweetened Original

per 8 fl. oz: 80 calories, 8 g fat (0.5 g saturated fat), 125 mg sodium, 1 g carbs (0 g fiber, 0 g sugar), 2 g protein, 30% DV calcium, 25% DV vitamin D, 25% DV vitamin B12
Not That!
Pacific Foods Unsweetened Hemp Original

per 8 fl. oz: 60 calories, 4.5 g fat (0 g saturated fat), 110 mg sodium, 0 g carbs (0 g fiber, 0 g sugar), 3 g protein, 20% DV calcium, 10% DV vitamin D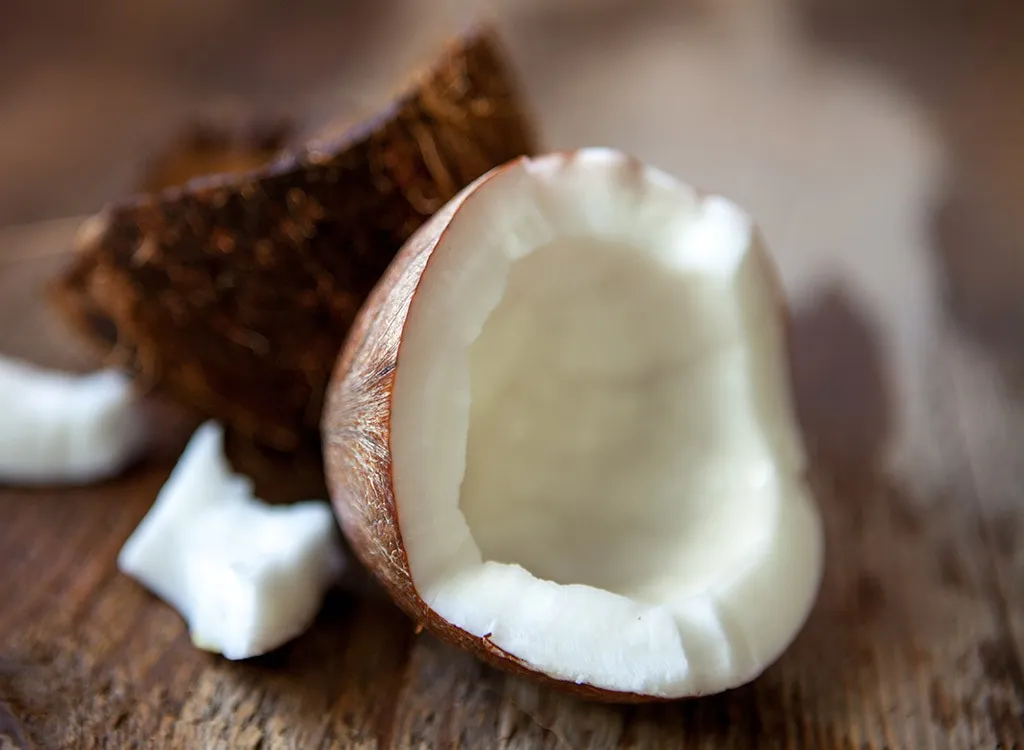 Pros
If you're a fan of whole milk or cream, you'll love this naturally sweet milk's texture. The beverage is made from fresh grated coconut meat, which helps give it a natural, creamy thickness. Coconut milk is loaded with medium-chain triglycerides (a type of easily-digested healthy fat that helps fry flab), potassium, and a host of fortified vitamins (some brands have 50 percent of the day's B12!), making it a healthy way to add a tropical twist to coffees, teas, oatmeal, cereal and homemade smoothies. (Remember, we're talking about the variety sold in a carton, not a can, which is extremely calorie-dense and should only be used for cooking.)
RELATED: This 7-day smoothie diet will help you shed those last few pounds.
Cons
Heed our warning: this isn't the best milk to gulp by the glass. While the fats in this beverage are the healthy type, they should still be consumed in moderation. Just one cup serves up 20 percent of the day's saturated fat, so be sure to look for varieties that are unsweetened to keep calories as low as possible and the overall nutritional profile sound.
While it may look like the "This" and "That" are pretty similar (they also both eschew using carrageenan), we like Silk's milk because it contains more calcium—a key component of the beverage—and fewer phosphates.
Drink This
Silk Unsweetened Coconut Milk

per 8 fl. oz: 40 calories, 4 g fat (3 g saturated fat), 45 mg sodium, 1 g carbs (0 g fiber, 0 g sugar), 0 g protein, 35% DV calcium, 10% DV vitamin D, 35% DV vitamin B12
Not That!
So Delicious Unsweetened Coconut Milk Beverage

per 8 fl. oz: 45 calories, 4.5 g fat (4 g saturated fat), 25 mg sodium, 1 g carbs (0 g fiber, <1 g sugar), 0 g protein, 10% DV calcium, 30% DV vitamin D, 50% DV vitamin B12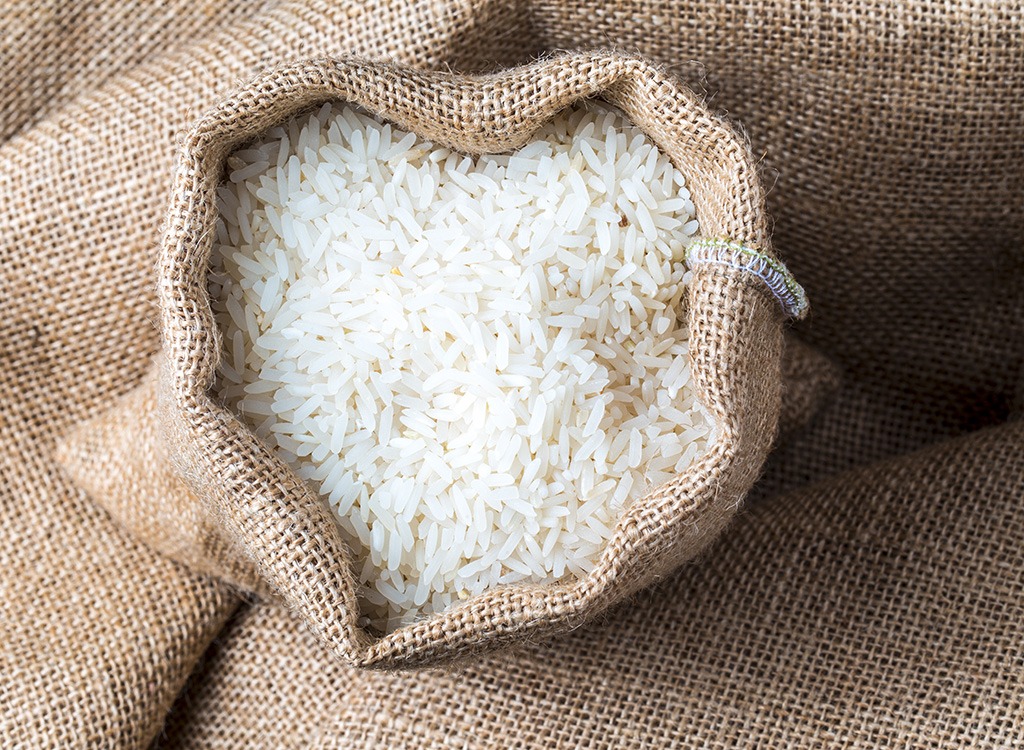 Pros
It about ends at "It's lactose-free." Oh, and rice milk is good to use in baking because it holds up well under heat.
Cons
But as far as dairy-free milks go, rice milk comes in last in regard to nutritional value. Made from boiled rice, brown rice syrup, and brown rice starch, rice milk is higher in sugar than its legume and nut-based counterparts, and lower in protein. Add to that the fact that arsenic levels in rice and rice-based products have been on the rise, and you're looking at a food that is almost entirely a NOT THAT!
Eat This! Tip
Use rice milk sparingly, and when you do, look for lower sugar varieties.
While we're not happy that both (if not all milk alternatives brands in the market) use inflammatory carrageenan and inflammatory vegetable oils in their rice milks, you're better off going with the easy-to-digest rice beverage from Rice Dream if you really want some rice milk. It's made with organic sprouted brown rice, which helps digest the starches in the grain, making it easier on your tummy.
Drink This
Organic Sprouted Rice Dream Unsweetened, Original Enriched

per 8 fl. oz: 70 calories, 2.5 g fat (0 g saturated fat), 110 mg sodium, 11 g carbs (0 g fiber, <1 g sugar), 0 g protein, 25% DV calcium, 25% DV vitamin D, 25% DV vitamin B12
Not That!
Pacific Rice Original

per 8 fl. oz: 130 calories, 2 g fat (0 g saturated fat), 60 mg sodium, 27 g carbs (0 g fiber, 14 g sugar), 1 g protein, 30% calcium, 25% vitamin D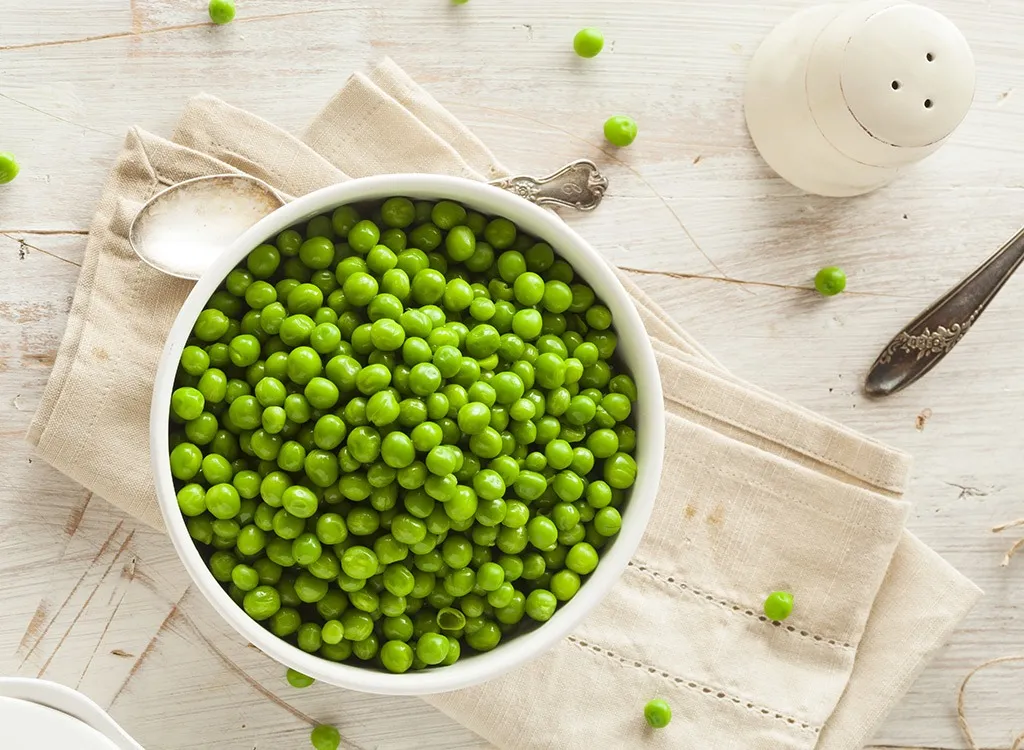 Pros
This is one of the highest protein milk alternatives. Ripple Foods' powerful new pea protein-based milk is taking over the health food scene in a big way. And when we say powerful, we're not kidding; a one-cup serving delivers the same amount of protein as cow's milk. Ripple also is low in saturated fat and has 50 percent more calcium than the popular almond milk. The very best part, though, is that it actually tastes like creamy, silky milk!
Cons
As for the negatives, there are none besides Ripple's use of sunflower oil in their recipe. It might give the milk a creamy texture, but sunflower oil is high in omega-6s, which become inflammatory if consumes in high amounts. Luckily, Ripple also adds anti-inflammatory omega-3s to counteract these fatty acids, so the damage isn't too high.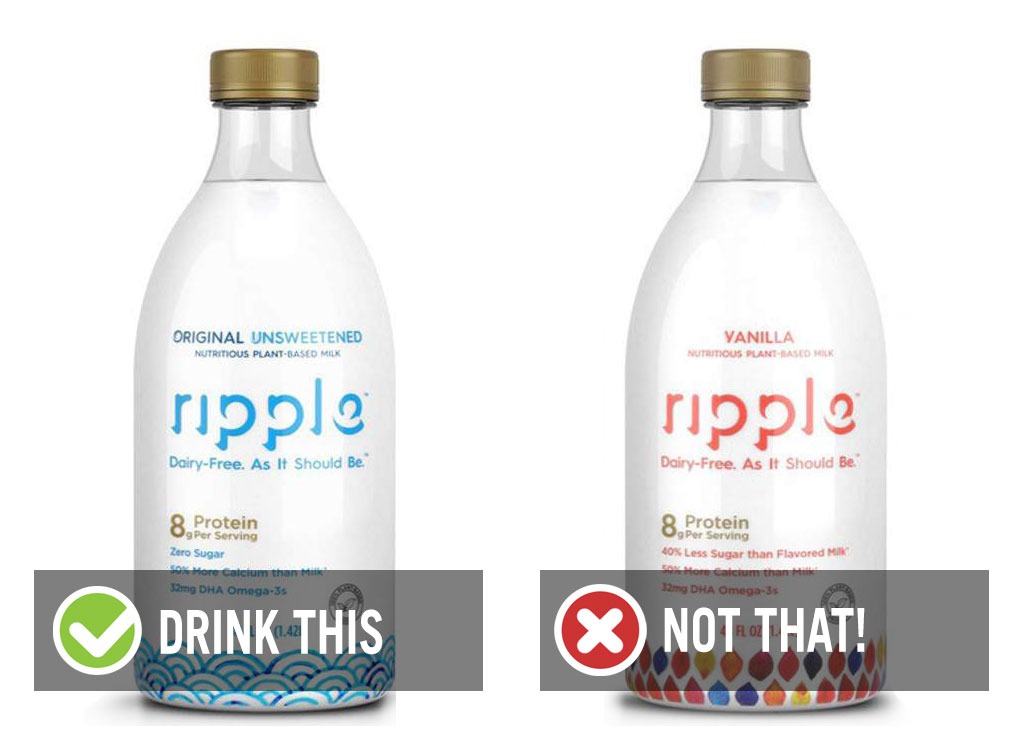 Ripple Unsweetened has 40 percent less sugar than other flavored milks in the market. The vanilla pea milk has 15 grams of added sugars, compared to about 12 grams of sugar in traditional milk—and those don't count as "added" because they're naturally-occurring lactose sugars found in the milk. If you do like it sweet, the "Original" flavor isn't as bad, coming in at a mere 6 grams of sugar.
Drink This
Ripple Original Unsweetened Pea Milk

per 8 fl. oz: 70 calories, 4.5 g fat (0.5 g saturated fat), 130 mg sodium, 0 g carbs (0 g fiber, 0 g sugar), 8 g protein, 45% DV calcium, 30% DV vitamin D, 32 mg DHA Omega 3's
Not That!
Ripple Vanilla Pea Milk, 8 fl oz

per 8 fl. oz: 130 calories, 4.5 g fat (0.5 g saturated fat), 130 mg sodium, 15 g carbs (0 g fiber, 15 g sugar), 8 g protein, 45% DV calcium, 30% DV vitamin D, 32 mg DHA Omega 3's
Eat This, Not That! Editors
Inspired by The New York Times best-selling book series, Eat This, Not That! is a brand that's comprised of an award-winning team of journalists and board-certified experts, doctors, nutritionists, chefs, personal trainers, and dietitians who work together to bring you accurate, timely, informative, and actionable content on food, nutrition, dieting, weight loss, health, wellness, and more. Read more
Sours: https://www.eatthis.com/best-worst-milk-alternatives/
.
Similar news:
.
25
26
27
28
29