Corsair One review: a console-like PC in the age of PC-like consoles
Over the past couple of months, I've been enjoying a rare privilege: a gaming PC that I didn't have to build myself. In my many years of playing games and tinkering with technology, I'd never previously been exposed to this experience. My first ever PC was such a horribly underpowered and overpriced crate of beige that I swore off buying pre-built machines and started down the custom PC path. Two decades later, one of my favorite PC parts suppliers, Corsair, has decided to take the leap and just sell an entire computer: already assembled, water-cooled, spit-polished, and optimized for the joys of gaming. Like a grown-up gaming console, the Corsair One has a small footprint, quiet performance, and a warranty that expires the moment you open it up to swap parts.
The Corsair One is the gaming rig for those of us tired of or uninterested in being responsible for every little component that goes into their machine. It's the "it just works" gaming PC, with all the maxed-out specs gamers demand enclosed in a sober exterior that their housemates and loved ones can tolerate. But it doesn't come cheap, carrying a $1,799.99 starting price. If you want a Corsair One Pro with the latest GeForce GTX 1080 Ti (Nvidia's fastest graphics card under $1,000) and 960GB of SSD storage, you'd need to splash out a cool $2,599.99. I reviewed the middle child of this unapologetically high-end family, the $2,199.99 Corsair One Pro, and I came away feeling very privileged indeed.
Corsair first made a name for itself by making unimpeachably reliable memory modules, before branching out to creating power supplies, solid state drives, water-cooling systems, and entire cases. Corsair also makes peripherals — selling keyboards, mice, headphones, and light-up RGB mouse pads — but you get no such niceties bundled with the One. The spartan box encasing this computer comes with a power lead, well wishes for the gaming ahead, and a fancy reflective sticker of the Corsair logo.
I've never known a Corsair part to fail, and so the promise of having that peace of mind expanded to an entire computer is an enticing one. The two-year warranty is more extensive and thought-out than most, as well, with service centers scattered around the globe to handle any repairs or upgrades you want to have done. Like I say, though, tinkering with the innards yourself will invalidate that warranty — so there's really no middle ground here, you're signing up for the full Corsair hand-holding experience with this PC.
Not that I'd encourage anyone to mess around inside the Corsair One. There's hardly any unused space within this 12-liter tube of powerful hardware. The only way to make an Intel Core i7-7700 CPU and Nvidia GeForce GTX 1080 GPU work together within such tight constraints is fully custom liquid cooling for both — and it's really far beyond my level of expertise or patience to try and decouple each part and replace it with another. I could, this is still as modular as any other PC, but the magic and the whole reason why this machine exists is in the fact that someone else has done it, and done it better than I ever could have.
It's worth taking a moment to appreciate just how exceptional the Corsair One's design is. From the front, it has the appearance of any mid-tower gaming PC, but turn it a few degrees to see its side and it looks like two-thirds of it have just vanished into nothing. It's not normal for a computer this powerful to be this compact, but Corsair has rotated the graphics card to a vertical position, developed its own extra-small, super-efficient power supply, and crafted something I can put on top of my desk rather than below it. I love the thick aluminum of the One's case. It's wonderfully understated, by gaming PC standards, even if it does have a few too many Tron-esque lines and polygonal motifs. The two LEDs at the front can be disabled, and the liquid cooling system relies on just one large fan at the very top of the case, meaning the whole thing works almost silently most of the time.
The 400W power supply did scare me initially, threatening to be inadequate for the One's top-tier components, however it, too, is of a high quality and efficiency: I ran the One through multiple 10-hour gaming marathons in Mass Effect: Andromeda without it ever showing even a hint of instability. The fan does spin up to a rather loud volume during protracted gaming sessions, however, so I'd recommend having a nice pair of headphones handy. (My current favorite for gaming is the Turtle Beach Elite Pro, or you can opt for the Logitech G533 for latency-free wireless audio.) Speaking with Corsair engineers at CES in January, I found out that the company designed the One's fan and cooling so that they produce the least irritating noise rather than just the least noise. Sweating that kind of detail is exactly what I expect from a company hoping to sell me a $2,200 PC.
This is obviously not going to be an infinitely expandable overclocking powerhouse, but then it's also nowhere near the size of one. For me, the Corsair One delivers everything I still need a PC for: the performance to play the latest games at their best, married to spotless reliability and a high degree of convenience. I'm an old-school PC gamer with a new-school intolerance for any delays or requirements for manual intervention.
But Corsair wants to reach beyond its usual audience and beyond its usual destination of gaming boudoirs. This gaming company wants to invade the living room, and it's got the HDMI-plus-USB output combo for virtual reality headsets literally front and center on the One. You'd be surprised by how few PC cases take this into consideration (and you'd probably be shocked by the almost total absence of proper USB-C or Thunderbolt support, both from case and motherboard makers; the Corsair One has one USB-C port, offering 10Gbps of bandwidth).
This is where the One truly steps into its hybrid role as a console-like PC, however I'm not sure I'm convinced of its credentials. The fan noise really is noticeable without headphones or a loud game masking its presence. Corsair's idealized scenario of a group of friends all giddily playing VR games would also be a lot more credible if there was a rich selection of stuff to actually play with an Oculus Rift or HTC Vive. But, alas, VR is still waiting for its killer app or game, and until that shows up, the Corsair One's best shot at the living room is as a very conventional console, albeit one that plays PC games. You can easily hook up a Bluetooth controller to this thing and while away a few hours in NBA 2K17 or whatever else takes your fancy. Just keep it tucked into a quiet corner.
As far as performance goes, the Corsair One Pro ticks all the requisite boxes. It boots faster than I can check my Twitter notifications, and its software is pure and bloatware-free. The only add-ons are actually helpful: a couple of monitoring apps to check on temperatures inside the case, links to install all the popular online game services (Steam, Origin, Battle.net, etc.), and an audio tweaking utility. Playing on a 1080p monitor, I basically couldn't find a game with settings that would challenge the One. Battlefield 1, Witcher 3, Mass Effect: Andromeda, XCOM 2, Gears of War 4, Overwatch — pick your favorite game and the One will play it superbly well. Even Civilization VI, with performance requirements that can be beguilingly high on later levels with tons of per-turn processing, is better than ever thanks to the fast SSD storage of the One.
Corsair's stated goal with the One is 60 fps 4K gaming, and though I haven't got such a high-resolution display to test that claim, I have seen this PC running a maxed-out Battlefield 1 on a gorgeous LG UltraWide monitor with 3440 x 1440 resolution without a problem. So I've little doubt that this computer will satisfy the vast majority of people's needs. The question, though, is how long that will remain the case: without the space or power headroom for another graphics card, you're basically left hoping that buying the greatest parts today will keep you going for a good few years. Seeing how far current GPUs and CPUs are outperforming the requirements of the latest games, however, I think that's much more of a viable strategy than it might have been a decade ago. You just don't need to upgrade PCs anywhere near as often as was once the case.
The Corsair One is a delightful computer. Every little detail about its construction has been thought through, right down to the power button, which has a pivot at the top rather than pressing in completely — an entirely unimportant thing that just happens to be deeply satisfying in practice. So many of the annoyances of a regular PC are just swept away by the One. I don't have any trouble finding a spot to place it, I never have to worry about it getting choked up with dust, and I don't need to dedicate half a day to uninstalling bloatware from it. It's pristine, efficient, and reliable.
But the Corsair One isn't without its own set of frustrations. I have to not only pay a higher price for Corsair's integration, but also accept a much narrower set of upgrade options. And this is the conundrum of this PC: it's designed to be the sort of worry-free all-in-one machine that most people would want, but it costs the sort of money that only extremely enthusiastic gamers would pay. So the class of people who can afford to buy a Corsair One are also the class of people who'd feel most restless about its limitations. My feelings about this PC are not dissimilar to my feelings about the Blue Ella headphones I recently reviewed: it's great for what it is, but that's a very peculiar thing that you'll have to be sure you want before you go spending so much money on.
Images: Corsair
Good Stuff
Extraordinarily compact design for a high-spec PC
Impeccable performance and reliability
VR connections right at the front
Bad Stuff
Warranty is voided if you swap any parts yourself
Limited upgradeability
Fan noise can be an annoyance at close range
Sours: https://www.theverge.com/2017/5/11/15216182/corsair-one-review-sff-gaming-pc
For a whole host of reasons, AMD's Ryzen 9 5900X and Nvidia's RTX 3080 have been two of the hardest-to-find PC components since late last year. But Corsair has combined them both in a handy, compact, liquid-cooled bundle it calls the Corsair One a200.

The company's vertically-oriented One desktop debuted in 2018 and has since been regularly updated to accommodate current high-end components. This time around, the options include either AMD or Intel's latest processors (the latter called the One i200), and Nvidia's penultimate consumer GPU, the RTX 3080.
Not much has changed in terms of the system's design, other than the addition of a USB Type-C port up front (where an HDMI port was on previous models). But with liquid cooling handling thermals for both the CPU and graphics in a still-impressively compact package, there's really little reason to change what was already one of the best gaming PCs for those who want something small.

The only real concern is pricing. At $3,799 as tested (including 32GB of RAM, a 1TB SSD and a 2TB HDD), you're definitely paying a premium for the compact design and slick, quiet cooling. But with the scarcity of these core components and the RTX 3080 regularly selling for well over $2,000 on its own on eBay, it's tough to discern what constitutes 'value' in the gaming desktop world at the moment. You may be able to find a system with similar components for less, but it won't likely be this small or slick.
Design of the Corsair One a200
Just like the One i160 model we looked at in 2019, the Corsair One a200 is a quite compact (14.96 x 7.87 x 6.93 inches) tower of matte-black metal with RGB LED lines running down its front. To get some sense of how small this system is compared to more traditional gaming rigs, we called Alienware's Aurora R11 "fairly compact" when we reviewed it, and it's 18.9 x 17 x 8.8 inches, taking up more than twice the desk space of Corsair's One a200.

The 750-watt SFX power supply in the a200 is mounted at the bottom, pulling in air that's expelled at the top with the help of a fan. The heat from the CPU and GPU also gets expelled out the top. Both components are liquid-cooled, with radiators mounted against the side panels and air getting drawn in through them with the help of the large main fan in the lid.
The primary external difference with the updated a200 over previous models is the replacement of an HDMI port that used to live up front next to the headphone/mic combo jack and pair of USB-A ports. It's been replaced with a USB-C port. That makes for three front-facing USB ports, a surprising amount of front-panel connectivity for a system so compact. But there are only six more USB ports around back (more on that shortly).

Overall, while the design of the One a200 is pretty familiar at this point, it still looks and feels great, with all the external panels made out of metal. Just note that the matte finish does easily pick up finger smudges.
Specifications
| | |
| --- | --- |
| Processor | AMD Ryzen 9 5900X |
| Motherboard | ASRock B550 Phantom Gaming-ITX/ax |
| Memory | 32GB (2x16GB) Corsair Vengeance LPX DDR4-3200 |
| Graphics | Liquid-cooled Nvidia GeForce RTX 3080 (10GB GDDR6X) |
| Storage | 1TB M.2 NVMe; 2TB 2.5" SATA HDD |
| Networking | 802.11ax (Wi-Fi 6), 2.5 Gb Ethernet |
| Ports | Front: 2x USB 3.2 Gen 1 (5 Gbps) Type-A, 1 USB 3.2 Gen 2 (10 Gbps) Type-C ; Combination Mic/Headphone Jack; Rear: 4x USB USB 3.2 Gen 1 (5 Gbps) Type-A, 2x USB 3.2 Gen 2 (Type-A, Type-C), Ethernet, HD Audio, 3x DisplayPort, 1x HDMI |
| Video Output | (3) DisplayPort 1.4a (1) HDMI 2.1 |
| Power Supply | 750W Corsair SFX 80 Plus Platinum |
| Case | Corsair One Aluminum/Steel |
| Operating System | Windows 10 Home 64-Bit |
| Dimensions | 14.96 x 7.87 x 6.937 inches (380 x 200 x 176 mm) |
| Price As Configured | $3,799 |
Ports and Upgradability of the Corsair One a200
Since the Corsair One a200 is built around a compact Mini-ITX motherboard (specifically the ASRock B550 Phantom Gaming-ITX/ax), you won't quite get the same amount of ports that you would expect with a larger desktop. Since we already covered the three USB ports and audio jack up front, let's take a look at the back.
Here you'll find four USB 3.2 Gen 1 (5 Gbps) Type-A ports, plus two USB 3.2 Gen 2 (one Type-A and one Type-C). Also here is a 2.5 Gb Ethernet jack, three analog audio connections and connectors for the small antennae. The ASrock board also includes a pair of video connectors, but since you'll want to use the ports on RTX 3080 instead, Corsair has blocked them off behind the I/O plate so most people wouldn't even know they're there.
The video connections from the RTX 3080 graphics card live next to the Corsair SF750 power supply, and come in the form of three DisplayPort 1.4a ports and a single HDMI 2.1 connector.

As for internal upgradability, you can get at most of the parts if you're comfortable dismantling expensive PC hardware. But you can't add any RAM or storage without swapping out what's already there (or at least without removing the whole motherboard, more on that soon). That said, the 32GB of Corsair Vengeance LPX DDR4-3200 RAM, 1TB PCIe 4.0 Force MP600 SSD and 2TB Seagate 2.5-inch hard drive that's already here are a potent cadre of components. If you need more RAM and storage (as well as more CPU cores), there's a $4,199 configuration we'll detail later.
To get inside the Corsair One a200, you don't need any tools, but you'll want to be a bit careful. Press a button at the rear top of the case (you have to press it quite hard) and the top, which also houses a fan, will pop up. But before you go yanking it away in haste, note that it's attached via a fan cable that you can disconnect after first fishing the plug out from a hole inside the case.

To access the rest of the system you'll have to remove two screws from each side. But again, don't be careless, as radiators are attached to both side panels via short tubes, so the sides are a bit like upside-down gull-wing doors. You can't really remove them without disconnecting the cooling plates from the CPU and GPU.
It's fairly easy to remove the RAM, although the 32GB of Corsair Vengeance LPX DDR4-3200 occupies both of the slots. The 2TB Seagate 2.5-inch hard drive is also accessible from the left side, wedged under the PCIe riser cable that's routed to the GPU on the other side.
At least the 1TB Force MP600 SSD on this model is mounted on the front of the motherboard under a heatsink, rather than behind the board on the i160 version we looked at a couple years ago.
You can open the right panel as well, though there's not much to do here as the space is taken up by the GPU, a large radiator and a pair of fans. The latter are mounted on the heatsink and pull the RTX 3080's heat through the radiator, into the system, and out through the top just a few inches away.

As with previous models, you should be able to replace the RTX 3080 with an air-cooled graphics card at some point, provided it has axial rather than blower-style cooling, and that it fits within the physical constraints of the chassis. But given that the RTX 3080 is the best graphics card you can buy, you may be ready for a whole new system by the time you start thinking about swapping out the graphics card here.

Aside from wishing there were more USB ports on the motherboard, I have no real complaints about the hardware here. If I were spending this much, I'd prefer a 2TB SSD, but at least the 1TB model Corsair has included is a PCIe 4.0 drive for the best speed possible. Technically the ASRock motherboard here has a second PCIe 3.0 M.2 slot, where you could install a second SSD. But it's housed on the back of the motherboard, which would mean fairly major disassembly in cramped quarters, and remember that you'd have to disconnect the pump/cooling plate from the CPU before even attempting to do that.
Gaming Performance on the Corsair One a200
With AMD's 12-core Ryzen 9 5900X and Nvidia's RTX 3080 running the gaming show inside Corsair's One a200 — and both of them liquid-cooled — we expected Corsair's compact power tower to spit out impressive frame rates.

We pitted the a200 against MSI's Aegis RS 11th, which also has an RX 3080 but an 8-core Intel Rocket Lake Core i7-11700K, and a couple other recent gaming rigs we've tested. Alienware's Aurora Ryzen Edition R10 sports a stepped down Ryzen 7 5800X and a Radeon RX 6800XT. And HP's Omen 30L, which we looked at near the end of 2020, was outfitted with a last-generation Intel Core i9-10900K and an RTX 3080 to call its own.

While the Corsair One a200 didn't walk away from the impressive competition, it was almost always in the lead in our gaming tests. And that's all the more impressive given most of the systems it competes with are much larger.
Image 1 of 5
Image 2 of 5
Image 3 of 5
Image 4 of 5
Image 5 of 5
On the Shadow of the Tomb Raider benchmark (highest settings), the game ran at 147 fps at 1080p on the One a200, and 57 fps at 4K. The former ties it with the Aegis for first place here, and the latter beats both the Aegis and the Omen 30L, just slightly, giving Corsair's system an uncontested win.

In Grand Theft Auto V (very high settings), the Corsair system basically repeated its previous performance, tying the MSI machine at 1080p and pulling one frame ahead of both the Omen and the MSI at 4K.

On the Far Cry New Dawn benchmark, the MSI Aegis pulled ahead at 1080p by 11 fps, but the One a200 still managed to tie the MSI and HP systems at 4K.
After trailing a bit in Far Cry at 1080p, the One a200 pulled ahead in Red Dead Redemption 2 (medium settings) at the same resolution, with its score of 117 fps beating everything else. And at 4K, the Corsair system's 51 fps was again one frame ahead of both the MSI and Alienware systems.

Last up in Borderlands 3 (badass settings), the Corsair system stayed true to its impressive form. Its score of 137 fps at 1080 was a frame ahead of the MSI (and ahead of everything else). And at 4K, its score of 59 fps was only tied by the HP Omen.
Aside from the One a200's gaming performance being impressive for its size, this is also one of the quietest high-end gaming rigs I've tested in a long time. Lots of heat shot out of the top of the tower while I played the Ancient Gods expansion of Doom Eternal, but fan noise was a constant low-end whirr. The large fan at the top does its job without doing much to make itself known, and the radiators on either side help move heat out of the case without adding to the impressively quiet noise floor.
We also subjected the Corsair One a200 to our Metro Exodus stress test gauntlet, in which we run the benchmark at the Extreme preset 15 times to simulate roughly half an hour of gaming. The Corsair tower ran the game at an average of 71.13 fps, with very little variation. The system started out the test at 71.37 fps on the first run, and dipped just to 71.05 fps on the final run. That's a change of just a third of a frame per second throughout our stress test. It's clear both in terms of consistent performance and low noise levels that the One a200's cooling system is excelling at its job.
During the Metro Exodus runs, the CPU ran at an average clock speed of 4.2 GHz and an average temperature of 74.9 degrees Celsius (166.8 degrees Fahrenheit). The GPU's average clock speed was 1.81 GHz, with an average temperature of 68.7 degrees Celsius (155.6 degrees Fahrenheit).
Productivity Performance
While the Ryzen 9 5900X isn't quite as potentially speedy on paper as the top-end 5950X (thanks to a slightly lower top boost clock and four fewer cores), it's still a very powerful 12-core CPU. And paired with Nvidia's RTX 3080, along with 32GB of RAM and a fast PCIe 4.0 SSD, the Corsair One a200 is just as potent in productivity and workstation tasks as it is playing games.
Image 1 of 3
Image 2 of 3
Image 3 of 3
On Geekbench 5, an overall performance benchmark, the Corsair system was just behind the leading systems in the single-core tests, with its score of 1,652. But on the multi-core test, it's 11,968 was well ahead of everything else.

The Corsair PCIe Gen 4 SSD in the a200 blew past competing systems, transferring our 25GB of files at a rate of 1.27 GBps, with only the HP Omen's WD SSD also managing to get close to the 1GBps mark.
And on our Handbrake video editing test, the Corsair One a200 transcoded a 4K video to 1080p in an impressive 4 minutes and 44 seconds, while all the other systems took well more than 5 minutes to complete the same task. Video editors in particular will be able to make good use of this system's 12 cores and 24 threads of CPU might.
Software and Warranty for the Corsair One a200
The Corsair One a200 ships with a two-year warranty (plus lifetime customer support) and very little pre-installed software. Aside from Windows 10 Home, you get the company's iCue software, which can be used to control both the lights as well as the system fans. The company even seems to have avoided the usual bloat of streaming apps and casual games like Candy Crush, which ship with almost all Windows machines these days.
Configuration Options for the Corsair One a200
If you're after the AMD-powered Corsair a200 specifically, you have two configuration options. There's the model we tested (Corsair One a200 CS-90200212), with a 12-core Ryzen 9 5900X, 32GB of RAM, a 1TB PCIe Gen 4 SSD, 2TB hard drive, and an RTX 3080 for $3,799. Or you can pay $400 more ($4,199) to step up to the 16-core Ryzen 5950X and double the RAM and SSD to 64GB and 2TB respectively (Corsair One Pro a200 CS-9040010). The latter configuration is overkill for gaming, but the extra storage, RAM and four more CPU cores are well worth the extra money if you can actually make use of them.

For those who aren't wedded to AMD, there's also the Intel-based Corsair One i200, which now includes 11th Gen "Rocket Lake" CPU options, with up to a Core i9-11900K and an RTX 3080, albeit running on a last-gen Z490 platform. It starts a little lower at $3,599. But that model is currently out of stock with any current-generation Intel and Nvidia components, leaving exact pricing up in the air as of publicatioon.

We tried to do some comparison pricing, and were able to find a similarly equipped HP Omen 30L, as HP often sells gaming rigs on the more-affordable side of the spectrum. But when we wrote this, all Omen 30L systems with current-generation graphics cards were sold out on HP's site. We were able to find an Omen 30L on Amazon with an RTX 3080 and an Intel Core i9-10850K, along with similar RAM and storage as our Corsair a200, for $3,459. That's about $340 less than the a200, but the Omen 30L is also much larger than the a200 and has a now last-generation CPU with fewer cores, plus a slower SSD.



Bottom Line
With one of the best CPUs and graphics cards, both liquid cooled and quiet, in an attractive, compact package, Corsair's One a200 offers a whole lot to like. The $3,799 asking price is certainly daunting, but in these times when that graphics card alone is selling on eBay regularly for more than $2,000, the Ryzen 9 5900X often sells for close to $800, and even most desktops with current-gen graphics cards are mostly sold out, it's tough to which high-end gaming rig is more or less of a bargain than something else.

If you spend some time looking you can probably find a system with similar specs as the Corsair One a200 for a bit less. But unless and until the ongoing mining craze subsides, that system probably won't cost substantially less than Corsair's pricing. And with its impressively compact shell, quiet operation, and top-end performance in both gaming and productivity, the a200 is easy to recommend for those who can afford it. Just know that upgrading will be a bit more difficult and limiting than with a larger desktop, and if you need lots of USB ports, you may want to invest in a hub.
Matt began piling up computer experience as a child with his Mattel Aquarius. He built his first PC in the late 1990s and ventured into mild PC modding in the early 2000s. He's spent the last decade covering emerging technology for Smithsonian, Popular Science, and Consumer Reports, while testing components and PCs for Computer Shopper and Digital Trends. When not writing about tech, he's often walking—through the streets of New York, over the sheep-dotted hills of Scotland, or just at his treadmill desk at home in front of the 50-inch 4K HDR TV that serves as his PC monitor.
Sours: https://www.tomshardware.com/reviews/corsair-one-a200
TODAY'S BEST DEALS
If you've spent any amount of time around gaming PCs then you're probably familiar with Corsair, but its newest product, the Corsair One Webstore Edition, is a little different from what's come before.
The hardware specialist, which started out producing RAM modules for PC builders, has since branched out to provide almost every component you'll find in a typical PC build, from power supplies to cases, and from all-in-one watercoolers to peripherals such as mice and keyboards.
In short, if you've ever built yourself a custom PC then you've probably at least considered using a Corsair component at one point or another.
The Corsair One is different. Rather than requiring its users to assemble a system themselves, the pre-built desktop instead provides almost everything you need to get set up and running straight away, and it does so in a case that's surprisingly small considering the beastly components contained within.
But before we tackle the benchmarking of this machine, let's look at what you get for your money with the Corsair One Webstore Edition.
Pricing and value
There are three Corsair One models available. The basic model comes equipped with an i7-7700 and an air-cooled and retails for $1,799 (£1,799 / AU$2,639). Next up is the Corsair One Pro, which ditches the GTX 1070 in favor of a water-cooled and costs $2,199 (£2,199 / AU$3,159).
Finally, if you want to go all-out there's the Corsair One Webstore exclusive, which upgrades the other two machine's dual-drive configuration to a single 960GB SSD, is available only in the US, and costs a whopping $2,299.
This US-exclusive version is the model we're reviewing. It's pretty much as expensive as pre-built desktops come, and its internal CPU and GPU should be more than enough to chew through even the most demanding VR titles.
The CPU/GPU configuration of the Webstore Edition we've got for testing is identical to the Pro model, so our benchmarks should be broadly the same for both models.
Spec Sheet
Here is the Corsair One configuration sent to TechRadar for review:
CPU: Intel i7-7700 (quad-core, 4.2GHz, liquid-cooled)
Operating System: Windows 10 Home
Memory: 16GB DDR4 (2,400MHz)
Graphics: Nvidia GTX 1080 (liquid-cooled)
Storage: 960GB SSD (Webstore Edition only)
Ports: 1 x USB 3.1 Type-C, 3 x USB 3.1 Type-A, 2 x USB 2.0 Type-A, 1 x HDMI 2.0, 2 x DP 1.4, 1 x HDMI 2.0 (front), 1 x USB 3.1 Type-A (front), Gigabit Ethernet, 5.1 channel audio jacks
Connectivity: 802.11ac Wi-Fi
Dimensions: 7.87 x 6.93 x 14.96 inches (20 x 17.6 x 38 cm)
Weight: 15.9 pounds (7.2kg)
Design
So yes, it's expensive, and you could build a similarly specced PC yourself for much less, but the Corsair One offers a couple of key advantages over the DIY approach.
First is the form factor. With a total volume of 12 litres, and a size of 200 x 176 x 380mm, the Corsair One is a surprisingly small machine. It may be tall, but it's got very little in the way of depth and width, although whether this size and shape makes sense to you will depend on the amount of space you have to play with.
Given its small size it seems a shame it isn't formatted more like a set-top box or games console, which would have allowed it to sit more neatly in a TV cabinet.
This case doesn't make the same upgrade compromises we've come to expect from other compact builds. Almost every component in the Corsair One can be swapped out and upgraded – but there's a pretty big catch if you wish to do so.
That catch is that doing so yourself will void your warranty. Instead, Corsair will offer a service whereby you'll be able to send your machine into a repair centre, where it will be upgraded for you.
This could be seen as a drawback – but then again, if you're willing to spend this much money on a pre-built PC then you're probably not someone who wants to get their hands dirty with upgrades either.
The Corsair One is a machine for people who want something that works out of the box, and which they can ship to a professional for repair or upgrade. Fans of DIY tinkering should look elsewhere.
Back to the form factor, and the second advantage the case has is a front-mounted HDMI port. Corsair has included this in a bid to make the machine perfect for use with VR headsets, and it means you can easily plug one of these in without having to reach around the back of your machine.
Unfortunately, in its eagerness to put an HDMI port in the front of the machine, Corsair has neglected to include a headphone or microphone jack, which is an annoying omission. We could also have done with an extra USB port in an easily accessible location, for additional controllers and so forth.
So, while we love the build quality of the Corsair One's case, these issues mean it's far from being perfect.
Depending on your needs these might not be deal-breakers, but we've certainly seen more versatile machines out there, including cases from Corsair itself.
An understated design
Looks-wise the Corsair One has a refreshingly understated design. Its matt black finish means the machine won't stand out too much when placed alongside other pieces of electronics, and although Corsair has included a couple of neon blue lights on the case's front (how could it not?), these are fairly subtle, and can be turned off if you're not a fan of having your machine light up like a minimalist Christmas tree.
The left and right sides of the machine are perforated to allow air to be drawn in through the water-cooling radiators, and this air is then expelled out of the top of the machine through a chunky grille. The aim here is quiet performance, and while the Corsair One seems to be louder than a full desktop tower build at idle, it's much better than comparable small form-factor machines.
Round the back you've got a fairly standard series of ports. There are a total of five USB Type-A ports, plus a single Type-C port for all you early adopters out there, in addition to audio ports, optical, Ethernet, two Wi-Fi antennas, an HDMI port, two DisplayPort plugs, a PS2 port and a three-pin power jack.
On the back you've also got a neat little button to get inside the case, which is fantastically designed. It's a subtle piece of industrial engineering that's testament to Corsair's long history of designing premium cases.
Performance
Of course, the real test of the Corsair One is how it performs, but before we get into that we have to applaud Corsair for the lack of bloatware shipped on this machine.
It's become depressingly common these days to have to do a clean install of Windows on a pre-built system, to get rid of the various unnecessary software that comes bundled with it.
By contrast, the Corsair One's desktop is refreshingly sparse. There's a PDF containing some help documentation, a system monitoring and LED control utility, an SSD monitoring utility and a link to a series of installers for the biggest pieces of gaming software (think Steam, Origin, Battle.net and the like).
Only one piece of software could be considered bloatware, and that's a piece of software for controlling the RGB lighting on Corsair peripherals.
In contrast, systems from other vendors pack in anti-virus trials, browser toolbars and back-up utilities.
Benchmarks
Here's how the Corsair One Webstore Edition performed in our suite of benchmark tests:
3DMark: Sky Diver: 39,024; Fire Strike: 17,679; Time Spy: 6,961
Cinebench CPU: 966
GeekBench: 4,498 (single-core); 17,796 (multi-core)
PCMark 8 (Home Test): 4,925
The Division (1080p, Ultra): 101 fps; (1080p, Low): 229 fps
GTA V (1080p, Ultra): 69 fps; (1080p, Low): 184 fps
While the Corsair One's speed is undoubtedly due to its beefy hardware, it's nice to see it come unencumbered by superfluous software in this way.
Getting into the benchmarks, the Corsair One performed admirably. Water-cooling may not be cheap, but it pays off in a machine like this, which is able to extract every bit of power from its components without having to worry about them overheating and throttling performance.
Since it's packing a GTX 1080 rather than the recently released GTX 1080 Ti the system isn't quite able to handle games at 4K without compromise, but it can get pretty damn close, and it's more than a match for the current VR headsets on the market.
Its 16GB of RAM leaves plenty of headroom for most gaming use cases, and at full load the amount of sound coming from the machine's fans was only slightly higher than idle.
We did experience a small amount of high-pitched electrical buzzing during some of our testing. This was most apparent during stress tests involving high frame rates that you're unlikely to reach during normal gaming, bit it was also apparent during our GTA V ultra graphics test. It's a shame that it occasionally spoiled what was otherwise a very quiet desktop experience.
The bottom line is that this is a powerful machine indeed, although for the price that's not too surprising. The only downside is that the Corsair One was designed before the GTX 1080 Ti was available, meaning it misses out on offering 'true' 4K gaming.
Final verdict
If you're after a premium pre-built desktop PC, then there aren't many out there that feel as premium as the Corsair One.
It's solidly built, neatly proportioned, and runs surprisingly quietly considering the amount of horsepower it's packing. We also love the precedent Corsair has set by shipping the machine without any superfluous software, meaning you can get it set up in no time at all.
But it's clear that this is a machine that's been designed with a specific kind of user in mind. DIY tinkerers best look elsewhere, because this is something that's not designed for you to upgrade at home.
The prospect of being able to have the machine upgraded further on down the line is welcome, and should help with future-proofing, but Corsair has made a deliberate decision to keep this process out of the user's own hands.
If you want a machine that you can buy and use without the prospect of upgrading it yourself then the Corsair One is a fantastic piece of kit, but if you're a PC gaming enthusiast who likes to get things done yourself then there are cheaper, more easily upgradeable, alternatives out there.
TODAY'S BEST DEALS
Jon Porter is the International News Writer at The Verge. He wrote for magazine and websites such as The Verge, TechRadar, Practical Photoshop, TrustedReviews, Inside Higher Ed, Al Bawaba, Gizmodo UK, Genetic Literacy Project, Via Satellite, Real Homes, Plant Services Magazine
Sours: https://www.techradar.com/reviews/corsair-one
I WANT to Recommend This... Corsair One (2019) Review
Corsair One Pro review: A Mighty Mouse PC for creatives (or gamers)
Of course, a lot of problems can be solved by throwing money at them. This solution will run you $4,500 (though it's less expensive than a similar configuration for Falcon Northwest's Tiki). So excuse me while I shove Mooncake into a backpack and sneak out with him.
Work or play
Corsair has crammed a 14-core Core i9, 64GB RAM, GeForce RTX 2080 Ti and 2TB SSD into a very well-designed case, just a little larger than a trash can Mac Pro. Thanks to a liquid cooling system, plus a fan pulling air out the top, it remains almost silent and the vented air never feels too hot.
The Corsair One Pro i200 has a lesser $4,200 sibling, the i182. For the $300 price cut, you get a last-generation Intel Core i9-9920X CPU, 960GB SSD supplemented with a 2TB hard disk and, because of the last-gen chipset, it has Wi-Fi 5 (802.11ac) instead of Wi-Fi 6 (802.11ax), and Bluetooth 4.2 instead of 5.0. The Wi-Fi 6 and bigger SSD seem worth the extra money and if you're already above $4,000, you might as well go for it.
Corsair One Pro i200
| | |
| --- | --- |
| Price as reviewed | $4,499, £4,299 |
| Size | 12-liter mini ITX (7.9 x 6.9 x 15.0 in/200 x 176 x 380 mm) |
| Motherboard | ASRock X299E Corsair One |
| CPU | 3.3GHz Intel Core i9-10980X |
| Memory | 64GB DDR4 SDRAM 2,667MHz |
| Graphics | 11GB Nvidia GeForce RTX 2080 Ti |
| Storage | 2TB SSD |
| Ports | 7x USB-A, 2x USB-C, 3x DisplayPort 1.4, 1x HDMI 2.0a |
| Networking | 2x gigabit Ethernet, Intel Wi-Fi 6 AX200, Bluetooth 5 |
| Operating system | Windows 10 Pro (1909) |
Its gaming analog, the Corsair One, comes with a different CPU, motherboard and chipset (Z370). The two series differ primarily by processor class: gaming gets unlocked K-series Core i7 or i9 processors, while the Pro comes with X-series Core i9 CPUs. Because of the chipset and motherboard differences, the two also have slightly different port configurations -- notably, gaming only has a single Ethernet port and swaps a pair of USB-A 2.0 connections for the USB-A 3.1 of the pro model -- as well as maximum memory limits of 32GB versus 64GB. They also have just the 960GB SSD plus 2TB HDD storage setup.
The gaming system's big advantage is price: It starts at $2,900 for the i145, equipped with a Core i7-9700K, 32GB RAM, and Nvidia GeForce RTX 2080 (not the newer Super). If you are looking for a system primarily for 1440p gaming, that's a fine configuration -- you don't need more than the eight-core CPU or 32GB RAM and the extra $600 to bump to the RTX 2080 Ti probably won't be worth it for you.
I am bummed that the gaming system comes in black but the Pro only comes in a not-unattractive brownish gray. On the other hand, it also has game-system illumination, something many nongaming systems don't have. You control the lighting through Corsair's iCue software, which also offers some basic performance control -- auto or extreme for the fan -- and a nice temperature and utilization monitoring dashboard.
Despite its small size, the Corsair One Pro manages to supply as many connections as most full-size desktop systems. It has three DisplayPort 1.4 connections from the graphics card and they've been driving two 4K and one QHD monitors without issue for a while. The HDMI 2.0 port is at the bottom front along with two USB-A for easier VR access. However, if you want to connect a monitor via HDMI instead, it may be a little awkward.
As I complain about with every Windows desktop, there are no Thunderbolt 3 connections, just a pair of 10Gbps USB-Cs. It's potentially more of a drawback for the One because you can't add a Thunderbolt card, nor can you replace the graphics card down the road, just the storage and memory. Plus, if you're looking for a livestreaming system, keep in mind this is one of the few Corsairs that doesn't ship with an Elgato card. Those are the tradeoffs you make for its compactness.
Very stable, genius
As is typical for this class of system, editing 4K video goes pretty smoothly, but it starts to struggle with 6K and higher. Lightroom imports -- and most importantly, thumbnail renders -- felt somewhat sluggish compared with the last system I tested, a Falcon Northwest with a Ryzen 9 3900X. Thanks to the 2080 Ti, it serves up 4K gaming quite well, too.
The Corsair One Pro doesn't seem to max out the potential 4.6GHz speed of the 14-core i9-10940X processor, even on a single core, which is disappointing when it bottlenecks during video editing and Lightroom imports. But it's also the first of this CPU I've had a chance to test, so it's not clear if it's the CPU or if Corsair intentionally throttles back to prevent overheating (which is admittedly more important in a workstation-class system than hitting the 4.6GHz boost clock).
The most important takeaway, especially if you're considering this for professional work, is that despite having so much high-end hardware packed into a tiny chassis, it's delightfully stable.
System configurations
| | |
| --- | --- |
| Corsair One Pro | Microsoft Windows 10 Pro (1909); 3.3GHz Intel Core i9-10940X; 64GB DDR4 SDRAM 2,667MHz; 11GB Nvidia GeForce RTX 2080 Ti; 2TB SSD |
| Falcon Northwest Talon 20th Anniversary Edition | Microsoft Windows 10 Pro (1909); 3.8GHz AMD Ryzen 9 3900X; 32GB DDR4 SDRAM 3,200MHz; 8GB Nvidia GeForce RTX 2080 Super; 2TB SSD RAID 0 |
| HP Envy 32 All-in-One | Microsoft Windows 10 Home (1909); 3.0GHz Intel Core i7-9700; 32GB 2,667MHz DDR4 SDRAM; 6GB Nvidia GeForce RTX 2060 Max-Q; 1TB SSD+32GB Intel Optane |
| Origin PC Big O (PS4 Edition) | Microsoft Windows 10 Home (1909); 3.8GHz AMD Ryzen 9 3900X; 16GB DDR4 SDRAM tk; 8GB Nvidia GeForce RTX 2070 Super; 1.5TB SSD (2TB SSD for console) |
| Origin PC Millenium (2019) | Microsoft Windows 10 Home (64-bit); (oc) 3.2GHz Intel Core i9-9900K; 16GB DDR4 SDRAM 2,666MHz; 2 x 11GB Nvidia GeForce RTX 2080 Ti; 512GB SSD + 2TB HDD 7,200 RPM |
Sours: https://www.cnet.com/reviews/corsair-one-pro-i200-review/
One corsair
Corsair One review: The best small form factor PC we've ever tested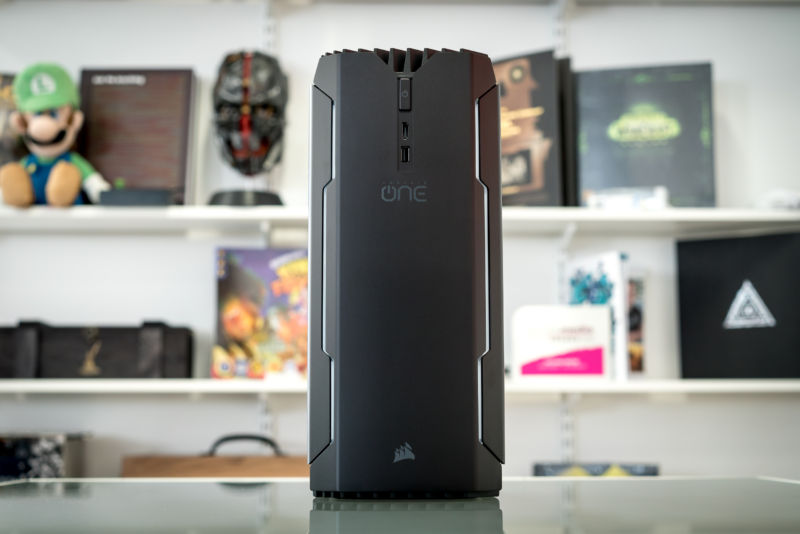 with 90 posters participating
Specs at a glance: Corsair One
Lowest
Middle
Best (as reviewed)
OS
Windows 10 Home 64-bit
CPU
Intel Core i7-7700 (liquid cooled)
Intel Core i7-7700K (liquid cooled)
Intel Core i7-7700K (liquid cooled)
RAM
16GB DDR4 2,400MHz (8GBx2)
16GB DDR4 2,400MHz (8GBx2)
16GB DDR4 2,400MHz (8GBx2)
GPU
Nvidia GTX 1070 (air cooled)
Nvidia GTX 1080 8GB (liquid cooled)
Nvidia GTX 1080 8GB (liquid cooled)
HDD
240GB SATA SSD, 1TB HDD
480GB SATA SSD, 2TB HDD
960GB SATA SSD
PSU
400W SFX
400W SFX
400W SFX
NETWORKING
Gigabit Ethernet, AC Wi-Fi
PORTS
3 x USB 3.1 Type-A, 1 x USB-3.1 Type-C, 2 x USB 2.0, 2 x DisplayPort, 2x HDMI, headphone jack, microphone jack
SIZE
Height: 380mm (14.9 inches), depth: 200mm (7.9 inches), width: 176mm (6.9 inches)
WEIGHT
7.4kg
WARRANTY
Two years with 24/7 support and five day repair turnaround
PRICE
£1800/$1800
£2200/$2200
£2270/$2300
Notes
There's also a fourth model, which Corsair didn't tell us about ahead of time, with a GTX 1080 Ti. It's an online exclusive priced at £2600/$2700. Still no M.2 SSD though...
It's hard to believe that the Corsair One comes from the same company that designed the Bulldog, a small form factor PC so monstrously ugly that the mere thought of placing it in a living room was enough to set off a spousal gag reflex. Where the Bulldog was a confused mishmash of jaunty, l33t gamer angles, the One is sleek, sophisticated, and—dare I say it—even a little grown up.
That Corsair continues to sell a slightly updated version of the Bulldog is something of mystery considering just how good the Corsair One is. Of all the small form factor (SFF) PCs I've tried—and there have been quite a few over the past year—it is by far the best. I'd even go as far to say it's one of the best pre-built PCs you can buy, full stop.
At £2,300 for a fully loaded version, the Corsair One isn't cheap by any means—and as always, going the DIY route can lead to substantial savings—but few homebrew PCs have such a tiny footprint. Fewer still do so while being entirely liquid cooled, graphics card and all. It's a combo that results in a PC that doesn't just fit into the living room environment aesthetically, but acoustically too.
And, unlike the entirely custom hardware of the Zotac EN1080, you can even upgrade it.
Dual radiators FTW
Well, sort of. The Corsair One does indeed feature standard hardware. Inside is a mini-ITX motherboard by MSI. There's one of Corsair's 400W, 80 Plus Gold rated modular SFX power supplies, two sticks of Corsair Vengeance 2400MHz DDR4 RAM, and a socketed Intel Kaby Lake 7700K processor. A riser cable wraps around from the single PCIe slot to the backside of the motherboard, where there's space for a triple-slot graphics card. Extension cables then bring HDMI (1x) and DisplayPort (2x) to the rear of the case.
Advertisement
But in the fully loaded version of the One, both the GTX 1080 graphics card and the CPU are liquid cooled by two separate all-in-one 240mm radiators, which flank each side of the One's case behind vented aluminium panels. Corsair doesn't intend for the One to be user serviceable—although getting inside just involves pushing a button and undoing four screws—but replacing the CPU is an easy enough task, as is upgrading the 2.5-inch SATA SSD, which sits insides a simple plastic slot.
It's unlikely, especially if the rumoured roadmaps for Intel's Coffee Lake architecture hold water—that anyone would want to upgrade the CPU in the near future, but the graphics card is a different story. You can already buy a GTX 1080 Ti, and in year's time both Nvidia and AMD will have entirely new architectures on the market. The MSI-made graphics card is cooled in a similar fashion to the CPU, with a 240mm radiator. But as anyone that's tried to fit a liquid cooler to a graphics card can attest to, it's a far more involved affair than replacing a CPU, particularly since the VRMs and memory modules still need to be air-cooled.
If you're skilled enough, it may well be possible to swap out the GTX 1080 for another Nvidia card with a similar board layout and keep the same cooler. Or, you could just ditch the liquid cooling entirely—or opt for the cheaper air-cooled version of the Corsair One—and install a blower-style card. But doing so ruins one of the best things about this PC: this is by far the quietest SFF system I've ever used.
Advertisement

You might have noticed the lack of mention of any fans, and that's because the Corsair One has just one. At the very top of the case is a single 140mm fan—one of Corsair's fancy magnetic levitation fans that promises quieter operation—which relies on assisted convection to draw air through the side panels, over the radiators, and out of the top of the case. It's similar to how Apple keeps the Mac Pro cool, but by using radiators and liquid instead of a central heatsink.
It works extremely well.
I don't have a way to test sound levels here in the office (consider it something we're thinking of adding to our tests), but Corsair claims that in an anechoic chamber it recorded an idle noise level of 20dBA, or about as loud as a whisper from three feet away. The system is certainly more audible while gaming if you're sitting right next to it, but over a larger distance (such as in the living room), or perhaps in a closed cupboard, you'll hardly notice it.
In both cases, the fan sound is soft and dull and quite unlike the high-pitched whine of a PlayStation 4 or Xbox One.
Sours: https://arstechnica.com/gadgets/2017/03/corsair-one-review/
They RYZEN'd Up! Corsair ONE a100 Gaming PC Review
How do you improve on one of the best compact gaming PCs out there? Loading it up with more powerful parts and a bunch of RGB lights certainly doesn't hurt. The Corsair One i160 is a subtle but strong refresh of Corsair's debut flagship gaming desktop, packing a blazing Intel Core i9 CPU and Nvidia RTX 2080 Ti graphics into an attractive canister-shaped design that'll barely make a dent on your desk. The One i160 is pricey, and its upgradability options are pretty limited if you're not a serious tinkerer, but it's still one of the best options available for folks who want blazing performance within a small, unassuming design.
Corsair One i160 Configurations and Price
Corsair's new PCs don't come cheap. The Corsair One i100 series starts at $2,999 for the i140 model, which packs a liquid-cooled Intel Core i7-9700K CPU, 32GB of RAM, a 480GB SSD with a 2TB hard drive and an Nvidia RTX 2080 graphics card. The $3,599 i160 model we tested bumps the CPU to an Intel Core i9-9900K and the GPU to an Nvidia RTX 2080 Ti.
Design
The Corsair One's design hasn't changed all that much for 2019 — and that's a good thing. Corsair's wonderfully compact gaming PC still has the same cylindrical, all-black aluminum chassis, which combines with its two front-facing lighting strips and stylish side vents to create a subdued look that's equally at home in the office as it is in a LAN party.
One welcome change comes in the form of upgraded lighting. The One's static blue lights have been upgraded to all-out RGB strips complete with four lighting zones each, which you can customize to your heart's content in all kinds of dazzling ways thanks to Corsair's iCue software.
You can have the lights glow statically, ooze out every color in the rainbow, or even sync up with your system's temperature, just to name a few options. I was especially fond of the software's Visor setting, which allowed a beam of colorful light to shoot up and down the PC before dancing over to the Corsair keyboard I had connected. You're really only limited by your imagination here.
You shouldn't have a hard time showing off the One's slick lighting, as the desktop's small 15 x 7.9 x 7-inch, 16-pound chassis should fit on top of most desks without a problem. While thicker in the front, the One has a smaller footprint than the console-shaped MSI Trident X (15.6 x 15.1 x 5.1 inches), and a fraction of the size of Corsair's short but beefy Vengeance PC (15.7 x 10.9 x 13.8 inches).
Ports and Upgradability
The Corsair One packs a handful of plug-and-play essentials up front, including two USB 3.1 Type-A ports, an HDMI 2.0a port for easy VR connectivity and a headphone/mic jack.
In the pack, you'll find two USB 2.0 ports, two USB 3.1 Type A ports, a USB 3.1 Gen 2 Type-A port and a USB 3.1 Type-C ports to connecting to the ever-growing swath of USB-C gadgets. Other key connections include an Ethernet jack, a full suite of audio ports, two antennas (for Wi-Fi and Bluetooth 4.2) and three DisplayPort 1.4 connections for hooking your display(s) up to the system's RTX 2080 Ti graphics card.
The Corsair One i160's upgradability has been improved over the original model, but it's still reserved for enthusiasts rather than the everyday PC gamer. You can pop open the top of the PC by holding down a button and wedging off the lid, but from there, you'll have to bust out some tools to get inside the One's vertically oriented design.
From there, you can swap out the system's storage, RAM and GPU, but Corsair does not "guarantee the operation of any upgraded graphics cards." Unless you know your stuff when it comes to tinkering with PCs, you should probably leave the desktop as is.
Gaming Performance
Don't let its small size fool you — thanks to its monstrous Nvidia RTX 2080 Ti GPU, the Corsair One i160 can tear through modern PC games as well as any gigantic tower can. The system burned through Shadow of the Tomb Raider in 4K with all settings cranked up, allowing me to tussle with a leopard in the gorgeous Peruvian jungles at upward of 72 frames per second.
That powerful graphics muscle was reflected in our benchmark tests, as the One crushed the Rise of the Tomb Raider benchmark (1080p, max settings) at a blistering 136 fps. That tops the MSI Trident (91 fps; RTX 2080), the Asus ROG Strix GL12CX (81 fps; RTX 2080) and our 75 fps gaming PC average.
The One i160 proved just as apt for 4K gaming, powering through Grand Theft Auto V (4K, max settings) at a smooth 45 fps. Once again, Corsair's PC beat out the ROG Strix (28 fps) and the Trident X (35 fps) while just barely missing our 46 fps average.
MORE: Best Gaming PCs - Desktop Computers (Including Sub-$1,000 ...
Unsurprisingly, the Corsair One demolished the 3DMark Fire Strike Ultra 4K gaming test, scoring 8,389 and trouncing the Rog Strix (6,342) as well as our 7,199 average. This VR-ready beast also passed the SteamVR Performance Test with a perfect 11, matching the Trident X and ROG Strix and topping our 9.5 average.
Overall Performance
Loaded with an Intel Core i9-9900K CPU with 32GB RAM, the Corsair One made quick work of any combination of tasks I threw at it. The system never slowed down even as I jumped across more than a dozen Google Chrome tabs, watched three Twitch streams and played Shadow of the Tomb Raider all at once. And it stayed quiet under this load, thanks to its custom liquid-cooled internals.
The One i160 posted an impressive 30,502 on the Geekbench 4 overall performance test, coming up just short of the ROG Strix GL12CX (31,016; Core i7-9700) and the Trident X (31,581; Core i9-9900K) but crushing our 21,538 gaming desktop average.
Corsair's PC continued to exhibit strong CPU performance on our spreadsheet test, matching 20,000 names to addresses in 25 seconds. That's about on a par with the ROG Strix and the Trident X, and a few seconds ahead of our 34-second average.
The Corsair One's 480GB SSD copied 5GB of files in a zippy 7 seconds, for a transfer rate of 757 MB per second. That ties the ROG Strix, and tops both the Trident X (424 MBps) and our desktop average (385 MBps) by a wide margin.
Bottom Line
The Corsair One i160 improves on an already great compact gaming desktop, delivering speedy Core i9 and RTX 2080 performance within an attractive chassis that stays cool and quiet under pressure. The system's RGB lighting is subtle but insanely customizable, and adds a nice touch of personalization over the original model.
While the Corsair One's upgradability has been improved, it's still meant to be tinkered with only by serious enthusiasts. And at $3,599, this system isn't cheap — the similarly compact MSI Trident X gets you the same CPU and GPU for a much cheaper $2,499, and MSI's machine is a bit easier to open up and upgrade. But if you don't mind paying a premium for Corsair's uniquely understated desktop design, you'll find a ton of power tucked inside its tiny chassis.

Credit: Tom's Guide
Mike Andronico is Senior Writer at CNNUnderscored and was formerly Managing Editor at Tom's Guide. When not at work, you can usually catch him playing Street Fighter, devouring Twitch streams and trying to convince people that Hawkeye is the best Avenger.
Sours: https://www.tomsguide.com/us/corsair-one-i160,review-6119.html
You will also like:
Corsair bucks the trend with many of its pre-built PCs, instead offering a high-performance package in a diminutive and compact case where many would opt for a more standard mid-tower. The Corsair One a200 is no less an exciting proposition, bringing together the latest AMD Ryzen and Nvidia GeForce technology in a surprisingly neat and well-managed package no bigger than a bread bin.
If you're familiar with Corsair's compact One lineup, you'll know that looks can be deceiving. This isn't Corsair's first attempt at a compact gaming PC, and we've previously ranked its compact machines as some of the best gaming PCs going, small form factor or not. Being only 20 x 17.3 x 38cm in size seemingly has very little impact on these PCs' performance—the new and improved a200's specs list is every bit as mouth-watering as it should be.
That all starts with the a200's AMD Ryzen 9 5900X CPU, which is powered by the highly-successful and well-rated Zen 3 architecture. It's a 12-core/24-thread chip with plenty of grunt, rated to 3.7GHz at its worst and 4.8GHz at its best. Since it's our top pick for the best CPU for gaming today, I expected a lot out of it even before getting the a200 out of the box.
Corsair One a200 specs
CPU: AMD Ryzen 9 5900X
GPU: Nvidia GeForce RTX 3080
Memory: 32GB DDR4 @ 3200MT/s
Storage: 1TB NVMe SSD
FrontI/O: 1x 3.5mm audio jack, 2x USB 3.2 Gen 1, 1x USB 3.2 Gen 2 Type-C.
Rear I/O: 2x USB 3.2 Gen 2 (Type-A and Type-C), 4x USB 3.2 Gen 1, audio ports, 2.5G ethernet, 3.x DisplayPort, 1x HDMI
Connectivity: Wi-Fi 6, Bluetooth 5.0, LAN
PSU: 750W SFX 80 Plus Platinum
Dimensions: 200mm x 172.5mm x 380mm
Price: $3,800 / £3,300
Playing the supporting role for this performant package is 32GB DDR4-3200 memory. That's loaded into a bespoke motherboard with B550 chipset alongside a 1TB NVMe SSD of Corsair's own design, the Corsair Force MP600. That's a PCIe 4.0 drive, too, for faster load times and transfer speeds.
The recent introduction of SFX PSUs capable of driving over 1000W has helped cement the concept that a small form factor PC can also be a high performance one. Yet even the compact a200's 750W SFX PSU offers enough wattage for a commanding PC build. Efficient wattage, too, rated to 80 Plus Platinum.
Crucially for our gaming needs that 750W PSU is enough to give the a200 surreptitious command over an Nvidia GeForce RTX 3080. Coming in as our favourite graphics cards today, we couldn't ask for much more from the Corsair One. Without anything holding it back, the RTX 3080 makes quick work of 4K and 1440p.
And I'm pleased to report that nothing is seemingly holding it back.
In Metro Exodus at 4K, the Corsair One manages to stay abreast of our desktop Founders Edition RTX 3080. No small feat for such a tiny machine. It's only negligibly slower than our desktop test bench in Horizon Zero Dawn, too.
Benchmarks
Gaming performance
3DMark Time Spy: 11,601 (CPU) 17, 563 (GPU)
Hitman 3 (Dubai): 228fps (1080p) 176fps (1440p) 102fps (4k)
F1 2020 (Ultra, DX12): 216fps (1080p) 167fps (1440P) 127fps (4K)
Metro Exodus (Ultra, DX12): 126fps (1080p) 101fps (1440p) 66fps (4K)
Horizon Zero Dawn (Ultimate) 155fps (1080p) 129fps (1440p) 77fps (4K)
3DMark Port Royal: 11,640
Metro Exodus (RTX) 109fps (1080p) 88fps (1440p) 63fps (4K)
System performance
Cinebench R20: 8,020 (Multi) 601 (Single)
X264 v5.0.1: 67.87 fps
Sandra (memory bandwidth): 31.48 GB/s
Hitman 3 (Dartmoor) : 117fps (1080p)
Final Fantasy XIV Game load time: 9.016 Sec
What that means for the actual gaming performance is 60fps or more at 4K in some of today's latest games, which is what you might expect from these parts on paper, but perhaps not so much from the form factor.
Perhaps the key to the a200 puzzle lies with its thermal performance. When so much of CPU and GPU performance now lies with thermal headroom, increasingly so with Zen 3 and Ampere, it is also increasingly important to over-spec your thermal solution to hit max performance potential. Thankfully, the a200 does just that, allowing the CPU and GPU to deliver their best in line with less confined desktop parts.
That's by and large thanks to the twin liquid cooling solution of Corsair's design. Both CPU and GPU are liquid-cooled, independently of one another, with each component's respective radiator located on either side of the PC's case. Fresh, cool air is then whipped up past either radiator through the use of a single fan located at the top of the PC.
The result is a max GPU temp during benchmarking of 69°C, the envy of even some discrete desktop coolers. The max CPU temp may not spark quite so much envy, however, coming in at 91°C. That's notably within AMD's thermal spec, but also in excess of usual operating temperatures for such a chip with a reasonably chunky liquid cooler.
The single system fan also has to work hard at times to keep the PC operating comfortably, which means it can get quite loud under load. That said, it is a single-fan system, which is notably quieter than some desktop builds I've had with four or five fans all running on an identical fan curve.
Simplicity and usability, though, are something that Corsair can deliver in swathes with the a200. The ports are within easy reach on the rear of the machine, and there's a handy USB Type-C port on the front to make life just that much easier. The innards can also be exposed through the top, too, which means you could access the SSD or RAM if you fancied a shakeup.
You could even access the GPU and CPU blocks if you so wished, although finding compatible boards with the current cooling solution may be a bit of a struggle.
Then to the overall aesthetics of the Corsair One and the a200 is quiet tame for a gaming all-in-one, it must be said. There's just two addressable lighting strips extending nearly the entire length of the machine, which is some miracle. Its smart exterior would definitely fit the role of powerful workstation in a pinch, too.
So I'm coming away impressed from Corsair's latest small form factor PC, especially now that it's running with the latest cutting-edge technology. It's clearly a well thought out gaming PC and designed with the user in mind. By its nature, it's more restrictive for future upgrades than some other small form factor cases, but it's nonetheless a brilliant machine for today.
TODAY'S BEST DEALS
Check Amazon
Corsair a200
Corsair delivers a welcome burst of gaming performance to its compact gaming PCs with the a200, bringing the best of AMD Ryzen and Nvidia GeForce into a single, compact machine.
There's no 'Silicon Valley' where Jacob grew up, but part of his home country is known as 'The Valleys' and can therefore be easily confused for a happening place in the tech world. From there he graduated to professionally break things and then write about it for cash in the city of Bath, UK.
Sours: https://www.pcgamer.com/corsair-a200-gaming-pc-review/
209
210
211
212
213